HOW ARE YOU TODAY? MEET YOUR NEXT SLOT BASED ON YOUR MOOD
Perhaps you awoke refreshed before your alarm had a chance to disturb you, leaving you feeling happy and alive. Or maybe you're at the dreary end of a long week and more on the tired side with a nagging hint of grumpy.
Fortunately, however you're feeling, we have the perfect SlotsLV online slots to suit your mood! This should be no surprise to our long-standing players since we have literally hundreds of games to choose from at any given time!
Whether you're looking for something to make your determination even stronger, enhance your excitement, or leave you feeling even happier than you already were, you can be sure we have the best game for you! And if you simply want to escape into a new adventure, one of our slots games is bound to give your mood a much-need boost when you need a lift, perk you up if you need a rush, or calm you down when you're feeling tense.
There are games for every player around here, and we've helped you cut through the different selections with these options below as the perfect online slots to play based on your current mood.
HAPPY: GOLD RUSH GUS AND THE CITY OF RICHES
Whether you're happy as can be, or feeling down and searching for sunnier skies, Gus is sure to brighten your day as he whisks you away on an adventure deep in the jungle in Gold Rush Gus and the City of Riches!
At the start of your new friendship, Gus will toss you a pickaxe and put you to work – the good kind, though, so don't fret! If the pickaxe lands on two keys, grab them quickly as they open up the mysterious treasure chest. Inside you will find one of three slots prizes guaranteed to brighten your day: a Coin Gamble Game, Instant Win, or Progressive Jackpot. Told you it was a good gig!
If you liked that adventure with Gus, you'll be even happier to know there's another one, too! In the original Gold Rush Gus, the two of you buddies venture into the mines, digging for a treasure chest and causing a friendly raucous in the bonus round, always ending with a heart-warming grin from ear to ear!
Nothing makes us happier than the beauty of friendship! And we're not just talking about the SlotsLV referral bonus, clearly – although this will grant you a nice bonus per friend that joins, sure to make any of us smile!
EXCITED: GENESIS ISLAND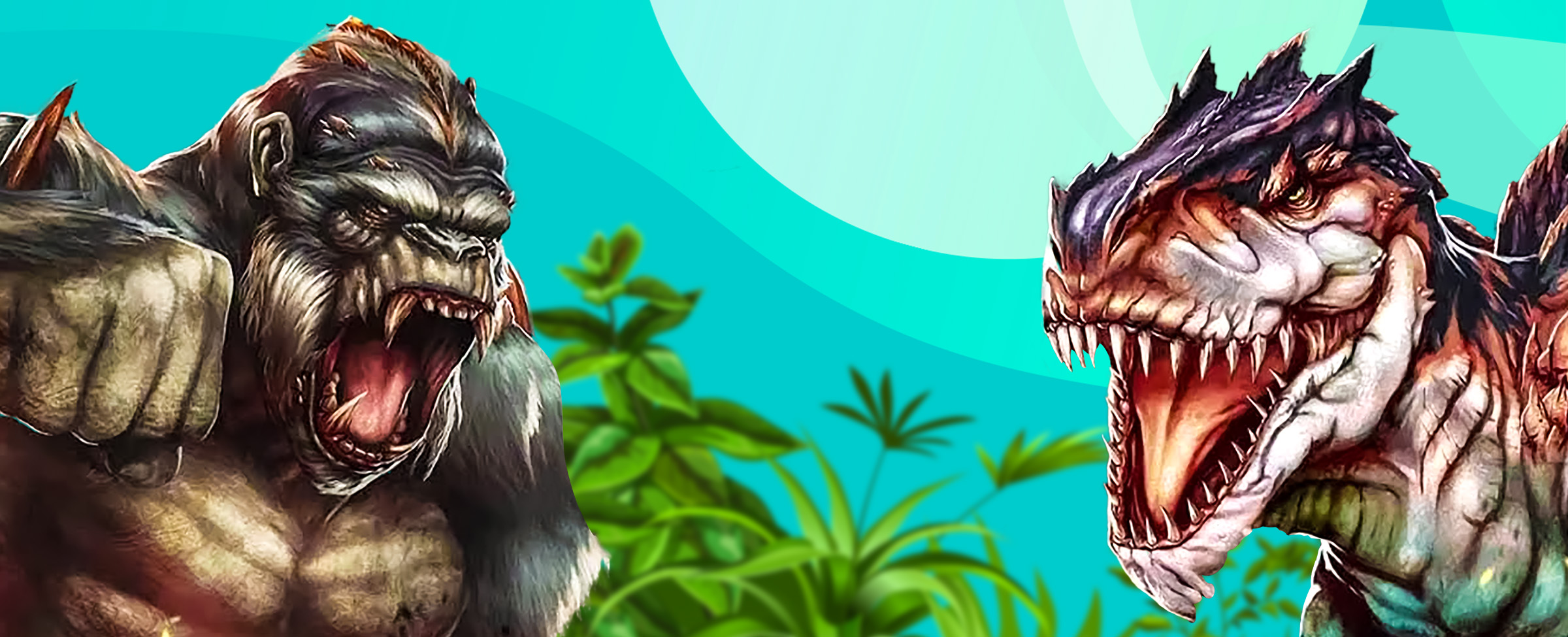 If you ever needed a jolt of excitement to get through a slow afternoon, or if you're feeling energized and looking for the right outlet, this five-reel jungle is waiting for you to part the leaves and charge forward!
Hit spin and be transported from your chair to a long-forgotten world where ancient beasts roam a land lush with real money slots prizes! Welcome to Genesis Island, friends, and be prepared to be blown away!
Just try not to jump with thrills as a Mega Reel forms in the middle of the board. Then – hold on to your hats – free spins can be triggered with scatters and ignite through the Mega Reel. Primal Wilds randomly appear in the game, and once the feature begins, one or two reels will become stacked with wild symbols. Was that not enough for you? Look out for the 2,000-pound gorilla baring his dripping fangs on your reels; this heart-stopping creature is one of the highest paying symbols in this slot online!
DETERMINED: THUNDERCRASH
If you're feeling a surge of determination after impressing your boss or hitting all green lights on your way home, then Thundercrash is perfect game for you!
When you open this arcade-style specialty game, a crew of explorers urges you to sit in the Captain's chair inside a ship prepared for launch. Your job is to watch your craft fly through outer space, dodging an assault of stars and comets – no easy feat! Decide when to "Cash Out", with as many multipliers in tow as you can, before your vessel randomly crashes and everything is lost!
You'll need all the determination you can muster to collect all the multipliers and escape with your crew unscathed! The challenge of it is part of this online game's mega popularity at SlotsLV! So if you're feeling strong-willed today, enter the cockpit and prepare to take control!
RELAXED: SUSHI WINS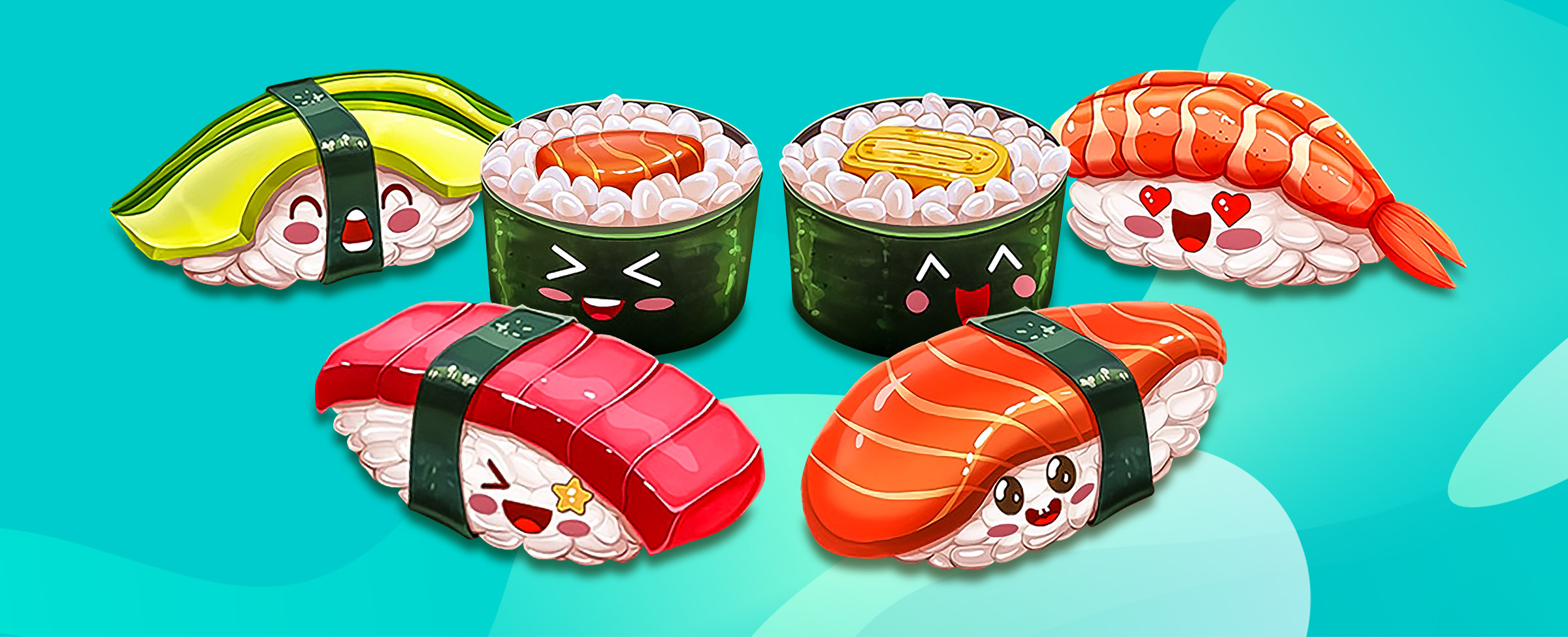 No matter how busy life gets, from time to time, the desire to just relax can overtake your mood, and you want nothing more than to kick back and chill, maybe even enjoy a quiet dinner with some friends.
If that sounds like a nice plan for today, head on over to Sushi Wins to order some delicious food and indulge in a relaxing evening out. We've already made the reservation, so all you need to do is say hello to your friends and tell the server your order.
Will you partake in some nigiri, sashimi, or a cucumber roll? Are you the type to add a spoonful of wasabi into your sauce dish, or just a dollop? Hopefully, you like it hot because the wasabi in this online slot is your wild that expands over an entire reel, often heating things up – fast!
Don't forget to wash it all down with a cocktail of sake, which triggers free spins and doubled wins, and let the relaxation of this game help you unwind even more!
---
Check out our Crypto Deposit Guide: Just 4 easy steps to enjoy all the benefits of a best crypto casino like SlotsLV!
---
BORED: MOB HEIST
When you've already checked off your to-do list, your friends are all busy, and nothing is looking good on your streaming services anymore, there's a good chance you're feeling pretty…meh.
If boredom is the mood of the hour, then it's prime time to shake things up! You only live once, so how does a proper bank robbery with the mafia sound? No one could be bored with an outing like that!
In Mob Heist, you join all the usual suspects of the gang – the goon, boss, doc, and sidekicks, as well as a Wild cop who's hot on your heels as you carefully carry out your devious plan to open the safe and trigger the Bank Job bonus. Collect the cash and head out, or move on to the next bank (up to five in total) for even more slots riches to nab! That'll cure your boredom!
GRUMPY: CAT KINGDOM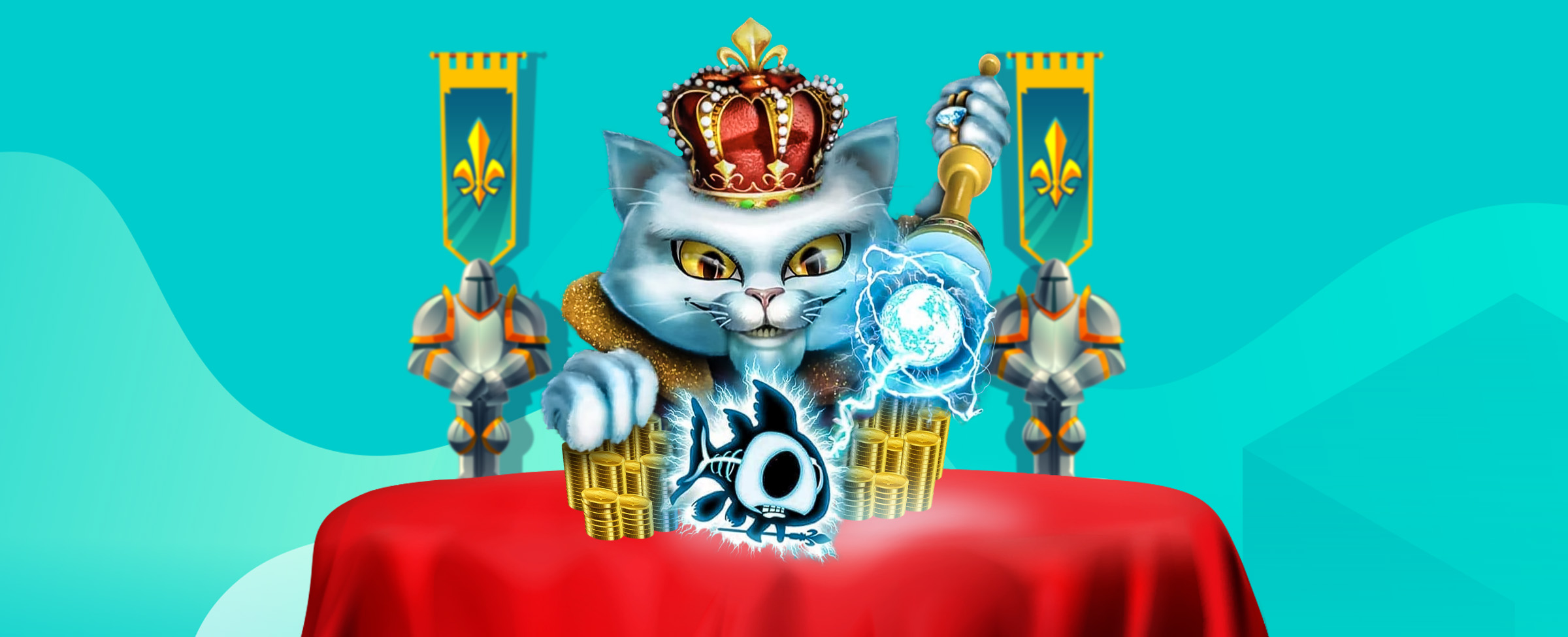 Baaahumbug! That's probably what your once sweet kitty says whenever you leave them alone at home. That might even be how you're feeling now if you haven't had such a good day out there yourself, with cars honking, your favorite lunch not available, or maybe even someone cutting you off in line – the worst!
If a bit grouchy is your current temperament, then we've got just the SlotsLV online slot for you, and your grumpy kitty, for that matter. Cat Kingdom takes place inside your very own living room, although you may not recognize it with all the rearranging your cat has done.
Your couch is now a throne for his Highness, and your pen lying on the side table has become his scepter to blast away symbols. You may find yourself becoming less and less grumpy as you spin through these reels, since your cat, err… your King Cat has plenty of Wild milk to offer you, as well as only the highest paying symbol during free spins, which is, of course, the King himself.
While finding the right online slot games for you might be a challenge given the sheer amount of choices, some games, like Hot Drop Jackpots, are sure-fire remedies or boosters to complement any given mood!
Whether you're perky as a bird in the morning or bored as a panda after lunch, give one of these games a shot and see how you fare. Who knows? When you're finished playing these slots, you might be happy as a clam with all your wins!