Your New Favorite Slot, According To Your Zodiac Sign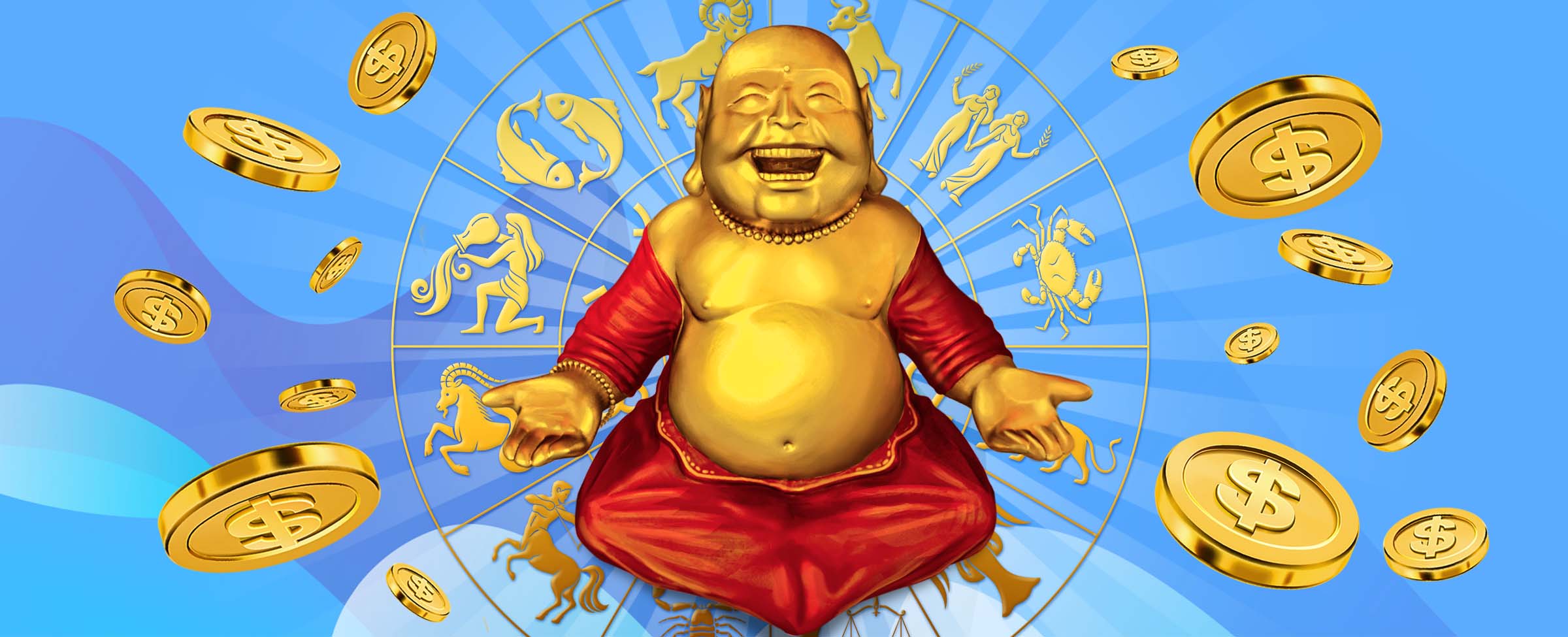 According to astrologers, the day that you were born dictates your personality, disposition and character, as well as the events that will govern every day of your life… even when you play at an online casino.
An ambitious Aries may spring into action on the first casino game they see, whereas an intuitive Cancer might feel a slot out for a while before they commit. A Virgo, having an analytical nature, will tell you that gameplay isn't based on the alignment of planets, and will proceed to dismissively hit up whatever slot game Venus and the full moon have predetermined.
Come to think of it, your zodiac sign really can say a lot about how you approach casino slots. So much, so, in fact, that we have consulted with the stars, and come back with just the right SlotsLV online slots to compliment the nature of your zodiac sign.
Whether you're an independent Scorpio looking to blaze your own trail in a bonus round, or a disciplined Capricorn who will leave no multipliers behind – the stars have already aligned in the perfect configuration that points to the very best online slot game for you.
We have some predictions for what you're going to love… so come along here and follow the stars!
Aries (March 21-April 19) – Play Lawless Ladies
As a strong and ambitious Aries, you need a game that's run by a powerful set of characters. The female power within Lawless Ladies has just the mighty juice to get your competitive spirit fired up.
You join three outlaws in an old western town where you scour the tumbleweed ridden streets on a hunt for the random progressive jackpot. You've got to channel that quick-witted nature (that's so telling of an Aries) big time in this game, because the wild Sheriff is always on your tail trying to replace regular symbols and triple your wins.
Taurus (April 20-May 20) – Play Fairy Wins
A Taurus might be determined to reach their goal, but they're also warmhearted and loving along the way – just like the three kind fairies in Fairy Wins. The enchanting forest in this online slot is perfect for a Taurus to enjoy the pleasant buzz of the woods, while they patiently roam the reels in search of free spins with an increasing prize multiplier.
As you stroll through wispy hanging willow trees, you'll need some of the steadfast determination of a Taurus to keep the reels spinning long enough to trigger the randomly awarded progressive jackpot. As a Taurus knows very well, persistence does pay off!
Gemini (May 21-June 20) – Play Golden Children
The Golden Children who accompany the Goddess of Mercy soar through the air and descend upon earth to bless its humans with mercy and kindness. There is no better person to join the duality of this brother and sister than the twins that represent the air sign of Gemini!
Geminis are known for their youthful and lively nature, which really comes in handy when you're placed on earth to make people feel good. A Gemini is always looking on the bright side, and there is a lot of brightness to appreciate in this slot online with Scatter symbols as pots of golden coins and some reels randomly turning wild – perfect for the passion and fun of a Gemini!
Cancer (June 21-July 22) – Play Crystal Crater
Cancers are famous for their depth of feeling and intuition. Those traits are exactly what's needed when you're deep within the Crystal Crater at SlotsLV in search of crystals. Only the intuition of a Cancer could sense where the riches lie within the reels, and exactly where to look to dig up the diamond Wilds.
Bonus symbols within the crater will whisper to you as a Cancer, signaling to you when the bonus round might strike. In the bonus round, you get the selection of either free spins or random wilds, and only a Cancer might have the intuition to guess which one yields the greatest returns, making it the perfect sign to win inside the crater!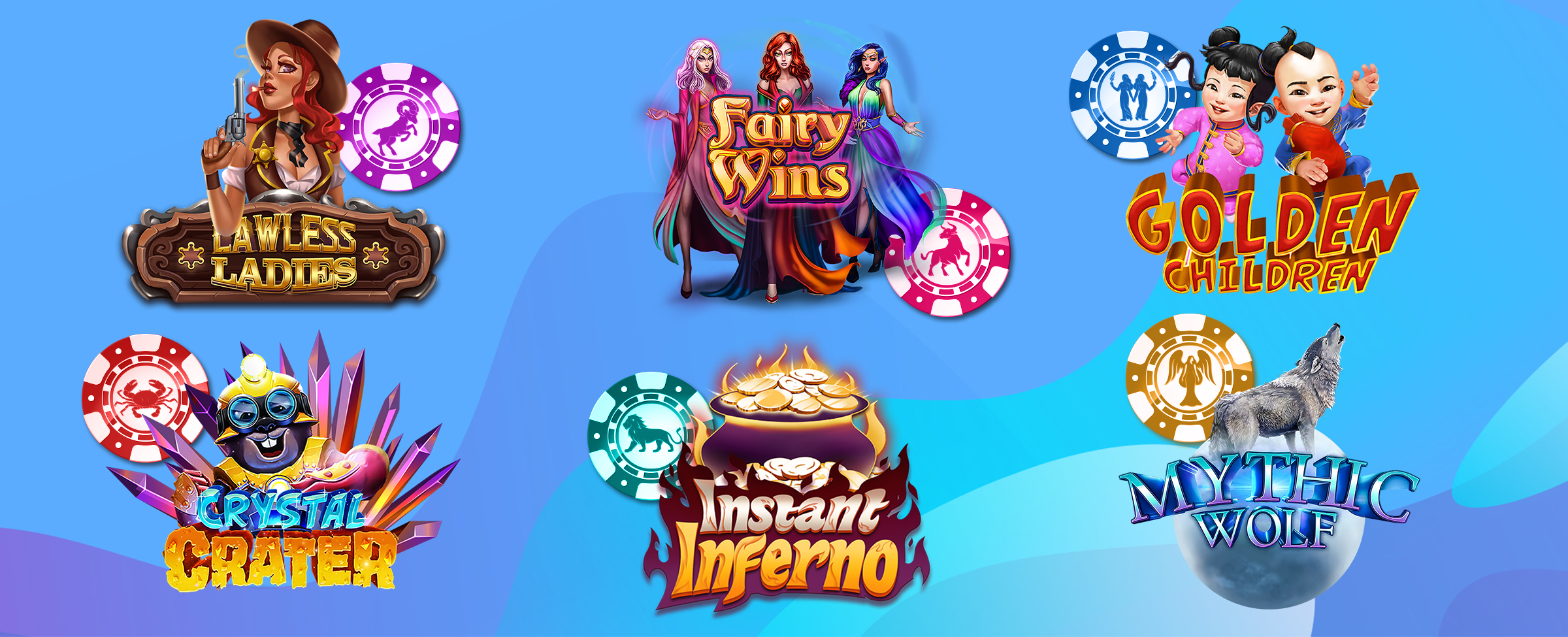 Leo (July 23-August 22) – Play Instant Inferno
If there's one thing we know about a Leo, it's that they are on fire with passion and simmering with life. Not many other signs possess the courage of the Lion, and you'll need plenty of that burning passion and courage to enter the Instant Inferno!
There are two scatter symbols cackling through the inferno, and a courageous Leo will rise up as the true leader that they are and take control of their higher payouts. The intelligence of a Leo comes into play when you're faced with the Pick Me bonus round – which three tiles will reveal the biggest prize? Do you dare to find out? If you're a Leo, you surely do!
Virgo (August 23-September 22) – Play Mythic Wolf
The Mythic Wolf is a magical force upon the Earth. He is not unlike the traits of a Virgo. He is shy at first as he ambles through the deep blue forest drenched in moonlight and wild multipliers. But once he senses trust, the Wolf inches closer and closer, and he'll share the deepest secrets of treasures under the moon.
A warm-hearted Virgo can help the shy Wolf warm up to the slots reels. As the feathers fall upon the forest floor, your perfectionist nature as a Virgo will inspire you to reach out and grab as many as you can. When you do, up to 50 free spins along with greater multipliers will reward your diligence.
Libra (September 23-October 22) – Play 777-Deluxe
Just as a Libra knows how to keep things in balance, a game like 777 Deluxe sure knows how to balance the old school with the new!
Traditional symbols appear on these reels like fruits, bells, bars and sevens, which tip the scales to the older side. Then something new pops up, and twirling mystery symbols appear along with eight different jackpots, and suddenly the scales are leaning towards something more modern.
A Libra is the best type of sign to truly appreciate the compromise of such old-school symbols with hyper modern graphics and prizes, and as a Libra, you're bound to find harmony when you bring them all together!
Scorpio (October 23-November 21) – Play Fast & Sexy
No one can blaze their own trail quite like a Scorpio can, and Fast & Sexy has all the tools you Scorpios need to blaze ahead at full throttle!
A Scorpio is known for barging in and making a statement, and it's easy for a Scorpio to do so when behind the wheel of a shiny red sports car with a sexy woman leaning on the hood, like in this SlotsLV popular slot.
Scorpios who are independent and unafraid will feel right at home as they charge through glamorous cities on the globe for a max win of 2,500 your bet, especially with a tank of turbo in a bonus round blaring multipliers through its tailpipe.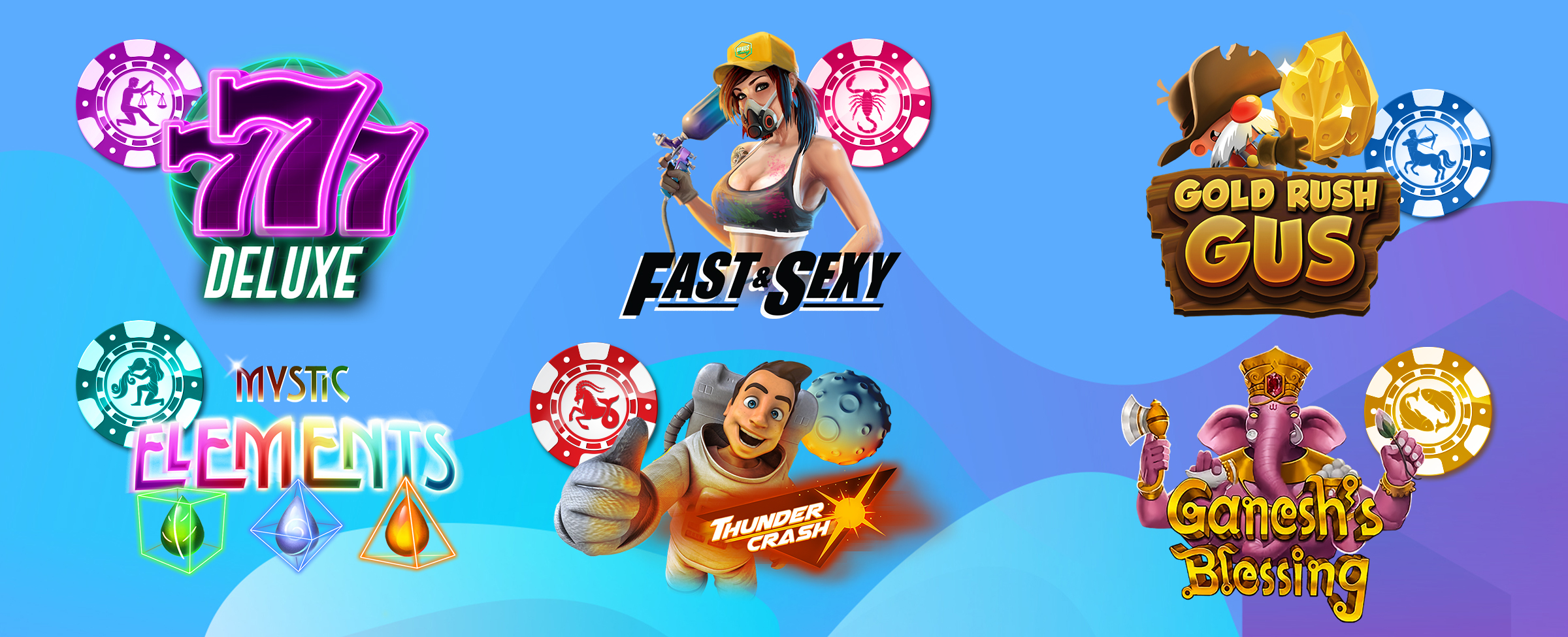 Sagittarius (November 22-December 21) – Play Gold Rush Gus
Gus is a jovial and good-humored guy, just like the Sagittarius who would love to spin his reels! In Gold Rush Gus, the two of you do what a Sagittarius does best, which is go on an adventure that's off the beaten path!
Nothing calls to the big-spirited heart of yours like the chance to go for exactly what you want – like being placed right in front of a mine full of treasure. Three progressive jackpots might be in the distance, but a Sagittarius would hate to stop at just three things. You'll be filling up your insatiable spirit in the mines by digging up free spins and interactive bonus rounds, too.
Capricorn (December 22-January 20) – Play Thundercrash
In a game like Thundercrash, you'll need to have just the right personality to take control of the ship and secure a positive fate for yourself and a hopeful crew.
No one but a Capricorn would be up for the task of controlling a ship as it soars through space collecting multipliers, since Capricorns are in complete control of their destiny. You may love to follow the rules, but you still have a knack for always getting what you want in the end. In the case of this game, you want all the multipliers you can grab before the ship crashes into the abyss and you lose it all!
Aquarius (January 21-February 18) – Play Mystic Elements
Aquarians are highly enigmatic, which is a perfect fit for the mysterious reels that stir up the Mystic Elements of the universe. Each Aquarius is incredibly unique, and no one Aquarius is quite like another. That is very much how you'll find the elements within this online slot, each having their own type of power.
As an Aquarius, you may find that you harness the power of water. Water is a high paying symbol here, but you'll want to pay even closer attention to the Light. When you land five Light symbols within the bonus round, the sincere and uncompromising efforts of your nature will be illuminated when you win the progressive jackpot!
Pisces (February 19-March 20) – Play Ganesh's Blessing
A Pisces is known to be deeply intelligent. That is just like Ganesh, the elephant-headed Hindu god who is the patron of intellectuals. Followers of Ganesh worship him before any major enterprise, and an intuitive Pisces knows just when Ganesh is in the mood to be generous.
As a Pisces with a deep intuition, when your gut speaks to you, give Ganesh one of your gentle and compassionate nudges in the right direction. You know that Ganesh will notice, because when a quiet Pisces speaks up, the world stops to listen. If your intuition is correct and Ganesh's Blessing is ready to be released, then the god will lavish your selfless nature with rotating spins that give you four times the chances to win.
As you're finding the right online slot game for you that's based on your zodiac sign, remember that there is one thing every sign has in common, and that's that you can have fun playing at SlotsLV Casino! So get in tune with your sign and look up to the stars. The perfect slot that compliments your nature is waiting for you at SlotsLV, and the universe is ready to deliver on the fun!