Hear Your Slots Horoscope From Cleo
Come now, a little closer…closer still… Ahhh, yes. Welcome, my lovely, to the House of Miss Cleo.
You look a little familiar – have we met? Hold that thought – you can tell me as I guide you through a journey across the galaxy. Follow me at the hour when the sky turns to dusk and I'll take you to our gathering place, bathed in blue beams of moonlight just outside my palace grounds.
I have waited for eons for you to arrive, all the while consulting the stars each night to find the best online slots for you to play. The stars have spoken, and I, Cleo, hold the answer to which is the best SlotsLV online slots for you, based on your zodiac sign.
Come, darling, whether you're a leader, thinker, or an artist. Lean in a little closer while I whisper into your ear the best slot for your star sign.
Aries, Leo, and Sagittarius: Play A Night With Cleo Hot Drop Jackpots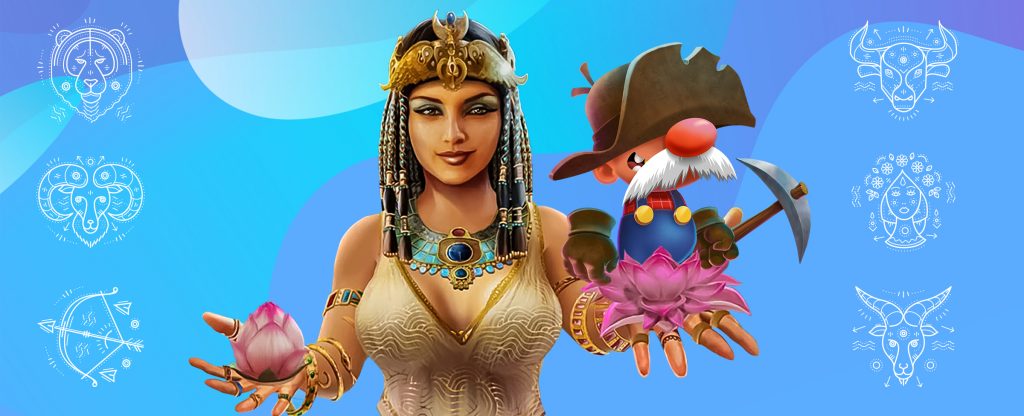 I could feel your glow from the moment you crossed the river and approached my palace doors. You are a sign of fire who is passionate, bold, and charismatic. Every servant, cook, and royal in my compound surely stopped in their tracks to show their regard.
The perfect slot for you is one that will rise to the occasion of your own naturally strong character, and light the fire of an even greater passion.
That slot is the one that belongs to me, in A Night With Cleo Hot Drop Jackpots.
If you wish to take a chance with me, I would be more than obliged to engage you in a little game. After any winning spin, you can join me at my lily pool for a guessing game that doubles your winnings… and reveals to you a side of myself that only a select few suitors have ever had the chance to see.
If, by chance, the power of the moon overcomes you and you discover three crown symbols, you will be awarded one of three SlotsLV Hot Drop Jackpots that must trigger every hour, every day, or any time!
Taurus, Virgo, and Capricorn: Gold Rush Gus
There are times in everyone's life when we need a dependable and stable person to rely on, and that is when we all appreciate having a friend like you. As an Earth sign, you are grounded, loyal, and practical, and I am sure that I can count on youto be there as my rock.
You remind me, in fact, of a friend of mine named Gus, and I believe the two of you would become quite the team in his particularly popular game, which you might know as Gold Rush Gus.
You'll feel right at home when you meet this kind and trusted pal, and it isn't only for his heart of gold. Like myself, who prefers to live a life of richness and opulence, Gus is a traveling man who has devoted his life to gathering jewels.
Your strong and steadfast gang attempt to uncover riches beyond your wildest dreams, including free spins, multipliers, re-spins, bonus rounds, and one of three progressive jackets when you find just the right gem.
Once you've gathered your slots gold, if you find you get along with Gus – which I'm certain you will – you can join him again for another adventure, this time in the jungle inside Gold Rush Gus and the City of Riches.
---
Speaking of great friends: Earn a bonus when you refer a friend to join SlotsLV.
---
Gemini, Libra, and Aquarius: Larry's Lucky Tavern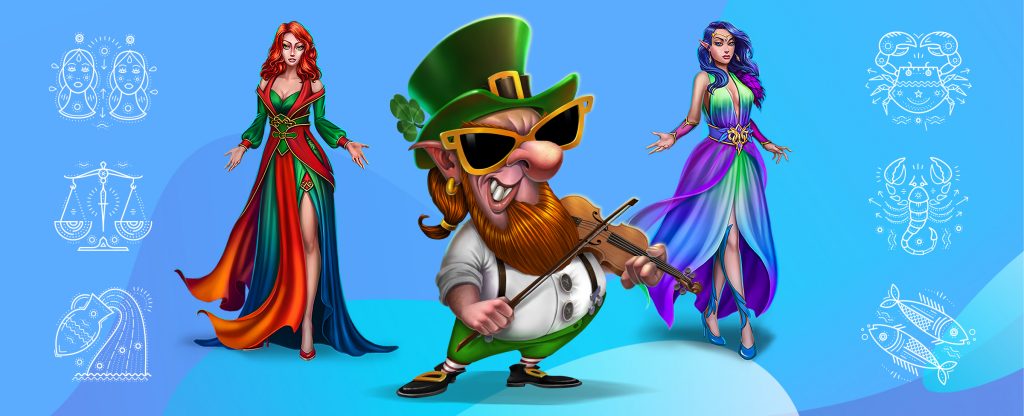 Whenever I or one of my loyal subjects need someone in whom to confide, or to accompany us to a gathering on the palace grounds, it's an Air sign like you that I invite. You are a great communicator with splendid social skills, and I know for certain I can count on you to engage my guests in a deep and meaningful way.
I would never dream of putting your social talents to waste, which is why I've called upon my good friend Larry to open up a seat for you at Larry's Lucky Tavern. I think the two of you should get to know each other.
You won't need to do anything but be yourself, and engage him in the type of heartfelt banter that comes so easily to an air sign like you. Larry will warm up to you within minutes, and when he does, you'll get the edge in the conversation and inspire him to dole out extra perks.
He'll release his keg to pour out expanding Wilds during slots free spins, and he may even invite you through the wooden doors to the back of house for a guessing game that could result in a wealthy surprise.
Cancer, Scorpio, and Pisces: Fairy Wins
For all of my lovely water wanderers out there with traits both artistic and imaginative, I have a slot online that is awash with matches for your whimsical ways.
Inside Fairy Wins, you will feel right at home in a magical game with fantastic fairies wrapping you up in their delicate wings and whisking you through the forest of slots prizes. Just as you, a deep and sensitive water sign, can easily ebb and flow between states of life, the fairies inside this game make the reels flow with life-giving free spins.
A water sign like yourself would do anything for the ones you care about. You can expect a fantastical game like this to try to ensure your deepest desires are fulfilled as well, which is why it's equipped with a progressive jackpot it can give out at random when the time is right.
When you collect the prizes you earned throughout the forest, use your intuition to follow the song of the fairies to the withdrawal page at SlotsLV. There, you can withdraw with crypto within a matter of minutes, and fully embrace the magic that a deep and dynamic water sign like yourself is destined to do.
Now, my lovely, it is time for me to retreat to my chambers and await a certain special player to join me for a game. The stars have confided in me their celestial secrets, which I've shared with you now. Seek these and many more wonderful online slots out at SlotsLV Casino!