LOOKING FOR THE BEST SPORTS SLOTS? NO SWEAT!
When it comes to watching sports, there's more to the action than just what you'll see from the athletes on screen as they flex their muscles and work up a sweat in pursuit of a win. It's also the fans who are getting a good old workout of their own! How, you ask? By tapping into the elite sports star within, of course!
You don't have to be a professional athlete yourself to get a piece of the game-day action, though. Whether it's football, basketball, hockey, or even the derby, you can play SlotsLV sports slots between the big moments and pursue glory side-by-side. Then, as your favorite team is cradling their winner's trophy, you could be hoisting up your very own cash trophy right alongside them.
These are the best online sports slots at SlotsLV that give you the chance to join the game and call all the shots! Huddle up, team. We're getting into it, front and center!
GRIDIRON GLORY
When NFL season rolls around, football fans stock up on snacks and drinks and settle into the living room on football-filled Sundays. While quarterbacks are handling the snap, and defenders are tackling offensive players, Gridiron Glory has you storming down the field with a ball in your hand, expertly dodging opponents – between handfuls of Doritos, of course.
After any winning spin in the online slot, the cheerleaders will show their support with team-colored pom poms that remove winning symbols and allow new ones to take their place for another winning opportunity. When the football comes flying toward your end of the field, give your best leap to catch it – and hold on tight! Getting three or more will award you up to 25 free spins with up to 10x your winnings.
No football game comes without a challenge, however, and you can expect the rivals to be playing just as hard. Up to two reels in this NFL slot can randomly turn Wild, expanding into a full-sized football player who's barreling towards the end zone to score for your side. Glorious!
Before you hit the gridiron, start by funding your account! Consider our Bitcoin casino methods for the fastest and easiest deposits!
STREETBALL STAR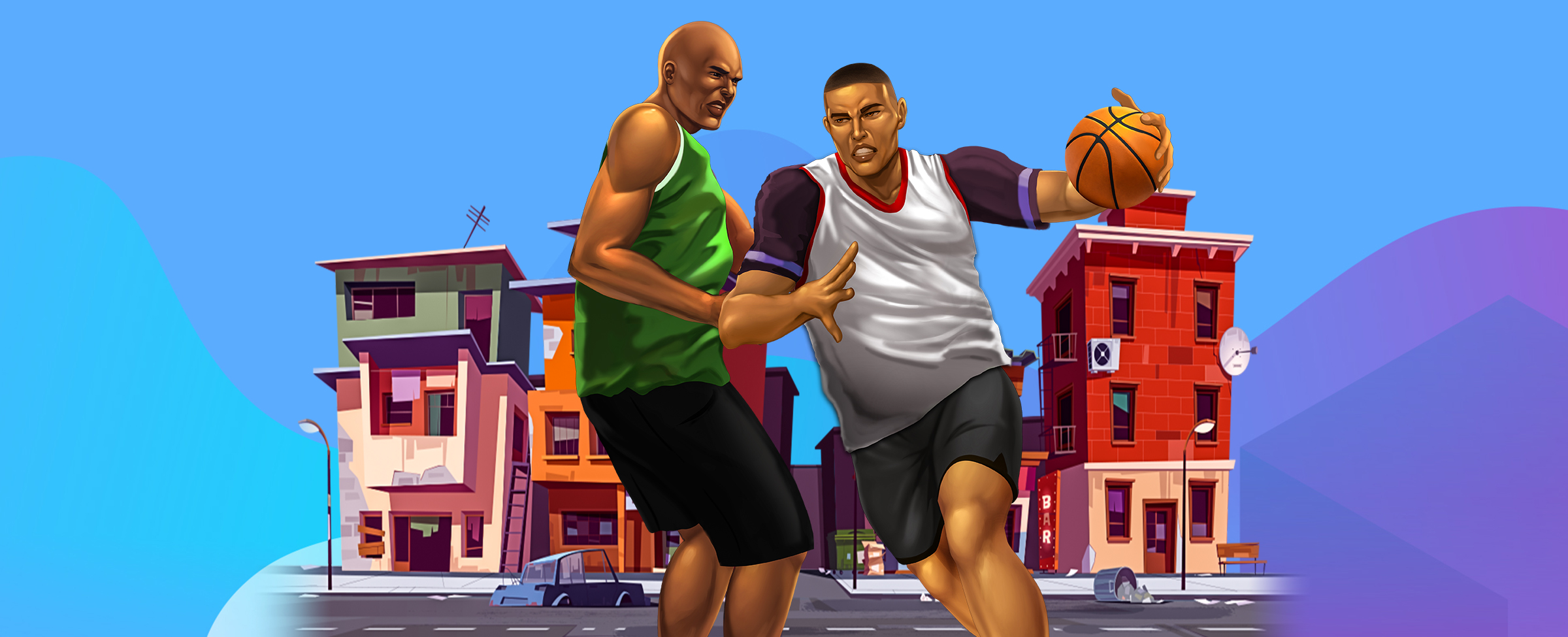 When the glint of the sun bounces from the court's asphalt and into your eye, it carries with it a message that is too enticing to ignore: grab your ball and your sneakers, because it's time to shoot some slots hoops!
You know that, whenever an outdoor game of ball hits a certain pace and intensity, you're likely to attract at least a small crowd, and that's exactly how things will play out in this game as Streetball Star heats up.
The first to approach was passing by the court on skateboard before you caught his attention, but now he's asking if he and the can of spray paint he holds casually in his hand can join you. It's a good thing you're so welcoming, because now, whenever the game's symbols combine to form a winning pattern, your new team member sprays them off in a blob of orange as soon as your win is tallied, allowing new symbols to take their place in an attempt to form another win without taking a breath.
The basketball scatter in this SlotsLV online slot doesn't rest as it bounces from line to line and hand to hand. But you don't mind, because you know that when you collect three or more of them, the scatter trio will ramp up the excitement by gifting you up to 25 free spins and multipliers up to 10x. The game's not over yet, though, and just as the cheers are settling down from your free spins round, a Wild event could randomly strike on one or even two reels, turning them into stacked Wilds – and ultimately, stacked wins.
HOCKEY ENFORCERS
The stands are packed, the players are in the zone, and the puck can be heard skidding over the hard ice as the coach commands his players from the bench. You and your team are here to enforce the law of the rink on your rivals, and Hockey Enforcers has all the equipment you need to make it happen.
As you're flying down the ice and moving the puck toward the goal, the red light prepares to erupt when the puck slams into the net. This red goal light is your Wild symbol, and it can stack on reels 3, 4 and 5 just as your real money points stack up on the scoreboard. That's not the only thing that's Wild in this sports slot, though, and eventually you'll discover this for yourself if two of the reels simultaneously turn Wild in a random Wild event.
When you're in the zone and the game is getting hot, the hockey puck can really take the heat and keep it off you. Be glad that it is, because it might even spark a very useful trail of flames. That's your scatter symbol, and if you land five of them you also land 25 free spins with a multiplier of up to 10x.
WORLD CUP FOOTBALL
Ever since you started your career as a footballer on the national team, the media has been stuck on you like glue. You've made a name for yourself by handling the ball as good as anyone on the field, and you steamroll your rivals consistently, again and again. The game you play in World Cup Football will be the highlight of your career, and if you win it, you're sure to secure your spot as league MVP.
The moment that whistle rings out loud and shrill, you're already dribbling full speed down five reels and four rows with 50 paylines. This is one of our sports slots with the most exciting bonus rounds, and there's practically no end to the action once you get it going. Give and Go Re-Spins will trigger when your left wing forward stacks up on reel one, triggering the rest of the players and Wilds to lock while the re-spins rush the field.
If you manage to pull a hat trick with three scatters, you get 10 free spins which can be retriggered. Win, lose or draw by the end of the game, this crowd is still like putty in your hands, but you'll have to place them down gently so you can scoop up all your SlotsLV winnings!
You can also scoop up unlimited referral bonuses! Want to find out more?
DERBY DOLLARS
The prize purse for the derby is reported to be in the millions for the biggest events, and in Derby Dollars, you could get your hands on your own epic prize pot that rivals the real life derby's top awards.
As more and more jockeys enter the race and each contributes his or her wager into the progressive jackpot, the prizepool purse of the race grows steadily on. Unlike the real derby, where you have to cross the finish line to secure the purse, this online sports slot randomly allows you to win the big jackpot at the conclusion of any spin. Along the way, there are still 25 free spins via the scatter, which should keep your horse galloping on for gold.
ZOMBIE FC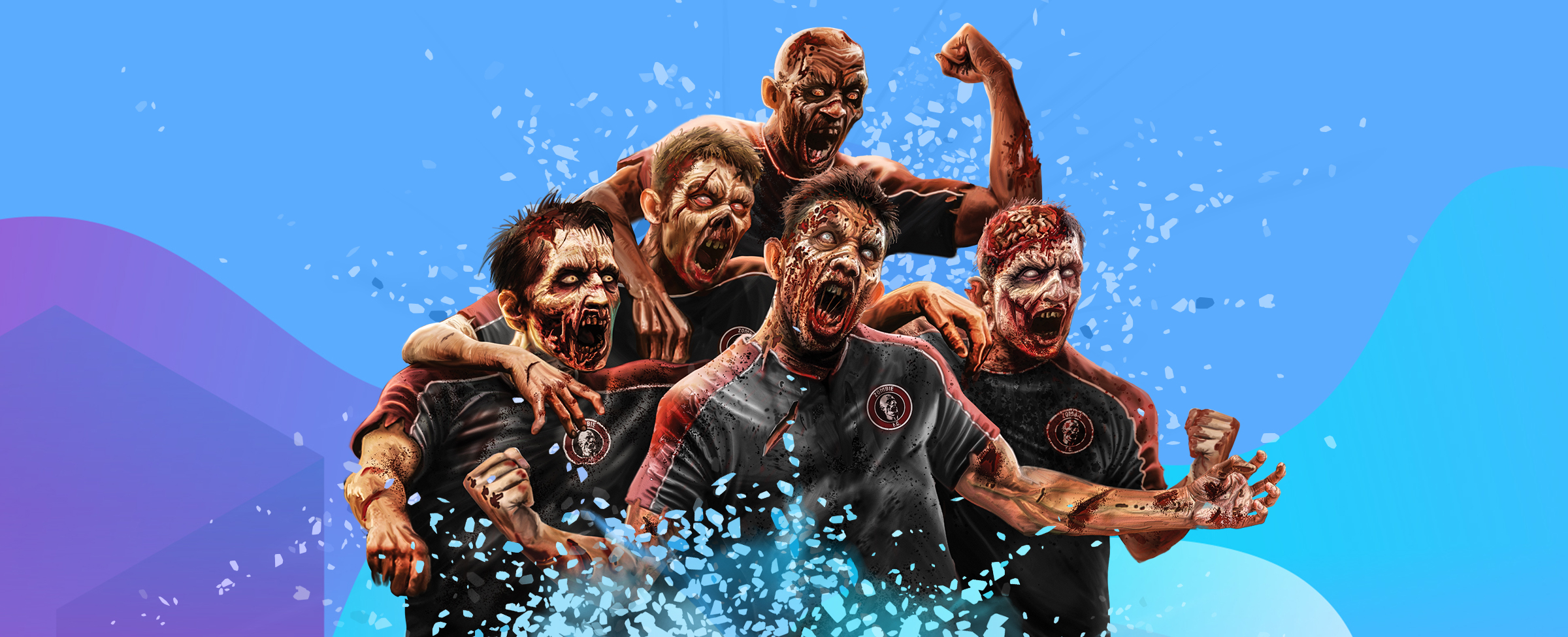 They'd always said that this FC can be brutal on the field, but who knew they meant like this! It's important with any sport, as it is with any online slot, to get your practice in before the big game, and that's especially true when you're playing a team that shows no mercy, like with blood-thirsty zombies!
In Zombie FC, you join the undead on the pitch for a grueling game of gore. "Going in for the kill" is no figure of speech on this field, and as you fight to the death, every dribble, pass, and shot could end up being your last as a living human as the immortal combatants take their soccer very, very seriously.
Whenever at least 3 gory-trophy scatter symbols land on the reels, you'll be rewarded with up to 25 free spins with progressing multipliers. Plus, with every winning spin across the 243 paylines, those win symbols splatter and new symbols fall from above for more chances at scary-good payouts.
And at this rate, you'll be making a meal out of them.
CRICKET LEGENDS
When it comes to sports-themed slots, there's one in particular that knocks it for six – every single time.
The Cricket Legends slot has ways and opportunities to win beyond just scoring more runs. There are 243 ways to land your winning symbols, which include the batsman, the wicketkeeper, the coach, and the referee. When you do happen upon one of those winning ways, the contributing symbols are covered by a gold star and replaced with new ones. If only a real-life cricket game had a twist that exciting!
While you're on perfect pitch and busy stumping batsmen and returning balls, reels 2, 3, and 4 could randomly turn into an expanding Wild that replaces other symbols for a potential win. This legendary slots match is leading up to the big, golden trophy, and when at least three of them land, you can enter the round you've been batting for – the round of free spins. Once you're spinning, each consecutive win increases the multiplier until you reach up to 10x your stake, doing your team and your country proud for the tournament.
Your favorite sport's official season might be over for the year in the real world, but at SlotsLV Casino, you can play your favorite sport at any time, and take it all the way to the ultimate reward! Whether you find yourself grabbing a basketball to shoot some hoops or dusting off that cricket bat to hit your way to a few runs, you can be sure that these popular sports slots will be fired up for a fresh competition, with a crowd of hungry fans waiting for you to bring the entertainment!
---
Our exciting daily drop jackpots have a high prize pot to be won every day!