VEGAS CASINO-INSPIRED SLOTS: 10 GAMES TO DAZZLE YOUR PAYOUTS TODAY
There's nothing quite as magical as the sprawling skyline of Las Vegas, lit up in dazzling colors from street to sky. Inside the neon metropolis playground are sensational experiences including luxury hotels with VIP service, endless rows of cash-filled slots, and free drinks to liven up your night! Something you could only experience in Vegas itself… until now!
We present to you the best SlotsLV Vegas slots to play from anywhere, inspired by the sparkling casinos on the Strip. You don't need a plane ticket or several paychecks to reserve a suite. We've got your VIP Vegas experience right here from either your mobile or your desktop – we even bring the drinks!
If you're dreaming of an unforgettable escape into a world where prizes come to life and paydays reign supreme, then stay exactly where you are and let us take you on a journey through the streets of Las Vegas. Not only will you seek out the best thrills from the Strip, but also the most memorable prizes.
CAESAR'S VICTORY
Everyone knows one of the most opulent of palaces dominating the Strip is in honor of Caesar himself! When you play Caesar's Victory slot, you get to rule the Vegas Empire right alongside the original emperor himself, plus collect on a randomly awarded progressive jackpot if he's feeling benevolent and a touch generous.
As you reign victorious over this 5×3 slot set inside the ancient Colosseum of Caesar's Rome, you can get up to 10 free spins with doubled wins when the gold-laden Caesar and his big-toothed horse are united on reel 5.
Caesar himself is the Wild in this game and he's always ready to rule over your 20 paylines on reels 1, 2, 3, and 4 by replacing the game's regular symbols, like his lover Cleopatra, as well as a knight's helmet, a shield, a carriage, and playing cards.
GODS OF LUXOR
We may have left Caesar behind, but your royal rule isn't over just yet. Another kingdom not that far away has its doors wide open for you: The famous Luxor with the iconic pyramid.
The Gods of Luxor welcome you in this luxurious 5×3 slot set over the ancient pyramids of Egypt on the fertile banks of the Nile. When you "spin" the reels in this game, which take on the form of serpents, the crocodile god Sobek, and an other-worldly cat, stone slabs will rotate in place within the surrounding frame of a stone temple.
Three or more ankh scatters anywhere on the reels award you 15 free spins which multiply all wins by three, unless the winning line has five Wilds. Any winning spin is enough to trigger the randomly appearing multiplier wheel with its seven fixed multipliers, and the chance to have a true spiritual awakening in this Egyptian pyramid.
SAVANNA KING
There's an iconic lion guarding the strip, opening its doors to another taste of the wild life of Vegas, this time channeling a different kind of landscape.
Before you face him, brush up on your skills in the Savanna with the King in his natural environment. In Savanna King, this 5×4 slot is all about claiming your own spot as King as you dart through baobab trees in pursuit of your exquisite prey.
When you get close, three Savanna King scatters ignite an earth-trembling stampede, where a herd of wild buck amble pass your field of vision, fueling up to 20 free spins, animated Wilds, and multipliers up to 4x.
---
One of the best parts of the Vegas Strip is experiencing it with friends! Enjoy the same thing at SlotsLV by Referring Friends today!
---
CASH MONEY MERMAIDS
In between Vegas-style slots at your own casino, what better way to kick back and refresh your spirit than a classic Vegas water show?
Cash Money Mermaids not only gives you fountains of entertainment, but these gorgeous sea women are ready to pay up to see you join them. A bubbly tune makes for a bumpin' underwater party, and seahorses and cash money symbols swim through 5 reels. King Tune rules these reels as he spins his tunes, and he can transform up to 15 symbols into Wilds during any free spin, making this an underwater event to remember.
REEL CIRCUS
Time to experience the whimsical magic of a fabulous Vegas show! Vegas is famous for hosting world-class circus performances like Cirque du Soleil, where intricately trained acrobats astonish the audience with their impossible talent.
Reel Circus sets out to astonish bettors with 10 free spins and 3x multipliers awarded by landing three clown scatters. Your favorite circus characters are all there, including the bearded lady, the tiger (who is also your Wild), a contortionist, and a fire swallower. When the Wild tiger jumps on the reels with a valiant roar, he can multiply your wins up to 10x. If the cannonball man scatter shoots onto the reels three or more times, you get 10 free spins with 3x multipliers. It'll be a show to remember!
DIRTY MARTINI
Let's be honest – sometimes the most enjoyable part of the casino floor in Vegas is sipping on free drinks between light-heartedly spinning through slots.
One of the fanciest drinks when you're feeling classy is a dirty martini served straight-up. This 5×3 slot will serve you the finest beverages Vegas has to offer, and all on a silver platter. You get luscious red wine, a frothy golden brew, whiskey on the rocks, and of course an olive to dress up your dirty martini. Three or more slot coins award 15 free spins with tripled wins, so you should be shooting back plenty of cash with this SlotsLV online slot.
With all these winnings on the floor, just don't forget to tip your server!
21 WILDS
One of the most action-packed parts of Vegas is at the Blackjack table. It's the quintessential experience on the casino floor, but this time there's no need to scrape your cards for a hit – you can simply tap "spin" to line up your chances for a Blackjack.
21 Wilds slot reinvents your traditional Blackjack experience by offering even more chances to win. As you spin through playing cards, card suits and a "natural" A-J Blackjack, you'll be intent on picking up the tumbling coins along the way. These are your scatters, and three of them award five free spins with a multiplier of 2x.
Unlike the Blackjack table at a land casino, this casino offers a Winning Multiplier. After each non-winning spin, a progressive multiplier increases until you eventually land a winning spin, and then that winning spin is awarded with the multiplier! 21 Wilds brings you the nostalgia of the card games on Freemont street but without leaving the couch!
---
Join SlotsLV today to spin these Vegas slots! Collect up to $7,500 in Crypto Welcome Bonuses while you're at it!
---
5 TIMES VEGAS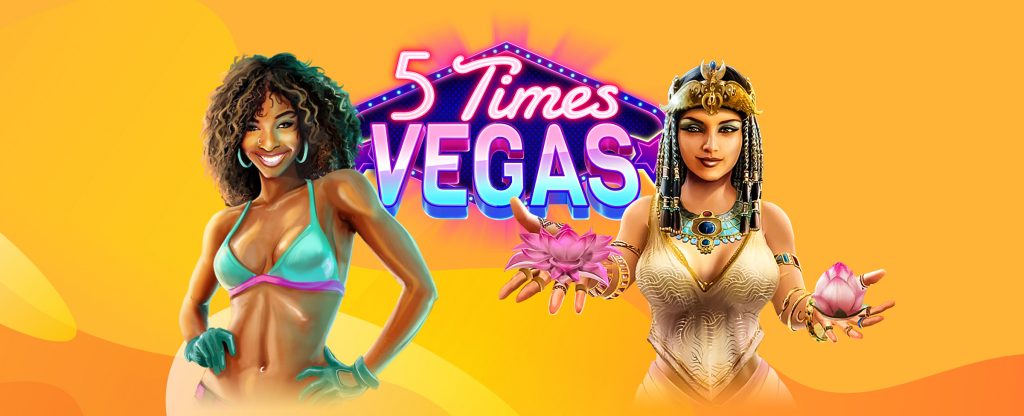 Speaking of Freemont Street … the most famous casinos of Vegas line the brilliantly lit-up old street in the heart of the casino corridor. 5 Times Vegas transports you smack-dab in the center of the neon lights, towering skyscrapers, and picturesque palm trees to relive a classic Vegas slot experience.
Played on a traditional game screen with 3 reels and 3 rows, the Wild symbols run this street with 2x, 3x and 5x symbols that each have their own paytable. When landed just right, they can multiply your wins up to 25x.
If a Wild lands on reel 3, reel 2 chimes in with the action and spins into a frenzy for another chance at winning.
A NIGHT WITH CLEO
We've run the town spinning slots with lions, circus performers, the Blackjack table and more than your fill of free drinks. Now it's time to revisit the bit of Egypt on the Strip for a night with Cleo, a rather sensual break with history's hottest pharaoh.
Cleopatra is famous for her steamy love affair with Rome's Marc Antony. Fortunately for you, he is nowhere to be found in this 5×3 slot – but Cleo is still on the lookout for a new lover. Awaiting just inside the doors of the pyramid are 5 reels, 3 rows, and 20 paylines bathed in gold. Oh, and Cleo herself.
A randomly awarded progressive jackpot could trigger after any winning spin, and a gamble feature lets you double your winnings and get a few moments alone with Cleo for some distinctly adult moments. Who says you can't be rich AND sexy?!
FAST & SEXY
On the topic of sexy times in Vegas, nothing could fire up your passion more like ultra-fast race cars and beautiful women. Fast & Sexy slot sets you behind the wheel of a hyper-fast race car. It speeds through the streets of Vegas, with red-hot babes lounging in the passenger seat as you accelerate through the reels.
The Wild is expanding, and when it appears on reel 3 it covers the entire reel and remains sticky. The other four reels spin while the Wild stays in place, giving you another great shot at a speedy win. You can also score free spins by way of the scatter, and through a bonus round where you'll also have the opportunity to multiply your stake by 20x.
Buckle up! We're about to go full-speed Vegas.
That ends our Vegas tour at SlotsLV for today… but Vegas never sleeps, and neither do we! All of these games are available whenever you wish to escape to a neon world of fun and games. Sign up today and try these games on Practice Mode for free either on your mobile's browser in your hand, or whatever's on your lap, and whenever you're ready to bathe in the glowing lights of Vegas for Vegas-sized prizes, the doors will always be open. May we take your bags?
---
When a Vegas slot jackpot hits, it's thrilling! At SlotsLV, Hot Drop Jackpots let you play for hourly prizes, every day!