Brighten Your Day With These Sunny New Slots
Nudge over the curtain and peek outside – what a view!
The sun is indeed shining, the birds are chirping like old friends at a garden party, and somewhere in the distance there's even a hint of a rainbow to announce the retreat of the last drizzle. It's already the perfect spring day as-is, but you can still embrace it with every last ounce of enthusiasm. That's why we're sending you a bouquet of gaming gifts.
These SlotsLV new slots are positively bursting with the good vibes of spring. They've got themes as bright as daisies, features seeding with every symbol, and jackpots jumping from the reels with a gust of gold and glimmer.
All of these things and much, much more await close by, ready to enhance your mood even more as you take in breath after breath of the refreshing spring air.
Temple of Athena Hot Drop Jackpots
With beauty, grace, and the power of a goddess, Athena hails from Greece to offer you some glowing slots features on this most uplifting day.
The mild breeze billows with a subtle power in Temple of Athena Hot Drop Jackpots. Pink flower petals are lifted from surrounding fields, filling the air with an aroma of perfume as they wisp in the wind.
Athena tilts her head your way with an alluring smile, and you follow her into her temple with symbols of a hippogriff, unicorn, and her trusty owl. Stacks of matching symbols three high are sure to broaden your smile even more, including during free spins.
Since she is gracious to humankind, Athena will do everything in her power to keep your day bright. She has included three SlotsLV Hot Drop Jackpots, including a Super jackpot that is configured to drop by the time it blossoms to a life-changing amount!
Vikings
Depending on where you live, springtime may be early enough to shed some layers and take a refreshing dip. If you're in the Vikings slot online, there's more than enough space in the wavy waters to do so. In fact, you can dive right off of the Viking ship for an invigorating swim, but not before you've helped the Viking leaders with some tasks.
The weather may be fine, but before you can enjoy it, there are enemy ships surrounding your own vessel that need to be taken care of. Your robust Viking captains will tell you what to do. You'll take the helm and steer the ship scatter full of the crew. When you land three of them anywhere on the reels, 10 free spins appear in which all Wilds are locked into place.
Once the sea is clear, it's all yours to float on with this new online slot. Catch that winning wave and ride it all the way in to an ocean-sized win.
Oasis Dreams Hot Drop Jackpots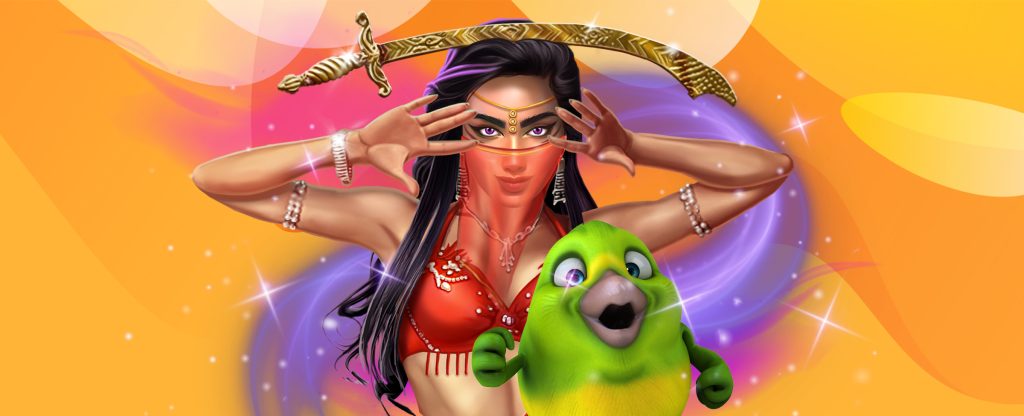 The legends have spoken of an Arabian princess that lives in a palace surrounded by desert. Anyone who seeks her out and discovers the Bonus symbols inside Oasis Dreams Hot Drop Jackpots will be granted the choice of two types of treasure: a free spins round with up to 200 additional Wilds, or a Hold and Spin game with four fixed jackpots.
The dusk is cool and clear as any pleasant spring night, and the sky has traded its brilliant blues for deep, floral shades of apricot and purple.
You look up to the stars for guidance on where to go, and your slots horoscope says to trudge forward going north, as does your compass. You are on your way to a palace full of prizes, as well as three Hot Drop Jackpots, one of which must drop every single hour.
If you refer a friend to help you locate the treasures in this and our other new slot games at SlotsLV, you'll be given a referral bonus to use on your play.
Galapagos Islands
When the sky breaks open to clear every last trace of gray, leaving only a vast expanse of cyan blue with cotton candy clouds, all of nature springs back to life. That's when a trip to the Galapagos Islands is due!
Just like on the real-life island, in this new slot, the famous Galapagos giant tortoises poke their heads out from their shells; rare birds tippy-tap out of their nests to prepare for flight; lizards skitter out of red mangroves; and seals playfully flap their fins over the slippery rocks. Each of them serves as your highest-paying symbols in the game!
While you explore the far-flung archipelago over 1,024 ways to win, the free spins feature may trigger at random. When it does, the only symbol left in play is the highest-paying tortoise!
If you'd like to get to know these historically significant creatures without going all-in on the expedition, there's still a place for you. This is one of our top online slots to play for free in Practice Play, and you'll experience its majesty, just without the real wins.
Celestial Gems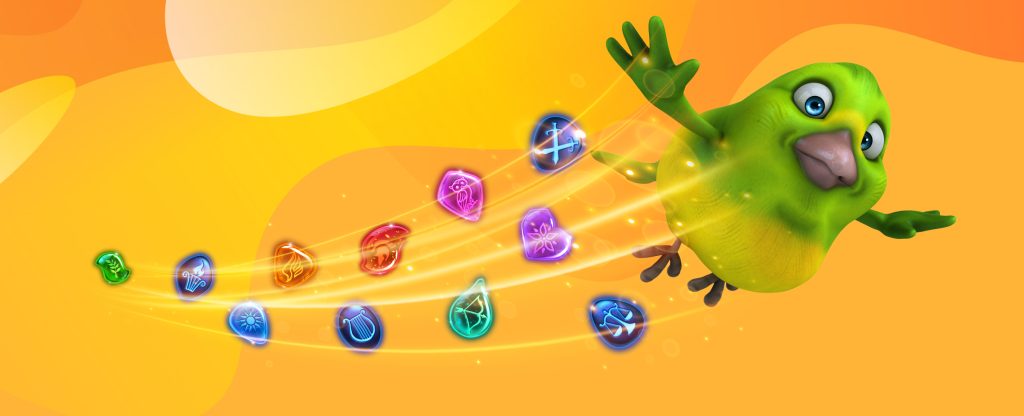 Spring sparks a certain mood of cheer and hope. You can practically hear the birds singing as you skip your way to work. If you listen closely enough, the distant sound of their divine harmonies will transport you into a world of Celestial Gems.
In this beautiful, ethereal realm, you'll be blown away like a dandelion on a breeze, but you'll also be reminded of the extremes of the warmer months: the storms. When the warm air rolls in with the cold, and at least one reel is covered in Wilds, a bolt of lightning flashes in before being added to a tally. The more bolts you collect, the more features will thunder over your new slot.
Since SlotsLV is a crypto casino, you can play Celestial Gems – as well as any other new online slots here – with crypto! That means you make a secure deposit with crypto, conveniently view your account in USD, and withdraw in crypto again for a much faster payday.
Opera of the Masks
After you've spent a full day admiring the wonders of nature, you may want to spend the evening immersed in a world of human endeavors. Sound good? Then why not go to a show?!
In fact, we have tickets to one of our new slot games, Opera of the Masks, ready for you now. If you accept the invitation, you'll head to the ritziest theater in town and settle into the front row of a classic Chinese Opera. Just like the sunshine that's now fallen beyond the horizon, the performers are full of energy and life, and you can see it in the intense way they perform. As the narrative unfolds, they continue to switch out their theatrical masks; each distinguished by its intricately designed artwork, conveying the emotional intensity of the story.
After any spin, you may opt to purchase a re-spin to further help you land a win. But as the music picks up and a crescendo is near, the show reaches the finale when you land three scatters and are awarded free spins with stacked Wilds. Standing ovation!
They're fresh, they're full of life and fun, and they're positively blooming with big wins just as joyful as spring itself. These new slots at SlotsLV Casino are, in fact, the perfect complement to your seasonal cheer. Plant a variety of wagers into the fertile soil that is these online slots, and watch on in delight as the features blossom into a garden of wins.