Hot Drop Jackpots: With Hourly and Daily Winners (Stay Tuned!)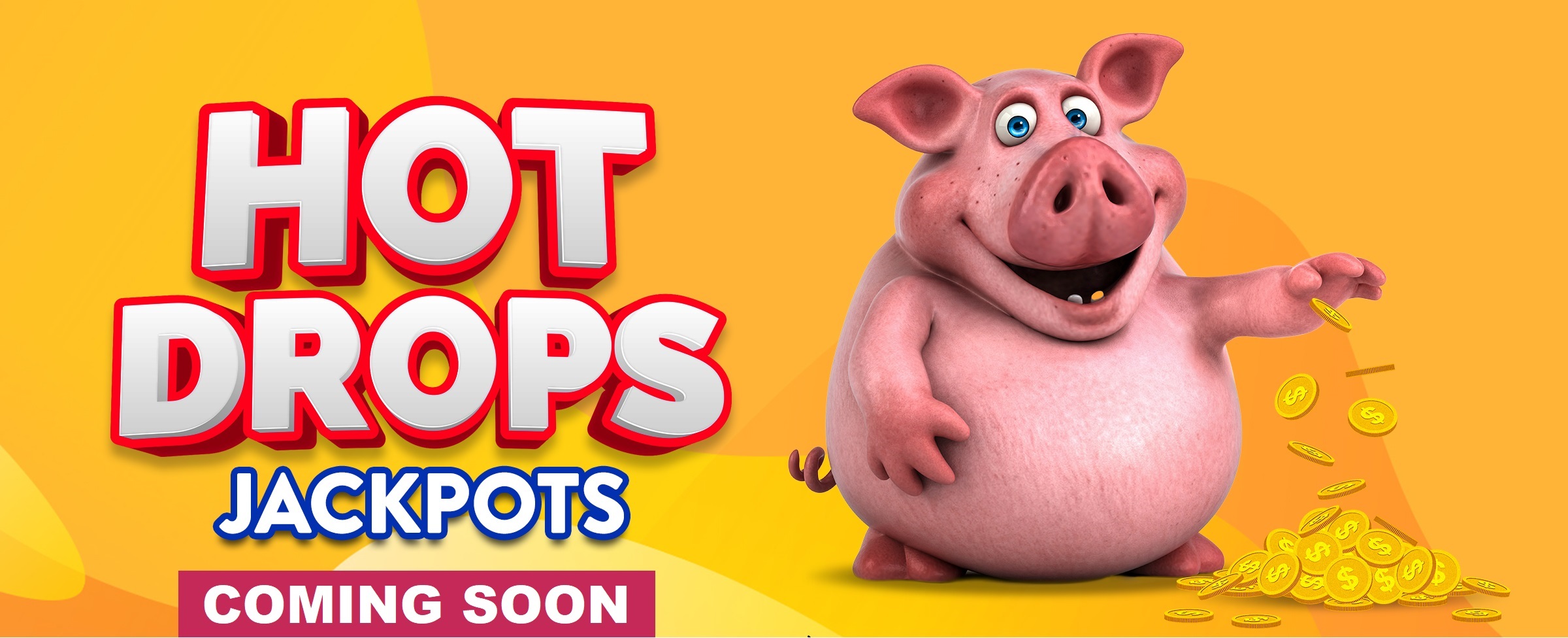 If you thought you knew jackpots, then what you're about to read is going to knock you right out of your socks!
Coming soon to SlotsLV Casino, there will be a brand new type of jackpot that will guarantee a prize every hour of each and every day.
Yes, you read that right!
Hot Drop Jackpots are progressive-style jackpots that must pay out by a designated time or when a set prize amount is reached. As the time ticks closer and the jackpot grows bigger, the thrills are cranked up on the dial until at one guaranteed moment, the prize bursts out of the game in one dazzling explosion!
At SlotsLV, there'll be jackpots to be won every hour of the day (a whopping 24 times!), with a bigger jackpot triggering once per day. Plus, there's an enormous Super Jackpot that must drop by a set (huge) prize amount, too. You've likely never seen such incredible jackpot potential before, as this will be the very first of its kind available in the American casino market!
The launch of SlotsLV Hot Drop Jackpots is juuust around the corner, so stay tuned to this page for the latest details. In fact, we recommend you go ahead and bookmark it right now. You don't want to miss a moment of playing (and a chance to become a jackpot winner!) when it's available, do you?
---
COMING SOON TO SLOTSLV:
HOT DROP JACKPOTS WITH GUARANTEED HOURLY PRIZES
---
What Are Hot Drop Jackpots?
If you thought you already heard a lot of hoots and hollers coming from SlotsLV big winners, just you wait. Hot Drop Jackpots is about to change the game, and some of those exciting noises might end up coming from your very own mouth!
Hot Drop Jackpot is a brand new feature coming soon to SlotsLV, where prizes must drop by a set time or maximum value amount. Depending on the type of Hot Drop it is, the jackpot will trigger by a certain time every hour (Hourly Jackpot), every day (Daily Jackpot), or before reaching a certain win amount (Super Jackpot).
What are the three types of Hot Drop Jackpots?
Hourly Jackpot
Your first type of jackpot is the Hourly Jackpot. As you've surely gleaned from its name, this means the jackpot must trigger once every hour. While it has the most modest win amounts, it also drops most frequently. The spins tick away the mere minutes, until bam! Someone's got themselves a sweet payday that hour.
Daily Jackpot
Just like the Hourly Jackpot, the Daily Jackpot SlotsLV prize must drop by a set a time: once every 24 hours. You have the pleasure of watching the jackpot amount rise higher and higher (definitely a lot higher than the hourly!) as the time keeps ticking and more players throw their bets into the ring. It could drop at any time – 3:02, 12:55, 9:18 – literally any time! All we know for sure is it must trigger, so someone's going to be a winner every day.
Super Jackpot
Now, instead of the Daily or Hourly Jackpots that must drop by a certain time of day, the Super Jackpot must drop when a certain dollar value is reached. It could take an hour to reach it… or a few days. The time doesn't matter; only that the jackpot is guaranteed to hit before it reaches that set prize amount. That's what makes this online slots jackpot so special and why it's definitely the biggest payday of the three types of must drop jackpot.
How Do Hot Drop Jackpots Work?
Hot Drop Jackpots, or must drop jackpots, will launch very soon at SlotsLV! That's why we're giving you a glimpse into what's coming so you can be ready to play!
You'll recognize the online slots gameplay and features like normal, except on the left hand side you'll see a brand new jackpot box which shows the Hot Drop Jackpots available.
As the Hot Drop SlotsLV game is played over and over throughout the day, and that big moment is ever-closer, the jackpots continue to grow with each and every spin – just like a regular progressive jackpot. Unlike a regular progressive, however, with Hot Drop Jackpots you know without a doubt that someone's going to win it pretty soon.
How to Win Hot Drop Jackpots
To win one of the Hot Drop Jackpots, you need to land three special Jackpot symbols (that look like crowns) which are only available in Hot Drop Jackpot games. When you do, a Jackpot Wheel appears to let you spin for a chance to win one of the exciting prizes. Hit spin and hold on tight; you're about to discover which prize will be yours – the Hourly, Daily or Super Jackpot!
What Games Feature Hot Drop Jackpots
These are the popular games at SlotsLV Casino that will feature the Hot Drop Jackpot:
A Night With Cleo
777 Deluxe
Golden Buffalo
The three types of exciting Hot Drop Jackpots replace the regular progressive jackpot in 777 Deluxe and A Night With Cleo that current players may be familiar with. However, if that's your cup of tea, you can play that progressive version at any time. You can find it available in our SlotsLV jackpot slots section.
Why You Should Play Hot Drop Jackpots
We all love playing SlotsLV online slots with a progressive jackpot, right? There's no doubt that it's one of the most exciting ways to play. The thing with progressive jackpot games, however, is that no one really knows when it will be won, or how high it will go.
With Hot Drop SlotsLV Jackpots, that jackpot is pretty darn close. It's so close, in fact, that you can practically feel it dancing over your account balance. The prospect of winning is not a hazy dream – it is as real as the ground that holds up your feet, and that very, very real winner could be you. There's always a winner; every hour of each and every day. Talk about an exciting time!
Can you win Hot Drop Jackpots?
Yes, yes, and more yes! These new Super, Hourly and Daily Drop Jackpots are constantly on the prowl for a lucky player, and there's no reason why it couldn't be you. The prizes are literally guaranteed to be given out. They aren't labelled must drop jackpots for no reason…
---
STAY TUNED: DAILY HOT DROP JACKPOTS ARE COMING TO SLOTSLV
TELL YOUR FRIENDS NOW, SO THEY CAN SIGN UP AND PLAY AS SOON AS IT LAUNCHES
---
SlotsLV Hot Drop Jackpots FAQ
The new Hot Drop Jackpots are coming soon to SlotsLV! Here's some frequently asked questions about them in the meantime.
Where can I play Hot Drop Jackpots?
This feature, which is the first of its kind in online casinos in the USA, launches very soon at SlotsLV.
Can I play Hot Drop Jackpots with crypto?
You sure can! Deposit with crypto (like Bitcoin or Tether USDT) and hit spin on any of the Hot Drop Jackpots once they're available. Crypto is a great deposit option if you want easier and quicker ways to transfer USD to your SlotsLV account, so you can focus on the fun of playing!
What's the benefit of Hot Drop Jackpots?
At SlotsLV, we're all about having fun! (SlotsLV is your happy place, after all.) With guaranteed hourly and daily prizes, these games are sure to be a great time – for you and your account balance.
When can I play Hot Drop Jackpots?
Stay tuned – these jackpots are coming soon to our online casino. Bookmark this page to keep tabs on the latest news. You can also go ahead and sign up at SlotsLV now, so you're ready to play when it's available!