The Luck Of The Irish Is In These St. Patrick's Day Slots
St. Patrick's Day is the quintessential Irish celebration, bringing out to the streets the Irish, the Irish-ish and the Irish at heart. And really, on March 17th… isn't that nearly all of us?
After all, who doesn't enjoy the thought of being caught up in all the day's traditional trappings: leprechaun parties, pints of Guinness spiked with green food coloring, and perhaps a green top hat to fit the theme?
But it doesn't begin and end there; St. Patrick's Day also means that you have a tip-top chance to riffle through lucky slots online to find your four-leaf clover and your pot of gold. You don't have to go through any three-leaf duds, either, because we've already gathered up the horseshoes, clovers, rainbows and other charms from these SlotsLV slots to play in March, and left them all right here for you.
These St. Patrick's Day slots at SlotsLV Casino are bursting with shades of green and gold, from the theme to their piles of cash prizes. They hold all of your favorite St. Patty's Day events, including a visit to your local Irish pub, a journey through a lucky Irish wonderland, and the opportunity to make your own luck with special features inside the game.
Larry's Lucky Tavern
No list of St. Patrick's Day games would be complete without a major mention of one of our favorite Irish slots: Larry's Lucky Tavern!
Haven't you heard? Anyone who's anyone is going to Larry's tavern for St. Patrick's Day. He's been waiting all year for his favorite holiday, and he's got specials pouring out of his 5×3 taps of prizes.
Right off the bat, Larry slaps down 50 paylines for his guests to take a gulp at. As you take in the live music with Larry himself strumming the fiddle, be sure to ask about the multiplying Wild. It can multiply your serving of prizes by up to 5x.
Of course, if you really want to get the winning edge in Larry's bar of prizes, you'll need to order a few pints to share. If you manage to get three free spins beers, Larry will top you off with 10 free spins and multipliers of 3x.
St. Patrick's Day is a time to share with friends, so be sure to invite a few more to SlotsLV. If you do, we'll help push your luck a little further with a referral bonus.
Leprechaun Legends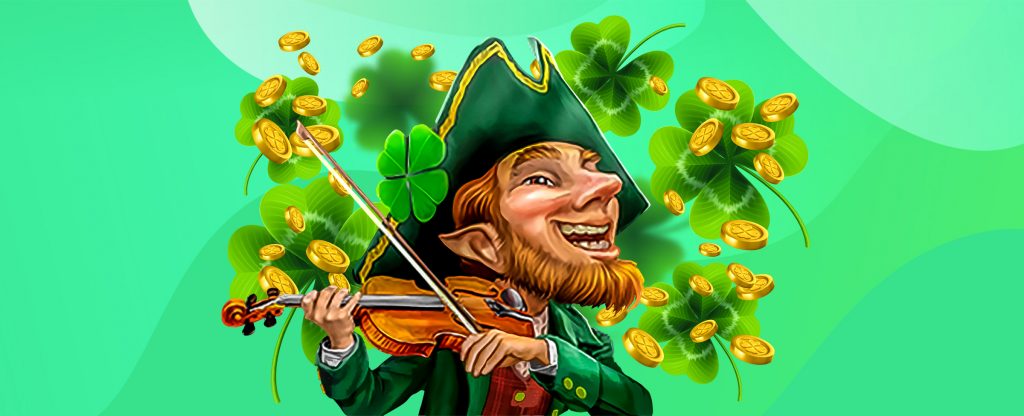 Are you nice and warmed up from Larry's? We sure hope so, because that was just the pre-game! Your next lucky streak takes place in another one of our favorite Irish slots.
If you're not sure how to reach Leprechaun Legends, just close your eyes, think of something green, and listen very carefully. You might pick up a whimsical Irish melody bouncing out its tune. Follow the music, and you'll discover an online slot that you will never forget.
Rolling green lands are sprawled out before you, abundant with luck and riches. The Pot of Gold feature invites you first with multipliers that can reach up to 10x. Keep going through the feature, and you may experience firsthand the Luck O' The Irish with re-spins. Keep smiling wide as you progress, because your final land is where you hear more clearly the Legendary Songs of the Irish, and the highest rewards in the game.
Lady's Magic Charms Hot Drop Jackpots
While the leprechauns of our Irish slots wave good-bye, another character with endless good fortune beckons you in.
When you reach the forest of Lady's Magic Charms Hot Drop Jackpots, you might feel a little strange. The ambiance of the enchanted forest and the lady who runs it is known to bewitch all who enter. Especially those who are searching for their luck.
When she spots you tip-toeing over the leaves glowing in a faint golden light, the lady with the flowing auburn hair will offer you her lucky charms. There's a rabbit, a ladybug, a horseshoe, and a four-leaf clover. Anyone who touches her golden orb may be blessed with 15 slots free spins with Wild multipliers that can reach up to 6x.
Try to keep your feet on the ground, however, because your biggest stroke of luck is yet to come. If three crown symbols land, you get to spin a special wheel for one of three Hot Drop Jackpots. These jackpots must drop at key times throughout the day, and the coveted Super Jackpot must drop along its way to a whopping, life-changing amount (psst – we have more games with SlotsLV Hot Drop Jackpots, too)!
Gold Rush Gus & The City of Riches
Sometimes the luck that finds you isn't from lucky slots charms or symbols, but from within yourself! In that case, it's always good to have a friend that can help you discover your own untapped luck.
Gus is just the guy to help inside Gold Rush Gus and the City of Riches.
You'll already feel like the luckiest player alive to accompany Gus on this adventure to where the Mayans lived. These ancient peoples have buried their most prized treasures under the earth, but there's one in particular that just might be your ticket to a string of good luck.
When you uncover two keys, you may unlock a coin gamble game to get in touch with your own luck. You must select coins on a giant stone wheel to increase multipliers. If you uncover a skull symbol, however, your luck will run dry. But as you'll soon discover with Gus, that just means it's gathering up for the next time!
8 Lucky Charms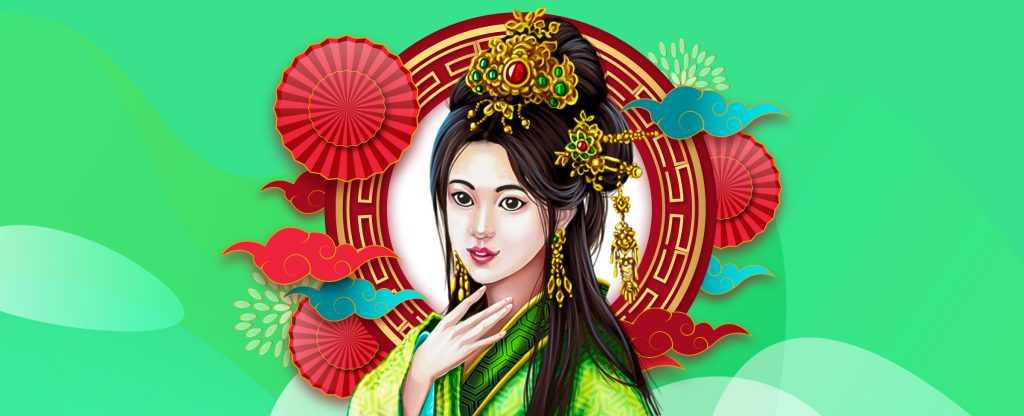 The sun is setting on a quaint Asian village, causing the cherry blossoms to glow with yellow and orange. Not many travelers who wander here realize, but within the rustling trees and Minka houses lies 8 Lucky Charms to endow you with an ancient slots fortune.
Two royal figures give you a knowing nod as you spin through the red-splashed reels. Golden coins tumble and clamber with nearly every spin, sometimes underneath the feet of a turtle.
A lucky tiger prowls through the reels. As you will soon discover, she is your ticket to having good luck at the casino. If she stacks up on the reels, a hidden stroke of fortune occurs as she transforms into a dragon that can multiply your wins.
Animal Wilds
When your charms are gathered and your Irish songs are sung, there's only one thing left to do: bathe yourself in a forest of pure green!
We have just the environment to wrap you up in good-luck green with Animal Wilds. The forest is bursting with shades of emerald, lime, fern, evergreen, and malachite. Everything you touch is another splash of green, with the exception of the great, lumbering animals. An elephant, giraffe, crocodile, panda, and polar bear have all come out to play. Ah, yes, it appears as if there is a potluck!
Every character is extra-larger than life as giant symbols in this online slot. And how thoughtful: they've all brought along something to share, including Wild multiplier symbols and 10 free spins with tripled wins. And is that a pot of delicious Irish stew you can smell?
If the luck from St. Patrick's Day hasn't already rubbed off on you, then go on and dance a fresh jig in these SlotsLV online slots! From a traditional St. Patty's Day in an Irish bar with Larry, through a legendary adventure with leprechauns among the rolling green hills, and all the way to a forest overflowing with lucky green, there's so much to experience. You even remembered the day's unwritten rules: the singing was loud and the laughter uproarious. Are you sure you're not a Murphy?
---
Ready to get started? Be sure to try your luck with crypto gaming. You can deposit more conveniently with crypto, play in USD, then get paid faster in crypto, too.