Hot Off the Grill: Slots to Play in May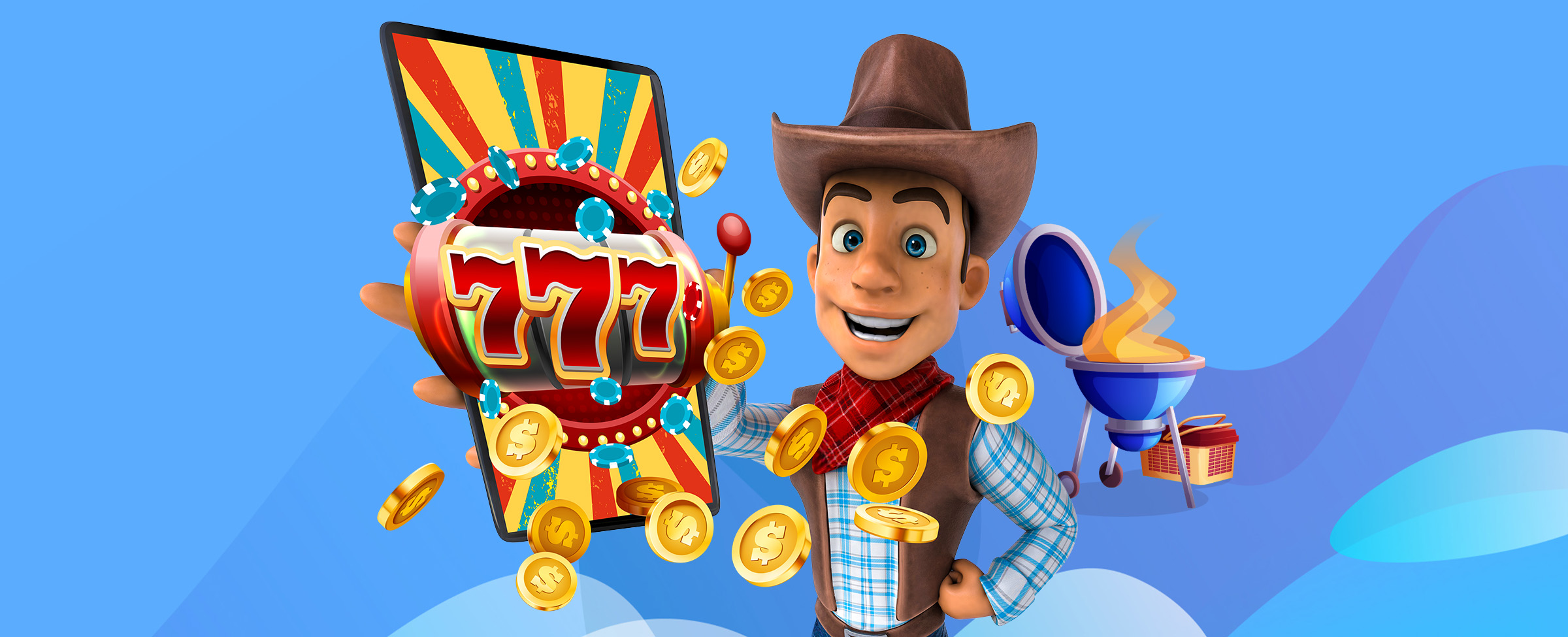 We might officially be about a month out from the full-blown heat of summer, but the month of May and its increasing sunshine is a gentle reminder that summer is just one tiny raindrop away.
As any warm-weather-loving person will know, May is the time when fun-filled events begin sprouting up all around you, particularly on a long, leisurely three-day weekend. Memorial Day weekend (the Unofficial Start of Summer as it's called) is at the end of May this year, but the rest of the month is just as full of party-filled gatherings to rev up for the coming season.
These SlotsLV slots to play in May are especially selected to accompany you on your May-time gatherings, right alongside your friend flipping burgers at the Memorial Day barbeque. Let's see which online slots are hot off the grill!
Unofficial Start of Summer (Memorial Day Weekend)
It's the weekend we've all been waiting for, with one extra day to relax in the sun. Here are three of the best SlotsLV online slots to soak it all up with.
Instant Inferno
We can't have a party in the sun without feeling a bit of heat! That's where Instant Inferno comes in, in case the sun wasn't already hot enough. There's more than just the heat, however, that makes this a slot worth partying with. A steady beat of rock n' roll is the perfect accompaniment, and the double-scatters will make it just as thrilling, too.
If you land three bonus symbols, you get to play a special matching game that results in free spins and multipliers if you manage to match three.
Then the music will really kick it up a notch, and you'll be spinning out of control on the dance floor – just be sure to hang on tight to that drink with ice sloshing around!
Chillin' Penguins
These Chillin' Penguins have learned a thing or two from your enthusiasm to chill out with some rays. The fact that they are technically made for the cold and ice doesn't stop these chilly loafers from kickin' back in summer-like slots style.
There's an ice cold pool carved out in the sand that's plenty big enough to toss in some floaties and have a chilled out time. The sun bearing down on this icy pool doesn't bother the vibes one bit. If you land three of the same penguin symbols on reels one and five, they'll freeze into place and grant you a re-spin.
Each symbol involved in a re-spin win will also freeze in place, and if you manage to get them all, you get the biggest prize of the game!
10 Times Vegas
SlotsLV has plenty of Vegas-inspired slots, but 10 Time Vegas is the most classically styled, making it excellent for a timeless party over a long weekend. This Vegas party takes place outside on a clear night with sparkling stars studding the sky just above your three reels.
Wild multipliers are ripe on this Strip, and they multiply together when appearing on the same payline. A Jackpot symbol is available, but it only comes out to play at random when a special combination triggers reel two and results in a win.
If you're awarded the jackpot symbol and all three land, then prepare for an epic long weekend getaway! You've just won the big progressive jackpot, and you'll be taking all your friends on a trip to Vegas over Memorial weekend to see the real thing.
Kentucky Derby: Derby Dollars
On the first Saturday of May, Louisville, Kentucky welcomes thousands of horse racing fans to Churchill Downs racing grounds to witness "the most exciting two minutes in sports".
---
How to Make a Mint Julep – Your SlotsLV Derby Dollars Drink Recipe:
---
For those players with SlotsLV accounts (and even for those without – you could always learn how to sign up), the Kentucky Derby is a great opportunity to get in touch with your racing side in Derby Dollars.
All the characters from the derby are there, including the ladies adorned in elaborate hats, the jockey, the horse, the winning trophy, and a pair of binoculars to make sure you see all the action.
As the three year old thoroughbreds compete in real life at the event on May 7, you'll be competing against the slots game for free spins via scatters, hearing the trumpet sound whenever a win occurs, and standing at the ready for when the randomly awarded progressive jackpot could trigger after any winning spin.
Cinco De Mayo: Amigos Fiesta
No one knows how to party like our amigos south of the border! In Amigos Fiesta, you get to join them for a cultural party on the fifth of May. There will be plenty of tequila gushing from the bottle, a bonus piñata, 243 ways to win, and a heat meter to make sure the party stays hot.
Best of all, the patrons at this party are fun SlotsLV characters who would make great friends. The super fit party host is a big buff man wearing a sombrero and always ready with a wink, and the lovely salsa dancer is offering you a rose to step up and have a swing on the dance floor.
There will be no frowning at this shindig, not even from a losing spin. For every consecutive non-winning spin, the heat meter rises and increases the multiplier. When you finally win a spin, the multiplier is applied to that win. See? Everyone has a good time at this fiesta!
Friday the 13th: Monster Manor
Who says superstition ain't the way? Certainly not this online slot.
Friday the 13th is a dreaded day of bad luck that occurs once or twice every year. This year, there's just one, and that fateful day is in May! That means it's the perfect time to party for all the spooky creatures of the world!
When midnight strikes on the 13th day of May, the doors of this Monster Manor creek open just enough for one cursed player to slide through. Follow the pointing finger of the mummy. He's got a wild look in his crossed eyes, but he's also on the verge of busting a move.
If you can handle the creepy hallways of the mansion, keep your eyes open for Frankenstein, a werewolf, and a vampire offering you a glass of blood red wine. A black cat may dart over your feet as you turn the corner during free spins. This little kitty is your wild, and you'll get a big surprise that'll really send a summer shiver down your spine when it pounces on reel three and expands into a powerful witch.
Mother's Day: Shopping Spree
Mother's Day is celebrated on the second Sunday of May each year. There couldn't be a better way to lavish the beloved maternal figures in our lives than with a full-blown Shopping Spree!
In this decadent game, a shiny limousine swings by your mother's – or maybe you're the mother! – home to swoop her up for a fancy day out. There's a bouquet of roses and a glass of champagne waiting in the back seat, and the two of you zoom off to Madison Avenue in New York City, where the loveliest lady in your life has an endless selection of diamond jewelry, lipstick, perfume, handbags and shoes.
Lookout for the sparkling diamond rings in this slot online. Five of them on a payline while playing on max bet is all you need to win the huge progressive jackpot. Then you'll watch your delighted mother swoon as she collects her Mother's Day gift with her beaming smile and a kiss on the cheek just for you. Or, if it's your Mothers' Day, leave a printout of this page somewhere the kids will see it!
May the 4th: Thundercrash
When it comes to slots with exciting bonus rounds, Thundercrash takes the cake. The whole game is like one big bonus round – but that's not all you'll get from this exciting game.
Just like Luke Skywalker going through the trench run on the Death Star, you're in control of the ship in Thundercrash, but this time you're flying through space trying to pick up multipliers.
The dark side of the force is lurking, however, and your ship could crash at any moment, losing all your multipliers and forcing you to start the game again. In order to make it through the round unphased, you'll need to fully channel your Jedi powers and hit Cash Out before you crash.
On this Star Wars Day in May, in the wise words of Obi-Wan Kenobi, may the force be with you.
What will you be up to for the month of May? There are so many choices – maybe you'll get some couch time, or maybe you'll invite over some friends. Whatever you end up doing, May the fourth be with you as one of these SlotsLV casino slots complements your day – or maybe your month.