12 Days of Christmas Slots
During those bustling, busy days leading up to Christmas, a distinctly magical feeling drifts down to earth like a flurry of snowflakes, powder-coating our towns and cities in an enchanting display of good cheer and anticipation. The delicate scent of evergreen lingers in the air, the sound of Christmas carols travels through the breeze, and twinkling lights glow softly through a light fog.
To celebrate the season, we're counting down with 12 Days of Christmas slots. From snow angels to nostalgia to the special gift you look forward to every year, these are the best SlotsLV slots to play in December.
Get ready to snuggle into your Santa hat and hum along to the winning tune of free spins, jackpots, and Wild multipliers – and more! – in these holiday season slots.
So, on the first day of Christmas…
Day 1: Snow Wonder
While your heart is charmed and your fingers are frozen in the snowy playground of winter, the Snow Wonder slot balls up wondrous wins across the 3 reels and good-naturedly tosses them your way.
You cannot resist the playful urge to lay on your back and spread your arms like angel wings and your legs like a heavenly dress in this fresh snow. Your easy laughter rings out as pinecones, mistletoe, bells, sevens and bars line up on a single payline and allow new wisps of slots prizes to fall from the sky and add to your balance like magic.
Day 2: Sevens and Bars
Christmas is when our hearts and minds take a dip into the warm pool of nostalgia. We remember gifts, laughter, adventures, and tender moments of years gone by. Amidst the flourishing memories that arise on December 25, Sevens and Bars remind us also of the slot machines of yesteryear.
The nostalgia of a one-armed bandit washes over you with a simple lineup of sevens, diamonds, and bars on 3 reels and 1 payline in this game.
Day 3: Mythic Wolf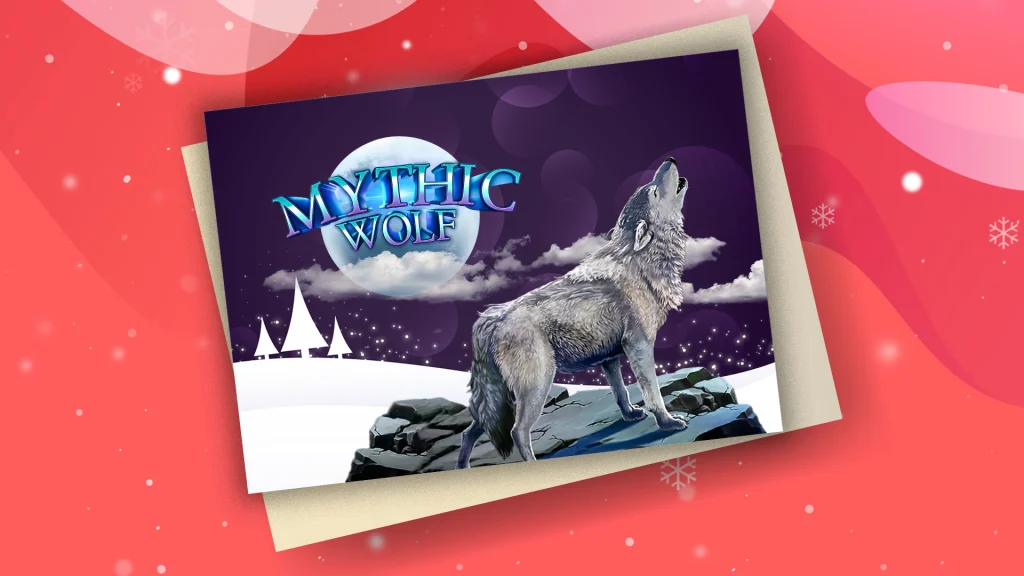 Beneath the silver sheen of a full moon, the silent winter night is cloaked in an ethereal glow.
Along the crisp night air, a faint whisper of a wolf's howl carries over the barren tree branches and into your ear. The Mythic Wolf comes alive at night, stirring up Wild multipliers of 5x within the base game.
If you peek outside at the moment of his howl, you'll catch the wolf leaping over the reels during slots free spins, which increases his multiplier to 10x.
Day 4: Aloha King Elvis
The snow and the crisp, winter chill that settles on the yuletide holds a magic of its own, but enough of these nippy days and early nights will have many of us yearning to find relief somewhere warm and sunny.
It just so happens that Hawaii is beautiful this time of year, with temperatures up to the mid-80s.
In Aloha King Elvis, Jingle Bells is replaced by an Elvis Impersonator's rendition of Jailhouse Rock, right there on the golden sand (which is an odd spot to find a performing frog!). Coin re-spins, free spins with two unique features, a mega fixed jackpot, and a Buy Bonus feature are sure to thaw your winter blues.
Day 5: American Jet Set Hot Drop Jackpots
One of the most treasured aspects of Christmas is spending time with family, but they're not always in your own neighborhood.
When your loved ones live across state lines, you might need to buy yourself an early Christmas present – a plane ticket! – so you can jet across the USA to reunite in American Jet Set Hot Drop Jackpots!
Since it's the holidays, why not go all out? Get a private jet, and rest easy in the leather-bound lap of luxury with multipliers up to 500x, free spins (with more multipliers!), and Hot Drop Jackpots that are programmed to drop at least every single hour.
Day 6: Gridiron Glory
December 25 is more than a celebration of peace and togetherness. If you're a football fan, it's also the day when six NFL teams face off for another chance to get closer to the Super Bowl.
When the day finally arrives, you might feel the urge to get off the sidelines (aka your cozy sofa with your Christmas-themed blanket) and onto the field yourself. In Gridiron Glory slot online, you can do just that!
Join your fellow teammates, as you attempt to catch at least three football scatters. In return, you'll collect up to 25 free spins where your wins are multiplied by 10. Lookout for the Wild event that can occur on reels 2, 3, or 4 and randomly spike your account with real money "points".
Day 7: Santa's Ways Hot Drop Jackpots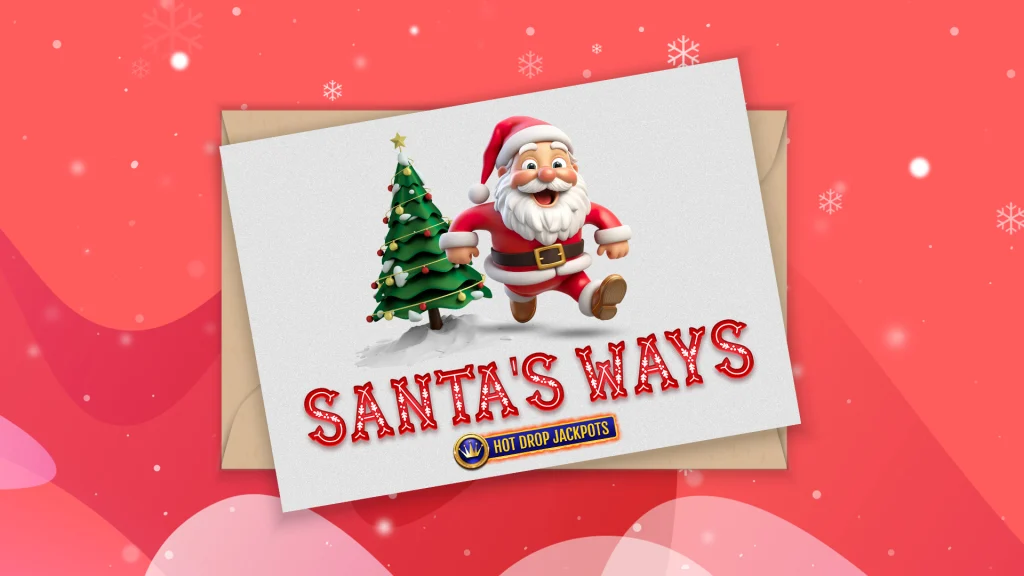 On Christmas Eve, enchantment unfolds in your cozy living room, with flames flickering in the fireplace as snow drifts lazily outside. Santa's bells are jingling in the distance, and he'll be swooping by before the night is done!
In one of our most popular online slots, Santa's Ways Hot Drop Jackpots glows with the magic of Christmas even as symbols fade into a twinkle of light. They tumble down to form new wins, and add a multiplier of 1x for each consecutive win it bestows upon your game within the round of free spins.
There's a chance to unwrap a surprise gift every hour with the Hot Drop Jackpots, too.
Day 8: Gift Rush
While you're fast asleep on Christmas Eve, dreaming of snow angels and jingle bells, you can't hear the rustling in your living room as the magical gift elves lay gift after shiny golden gift underneath your tree.
From the moment you wake up, they'll be smiling in the sleigh as you rush down the stairs for your annual Gift Rush!
Your eyes can't believe the warm, golden glow of your living room. After three elf scatters land, five wrapped boxes appear out of a puff of twinkling holiday light. Go ahead – pick one! You just might unwrap slots multipliers of up to 499x.
Day 9: Cai Fu Dai Panda
Wishes of longevity and prosperity are exchanged freely at Christmas time among families and friends, spreading goodwill to all.
The Cai Fu Dai Panda slips his generosity under your Christmas tree with a bonus round for prosperity, longevity, and no less than four fixed jackpots, or any combination of the three in a Super Round.
With such a stunning arrangement of harmonious features, it's no wonder Cai Fu Dai Panda was recently celebrated as the hot slot of the week.
Day 10: Reindeer Wild Wins XL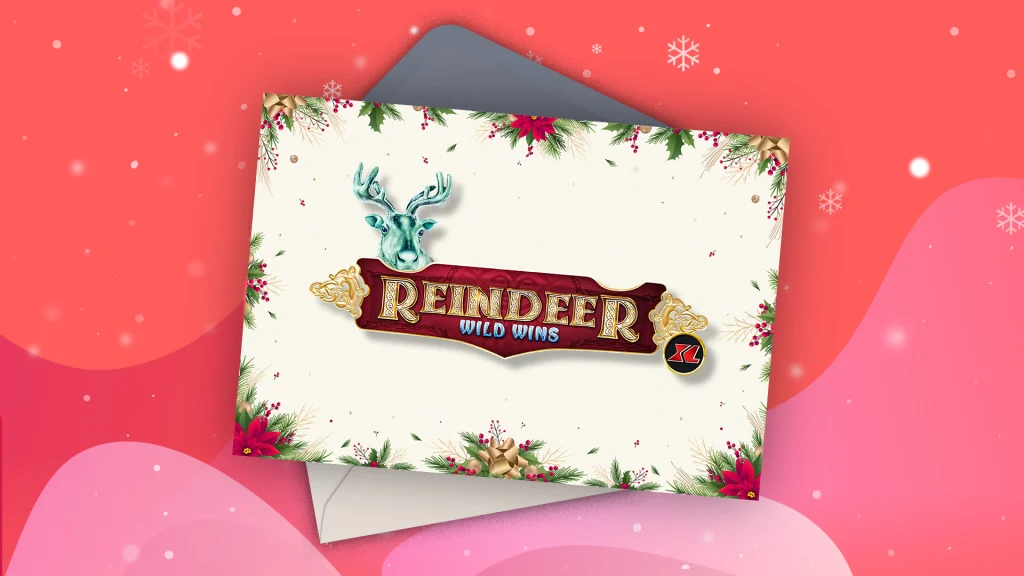 You glance outside your window at dawn. The last throes of night become still and you begin to make out the blanket of fresh snow that has fallen while the world slept. Your eye catches a distant but unmistakable herd of reindeer inside Reindeer Wild Wins XL, guiding a sleigh of winter huntresses!
If you leap outside and manage to join the sleighride, they'll guide you to the Mystic Reindeer Free Spins where multipliers rush through the snow up to a value of 64x.
Day 11: Big Cash Win
One tradition you always look forward to is when your favorite aunt lugs her suitcases into the living room and lays down all those intriguingly-shaped gifts under the tree. She has everyone's style down to a T, which means she knows that you prefer a red hot envelope of pure cash.
It's your annual Big Cash Win for Christmas, and you can count on it being delivered via bars, sevens, cherries and the slot's game logo matching up across a single payline.
With the SlotsLV referral bonus, you can cash in as many times as you want. We'll give you a personalized envelope with a bonus for each friend that joins and makes a successful deposit!
Day 12: Crazy Christmas
When Mom almost burns the ham, Dad lights his sleeve on fire from the candle, and your sister spills the beans on the big surprise you'd planned for your cousin, you're reminded that Christmas, although theoretically a time of comfort and peace, is just as often a crazy time of year.
While you're having a Crazy Christmas at home, Santa and his elves are having their own crazy time in the North Pole as they scramble to fix up broken toys in this most-popular of SlotsLV online slots.
You can help, though, if you're able to land the elf and the big red button symbols to enter a round of 25 free spins. Santa is sure to boost you up on the nice list, and he might even drop a random progressive jackpot down your chimney, too!
Thanks to these holiday season slots to play in December at SlotsLV Casino, it seems like the days leading up to Christmas are sure to be filled with good cheer! To get started playing the 12 days of Christmas slots and so many more, deposit with crypto to fund your account. Bitcoin gambling means your deposits are completed fast and conveniently, with bigger bonuses than if you used a card, and your game balance is still displayed in USD.