Walk in These Winter Wonderland Slot Games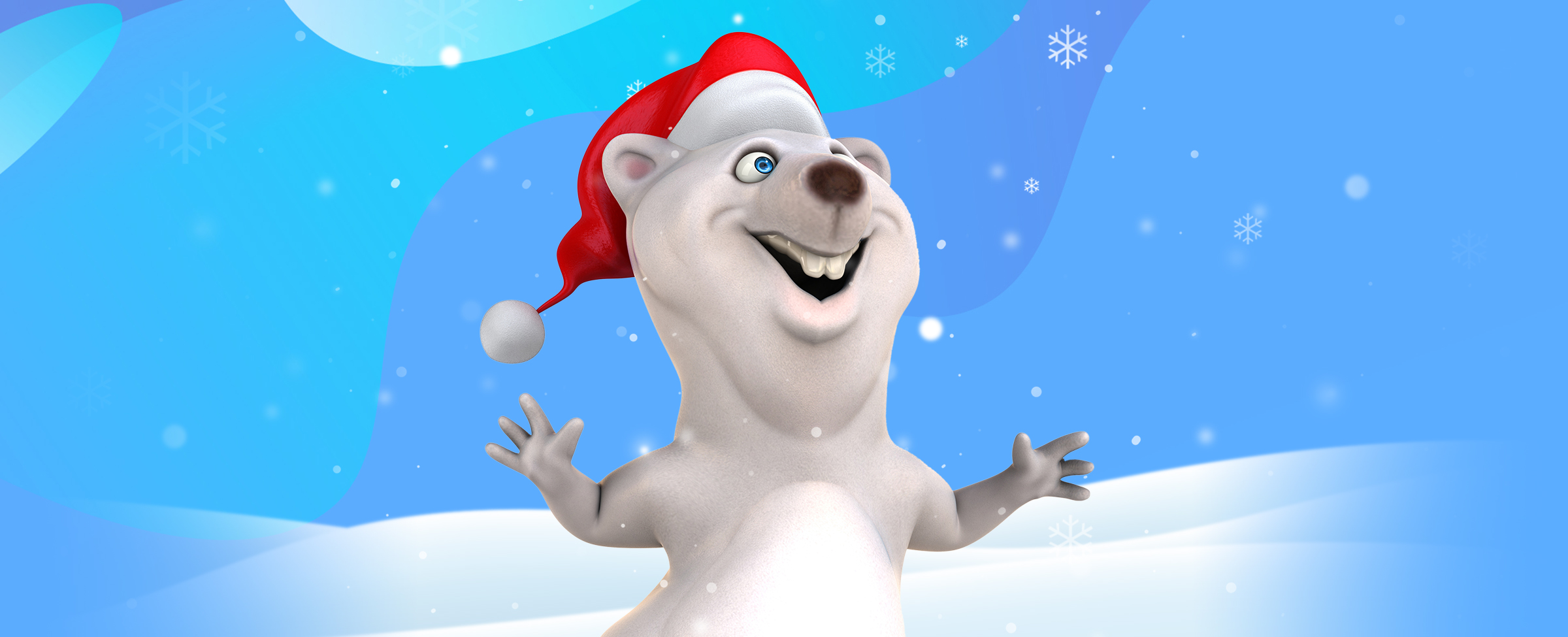 Do you hear those sleigh bells ringing in the distance? Such a pleasant and melodious sound! Or wait… was that the sound of a slot game on a winning spin?! With these SlotsLV slots to play in December ringing out, we think it's most certainly the games!
In fact, we've got an entire batch of Christmas slots that ring out steadily with the sound of jackpots, and they're like music to your ears. …Christmas carols, to be more precise.
These perfect holiday slots will sweep you away like a magical sleigh on Christmas Eve, and land you inside a Winter Wonderland with a gentle thud! Then before you can dust off the powdery snow from your mittens, you'll be sledding along the bright, white landscape with reindeer, howling alongside a winter wolf, and foraging under an entire forest of Christmas trees for that perfect gift – all while leaping after the game's jackpot!
Let's explore these wonderlands of winter slots that await us today at SlotsLV Casino.
---
Enjoy our Holiday Tunes Playlist to get into the spirit of the season while you play!
---
Reindeer Wild Wins XL
It's morning, and you lazily open your eyes, sit up, and peer out the foggy window of your cozy wood cabin. You're surprised and delighted to see a blanket of pure white snow covering the ground. You can't wait to put on your snowshoes and get outside!
It's not long before you hear the jingling of the reindeer's sleigh, and it stops at your feet to invite you on board. Then the reindeer rears forward and swings its head upward, and you're off at full speed, bounding over 1,024 paylines towards Reindeer Wild Wins XL in the dusty white snow!
You're going fast, but it's not too fast to catch a glimpse of three winter huntresses as they toss you free spins – up to 25! – or Wild multipliers multiplying as high as 64x.
For an even more exhilarating, extra-large experience on the reels, try playing this online slot through Bitcoin gambling. This is the best way to get your paydays quicker than you can explore our next Winter Wonderland game, once they're approved, which is faster than any other method for withdrawals.
GET STARTED WITH BITCOIN & CRYPTO
Crazy Christmas
Christmas already feels crazy with all the crowds in the shopping mall, making sure you don't miss anyone on the gift list, and rushing around to finalize your plans for holiday parties.
The only thing that could make it even crazier is if you played a unique game with a unique holiday slots adventure, like Crazy Christmas!
Just when you thought you'd get a rest, Santa swoops in through the chimney and whisks you away to the North Pole. His Head Elf is there to show you around, and he's got a nifty red button to press for a special Christmas-flavored prize. If the Elf lands on reel 1 and the red button lands on reel 5, you can get up to 25 free spins with multipliers that reach up to 10x.
Better yet, you could really see something wacky when the random progressive jackpot triggers, and that'll be a Crazy Christmas you'll never forget!
Mythic Wolf
When the holiday festivities die down and the only remaining sounds are the whisperings of the leaves outside as they catch a breeze, the howls of a wolf may well startle you and send shivers down your spine. That means the Mythic Wolf is near, but calm those shivers, because this wolf is really nothing to fear.
When the full moon rises, that's the time for the wolf to have a holiday of his own. He comes out to play with Wild multipliers trailing just behind his tail, and he graces your balance when he leaps onto the reels and helps form a win.
As you stare wistfully out the window in the direction of the wolf, a wispy feather gently floats in front of your gaze. If you reach out and grab three of them, you get up to 50 slots free spins where the wolf's Wild ways award an even higher prize.
Chillin' Penguins
Christmas is about more than just the presents and the food. It's about spending time with good friends, too!
No group of buddies is better suited to chill out this Christmas than the penguins inside the Chillin' Penguins slot. All sorts of characters appear on these reels. They're lounging on a pool of ice, which possibly fell from the roof of your house, and they're sipping on wintery cocktails with bonus features floating just underneath.
As you relax with your waddling crew, you'll want to invite over the same penguin on reels 1 and 5. That way, they'll freeze in place, and you'll get extra spins that freeze even more penguins of the same kind. The more penguins you freeze, the bigger your prize becomes!
Wait: one more thing! Don't forget to invite a friend to chill out with you guys, and you can take advantage of our referral bonus when they make a successful deposit. The more the merrier!
Panda Pursuit
Do you remember when you were a kid, and you gazed longingly at the Christmas tree with its gifts of all shapes and sizes, wondering just which ones belonged to you? Those times were magical, but they're not gone forever yet!
Panda Pursuit is one of our best Christmas slots. Why? Well, because you get an entire jungle of Christmas trees that are harboring gifts! We sure hope you've got extra tinsel, ornaments, and lights, and because you're about to have your hands full with rows and rows of Christmas trees and gifts. Plus, you get to explore them all with a cute and cuddly panda! Move over Santa, because there's a new lap in town to sit on.
These may not be your classic pine trees, but it doesn't matter one bit. Each and every one has a special gift, wrapped up in a bow and waiting just for you. With the right symbol combinations, you'll be unwrapping Wilds, up to 20 free spins, and Wild multipliers up to 64x.
Now that's how to win free spins – underneath one of a zillions Christmas trees, and accompanied by a furry panda bear to keep you toasty-warm!
Santa's Ways Hot Drop Jackpots
You know the scene: It's officially Christmas morning, and you bolt down the stairs at warp speed to beat your sibling to the gifts. You rifle through the presents wrapped in finely creased angles to find the ones with your name on them. Then you spot that one big box with a shiny red ribbon and your name etched in gold, and what you find inside is better than any gift you've ever received: three SlotsLV Hot Drop Jackpots inside the Santa's Ways slot!
Santa has really delivered this year, because in Santa's Ways Hot Drop Jackpots, you experience Christmas alongside the big guy himself. He swoops in to join you in the cozy brick home setting of this new online slot, and he brings tumbling reels, free spins, multipliers, and expanding Wilds to fill your stocking up to the brim.
Just hear those sleigh bells jingling, a-ring ting tingling too. Come on, it's lovely weather for a slot game together with you! Did you manage to follow the sound and track down your perfect holiday slot? These SlotsLV online slots will be jingling around our online casino halls for the entire month of December and beyond, so don't hesitate to cozy up to the SlotsLV Casino tree, and unwrap the best online slots to reveal your gifts!