Chinese New Year: 8 Slots to Play as you Celebrate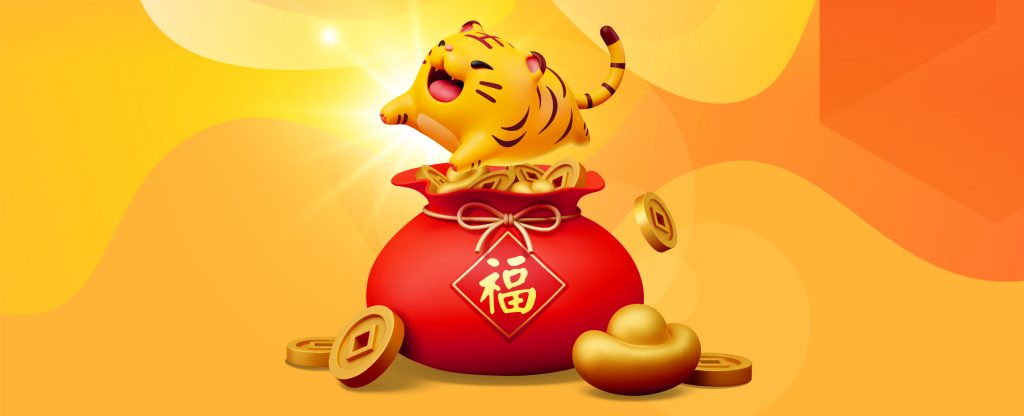 The dust from the fireworks may have already settled since our very American New Year's celebration, but a different celebration – just as grand, mind you – is yet to begin. Families are digging out special recipes, buying up red tasseled ornaments, and stuffing the last bits of Chinese yuan and American dollars into red envelopes.  
The Lunar New Year begins on February 1st, and we are going to be right there with them with a special batch of SlotsLV Chinese slots!
These unique games are made to celebrate the festivities of the Chinese New Year, and all aspects of the culture of China. You'll be traveling from the Year of the Ox, collecting lucky money in a red envelope, dancing in a Lion Dance Festival, flying alongside magical children, and even landing safely into the arms of a warm and welcoming panda bear.
There couldn't be a better way to ring in the Lunar New Year. Are you ready to explore the good fortune of this festival? Grab your fireworks, and follow us!
1. Year of the Ox
Although we're leaving the Year of the Ox behind for the Year of the Tiger in 2022, there's still much we can gain from this strong and resilient beast! The ox stands its ground through thick and thin, and inspires confidence in anyone who crosses its path. 
As you play this online slot, you are instantly transformed with the strength of character that comes naturally to the ox, and we wouldn't be surprised if wealth gravitated towards your newfound magnetic confidence, too!
Make some room as scatters in the shape of the Chinese character for 'Ox' come flying your way. When you collect three you get some free spins, and when you collect four or five you get even more! While you're spinning away, collect Double Wild symbols and increase your multiplier by 1x for each one.
Double Wild symbols are also looking for a steadfast Ox to settle down with. Whenever one or more appears on reels 2, 3, 4, or 5, it transforms into another symbol to help you win double the prize from this SlotsLV online slot.  
2. Lion Dance Festival
It's an incredible sight when the fur-lined paper-mâché lion takes the stage atop raised pillars at the Lion Dance Festival, as part of Chinese New Year. Two acrobats join forces under the costume, jumping in a rhythmic dance as the onlookers cheer gleefully from the sidelines. 
With this wonderfully festive online slot (that happens to be a fantastic slot for mobile!), you get to join the show front and center, and maybe even get a chance to dance underneath the lion!
There are two scatter symbols in the game to help you celebrate. Scatter 1 is the Lion Dancer, who sways across reels 1, 2 and 3 to usher in the Dancing Lions Free Spins feature. You can choose between three sets of free spins: 
15 free spins with 3x multiplier

10 free spins with 5x multiplier

5 free spins with 10 multiplier 
You'll need to prepare the matches and keep your distance from scatter 2, since it's a pair of fireworks that can appear during the Dancing Lions! If they fall on reels 3, 4 and 5, the Fireworks Feature begins, and you get to choose some fireworks to reveal a prize. 
Let the festivities begin!
3. 8 Lucky Charms
If you're in search of a little good luck for your Lunar New Year, you've come to the right place! 8 Lucky Charms slot is filled with some of the luckiest symbols in Chinese culture, from maneki-neko to the tortoise seated on golden coins. The red and gold SlotsLV game launches with the face of a powerful tiger – perfect for the year of the Tiger in 2022.
Legend has it, this tiger that roams the open lands that are the landscape for this online slot. He can be seen out of the corner of your eye… but if you look for too long, and three of his heads appear within sight, he transforms into a magnificent dragon! As the dragon, he'll replace any regular symbol with a new one, plus award your wins by either 3x or 5x. 
When three bonus symbols tumble from the skies, you enter the bonus round where you can choose from charms laid out on the board, and hopefully match three of a kind for up to 50x your bet.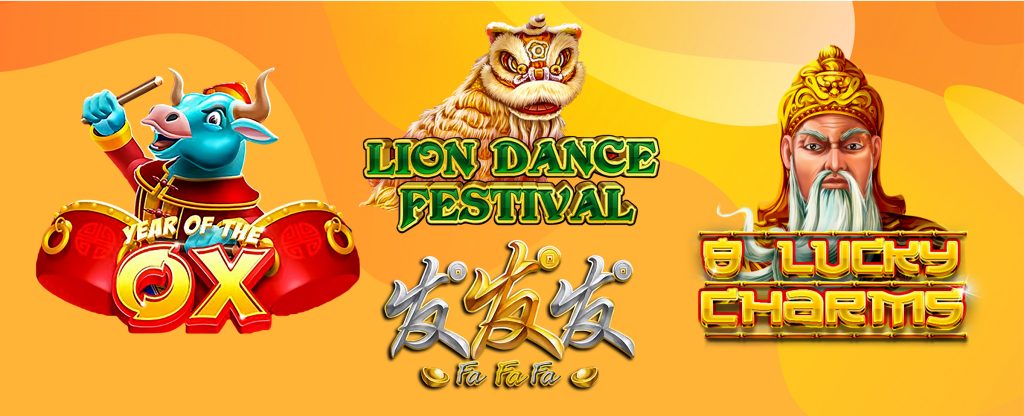 4. Fa Fa Fa XL
If you're at all familiar with the original Fa Fa Fa game, then you know how delightful it is to spin through the reels with spectacular ease. There aren't many rules in that game, and yet the prizes remain ones to draw a crowd. 
In fact, anyone who's a beginner at a casino will fall in love with the simplicity of Fa Fa Fa, and this version is the same, but done bigger!  
Fa Fa Fa XL stirs up feelings of nostalgia. Old-school arcade music chimes in the background, and three Chinese slot symbols for 'Fa' in three different colors spin through three reels. When the reels stop, one payline decides your fate. If you manage to match three of the same color over the payline, then you win! If you happen to land three different colors, you still win!
There's a lot of winning that goes on in this game, and with all those Chinese New Year celebrations underfoot, you'll certainly be happy that you took some time to slow things down and enjoy this classic. 
5. Dragon Scroll
The dragon in this SlotsLV new online slot has a lair among the clouds, and he guards nothing but a pillow of clouds to be parted with a gentle push. 
Although this dragon's home is gentle and wispy, don't mistake this dragon to be weak. He still holds the key to the riches of the sky, and only the most clever of players know how to win him over and let you pass. 
The scatter is a bonus symbol which is an orb of light held by the claws of the dragon's hand. It will pay in any position, and when you land three or more, you trigger the Golden Dragon Free Spin feature where you get 15 free spins with 3x multipliers. 
As you collect wilds in the Dragon Scroll feature, they stack on top of each other and you get to see the beast of the skies in his full and final form, which helps you to win more prizes over all 100 lines.  
6. Golden Children
Many savvy players at SlotsLV use strategies on slots to get ahead. One strategy we'll always get behind is to make friends with the characters who have all the wealth… and aren't afraid to share it!
These two adorable children accompany Guan Yin, the Goddess of Mercy, throughout China. The three of them roam through the skies, the land, and the sea, searching for people who are in need of their generosity and fortune. 
Far off in the distance, they can spot you placing a wager on this Chinese online slot and preparing to spin. Just as your finger reaches out and you tap the button, these Golden Children swoop onto the screen with 100 paylines. 
They're extremely generous and will also grant you up to 25 free spins with Wild Scrolls feature. In it, each spin will have 2 of the 5 reels randomly covered with a bright red scroll that fills them with Wilds. The giving isn't finished yet; those respins can be retriggered with three or more scatters for even more win potential!
7. Panda Pursuit: Royal Edition
We've got a lot of royalty roaming around SlotsLV Casino, and that's in large part thanks to our monthly big winners. Whether or not you've become a big winner yet, chances are you'll still fall madly in love with the cuddly royal panda who lives within the reels of this 5×3 Panda Pursuit: Royal Edition slot. 
The panda sits below the reels and bounces happily with encouragement as you spin through symbols dedicated to his wild friends. The monkey is there swinging from the trees, the koi fish is swimming in the pond, the turtle is peeking out from his shell, and the royal panda himself is munching on his favorite bamboo snack.
The red scroll bonus symbol is your scatter. When it comes along the jungle, be sure to reach out and grab it! Having three or more in your possession will make the panda giddy with delight, as well as launch a round of up to 25 free spins with wild multipliers that compound value as you go – up to 64 times!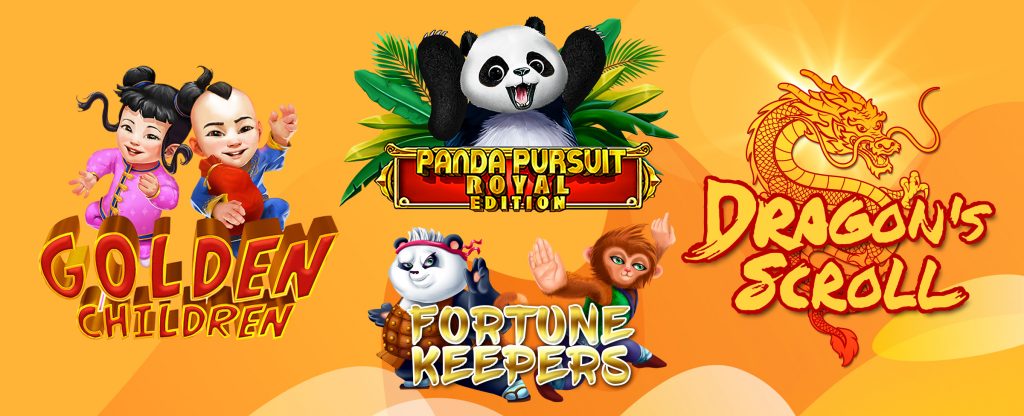 8. Fortune Keepers
Where the waterfalls flow, the lilies float, and the foliage grows long and lush, there is a team of wild creatures that are guarding the fortune known only to a few. 
A monkey throwing kung-fu punches and awarding wild multipliers greets you on the grass, and behind him a panda in a bulletproof vest that expands as a wild beckons you forward. These little buddies have a secret to share, so you'd better follow! Just under the reels is a payway lever hidden among the leaves. When you're ready, yank it forward, and the paylines will switch from left-to-right to right-to-left – you decide the fate of your play!
These Fortune Keepers also share up to 20 free spins with multipliers and a hidden items bonus game! Oh what mysterious fortunes lie within this odd and captivating land!
There are only a few weeks left, and now you're prepared with SlotsLV to enter the Lunar New Year armed with fortune! For those who really want to earn a fortune and attract prosperity in the new year, you can use SlotsLV bonus promotions to boost up your bank balance and get started on these games. So grab your lion costume, light up some fireworks, and hit the town! It's the Chinese New Year, and we get to celebrate 2022 yet again!