SLOTS SIMILAR TO 777 DELUXE
Maybe it's the huge progressive jackpot, maybe it's the nostalgia, or perhaps it's just that lucky number 7. Whichever the reason, hordes of players at SlotsLV have fallen in love with the classic, swanky stylings of 777 Deluxe.
777 Deluxe has slot purists rejoicing, with all the elements of a classic; think cherries, bells, horseshoes, and BARs. And yet, modern online slot enthusiasts also show up in droves to take a shot at the game's incredible progressive, reaching for that slots bonus round where the big one (triggered by three golden 7s) looms large among the eight different jackpots up for grabs.
Regardless of the reason why you love the game, these slots similar to 777 Deluxe will easily earn your affection sooner than you can say "I'll just have the progressive, thanks".
10 TIMES VEGAS: A CLASSIC SIN CITY THEME
Las Vegas is the original home of slot games, with the old-school Vegas appeal written all over the reels: think images of neon lights and big, clunky machines sporting lemons and cherries which light up the reels in a race for the big one. 777 Deluxe caught the Vegas vibes, and now 10 Times Vegas joins you on the neon-lit Strip to get some more Vegas-style action… ten times over.
Keeping it simple and clean, 10 Times Vegas and its 3 reels and 3 rows are placed over a moon-illuminated sky, surrounded by the mountains that line Sin City. The usual suspects are enjoying the views right alongside you, including horseshoes, grapes, cherries, BARs, and lucky 7s.
The Multiplier symbols, ranging from 2x to 10x, offer up big prizes, which could fund your room on The Strip. But the real gem of this Vegas online slot is the progressive jackpot that can be won during the Jackpot Spin round, and would definitely help you upgrade that room to a suite! And then some!
This time, Las Vegas, what happens in you will stay with me.
MYSTIC ELEMENTS: ANOTHER WINNING PROGRESSIVE JACKPOT
One of the greatest things about 777 Deluxe is the bonus round that leads to that gigantic progressive. Getting inside the round is easy with just three question mark symbols in the base game, and the bonus game itself is as straightforward as it can be.
Mystic Elements may exude feelings of magic and mystery, but this is yet another game that offers a straight and simple path to its biggest rewards, mainly a massive SlotsLV progressive jackpot that rivals the one that summons us in 777 Deluxe.
During the base game of this 5×3 slot, you need to land 3 mystery symbols, just like you do in 777 Deluxe. Then you enter a free spins round where you squint into the darkness and try to find the light. If you land 5 swirling light symbols, you take home the massive, ever-growing progressive jackpot.
The only thing that could be better than shooting for big wins in games like 777 Deluxe and Mystic Elements would be to do it with a friend. Bring one along, and we'll make your day a little brighter with a referral bonus.
SURPRISING 7: THE WORLD'S LUCKIEST NUMBER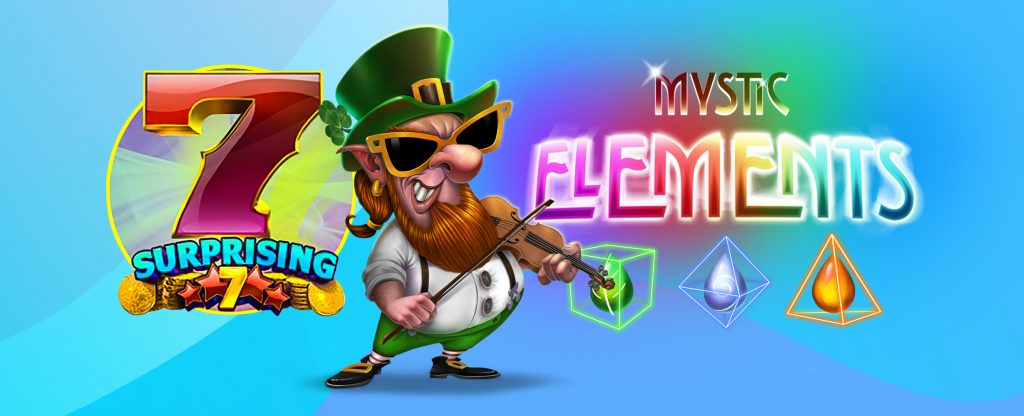 It could be the classic Vegas vibes, or it could be the straightforward jackpot win. Then again, maybe it's the sevens themselves that have you salivating at the reels of 777 Deluxe. If you have a special respect for the world's luckiest number, then you get to see what seven's got yet again in Surprising 7.
You might be surprised when the time machine swoops you up and plops you into an arcade in the 1970s. We'll even give you a pair of bell bottoms for this totally retro take on a classic 7's game.
Five reels spin over a classic arcade machine, dotting the music with the whoosh and ding of video game sound effects. You've got your high-top Nike Blazers laced up and you're chasing sevens down from every corner. Three Free Spins symbols award 7 free spins with a 7x multiplier and 3-4 Wild symbols award 7x your win. Calling all 7s!
CYBERPUNK CITY: BOTH NEON AND MYSTERIOUS
If you love the way the futuristic-looking symbols of 777 Deluxe blaze with neon light, then you'll certainly be entranced by the neon speckled cityscape of Cyberpunk City.
The rain is pouring down in this dystopian future, and you're on a mission with a crew of cyborgs to bust open some run down shops and steal their loot.
A random progressive jackpot is ready to strike at any minute, and you've got backup with a pink-haired sidekick that's blasting out symbols on the reels with her laser gun.
Just like the mystery symbol creates an air of intrigue in 777 Deluxe, Cyberpunk City has regular symbols that can transform into wilds at random. Let's just say these two games both hold a shroud of mystery… but Cyberpunk City will have your heart racing with the thrill of the unknown.
REELS & WHEELS: IT'S JACKPOT CITY
SlotsLV 777 Deluxe slot offers you eight different jackpots based on 7s, but that's not the only game overflowing with jackpot prizes.
Reels & Wheels will have you just as dizzy with prize potential, but even more so because there are three reels followed by two spinning wheels that'll whip you around and have you seeing double!
Multiple coloured BARs, cherries, and 7s rush through the reels at full speed, but it's the bonus symbol you want to tackle with all your energy. When it lands anywhere on the center row, you'll earn a chance to swirl on over to the bonus wheel. If you land on the jackpot wedge, then try to stay upright. Wheel number two, the Jackpot Wheel, is your ultimate moment of luck, and you'll be sent spinning yet again to win one of five progressive jackpots.
What do you do when you win a huge jackpot and you're ready to celebrate? You withdraw the funds with crypto via crypto gaming, since you have higher limits, lower fees, and withdrawal times faster than the spinning wheel can land on the win!
777 Deluxe: With Hot Drop Jackpots Every Hour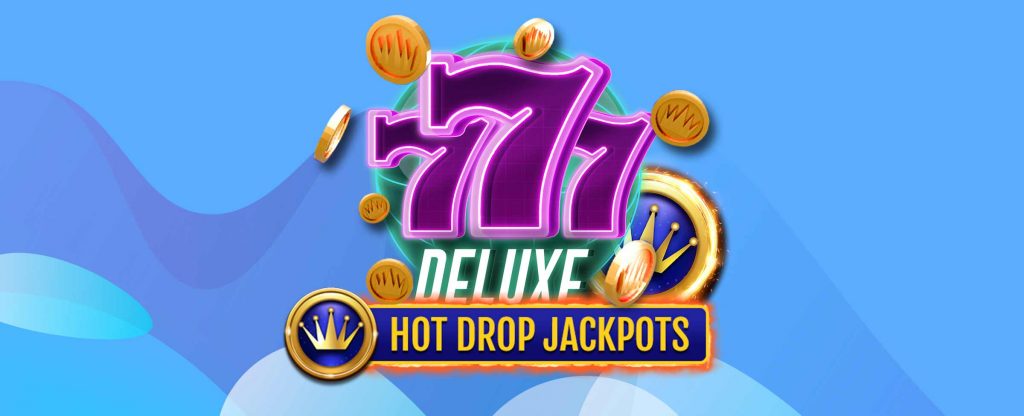 With the SlotsLV Hot Drop Jackpots version of the same classic game, we take the deluxe experience up a notch. Instead of offering the usual progressive jackpot round, there's now must drop jackpots that trigger every single hour of the day.
These jackpots go off like firecrackers all day long, but that's not all. There's also a daily drop jackpot every 24 hours, and super jackpots triggering before they reach a predetermined dollar amount… like something up to $300K!
To get your shot at the life of luxury filled with lucky 7s and the chance to win one of three 777 Deluxe Hot Drop Jackpots, you'll need to land three crown symbols anywhere on the reels. After that, you'll get a spin on the special jackpot wheel to see which kind of jackpot you get. Then, it'll be you who's the lucky one in town with a jackpot win under your belt!
It could be the progressive jackpots, the 7s, the classic style, the neon lights, or the bonus rounds that keep you wanting more. But whatever it is, these SlotsLV online slots are sure to light up the night sky and expand your love of 777 Deluxe into the Vegas stratosphere.