These Magic-Themed Slots Will Put A Spell On You
Welcome to a world where the impossible becomes possible; where the mystical meets the modern. Where every spin of the reels brings a touch of magic to your bank account.
The possibilities in these magic-themed slots are glimmering in your present dimension and in others beyond what your eye can see. If you join us for a journey through the unknown, you'll find yourself frolicking through enchanted forests, glimpsing into hidden worlds, and unlocking the secrets of magical features in slots online.
No – it is not an illusion. Those really are Wild multipliers of 10x and a randomly added scatter. You really can have a jackpot that must drop every hour.
Open your eyes, open your mind, and prepare your wallet for magic.
With a brisk flutter from a silk scarf over the reels, the magic of the spins will reveal a special reward. These SlotsLV magic-themed slots are as real and possible as your own two hands. So, enter, fair player, and explore the magic slots theme!
Lady's Magic Charms Hot Drop Jackpots
Quiet, now… can you hear it? The wind is whispering through trees and birds are gently cooing from the branches. They're all signs that magic is in the air. With the Lady's Magic Charms Hot Drop Jackpots, you're about to come face to face with the spellbinding powers of the forest and its lucky charms.
As you soak up the fairy dust illuminated by the golden sun, lucky charms like horseshoes, pendants, four-leaf clovers, ladybugs, and rabbits meander through your line of sight. The opportunity to win 15 free spins with tripled wins is only a few glowing orb scatters away.
If you close your eyes and let the magic take you over, you just might land three crown symbols anywhere in this online slot for the chance to win one of three SlotsLV Hot Drop Jackpots. These jackpots must trigger every hour and every day, as well as by the time one reaches a super huge amount.
Witches and Wizards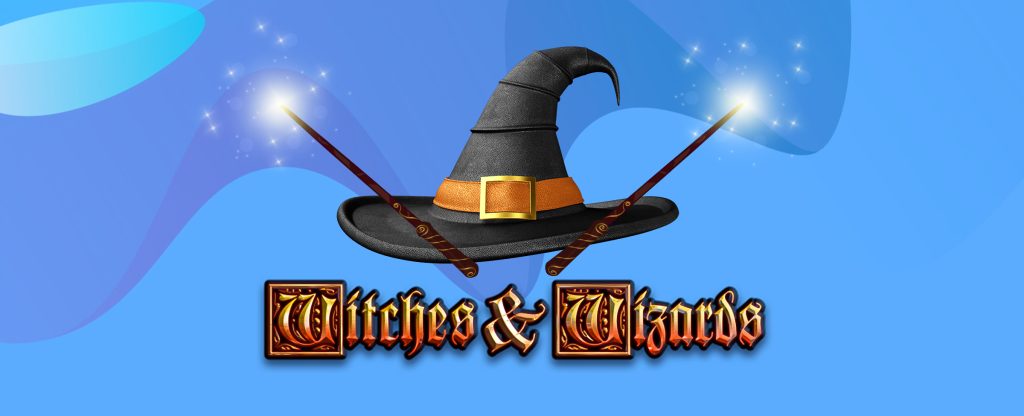 Situated atop a lonely hill, inside a dark and eerie house, you'll find two magical beings.
One of these supernatural characters is a witch, whose mesmerizing glow almost overtakes her power as one of the highest-paying symbols, and before you can ask 'are you a good witch or a bad witch?', you'll be completely bewitched by her… in a good way!
Never far from her side is a wizard, whose stern glare sends a thrilling and unexpected shiver down your spine. Both are biding their time until a human, one much like yourself, wanders in to face the magic.
The energy of these Witches and Wizards has you spellbound. Before you can resist the pull, three scatter symbols land you in the heart of the Magical Experiment Feature… but an experiment on what, or who… they will not say.
Ten free spins whirl and seep from the walls, and the Witch and Wizard cast a unique spell on each one. There are Wild-explosions, random Wild symbols, expanding Wilds, randomly added Wilds, and randomly assigned multipliers from 2x to 10x. With rewards like these, it's no wonder magic is such a popular slots theme!
Mystic Elements
In Mystic Elements, you tap into the most ancient type of magic-themed slot there is, which belongs to the unseen forces that created the very fabric of space-time and all of its dimensions. As the strategies of the most savvy slot players would tell you, a game like this is well worth the visit for its easy and elementary path to major magical wins.
But there's more than meets the wallet here. Deep into the mystical abyss, 5 reels and 3 rows whip up in a hypnotic spell with fire, water, earth, and wind. The most remarkable of them all, however, can only be found when you dive into the slots free spins round via three or more scatters.
Here, you can win up to 150 free spins through retriggers alone. If the element of light appears five times during this particular feature, you'll instantly be enveloped in the spellbinding warmth of the ever-growing progressive jackpot.
Genie's Gifts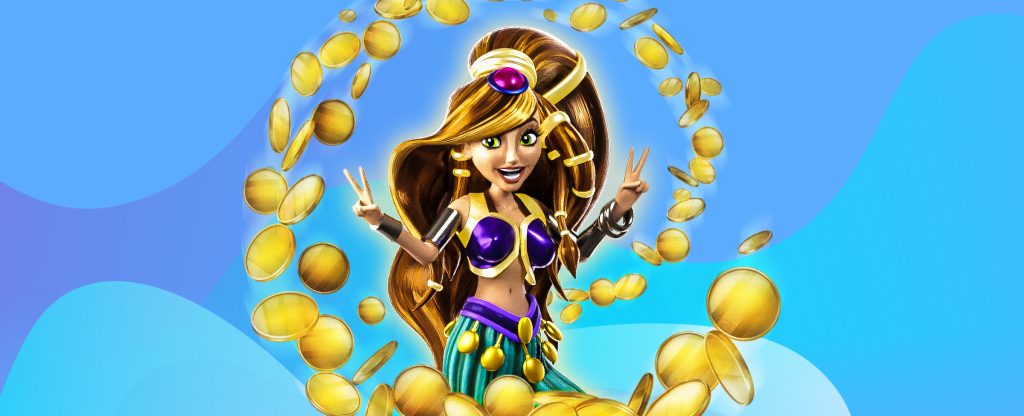 Behold! A bewitching genie has arisen from her lair inside a golden lamp from within one of our SlotsLV online slots. If you approach these 3 reels and bow kindly to the genie, she will grant you three wishes among the symbols of bars and 7s.
If you wish for three scatters to help you reach the bonus reel, they will float from the lamp in a cloud of smoke. Of all of the Genie's Gifts, she'll choose one of six prizes to rain from the pink and purple sky and into your game.
Some of the slots prizes include 10 free spins; a random cash prize for an instant win; free spins until you win a minimum of 3x your bet; and a random multiplier assigned to a free spin.
And this Genie really wants to grant your wishes, so she'll throw in some random scatters from time to time, too, to trigger the bonus reel when no wins are occurring.
Fairy Wins
When you want the sounds and sights of the material world to fade away for a little, you can visit the magical forest of Fairy Wins.
Four fairies flutter toward you and playfully whisper a command in your ear. You must take a drink of the Wild potion on reels 1, 3, and 5, and roam the forest to seek out the scatter treasure chest.
At any point along the way, you should note, your journey may be cut short when the randomly awarded progressive jackpot finds its way into your path, jolting you back to earth with the shock of a big slots win.
Before you set off to explore the enchanted forest, consider funding your account with Bitcoin gambling. It's faster and safer than your credit card, and you'll still be able to see your balance in USD for easy reference.
Leprechaun Legends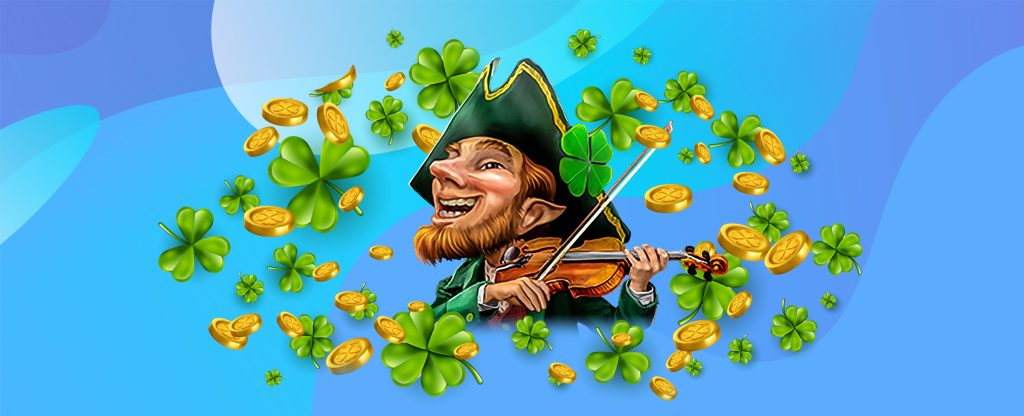 You have heard the Leprechaun Legends from strange and magical accounts of the little green men, but have you ever seen them for yourself?
The next time you hear of the sun appearing after a storm, follow that rainbow! The pot of gold is never short on treasure. As you dash over the rolling green hills, you are sure to encounter the leprechauns playing a fiddle tune. If you follow the music, you'll travel through three unique lands, where there are slots features and rewards aplenty, just like there are games for every player at SlotsLV.
If you refer a friend to join you on your journey for the gold, the pot will become even sweeter with a bonus as a gift from us.
Mythic Wolf
When the moon rises and the day turns to a milky blue dusk, creatures like the Mythic Wolf emerge from their hiding spots to explore the land for treasure. Humans aren't meant to know where they roam or even to hear their cries to the higher powers… but in this online slots game, your senses are sharpened to spot the wolf.
You can sense him as he lurks in the forest just behind your house, and you can hear his howls as the features unfold.
He'll leap through your reels and multiply your wins by 5x. If you make it to the Super Round after catching three or more glowing feathers, the presence of the Wolf will award your balance with a total of 10x your bet.
Every magic themed slot offers more than the eye can see at SlotsLV Casino. On the surface, they may appear as just a game. But if you watch a little closer, the magic within them will reveal itself through each and every spin. The higher powers are lurking within the mystical reels, so set your bet amount, and let the magic begin.