TV Screen To Slot Machine: See What to Play While You Watch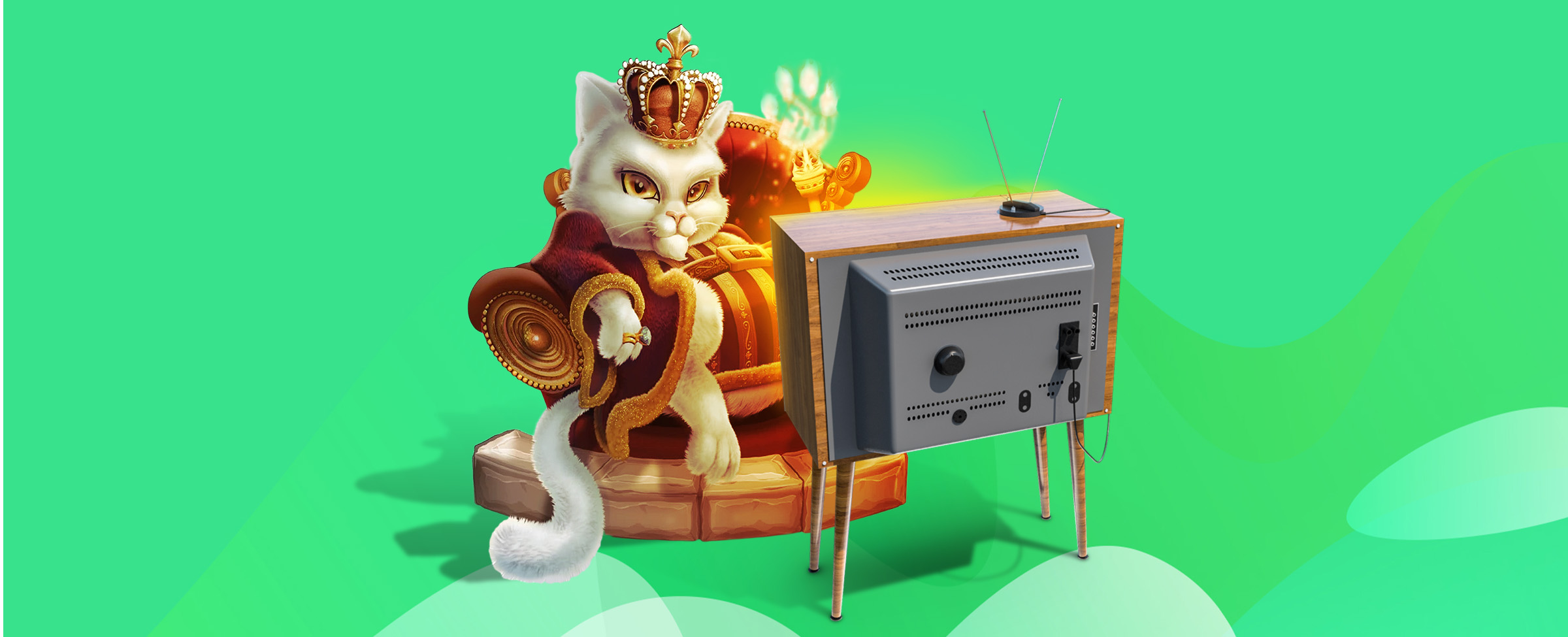 Whether it's Michael from The Office calling for help after getting his foot stuck in his George Foreman grill (hey, he likes breakfast in bed!); the "man hands" on Jerry's date in Seinfeld; or Walder Frey's men wreaking bloody havoc on Edmure and Roslin's wedding in Game of Thrones… it remains true that TV shows are an integral part of any culture. With hundreds of slots games that fall into any number of categories at SlotsLV, we like to think they're an integral part of casino gaming, too!
While we don't have branded TV slots (that's more video game territory, and they tend not to cough up as well), we do have some particularly fun games that would serve as the deliciously salty butter to your popcorn! These SlotsLV online slots have similar themes and designs to your favorite shows, along with some elements that remind you of your favorite scenes.
They're the perfect addition to pull out during a slow scene or at the credits – since, of course, streaming services have really done in commercials (RIP Clear Eyes with Ben Stein!).
It might be a comedy classic, a current cult hit or a highly anticipated debut set for the months to come; whatever hit show you're channeled into, these are the online slots to prepare alongside the popcorn as you settle in to watch.
House of the Dragon: Wynloch Keep
In the upcoming August prequel to Game of Thrones on HBO, House of the Dragon will give us a glimpse into the history of House Targaryen, set 200 years before the events fans witnessed in the original hit TV show.
As we watch a great civil war break out during the Targaryen rule of the Seven Kingdoms, the character who will take the place of King Viserys I on the Iron Throne will emerge through the rubble, and players at SlotsLV won't be able to stop themselves from having a similar adventure of their own.
In Wynloch Keep, you are the warrior (let's call you Daemon Targaryen), and you stand ready with a shield and sword at a distance from your castle (let's call it, say, the House of Targaryen). The impending Dance of the Dragons is about to be underway, and you must collect Wynloch Respins, Tower of Power random wild reels, multiplier treasure coins, or the grand slots jackpot chest in the Treasure of the Keep before your entire home – and your bloodline – is destroyed.
And Just Like That: Shopping Spree
And Just Like That is a Sex and the City revival that takes place 11 years after the events of the Sex and the City 2 movie from 2010. Now in their 50's, NYC's favorite glam squad are reunited in an amusing and all-too-real ride of life.
As we've seen from season one as well as the original TV show, navigating relationships through careers, families, and passions can be tough, but there's always one thing these ladies can rely on to connect, and that's the love of shopping!
Aside from having all the high-end and razzle-dazzle goods of Madison Avenue, Shopping Spree also has one of the most huge and explosive progressive jackpots at SlotsLV. Spinning through stilettos, handbags, and diamond necklaces, you may get a glimpse of a sparkling diamond ring. If so, you better get that game to put a ring on it just like Mr. Big, because landing five of them on max bet will land you the big jackpot in the game!
Whether you're hitting the town with Carrie, Samantha (who will join through text!), Miranda, or Charlotte, these glam ladies have shown us that there's always room for one more in their gang. If you refer a friend to SlotsLV, the six of you can hit the town and the TV show slots machines with extra pocket money, all on us.
Tales of the Walking Dead: Zombie FC
Post-apocalyptic horror, anyone? Who isn't in the mood for a gruesome blood bath every now and then – especially with Tales of the Walking Dead launching in the middle of August!
The newest show in the Walking Dead franchise will dive deeper into the history of the famous characters in an episodic anthology.
While you'll undoubtedly be witnessing plenty of blood spilled in the show, you might catch a few crimson drops on the pitch inside Zombie FC as well.
Blood-soaked zombies are out for your head, and they want to win this game just as much as they want to eat your brains – but you can fight back! There are 243 ways to win, and features like tumbling reels, expanding wilds, and free spins give you a fighting chance to survive.
In fact, if you want a slots tip for a game like this, then be sure to bet on max, because that's the best way to defeat the undead and bring to life the increasing multipliers at full force.
Hacks: 10 Times Vegas
The comedy-drama Hacks premiered last year in May, and it unfolds a unique and dark relationship between legendary Las Vegas comedian Deborah Vance and struggling comedy writer Ava Daniels who's on the hunt for work.
With a game like 10 Times Vegas, you get the chance to join the dynamic duo in Sin City, and score a massive progressive jackpot before their show!
As one of our best Bitcoin slots, 10 Times Vegas is bound to get you the types of rewards you'd expect from a night out on the Strip, along with faster withdrawal times to put your money to work better than Deborah can work a crowd with her new material.
There are 10 symbols each with its own paytable, but it's the Wild Multiplier symbols you want to land. If you make the right combination with those, you could spin with the jackpot symbol, and win the big progressive in the slots game.
Obi-Wan Kenobi: Galaxy Stars
In Obi-Wan Kenobi which came out in May this year, we learn more about our favorite Jedi Master as he navigates his emotions and the consequences of losing his friend and apprentice Anakin Skywalker to the dark side.
In yet another one of our most popular slots to play with Bitcoin, Galaxy Stars puts you in the driver seat of your own starship as you help Obi-Wan rescue 10-year-old Princess Leia, swooping her up on a journey through a galaxy far, far away in search of Nexus Multipliers and Galaxy Spins with Blazing Wilds, along with inner peace .
If you liked having an intergalactic battle through space while Obi-Wan Kenobi comes to terms with his past, then check out our Thundercrash review for an entirely new and novel experience in space… but at the arcade!
The Office: Cat Kingdom
For anyone who's seen Greg Daniels' mockumentary sitcom The Office, cats might not come to mind as quickly as pranks, fire drills, party committees, or awkward phone calls with a quirky boss.
If that's the case, then we invite you to take your attention to the desk towards the back of the office, where a prudish blonde employee stares aghast at home video footage of her two cats copulating at home. This is Angela, and if there's anything The Office fans know about her, it's that she really loves her cats!
Cat Kingdom is a lot like the ruling power of Angela's cats inside her house. It features a rather arrogant feline who fancies himself a King, and as you're stacking up Shocking Wins free spins, wild wins, and a gigantic cat symbol descending onto the reels, you can practically hear Angela pulling up the driveway to enter her wacky Cat Kingdom and join the fun.
The microwave has beeped rudely, and the buttery scent of popcorn fills the air. That's your cue to get down to business! We've saved you a seat on the couch in front of our online TV slots based on your favorite show, so settle in and enjoy the show!
---
Don't forget to check out our new Hot Drop Jackpots: there's hourly prizes, every day!