This Week's Hot Slot: Oasis Dreams Hot Drop Jackpots
Every week, we'll share one special slot online that's making player headlines and fast becoming the talk of the town, while we give you the lowdown on its winning characteristics.
This is your chance to see what's trending – if you haven't already helped to make it trend! – and to get a glimpse into what your fellow slot players have been up to, and why. We'll give you the how and when, too! Free spins, unlocking hidden slots features, and winning huge, real-money jackpots: This Week's Hot Slot is where you come to discover it all.
Don't miss our list of hot SlotsLV online slots: check back every week to stay at the front of the trends. Maybe you'll even catch your own favorite new slot here!
Let's see what's ruling the reels this week at SlotsLV Casino!
This Week: Oasis Dreams Hot Drop Jackpots
March 23, 2023.
The journey through the desert is long and hot, but it has been attempted. In fact, many online slots players have traversed the African continent before you, in search of the priceless treasure that awaits inside the Arabian palace of Oasis Dreams Hot Drop Jackpots.
From the very first glance of that gorgeous oasis, even from miles away, you'll feel the irresistible allure of the highest-paying symbols: a beautiful princess, gold lamp, red gem, and pair of swords.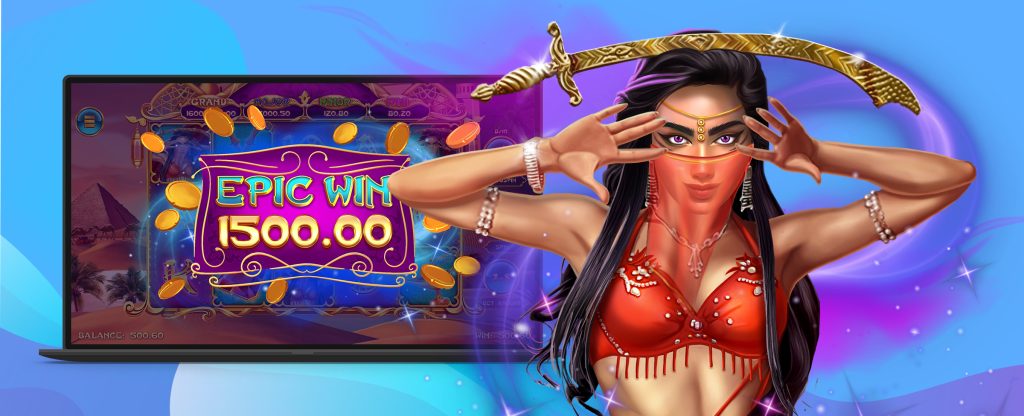 Outside the looming castle with its golden minarets, three bonus symbols representing the palace appear, and that's the moment you'll find yourself inside the breathtaking interior with two glowing treasure chests before you.
If you choose the chest with free spins, you are awarded up to 15 free spins with up to 200 additional Wilds in play.
If you choose the chest marked Hold and Spin, gold coins will fall into the spaces around you, each emblazoned with values reaching up to 100x your bet. You may even land one of three fixed jackpots; and if you collect all the coins, the Grand Jackpot awards 1,000x your stake!
If you encounter three crown symbols, prepare to spin a very special jackpot wheel and, to win one of three Hot Drop Jackpots. That is one dreamy oasis, and one very popular SlotsLV destination.
---
Spin for over $1K in hourly jackpots with SlotsLV Hot Drop Jackpots!
---
This Week: Larry's Lucky Tavern
March 17, 2023.
Do you have your green top hat, a fiddle, and big ol' pipe on hand to welcome in St. Patrick's Day? If not, don't sweat it! We know a special someone who's got it all covered for you – and soon you'll know him too. Just come on down to Larry's Lucky Tavern to introduce yourself, and you'll be right at home.
As one of our best Irish slots, crowds of players are swinging by to say a big, hearty hiya to Larry in the month of March, when the leprechauns come out of hiding, along with the Kiss Me, I'm Irish t-shirts. He's a popular guy.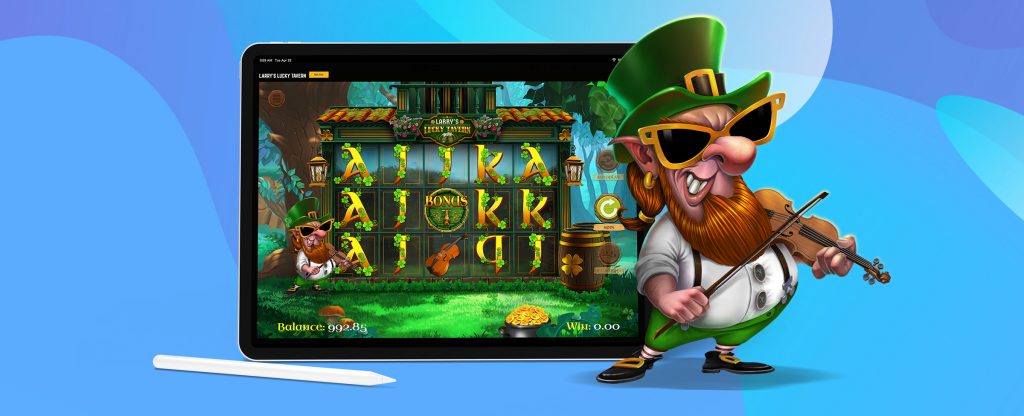 Larry works his magic behind the bar, making sure his frothy beer scatter symbols are nice and chilled. If he pours out those scatters three at a time, you get 10 free spins with multipliers of 3x. During free spins, a Wild green top hat may appear on reel 3, expanding to cover the entire reel!
Pace yourself, now, there's still another prize. If you collect three bonus symbols, Larry invites you to choose from one of three kegs of beer to reveal a special prize. That's the luck of the Irish, right there.
---
Do you know about all the crypto casino benefits you could be enjoying? One is bigger bonuses…
---
Luxe 555
March 10, 2023.
The soaring golden doors of the casino part in front of you. The murmur dies down into an excited silence as everyone turns to look at you.
You are the elite guest they've been waiting for.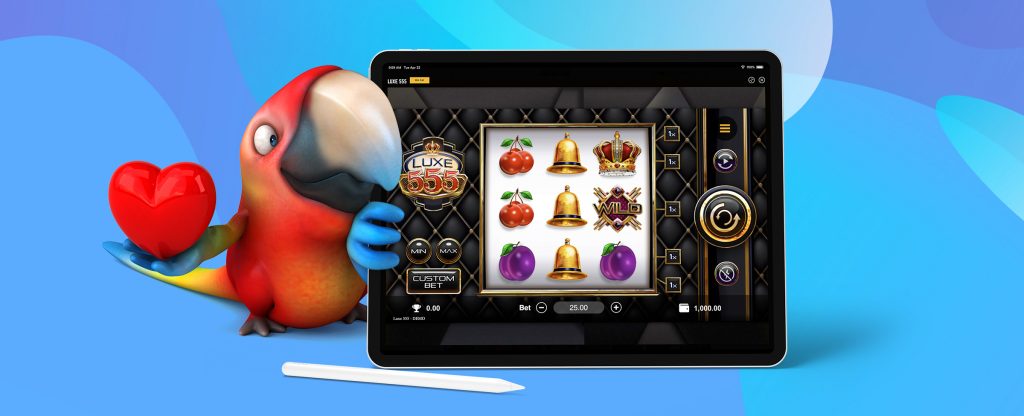 You are ushered into the exclusive and gorgeous lounge. Everything in Luxe 555, from the grand walls to the handsome furniture, is quilted in luxurious leather and stitched together with gold thread. Aaahh… you fit right in.
You are asked to select your bet size on each of the five paylines between 1x, 3x, or 5x. Because in this classic slot, you are the boss.
Then, at your command, symbols like anchors, oranges, plums, cherries, bells, crowns, and gold-lined fives zip across the three reels.
The casino crew is on standby to heed your every beck and call. This is why, if you land just two scatters, they step in to grant you a Bonus Chance. For you, the reel without the scatter spins again.
If you are lucky enough to land three scatters at that time, you'll be presented a silver platter of bonus games and given one choice. Will you spin for the Royal, Gold X, or Royal Gold X games featuring an assortment of slots free spins and multipliers? The choice is yours. After all, you are the boss of this online slot!
---
It pays to share! Get a referral bonus for every new friend you invite to SlotsLV who makes a successful deposit.
---
Temple of Athena Hot Drop Jackpots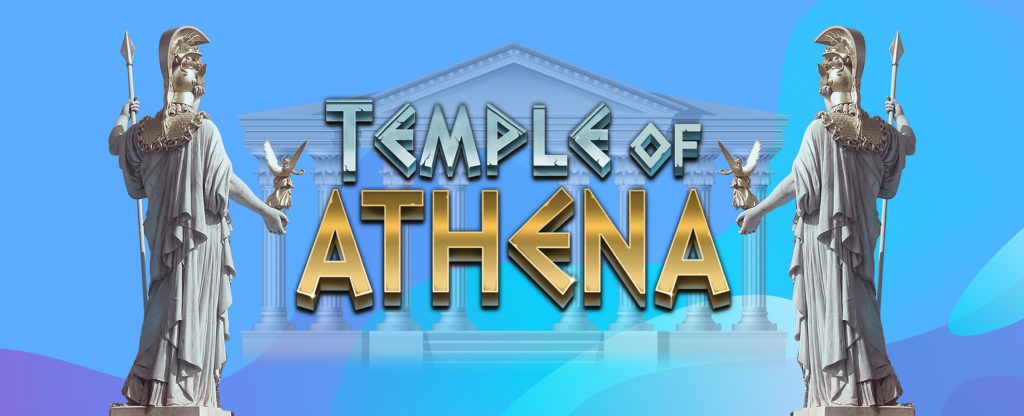 March 3, 2023.
The mythological world of ancient Greece is a lot nearer than you'd think.
Temple of Athena Hot Drop Jackpots is the new slot on the block, but thanks to the generous blessings of goddess Athena and her elegant, high-paying features, it's already stolen many a heart among our players.
Athena's symbols consist of her own crowned head and face adorned with makeup and jewels, a hippogriff, a unicorn, and her owl of wisdom. Together, they ignite a deeper kinship with the goddess as you spin.
As if she senses your affection, Athena reaches out and touches your reels with the same symbol in the base game, only stacked together as a three-high block. These appear as mystery symbols initially, before transforming into the same regular stacked symbol once they settle.
If three free spins scatters appear on reels 2, 3, and 4, they trigger eight slots free spins. During these free spins, the stacked symbols appear again, but now Athena has granted them special powers. Only the highest-paying symbols can appear, including the Wild! What a generous goddess she truly is.
Nothing could be more generous, however, than Athena's holy offerings of three SlotsLV Hot Drop Jackpots. These jackpots must drop either once per hour, once per day, or, in the case of the Super Jackpot, by the time it reaches a godly amount! Now – let's get you to the Greek.
---
Play Online Slots at SlotsLV Today
Games, games, and even more games!
Everywhere you turn and every place you venture into; as long as you're at SlotsLV, you'll be among a vast treasure trove of online slots including progressive slots and hot drop jackpots. Start your adventure into our wonderful world of fun, amazing promotions, 5-star customer service, fast payouts and crypto-friendly transaction options now.