The Best Slots For Every Generation (Have Fun and Win!)
When you think back to when you were young, what do you remember? Sears and Five and Dimes? VCRs and MTV? Saved by the Bell and Super Nintendo? Or Y2K fashion and the very first iPhone? Yep: we're talkin' 'bout your generation. (That reference will be lost on some of you, Gen Z and Millennials!)
No matter your generation, we have the perfect themes, features, and characters ready and waiting for you at SlotsLV Casino.
And, to make it easier than ever to connect player and generational gameplay, we've put together a few matching categories of SlotsLV online slots to get nearer to your era.
Like – it's groovy to be a Boomer when your hard work ethic pays off for a featured trophy, and it just hits different in Gen Z to win a jackpot – and everything else in between!
You ready to see what's in store for your generation? Let's go!
Boomers
Boomers were raised on the American Dream. You have ideals of hard work and determination to get what you want. You have strong principles, including a deep-seated preference for calling people on the phone rather than texting.
You're a lot like the strong-willed football players in the Gridiron Glory slot. You're self-assured just like they are, and it's this confidence that'll help you win across your expanding Wilds and cascading symbols.
A Gen Zer or Millennial (kids these days in principle, if not literal age) might roll their eyes and say "Ok, Boomer…" at your differences. But you can laugh it off since you know you're truly A-okay. It's your hard-earned savings that have afforded you a comfortable life, like in the exclusive lounge of Luxe 555. In this game, you're the one in control over the paylines and can choose your own multiplier values!
Then again, you could just as easily kick back with a classic slot, like Reels of Fortune Hot Drop Jackpots. You'll travel back to a time of flopping on the sofa with a Swanson's turkey dinner and Wheel of Fortune playing on the boob tube. Except this time you've got access to three Hot Drop Jackpots which must drop every hour, every day, or any time the Epic Jackpot decides to drop! That's surely an upgrade on the good old days…
Gen X
In the mid-60s to the very early 80s, when Generation X were thrust into an era of significant social change, there was a great social shift happening in the world. Birth rates were dropping; more homes had two full-time working parents instead of the traditional, single-breadwinner norm. At the same time, people who were traditionally not afforded certain rights had them enshrined into law, and an age of acceptance and interconnectedness stuck its toes in the water and decided to take the plunge.
As a member of Gen X, you had to fend for yourself as the first generation of latchkey kids. You blossomed to the max (remember that one?) into a culture of creativity, independence, and skepticism.
You grew up unafraid of questioning authority – much like the outlaws and cyborgs inside Lawless Ladies and Cyberpunk City. You're like peas in a pod with these rad online slots characters. They rely on their resourcefulness to find their own way, and that's also where you really shine. Your independence is duly rewarded with expanding Wilds and random progressive jackpots.
And since Gen Xers hold education in hella high esteem – considering it a key to their success – you'll fit right in with the scroll of wisdom inside Dragon Scroll, with its slots free spins featuring stacked Wilds.
While Gen Z may be champions when it comes to connecting online, Gen X tends to keep flesh-and-blood company. But: friends are friends, no matter what form they come in. Refer any kind of friend to SlotsLV, and we'll give you a casino referral bonus!
Millennials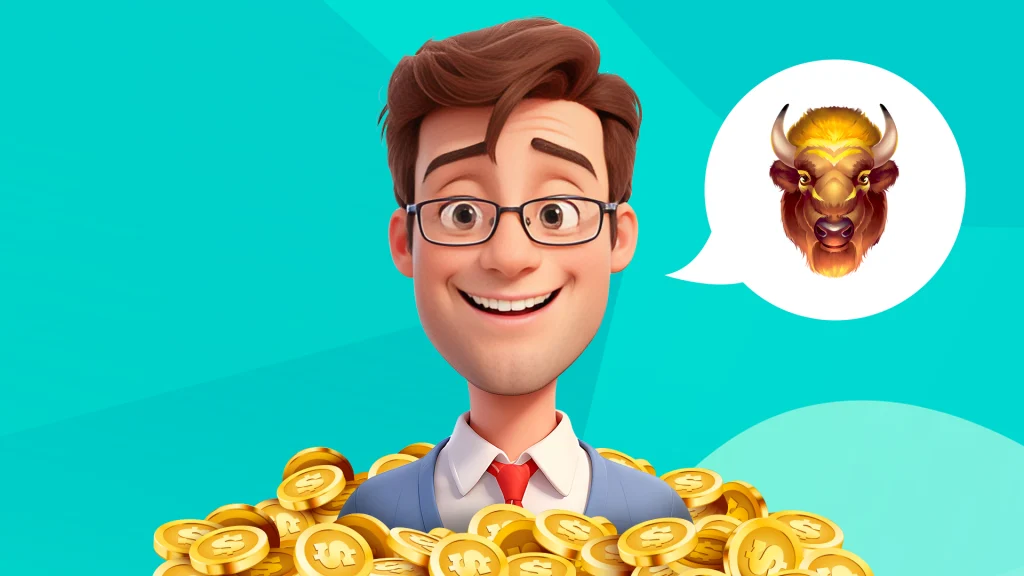 Adulting is hard… as any Millennial will tell you!
If you were born into this generation, aka Generation Y, you grew up in a time of rapid technological change. Half of you were among the first kids to be raised with cell phones and the internet at home, but hopscotch, pogs, and Capture the Flag with the neighborhood kids were also daily staples.
Millennials tend to be perfectly comfortable with advancing technologies, but carry a sharp pang of nostalgia for those gadget-free days of the 90s, before the internet blew in like a whirlwind and changed the way we do… well, everything!
An online slot like Golden Buffalo is totes cool and will bring you back to simpler times. (Not literally back to the 1800s, but rather, think: The Oregon Trail game). Traverse the buffalos' trail in search of their golden fur, on an adventure that can lead you to 4,096 ways to win, free spins and up to 3,125x Wild multipliers.
Other slots games like 5 Times Vegas allow you to relive your beloved 90s and dance like Romy and Michele to synth tunes. That's all while spinning over 3 reels and 3 rows of classic symbols in search of a progressive jackpot in one of our top Vegas-style slots. Cool beans.
Millennials also have a reputation for working the gig economy, and choosing their place of work based on values. Making an impact is a whole other paycheck. In the Robin Hood slot, you can redistribute all the wealth you like, and even protect the environment in Sherwood Forest. Just look for the Robin Hood symbol when it takes over as a stacked Wild!
Gen Z
While most other generations lean heavily on the side of realism, someone from Generation Z is far more likely to embrace a sense of optimism for the future – and it's little wonder, when the technologies of tomorrow offer so much promise.
Being born into a world of digitally-assisted living, a Gen Zer is exceptional at task-switching and attention-dividing. You're total fire at playing online slots while you watch Netflix and scroll through TikTok. Those are all skills you'll need in a game like Gold Rush Gus and the City of Riches (that is, as long as you're over the age of 18!).
Just like the original Gold Rush Gus – which is giving main character, btw – there are a hundred prize features going off at once from the base game to the multiple side games with Gus.
As a member of Gen Z, you may not be too impressed by Millennials' fashion style (or lewk), with their skinny jeans and side-parts. But your generation is open-minded enough in your wide-leg pants to appreciate the differences and tweet out slay, queen! as long as it looks good.
It's this spirit that'll set you up for success in slots online like Clash of Queens, where you'll watch two opposing Queens face off. You'll have made your wager on one of them to claim victory, and ultimately the winning Queen – and you, if you backed the winner – will be duly rewarded with all kinds of prizes.
A Night With Cleo Hot Drop Jackpots is another way for you to sink into your protected "me time" and the work-life balance that is so important to Gen Zers. You'll be super relaxed as you're pampered in the palace quarters, but there are also three Hot Drop Jackpots to keep things interesting!
Every generation has its own distinct quirks and characteristics, just like these online slots! That's what makes them all special. And, despite the differences, there's one thing that all of these slots games and their natural audience have in common: a passion for triggering huge jackpots! So, head on over to SlotsLV today and explore your perfect generational game-match!
---
Did you know that SlotsLV is a best crypto casino? Discover why in our Crypto Casino FAQ.