Giddyap With These Wild West Slots
In your very own Western, filmed on location in these SlotsLV Wild West slots, the director calls action. The lazy drawl of a harmonica sets the scene, against a background of distant gunfire and not-so-distant shouting of drunks from the town's saloon. Of course, you are the story's shining – if not a little rough-lookin' – star.
But instead of a pistol in your hands, you've come armed with a lasso of bets ready to round up prizes. The loot is yours for the taking as you cruise into each hammered and framed Wild West location on your trusty steed.
If you ever craved the pre-electricity spotlight and longed for a good looting, then get ready to start wrangling up prizes. You'll soon be kickin' down the saloon doors to guzzle down a spot of moonshine as you conquer the wild scenes of these Wild West slots at SlotsLV Casino! Yee-haw!
Lawless Ladies
Your rickety carriage makes its way into the most infamous stompin' ground in the Wild Wild West. You can sense something stirring when the four Lawless Ladies step their way into view with pistols raised.
This buncha young gals are lookin' for some trouble. And, whadya know: they want to recruit you to help them score the ultimate jackpot loot.
Now, some locals might call this gang a squad of wobblin' jaws. You know the type: mouthin' off about being wanted dead or alive, and about crimes they're about to commit. But the Sheriff in town knows these outlaws are more than just talk. That's why he's hot on their tails as the Wild sheriff's badge in this cowgirl slot machine.
Once you join the ladies, one of your sassy partners-in-crime expands as a Wild on reel 3 in the base game – along with an assortment of random Wilds across the reels – and you'll know that this girl gang has your back.
But don't let your guard down too much in this online slot. The random progressive jackpot, as the name suggests, could strike at any time. That'll send you and your gal pals ridin' on outta there and into the sunset, guns a'blazin'.
When you're not riding alongside the lawless ladies, you'll want to be sure to refer a friend to play. Then we'll award you a bonus for each head that joins and deposits.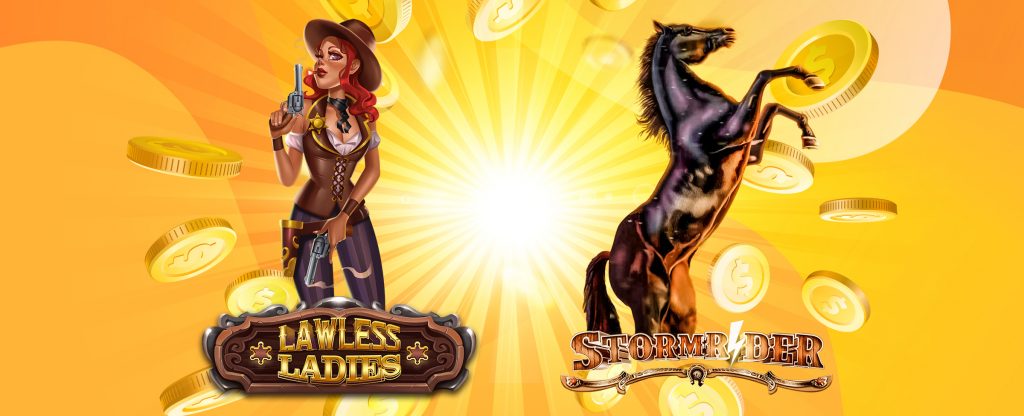 Storm Rider
In this Wild West slot machine, the brave cowboy Cash Hawkins is waiting for you at Bronco Ranch with a wide-brimmed cowboy hat tilted over his eyes.
There's a storm brewing in the background of the 5×4 online slot, and Cash Hawkins' feisty steed sure ain't no barn sour, no siree. In fact, you can hear him bucking up to ride outside… directly into the storm's swollen, blue-black eye.
In Storm Rider, you may look like you're knee-high to a grasshopper when you stand next to this majestic stallion, but once you hop on his back, you'll be larger than life inside the stampede storm feature with up to 28 free spins and the Wild Bronco X feature with multipliers up to 3x.
If you get good at ropin' in the rewards with Cash Hawkins, you can aim that lasso towards fast deposits and withdrawals since SlotsLV is a crypto casino. Getting started with crypto is much easier than you might think, and it only takes a minute or two to get your crypto wallet all set up.
Wild Wild Spin
If you want to be a part of a Wild West slot online like this Wild Wild Spin slot game, you'll need to rattle your hocks and get a move on, because a wild shootout is about to go down. You don't want to be the last one moseying up to the gun circle.
Suddenly, you hear a pop and a pow just behind… What in tarnation is that all about! Could it be anything other than the sound of a duel getting started? You were dragged into it by the cowboy in the black hat and curling mustache when you landed him as a bonus symbol three times. Now you've got no choice but to fight in it. You'll have to duel five times and win 'em too, and you do it by shooting the cowboys that appear on the screen, then collect the prizes that pop up outta their dust.
If you do well in the duel, you just might catch the attention of the red-headed sweetheart brandishing her gun. If you get her to come closer, three symbols with her purdy face will trigger seven free spins with multipliers of 7x your bet.
All this Wild Wild West action… no wonder this is one of our most popular slots themes to play!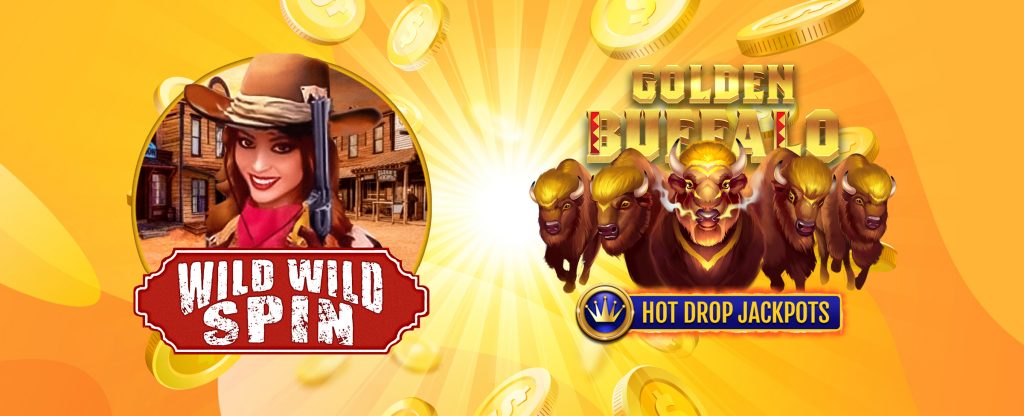 Golden Buffalo Hot Drop Jackpots
After all that shootin' and gun slingin', it's time to leave your desperado life behind. You'll be ridin' above board from now on inside Golden Buffalo Hot Drop Jackpots as you chase the wild beast in search of its three must-drop jackpots.
As you roam through the canyons with nothing to see but wide open sky, you'll catch other varmints runnin' 'round the rocks, but don't let them put you off your supper. You need to focus your attention steadfastly on the timer ticking down to 00:00:00, because the hourly and the daily must-drop jackpots are just about to blow. That means one lucky buffalo hunter is going to win a SlotsLV Hot Drop Jackpot. It just might be you!
You're sure to have a great time while you're playing this western slot machine, too, since there are 4,096 ways to win, and the chance to win up to 3,125x your bet inside the bonus round.
When you're all through, you can revisit the golden-furred beast yet again in the original Golden Buffalo game, or try any other similar slots to Golden Buffalo to get up close to even more creatures of the wild. Or you can even check out all our other Hot Drop Jackpots for more action.
These SlotsLV online slots are a-hootin' and a-hollerin' for you to come on down and spin. Either a slingshot, a pistol, or a broken bottle will do just fine, and you can hop on your stallion and gallop through the dust picking up prizes along the way at SlotsLV.