MOST POPULAR ONLINE SLOTS AND TABLE GAMES AT SLOTSLV
With so many slots and table games available, you may have found yourself lost down the rabbit hole on occasion. Your shortlist of games to play may find itself as tall as Alice after swallowing her pills!
And it's no surprise – SlotsLV is its own wonderland with hundreds of games on offer, so of course it would draw in a curious tourist such as yourself. These games promise adventure, cash rewards, challenges and fast-paced thrills.
Since you're dressed for the occasion, join us for your very own Slots casino tour, and you'll see with your own wide eyes those games that enjoy an enthusiastic crowd! We're sharing the SlotsLV most popular slots and table games, so you can jump right into playing and explore a whole world of winnings.
GOLDEN BUFFALO
Explore the western wilderness and its ancient canyons with this popular 6-reel, 4-row online slot in golden buffalo territory. If you want to play the most popular slots at SlotsLV, this is a golden place to start!
Place a bet between $0.40 and $200, then pay attention as the majestic wolves, rascally raccoons (also known, affectionately, as trash pandas), and soaring eagles spin you away through a gargantuan 4,096 different ways to win.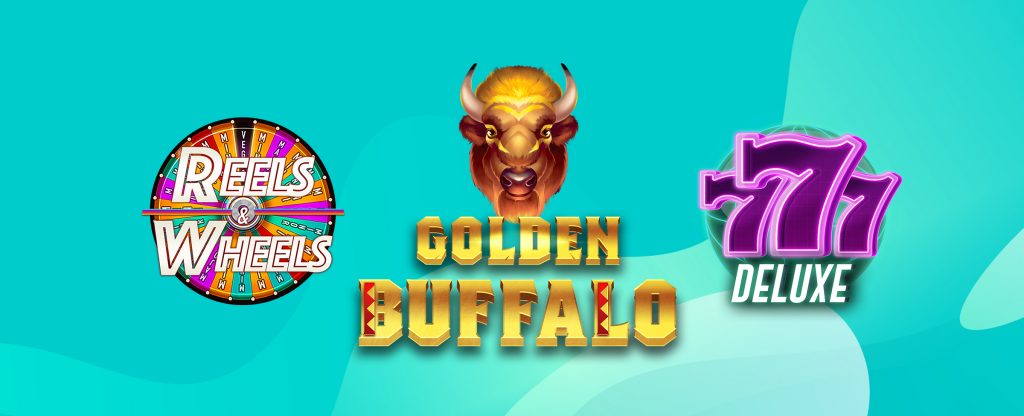 If the Golden Buffalo symbol appears on the reels, he'll multiply your win by up to 10x. What a good beast to have on speed dial! Now, pay close attention to the Bonus symbol, as it stands to deliver you up to 100 free spins. But the real enchantment comes with the Wild symbol, which is enriched with golden powers, multiplying any win during free spins up to 3,125x! Buffalo: not just a mozzarella.
REELS & WHEELS
There's nothing sweeter than a throwback to a simpler time when slots were run by 3 reels, and just 1 payline was plenty to hold your focus. The reels in this game do exactly that, and they do it super well. Get the fabulous retro vibes of yesteryear, but make them louder and flashier, with features that could only be found in today's world.
In the base game you spin through 3 retro reels with 1 payline. Multiple bars, 7s, cherries, and diamonds are all you need to get the gears going to crank out some paydays.
The biggest draw of the game comes from the two bonus wheels. After you land the orange bonus symbol on the third reel in the base game, the entire scene transforms into a stunningly colorful multiplier wheel. If you land just the right wedge on the wheel, prepare to be flung to yet another special wheel – and this is the big one itself – the jackpot wheel! One of five progressive jackpots is just a spin away from being yours, ready to make this truly contemporary experience one for all time.
777 DELUXE
Thanks to a delightfully modern take on a classic, this 5-reel, 3-row online slot is a crowd pleaser across the board: comfy like an old pair of slippers, sharp as a new pair of Jimmy Choo stilettos. (Don't believe us? Read our game review!)
The old-school cherries, bells, and golden 7s are still here, but they're back with a modern twist – not to mention a juicy progressive jackpot! Across 10 paylines, you'll want to land 5 bells, horseshoes, bars, or triple 7s to win 30x to 100x your stake. Woo-hoo!
But what really keeps the crowds lined up at this popular online slot is the bonus game. The bonus is triggered if you're lucky enough to land three mystery question mark symbols anywhere on the reels. When three golden 7s grace your reels in the bonus game, the modern progressive is yours for the taking. Yours, baby!
CYBERPUNK CITY
In Cyberpunk City, the gritty streets are awash with neon lights, and action awaits in every corner of every dark alley. Your pink-mohawked cyberwar sidekick is keeping watch over the reels as you and your crew of rebels navigate damp, dilapidated streets for some loot.
5 reels spin through 3 rows in a future where everything appears random and exciting. Any high value symbol can transform into a Wild to help you gather your own loot, which you chase against the backdrop of a progressive jackpot that looms large over the dystopian cityscape, like a storm cloud ready to rain money. Meanwhile, another Wild roams the alleyways, and you'll catch the cyborg's sinister glare as it emerges from the dark and expands over the entirety of reel 3.
Landing the orange Cyber and Punk symbols on reels 1 and 5 will award you 10 free spins with 3x multipliers that can also be retriggered. Try Cyberpunk City in Practice Mode today – anarchy has never been this rewarding!
BLACKJACK
If you'd like a bit more than just a spin on the reels, then Blackjack is as good a place to start as any. It happens to be one of the SlotsLV most popular table games of all time, with roots going all the way back to the 18th century. Not only that, but it's lightning-fast to learn.
The aim of the game in Blackjack is to achieve a higher score than the dealer without exceeding a total of 21. After your initial deal, you'll use your best judgement to decide when to hit, stand, surrender, or double down. So, a little bit of luck and a dash of strategy is the name of the game.
These days, and particularly with everything at our fingertips, what really makes Blackjack extra popular as a table game is the ability to buddy-up with a Blackjack chart. A Blackjack chart is the ultimate "cheat sheet", telling you exactly which action to take in any given situation. If you decide to stick to a chart, you'll reduce the house edge to only 0.05%. Of course, if you're a savvy player, you can work those kinds of numbers straight from your mind to the table!
KENO DRAW
If a simple game with simple rules is just what the doctor ordered, you're in luck. That's precisely what makes Keno Draw a wildly popular choice here at SlotsLV. (Technically, you can find this one under SlotsLV Specialty Games alongside different varieties of Bingo!)
To play this lottery-themed game, you first port of call is to handpick 15 numbers from a pool spanning 1-80. Alternatively, to have your 15 numbers selected at random, opt for a "Quick Pick" and jump straight into play. Hold on tight to your lucky 15 as the wheels will spin and tumble until 20 winning numbers emerge and reveal your ultimate fortune. If your own 15 numbers overlap with the 20 newly revealed winning numbers, congratulations – this is your lucky day!
Easy peasy, wins are breezy.
Whether you lean towards online slots, online table games, or you split yourself in both directions, one thing stands obvious but worth of shouting from the rooftops: you can't win if you don't play!
Have a spin, have a win, and discover for yourself why this collection is the most popular kid on the block.