CAESAR'S VICTORY SLOT GAME REVIEW
SlotsLV Caesar's Victory slot will transport you to a time when the lifestyle was extravagant beyond imagination. Luxurious furnishings made of gold and bronze, an army to defend your kingdom, and lavish dishes and spirits enjoyed in the midst of their greatest emperor, Julius Caesar.
The Romans, who were lucky enough to be comrades of the emperor, shared a vast wealth that has inspired dreams and stories for millennia. Now players get to experience it from anywhere on their desktop or mobile. You have the chance to rule the reels for free spins, and hunt down that random jackpot that would make any Roman gladiator stop dead in the arena.
Prepare your horse, secure your helmet, and wield your shield. The empire needs you, and you need to lead the empire.
---
ALEX B. FROM CA WON $156K PLAYING CAESAR'S VICTORY AT SLOTS.LV IN MAY 2023!
---
SHOULD YOU SPIN IT?
This slot is a glorious escape into nobility and the extravagant world of ancient Rome. Stand beside Caesar as he rules the land, and seize today's opportunity to bathe in the wealth that the Emperor's subjects could never have dreamed of.
Here are the pros of Caesar's Victory at SlotsLV Casino:
✓ Huge random progressive jackpot
✓ Plenty of free spins
✓ Re-triggerable free spins
✓ Engaging story
✓ Immersive gameplay
✓ RTP is a solid 96%
✓ Max Win: 40,000x your bet per line
✓ Best Bitcoin slot
Despite all of these positives, some players may find these aspects to be cons:
X Only 20 fixed paylines
X No interactive bonus round
GAME OVERVIEW: CAESAR BECKONS… AND YOU'D BETTER ANSWER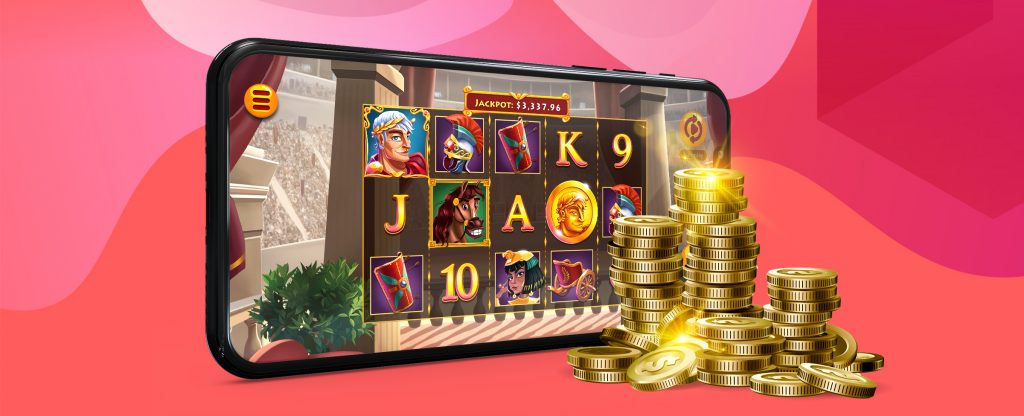 The time is 45 B.C., and the spectacular Colosseum is swarming with citizens of the Roman Empire. The Emperor himself is behind the closed gate, brushing his horse and whispering sweet nothings to his lover, Cleopatra. He's about to present to his subjects the right hand of his throne, the most esteemed guest the empire has ever beheld.
That guest, my friend, is you.
Caesar guides you through the palace to meet his cherished cohorts in this 5×3 slot. The incomparable Cleopatra is there, as well as Caesar's battle shield, carriage and diamond-studded helmet, all of which are top symbols on these paylines.
Also present? Genitor, the ruler's beloved horse! (Read more about this special beast under Game Features.)
CAESAR'S VICTORY FEATURES
Everyone should have a taste of what it's like to live like Caesar! When you play Caesar's Victory slot at SlotsLV, you'll get to enjoy the fame and fortune with these lucrative money-making features!
THE WILD TAKE OVER
The Emperor himself is the Wild, and he can take over any regular symbol on reels 1 to 4 in the base game to help you conquer more real money online slots wins. As an honorable leader both gracious and fair, Caesar awards a tripled prize whenever he takes over in a winning combination.
THE TRUSTY SCATTER
Caesar's valiant horse, Genitor, is his partner in war. In this slot he is your secret weapon to easy wins. The horse scatter isn't limited to a payline, and Genitor can halt anywhere on the reels and multiply your total bet.
DOMINATE WITH FREE SPINS
Legend has it that the man who rides on the back of Genitor will dominate the world, so you'll find Caesar is always looking for his horse over the reels. When you land one Caesar symbol anywhere on the reels at the same time as the horse symbol lands on reel 5, Caesar will jump on his trusty steed and gallop towards the Colosseum, leaving you 10 free spins with doubled prizes in his wake.
During free spins, Genitor takes a brief absence from the reels and the faces of Caesar and Cleopatra take his place. Each time Caesar graces the reels with his regal features, you get five more free spins.
PAYLINES
There are 20 paylines on the Colosseum grounds. Each payline rewards from left to right, but you'll find Genitor frolicking throughout the reels, awarding wins wherever he treads.
If multiple wins occur on the same line, Caesar lays down his law and decrees that the highest possible win is awarded. You're about to receive the highest honor in the land: up to 40,000x your bet per line.
RANDOM PROGRESSIVE JACKPOT
As you make your way through the winding halls of the stadium, be on alert for a startling surprise. On any spin, the ever-growing SlotsLV progressive jackpot can be triggered for a Colosseum-sized payday! The random progressive jackpot is hit at random, regardless of the denomination you select to play. That means all you have to do is simply enjoy this slot alongside Caesar and that big win could be yours to rule!
Spread the word about Caesar's generosity in this online slot, and about SlotsLV in general, and you could earn a casino referral bonus!
IF YOU LOVE CAESAR'S VICTORY, YOU'LL ALSO LOVE A NIGHT WITH CLEO!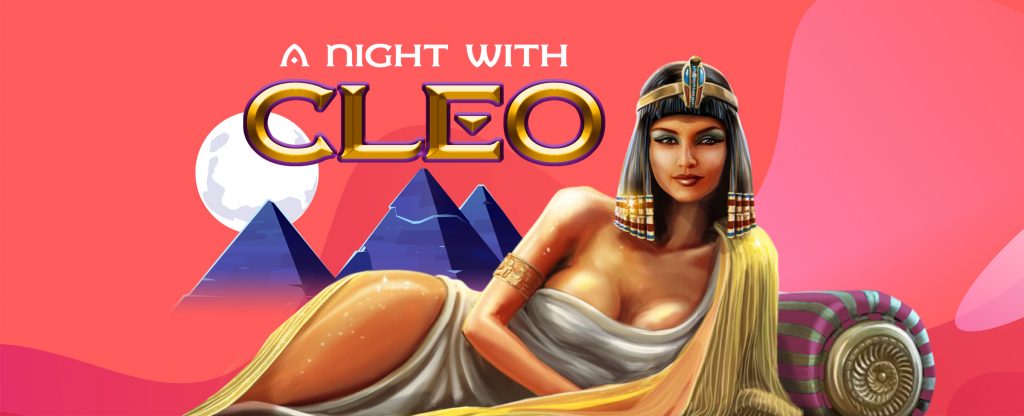 Once you've had a taste for the throne, you'll be wondering what fineries adorn an emperor's sleeping quarters, too. You're about to find out when you spend A Night With Cleo.
As the sultry lover of Caesar, Cleopatra was the most desirable and powerful woman of the old world. Her lustrous figure and legendary allure captivated men from near and far. Get up close and personal with Cleo herself and strive for the random progressive jackpot. But that's not all you'll strive for: this game is famous for its interactive bonus feature that gains you entry to Cleo's private quarters, where you'll see the true benefits of keeping such illustrious company.
If this has piqued your interest, we also have A Night With Cleo Hot Drop Jackpots. In this version, Cleo brings even more thrills with hourly, daily and super jackpots.
PLAY CAESAR'S VICTORY SLOT GAME AT SLOTSLV CASINO NOW
Do you have what it takes to rule alongside Caesar and defend the Roman Empire in this SlotsLV online slot? Prepare yourself: your people are waiting. You can already hear a rising roar within the Colosseum; it's the crowd waiting for you to make an appearance on the reels of fortune.