Leprechaun Legends Slot Game Review
Stand completely still and turn your ear toward the hills. Listen closely and you may just be able to make out the sound of an Irish fiddle, and ringing bells from multiple BIG wins!
That's right – you're in the SlotsLV Leprechaun Legends slot!
Like the rolling green landscape that stretches as far as the eye can see, there's an endless expanse of prize potential waiting for you within these lucky slots reels.
You're about to be whisked away by a band of four jolly, wise and generous leprechauns through three magical lands brimming with prizes like free spins, respins and multipliers.
This Leprechaun Legends slot review will guide you through the journey from your first glimpse of these little legends up to the final bonus round with the biggest prizes!
Should you spin it?
These pastures are alive with bonus rounds that get better with each spin. And if the friendly and jovial atmosphere isn't reason enough to play Leprechaun Legends slot, there's also:
✓ Incredible graphics
✓ Great music
✓ Magical and unique theme
✓ Tons of fun and interesting bonus rounds
✓ Perfect vibes to step into spring
It's hard to imagine not wanting to frolic through this online slot with the leprechauns. The only thing that might sway you in another direction is the fact that this particular game doesn't feature our three must-drop jackpots available at SlotsLV Casino!
Game Overview: Follow the Rainbow
As you trail behind the sound of the music, a mystical fog sets in, and the faint glow of a rainbow peeks out from between two hills in the distance. When you see the rainbow, you're on track.
Before you know it, four smiling leprechauns bounce into the clearing. These are your highest-paying regular symbols, and they each have a special talent: their Irish instruments!
As you follow the melodic sound of the fiddle, bouzouki, concertina, and bodhrán, you quickly realize that these leprechauns have more to show you than just their music. They have the keys to unlock endless bonuses within three magical worlds!
This is what you'll discover as they whisk you away on their Irish slots adventure:
5 reels
3 rows
50 paylines
Minimum bet: $0.50
Maximum bet: $40.00
3 bonus rounds
Free spins
Re-spins
Wild
Multipliers
Leprechaun Legends Features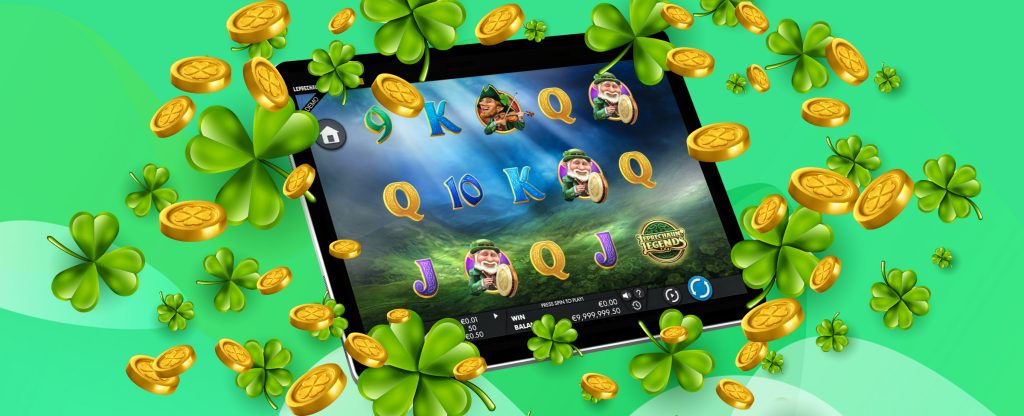 Without skipping a pleasant Irish beat, these leprechauns ask you to come along and explore their slots features. And of course you jump and click your heels at the chance!
Scatter
The game's logo is your scatter, and it can pay from any position on the reels.
Wild
The meadows are thick with four-leaf clovers when you play Leprechaun Legends slot at SlotsLV! Find one and it will become a Wild, which substitutes for all symbols, except the Scatter.
Pot of Gold (Feature #1)
The rainbow is just up ahead, and it's a lot closer than you may think. When it lands on reel 1 and one or more Pot of Gold symbols land on reels 2-5, you dive right into the middle of a pot of gold!
What you find inside among the glittering treasure are multipliers between 1x and 10x, which appear on each pot of gold symbol whenever a rainbow symbol lands.
While you're singing to the tune of golden multipliers, two more scatters will whisk you away to your next magical land.
Luck O' the Irish (Feature #2)
You'll get a real taste of the luck if you land two or more scatters during the Pot O' Gold slots feature!
After your symbols land and all your wins are paid, one lucky re-spin is granted, in which any reel containing a scatter is held in place.
You may notice the sound of the music getting stronger. If you do, land three more scatters and run as fast as you can toward its tune to see what it means!
Legendary Songs (Feature #3)
With three scatters from the previous feature, your next slots adventure awaits. Here is where you'll encounter the most astounding scene of all!
As you enter Legendary Songs, a lively fiddle plays to the melody of wins, which – bonus! – is a perfect fit for your Spotify playlist!
Then 7, 10, or 15 free spins present themselves when you land 3, 4, or 5 scatters respectively. Each of your leprechaun friends has his own favorite reel between 2, 3, 4, or 5.
Whenever he makes it onto his favorite reel, he stays in place as a Wild, while the other reels spin. If you happen to catch all four leprechauns on their respective reels at once, you get 2 extra free spins!
This sprawling landscape of features is best enjoyed with bonus Bitcoin perks. You can deposit with Bitcoin, play in USD, and withdraw in Bitcoin yet again for a super fast payday.
If you love Leprechaun Legends, you'll also love Larry's Lucky Tavern!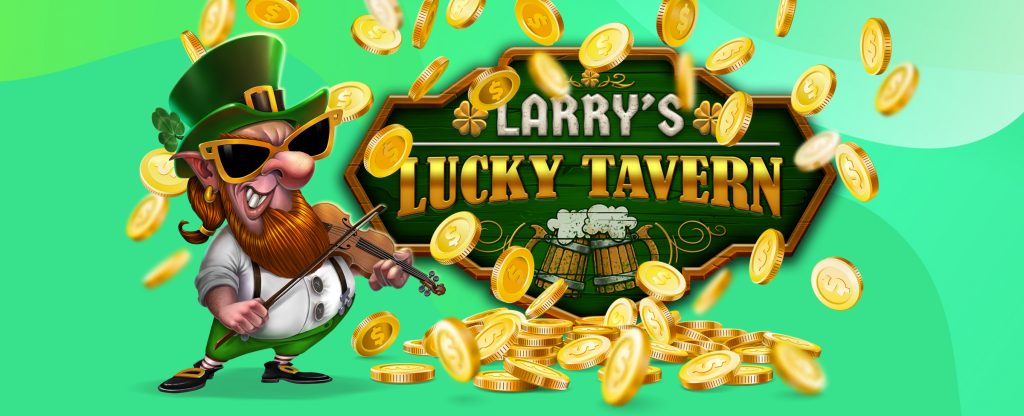 As you've seen in this Leprechaun Legends online slot review, the luck of the Irish is as plentiful as the lush grass blanketing this game. And someone else who knows a thing or two about luck is your old friend Larry!
Larry the leprechaun has ventured beyond the rolling green hills to fire up his own enterprise in Larry's Lucky Tavern. He didn't forget his fiddle, though!
He greets you as you take your seat at the bar of this slot online. Then he offers you that famous Irish luck in the form of expanding Wilds, 10 free spins with 3x multipliers, and a bonus round with special prizes hidden in a barrel of beer.
As we all know, a bar outing is always best enjoyed with friends. If you invite one (or many!) to come along to SlotsLV, you can grab a casino referral bonus.
Play Leprechaun Legends Slot Game at SlotsLV Casino Now
Of all our SlotsLV online slots, Leprechaun Legends is an unforgettable journey through a magical land. You'll receive luck, multipliers, free spins and re-spins, all with a lively backdrop of music and four merry little friends.
So keep your ears open – when you hear the music playing, run towards the fiddle and hit spin!