GOLD RUSH GUS SLOT GAME REVIEW
Everyone knows what a drag it is to work extra hard and not get the recognition you deserve. Wouldn't it be nice to see some real cash rewards for breaking a sweat? If so, how do three progressive jackpots and loads of money-making features sound?
Come on over and meet your new friend Gus!
Gus is a pal like no other, and he's inviting you to come along with him on a journey in the SlotsLV Gold Rush Gus slot. No need to grab your equipment! Gus has got a pickaxe and a hard hat just for you, and even more jackpot-filled prizes inside that bulging satchel thrown over his shoulder.
This Gold Rush Gus online slots review will reveal just what's hiding beneath one of our most popular online slot games. You're about to see what can happen when you work hard for your rewards!
---
AARON B. FROM TX WON $104K PLAYING GOLD RUSH GUS AT SLOTS.LV IN AUGUST 2023!
---
SHOULD YOU SPIN IT?
Gold Rush Gus boasts a treasure trove of reasons to have you rushing to your SlotsLV account for a good, old-fashioned dig:
✓ A huuuge Major progressive jackpot
✓ 2 Mini progressive jackpots
✓ Any bet size is eligible for the mini progressives
✓ Interactive bonus round
✓ Free spin feature
✓ Re-spin feature
✓ Great for small and large bankrolls
✓ Outstanding graphics
Then again, a day's hard work isn't for everyone. Here are potential downsides to getting your hands dirty with Gus:
X Only 10 paylines
X Possibly too elaborate for those who prefer traditional slots
Ready to get going with Gus? Get started now by depositing with crypto gambling. You can transfer USD to fund your player account and start playing in no time!
GAME OVERVIEW: A DAY ON THE MINES WITH GUS
Gus is a seasoned, happy fellow, and he's rather proud of that bushy grey moustache. When he was a spritely young boy, his father told him legends of a secret place that could no longer be found… where the earth was overflowing with gems, and bursting with glistening treasures that no man or woman had ever dreamed of.
The day came for Gus to set about rediscovering that secret, and ever since he set foot on the faraway land, he's been known to share some of its loot from time to time. As you swing your pickaxe over the ground, ripe with gems of all colors, the earth crumbles open to reveal the bigger treasure hiding inside. Here's what's waiting for you just underneath the earth in one of our most popular SlotsLV online slots:
5 reels
3 rows
10 paylines
Min bet: $0.02
Max bet: $100
GOLD RUSH GUS FEATURES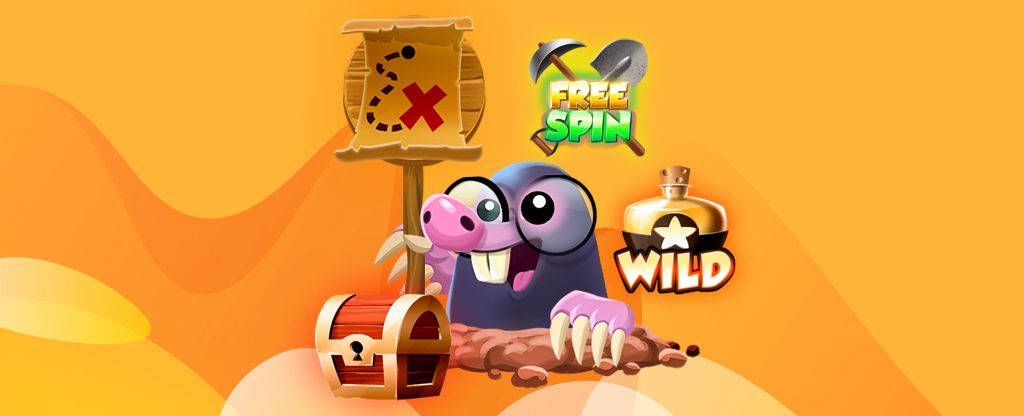 You'd better get your overalls ready. You'll quickly discover that every new thwak with the shovel will uncover something extraordinary from the dirt in Gold Rush Gus slot at SlotsLV.
FREE SPINS
Free spins are hidden everywhere within the dirt, and Gus will help you find them. When your shovel hits metal and uncovers three more pairs of shovels on reels 1, 3, or 5, you get 5, 10, or 15 free spins and a multiplier of 2x, 3x, or 4x which can all be retriggered. All with thanks, no doubt, to another digger's failed attempts to get the treasure before you came along.
WILD
The Gold Potion bottle is your wild symbol. Whenever you dig it up on reels 1, 3, or 5, it can replace any other regular symbol – except the Key and Free Spins icons – to help you form another win.
LAVA REELS RE-SPINS
It's easy to get downhearted when your hard work doesn't pay off, and all those spins don't result in a glittering win; but, since you've got all-round good guy Gus on your side, there's still a chance you can change your fortune!
After any non-winning spin, 2-5 volcanoes can appear behind the reels at random, smothering the losing symbols in lava, and cracking open new symbols that could lead to a win after all. Talk about workplace appreciation!
BONUS GAME
When you dig up the treasure chest by landing 2 key symbols on reels 1 and 3, you'll be crossing your fingers for a secret map stored inside. Hold it up and follow it closely, because this map leads you to a bonus round where you'll scurried away into a cart and sent careening through the mines to pick up coins and boosters.
INSTANT WIN
The treasure chest could also be holding a chunk of gold. If you find it, the gold awards you an instant win based on your bet size.
3 EARTH-SHATTERING JACKPOTS
As the earth cracks open and the sweat is dripping off your brow, Gus's cheerful hop from spot to spot will keep you focused on the prize: the SlotsLV jackpots.
MAJOR JACKPOT
When the treasure chest appears after landing two key symbols on reels 1 and 3, you're about to experience the reward of a lifetime.
If you open the chest and a blue-white diamond emerges, congratulations! You've won the entire progressive jackpot, and you and Gus have earned the grandest possible reward for a hard day's work!
MINI JACKPOTS
While you're scuffing and tossing up dirt, keep an eye out for the colored gems. When you land five gems of matching colors (either green or red), you win one of two mini jackpots that grow throughout the game, based on a percentage of your own wagers.
Don't forget to refer a friend or two to join you. As soon as they make a successful deposit, we'll drop a bonus in your account to use in any slots game including Gold Rush Gus.
IF YOU LOVE GOLD RUSH GUS, YOU'LL ALSO LOVE GOLD RUSH GUS AND THE CITY OF RICHES!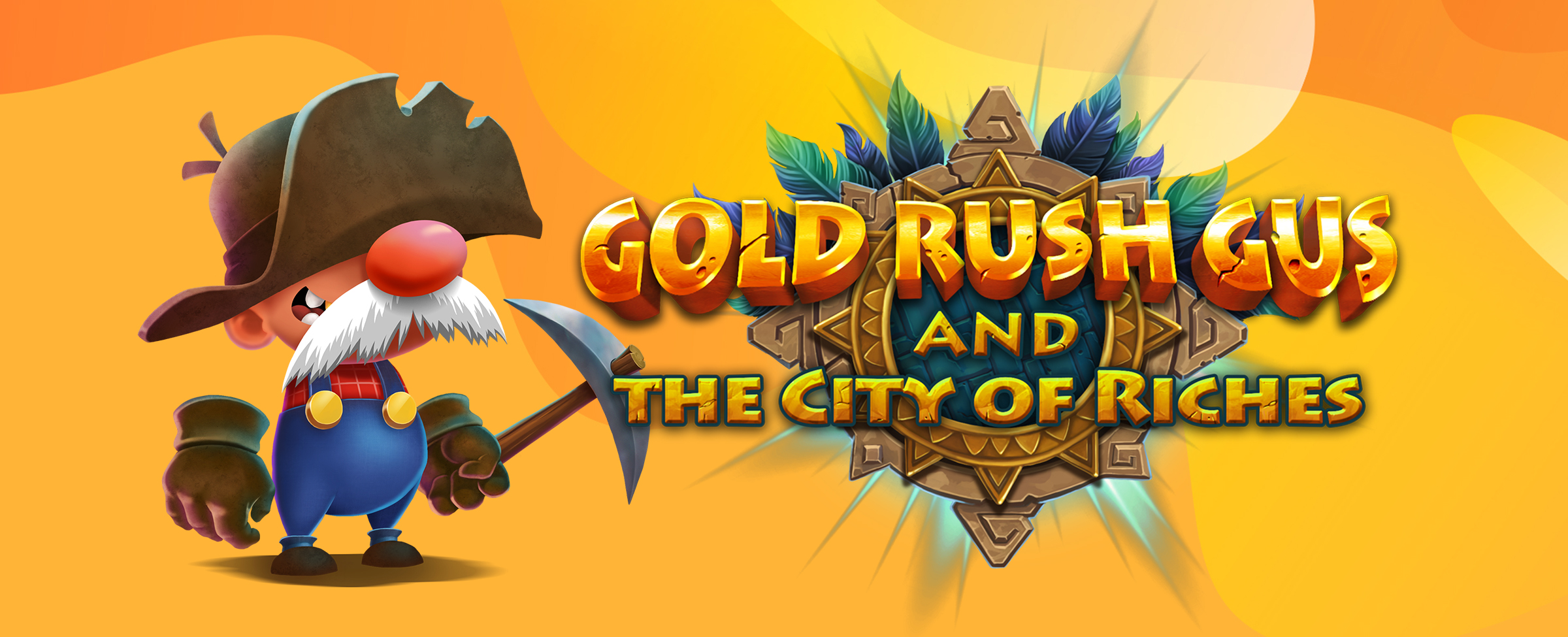 Gus knows all the secret spots with treasures hiding underneath the earth's surface. Join him on another adventure deep in the jungle in Gold Rush Gus and the City of Riches as he searches for coins, golden prizes and treasure chests. You just might stumble upon re-spins, free spins, an instant win, a coin gamble game, or a progressive jackpot! Want to know all the details before you dig? Check out our Gold Rush Gus and the City of Riches slot review now!
Of course, Hot Drop Jackpots are always available for a spin between Gus games, too. These jackpots have their own treasure being uncovered at least every hour!
PLAY GOLD RUSH GUS SLOT GAME AT SLOTSLV CASINO NOW
As you've seen in this Gold Rush Gus slot review, as long as you don't mind getting your hands a little dirty, Gus is ready to sweep you up and take you to his secret digging spot where he can show you all the treasures he's been searching for over the years. This SlotsLV progressive jackpot slot is chalked full of special features, from free spins to bonus rounds. The 3D graphics create a fully-immersive experience, and you're sure to remember Gus for long after your adventure comes to an end.
Did you hear that? Gus is calling for you, and those jackpots won't dig up themselves.