Mystic Wilds Slot Game Review
When the sun takes its daily nap below the horizon and dusk descends, a secret forest emerges from the ether, out just beyond your backyard, and beckons anyone who is near to come closer and explore.
If you have a keen sense of wonder within, and it draws you towards the mysterious and the unknown, when the SlotsLV Mystic Wilds slot calls from the forest and invites you to step inside, you'll gladly oblige.
As the enchanted leaves crunch beneath your footsteps, you meet a woman with magical powers, from a nearby tribe. She will guide you on your way. Watch those mysterious forest creatures clear a path for her to reveal the way towards retriggerable free spins and multipliers.
Before you enter the forest, read this Mystic Wilds slot review. SlotsLV Casino will take you by the hand and open your eyes wide to all the sights of features just beyond the trees.
Should you spin it?
Anyone who has an imagination and a healthy sense of wonder will be enamored with the aura of this magical slot. This is why you'll love to meet the tribal woman and discover her world:
✓ You-choose free spins and multipliers
✓ Re-triggerable free spins
✓ Captivating slots theme
✓ Unforgettable characters
✓ Mysterious and unpredictable
✓ Eligible for the referral bonus, which gives you a bonus when you refer a friend (and you can refer as many friends as you want!)
Some may find themselves wary of exploring an unknown land with powerful creatures, and this is why you may want to pass:
X Elaborate, high-end graphics may cause lag on older devices
X Some prefer a classic theme!
Game Overview: Come Along With the Mystic Woman
You aren't sure exactly which sound it was that perked up your ears and drew you deep into the magical forest, but it could have been the roar of a bear or cougar, the slither of a serpent, or the flapping of an eagle's wings, which are all your highest-paying symbols in this slot online.
Regardless of the source, you couldn't deny the irresistible pull to follow the sound, and you knew you were on the right track when a woman clothed in metal garb and a glowing, painted face held out her crystal ball and beckoned you, enticing you to glance into your future inside.
This is merely a glance of what you discovered inside her crystal ball in the Mystic Wilds slot at SlotsLV:
5 reels
3 rows
243 paylines
Free spins
Multipliers
RTP: 96.25%
Minimum bet: $0.25
Maximum bet: $125.00
Maximum win per spin: $500,000
Mystic Wilds Features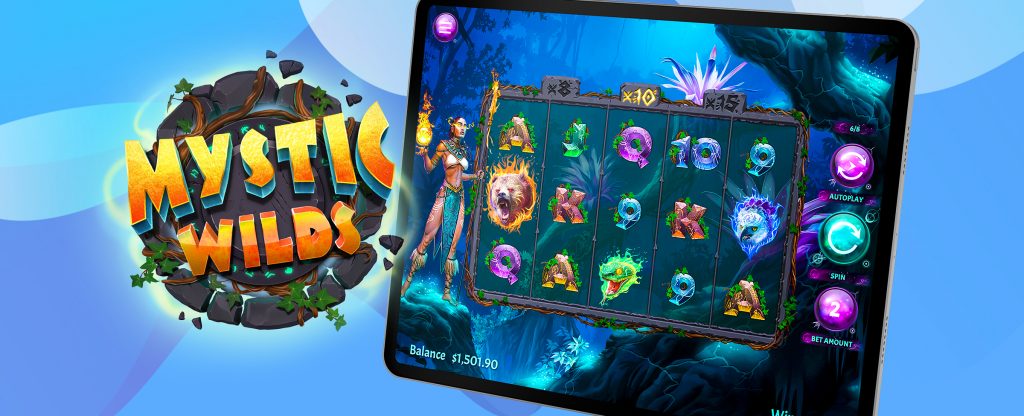 The glowing aura of the trees consume your senses as you navigate the online slots features with the help of your tribal woman guide.
Wild
This very woman with glowing white paint on her face and metal garbs indicative of her people is your Wild symbol, which can replace any other regular symbol and award the highest win.
Scatter
You notice something strange when you gaze into the woman's eyes, and you quickly realize that she is seeing your future inside her purple crystal ball. That is your scatter symbol, which pays from any position in the slot and comes with the power to grant entry to the free spins round when you land three.
Best Feature: Free Spins with Random Multipliers
You play SlotsLV online slots to have access to outstanding game features, and hardly any feature does it better than the Free Spins round in Mystic Wilds.
When you land three or more scatters in the base game, the creatures can sense your presence and they emerge from the forest to engage you in a game. Then, you choose from a selection of six combinations of slots free spins and Wild multipliers, including a mystery choice that uses the power of the crystal ball to make the choice for you.
5 Free Spins with randomly awarded 10x, 15x and 30x Wild multipliers,
8 Free Spins with randomly awarded 8x, 10x and 15x Wild multipliers,
10 Free Spins with randomly awarded 5x, 8x and 10 Wild multipliers
15 Free Spins with randomly awarded 3x, 5x and 8x Wild multipliers
20 Free Spins with randomly awarded 2x, 3x and 5x Wild multipliers
Mystery Choice
If you land three or more scatters while the free spins are in play, the woman will grant you yet another round of free spins and multipliers with the same value.
Once you've discovered all the great features, make sure you know how to withdraw money from an online casino in order to get your winnings as fast and securely as possible, like you do with crypto gaming. That way you can see your winnings within just a few minutes after being approved.
If you love Mystic Wilds, you'll also love Mystic Elements!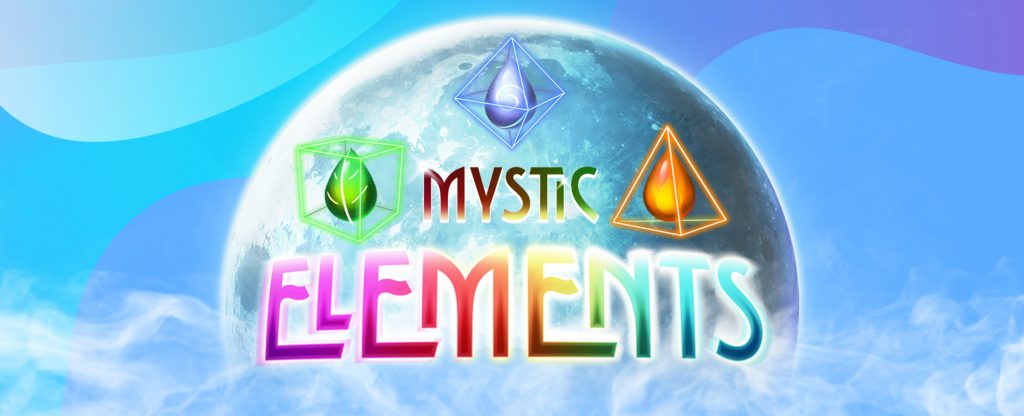 The world of the mystical isn't limited only to this Mystic Wilds online slot review.
No, there's another game that produces some of the biggest SlotsLV big winners, and that online slot is Mystic Elements.
The four elements of the universe converge as one to grant the player of this game the highest power – which is best revealed through up to 150 free spins. Of the earth, wind, fire, and water, the strongest element of them all can be found in the light. If you see the light in the free spins round, embracing it through five light symbols will award the progressive jackpot and the biggest win in the game.
When you're done, you could always engage with the sixth element of fortune inside one of our games with Hot Drop Jackpots which have three must drop jackpots, including one that must trigger every hour of every day.
Play Mystic Wilds Slot Game at SlotsLV Casino Now
Mystic Wilds is sure to spark your imagination and fill you with a sense of wonder as you explore this fantasy slot. The woman with her crystal ball has enchanting features in store for you as long as you reside within her land, and SlotsLV Casino is there to ensure you always take a solid path as you pursue your payday.