Candy Carnival Slot Game Review
If you listen carefully, you can hear it; just beyond the next street corner, where the fairgrounds are rumbling with the activity of workers as they busily prepare for something special. An oversized caravan with pink and yellow tents trawls by, and promptly turns towards the hustle and bustle.
It can only mean one thing: the SlotsLV Candy Carnival slot is in town!
Quick! Stop what you're doing because this game is as sweet as it gets! You'll be drawn towards the irresistible scent of chocolate cake and pink-frosted donuts, and as you play with cupcakes and candies, you won't just win a few stuffed animals. You can get free spins, expanding Wilds and walking Wilds if your luck is right.
And you know what? The sun is out, the music and laughter you hear is as upbeat as the sweets, and it looks to us like the day is going to be very lucky indeed.
Cotton candy's got nothin' on the treats that you're about to find inside this Candy Carnival online slot review. Let's jump in!
Should you spin it?
Who says you have to wait for the best part? There are a million reasons why you'd want to say pass on dinner and go straight to the dessert when you play Candy Carnival slot at SlotsLV:
✓    Vibrant and playful theme
✓    Good RTP
✓    Full of Wild-based features
✓    Retriggerable free spins
✓    Flexible betting range
✓    Extra reels and rows
✓    Available as a Bitcoin slot. Just FYI – that means you can deposit super quick using crypto, and still view your playing balance in USD! Getting started is way easier when you use crypto.
Some players consider themselves more salty than sweet. If that sounds like you, then this is why you may want to walk on by the gates of Candy Carnival:
X  Paylines are fixed
X  No progressive jackpot
Game Overview: The Carnival's In Town!
As you wander through the carnival, you'll catch the beaming smiles from those on the Ferris wheel and the joyous shouts of those strapped in for the more thrilling rides. However, what will really call your attention are the sweets and cakes of all kinds, inviting you to come closer and take a big bite from their places in the tents. Go for it!
The delicious highest-paying symbols can be found at every carnival booth: a three-layer chocolate cake with all the toppings, a vanilla cupcake with frosting and a cherry, a mint and chocolate ice cream cone, a pink-frosted donut, and peppermint candies. Just take your pick – we swear you'll never get full!
This is what else you'll discover when playing this best food-themed game of our SlotsLV online slots:
6 reels
4 rows
40 fixed paylines
Expanding Wilds
Walking Wilds
Free spins
RTP: 96%
Minimum bet: $0.4
Maximum bet: $100.00
Candy Carnival Features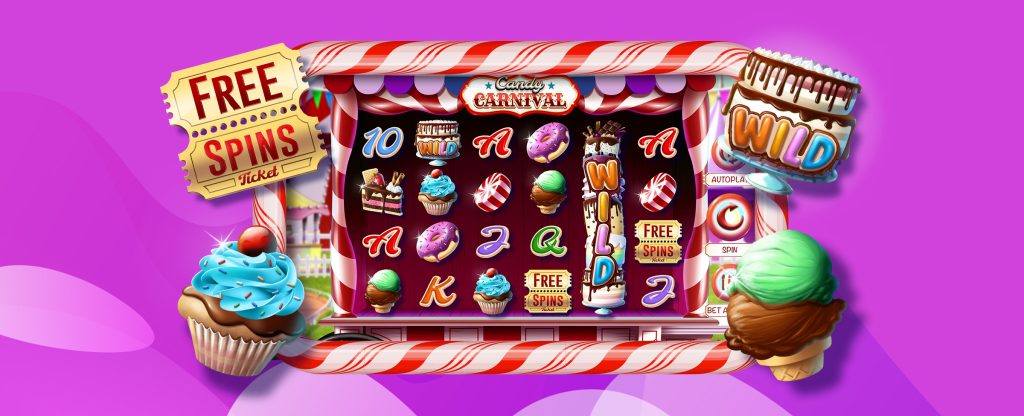 Look over there – past the Ferris Wheel, just beyond the purple tent, and inside the candy-cane cart. Do you see what's inside? It's a game booth full of decadent slots features, and all you have to do to win them is give the reels a spin!
Wild
Who's in the mood for cake? If you're at this carnival you're going to have to be. A deliciously baked cake acts as your Wild. Each time it lands, the Wild cake animates and expands to cover the entire reel!
Free Spins
There are all sorts of games at this carnival, but the one you're in search of gives out free spins! All you need are three golden ticket scatters to let you into the free spins round with at least 10, but you can get more.
3 scatters = 10 free spins
4 scatters = 15 free spins
5 scatters = 25 free spins
6 scatters = 50 free spins
Once you get going, more golden ticket scatters may start appearing from the cracks and under the tent, and a round of free spins will re-trigger yet again.
Walking Wilds
During slots free spins, each expanding Wild gets a rush of sugar from its own sprinkles; watch it come to life and wiggle to the left after each free spin, until reaching the first reel, giving you a major edge in the game. Whoa – it looks like it's about to topple over… Just make sure you're there to catch it with a fork when it does!
If you like the sound of getting ahead of the game, then you'll love the sound of this: if you refer a friend to play slots online at SlotsLV, we'll give you a bonus. You can use that in Candy Carnival to earn some golden tickets and devour those tantalizing free spins!
If you love Candy Carnival, you'll also love Delicious Candies!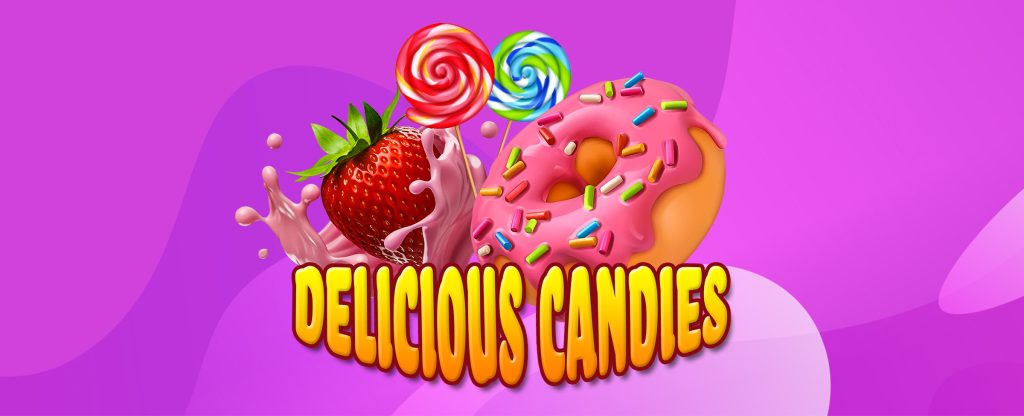 Delicious Candies is another pastel-hued food slots adventure through a sugar-filled land of donuts and lollipops. As you meander over the frosting hills and stop to lick the candy-striped flowers, each consecutive non-winning spin adds a multiplier to a meter. On your next win, your balance is awarded with that very multiplier, sending your sugar rush – and your balance – totally through the roof!
Play Candy Carnival Slot Game at SlotsLV Casino Now
As you can see in this Candy Carnival slot review, you'll need to bring a big appetite when you visit this carnival. It will need to stretch out beyond the candy and the delectable sweets to fill up on the delicious slots features, too. Wilds are growing in layers of cake and walking through the carnival of free spins to award some major online slots prizes. The Candy Carnival slot at SlotsLV Casino has come to town to get you stuffed!
Do you love a slot with a jackpot? Then, try Hot Drop Jackpots! There's tons of games with hourly, daily and Super Jackpots just waiting to be won.