A NIGHT WITH CLEO SLOT GAME REVIEW
For today's adventure, we'll be soaring way back to those last years before the first century A.D. Destination: ancient Egypt.
The smash hit, SlotsLV A Night With Cleo slot, has gone down in history as one of our most popular games to date. With a randomly awarded progressive jackpot, free spins, and a sensual surprise waiting just behind your next move, this slot is guaranteed to capture your attention in gleeful anticipation like none other.
If you're ready to see what lies within the magical land of pyramids, gold and precious jewels, then follow along right here. This side of Egypt is saved only for the lucky few, and the Pharaoh herself awaits you in her chambers.
---
BRADY R. FROM CA WON $220K PLAYING A NIGHT WITH CLEO AT SLOTS.LV IN JANUARY 2023!
---
SHOULD YOU SPIN IT?
While we can't say this would be a great game to play while the little ones are nosying around, we can say it's the perfect game to get lost and found in.
Here's why players are so captivated by A Night With Cleo slot at SlotsLV:
✓Abundant free spins with multipliers
✓ Incredible anticipation with the Gamble Feature
✓ A massive progressive jackpot
✓ Betting range for all bankrolls ($.2-$200)
✓ An RTP of 92.5%
✓ And yes, a beautiful woman to electrify the senses
GAME OVERVIEW: A JOURNEY OF DESIRE
A Night with Cleo takes place at blue-black dusk. You've sauntered in to chase down the intoxicating beauty of the Pharaoh Cleopatra, and she's pleased to see you arrive.
The pond is alight with sparkles, and the pyramids loom in the background bathed in royal blue. Soft, enchanting music grips you into its spell as golden rings, necklaces, and the Eye of Horus spin through the 5 reels and 3 rows.
At any moment in the game, a historical random progressive jackpot can leap out from the pond and grace a lucky player with its magnificent wealth. But that's not all that awaits within the palace grounds. This game also features an alluring gamble feature, plus plenty of free spins and multipliers along the way.
It's also one of our best Bitcoin slots (ie. any slot played with a crypto deposit like Bitcoin). The means the gold or treasures you collect in the game can be paid out using our fastest transaction method.
A NIGHT WITH CLEO FEATURES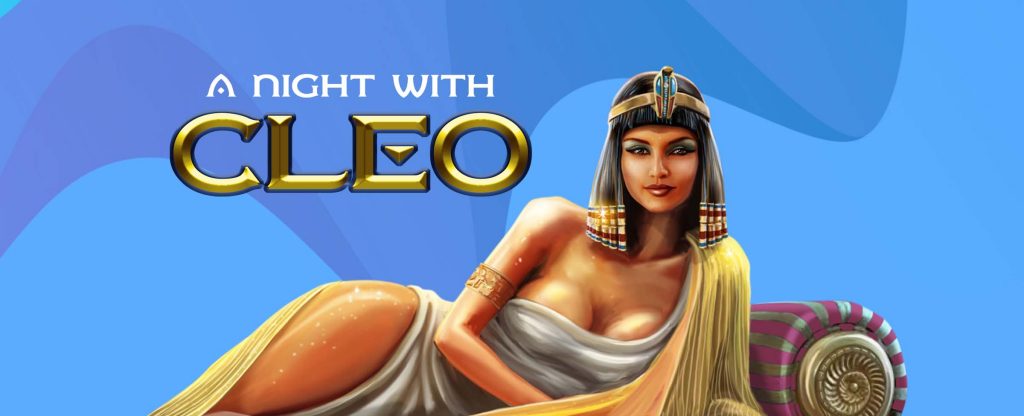 A Night With Cleo may be bursting with sensual thrills, but that's not the only feature over the 10 fixed paylines that draws an eager crowd.
WILD
The wild symbol is Cleo's face, and it can replace any other symbol for a potential win – except for the scatter – and it also doubles the win on each line.
FREE SPINS + MULTIPLIERS
A journey in Egypt wouldn't be complete without leaving you dazzled with free spin delight… and drooling with erotic fun. In the base game, landing three free spin scatters sends you off to Cleo's private room. She watches intently, scant with clothes, heaving with desire for her lucky spinner to land gold. You get 15 slots free spins that automatically come with 3x multipliers, which proves that Cleo is as generous as she is alluring.
GAMBLE FEATURE
After any winning spin, Cleo invites you inside her royal chambers in the gamble feature. Inside the chambers, you play a guessing game with Cleo for a chance to double your winnings each time, as well as inspire Cleo to remove more clothing piece by piece. Guess correctly five times in a row, and you've not only multiplied your winnings by 32x, but Cleo has bared it all for a very adult, very titillating finale to your Egyptian adventure. This is modern gaming at its very breast.
RANDOMLY AWARDED PROGRESSIVE JACKPOT
As alluring as it is to see Cleo in her bared-all best, the randomly awarded progressive jackpot adds a whole new depth of thrills to the game.
Since A Night With Cleo is one of the most popular slots in the world!, this SlotsLV progressive jackpot grows to astounding figures. And since it's random, the jackpot could trigger after any winning spin. Unlike other games with progressives where you have to bet on max, this game allows you to bet any amount you'd like – and you could still win!
If you're not ready to bare it all with real money just yet, you're still invited for A Night With Cleo in practice mode for free. Whenever you're ready to play for real, just hit the dollar sign "$" and enter the realm of Egypt yet again – and take home the seductive wins and irresistible memories for real!
---
Would your pals also love A Night With Cleo? Refer friends to SlotsLV, and you can all enjoy our popular jackpot slots together! (Plus, there's a bonus in it for you!)
---
IF YOU LOVE A NIGHT WITH CLEO, YOU'LL ALSO LOVE A NIGHT WITH CLEO HOT DROP JACKPOTS!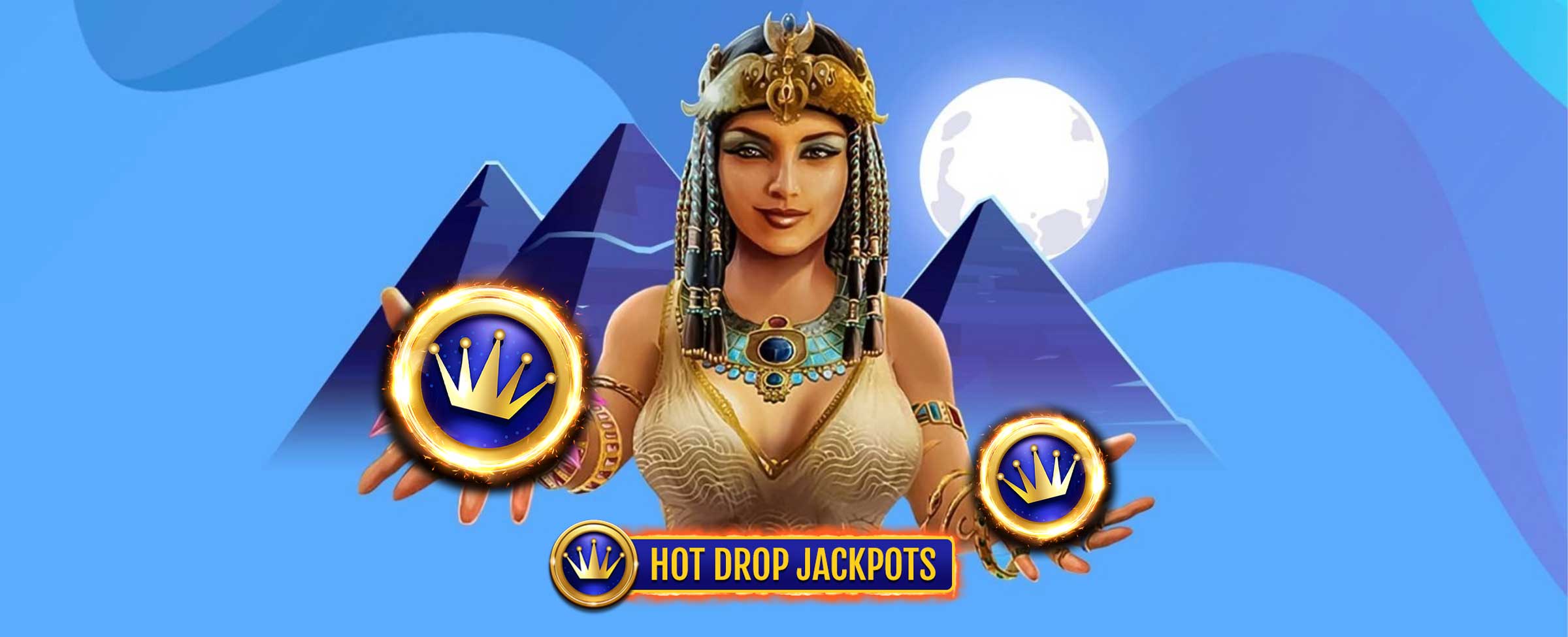 With A Night With Cleo Hot Drop Jackpots, you should be prepared for even more thrills up Cleo's sleeve (or lack thereof). You're spinning for three jackpots: the hourly, daily and super jackpot, which must drop before it reaches its max prize value of a whopping $300K.
To win: land three Crown symbols anywhere on the reels, and hold on tight: the Jackpot Wheel will spin and drop a royally-amazing jackpot right into your hands!
Want even more? Check out these other slots similar to A Night With Cleo now!
PLAY A NIGHT WITH CLEO SLOT GAME AT SLOTSLV CASINO NOW
Our trip to Egypt has officially come to an end, but at SlotsLV and A Night With Cleo, the good times never stop. Whenever you're ready for an erotic good time with voluptuous winnings, come on back and show Cleo what your desire is – she's more than happy to show you hers.