FAST & SEXY SLOT GAME REVIEW
The engines are revving, the tires are squealing, and the exhausts are on fire. This is the race of a lifetime, and you're about to cross the finish line with payouts rushing in at full speed!
This SlotsLV Fast & Sexy slot review will reveal exactly what it takes to be in the driver's seat and make it through a race filled with multipliers, expanding wilds, and free spins. There are beautiful women who are watching your every move, and they love to step in occasionally to give you a hand behind the wheel. From Toyko to Vegas, Havana to Monaco, this online slot will take you on a wild ride.
Do you have a need for speed that can only be satisfied by a finish line laden with cash? Then you'd better settle into your seat and get buckled in. This Fast & Sexy online slot review doesn't stop for anyone, and it's about to speed ahead and leave you in the dust!
SHOULD YOU SPIN IT?
If you can handle the speed, and you don't mind the sight of a beautiful woman offering her encouragement, then you're going to love the Fast & Sexy slot at SlotsLV. It features:
✓ Unique race car reels and speeding graphics
✓ Expanding Wilds
✓ Regular Wilds
✓ Plenty of free spins
✓ Bonus Round with up to 300x multipliers
✓ 5 reels
✓ 3 rows
✓ Generous betting range (.2-200)
✓ Generous maximum win (2,500x your bet)
✓ Sexy ladies!
Life in the fast lane isn't for everyone, though, and some may not like the full-throttle play of this real money slot online for these two reasons:
X Fewer paylines (20 fixed)
X No progressive jackpot
---
Refer friends to SlotsLV and top up your account with a casino referral bonus per friend!
---
GAME OVERVIEW: REV YOUR ENGINE
5 reels are displayed as the screeching tires of a speeding red race car. When you put the pedal to the metal and hit "spin", the car jumps into full speed with fire blazing from its tail pipe, blurring the scenery into streaks of light.
Engines at the starting line rev up in an intimidating chorus. There are four sexy high paying ladies that have come to watch the show, and there's a promise of a secret after party if you manage to impress them during the race.
You've got the sexy redhead with an innocent smile but a devious sway to her hips, a sultry blond whose eyes make no secret of their affection for you, a purple-haired tomboy who looks great in a baseball cap and knows how to change a tire, and a flirty curly haired babe who's beaming grin says she knows how to have a good time.
The reels are almost as hot as the sizzling new slots we welcome every week, but this race can only have one winner, and it looks like that might be you.
FAST & SEXY FEATURES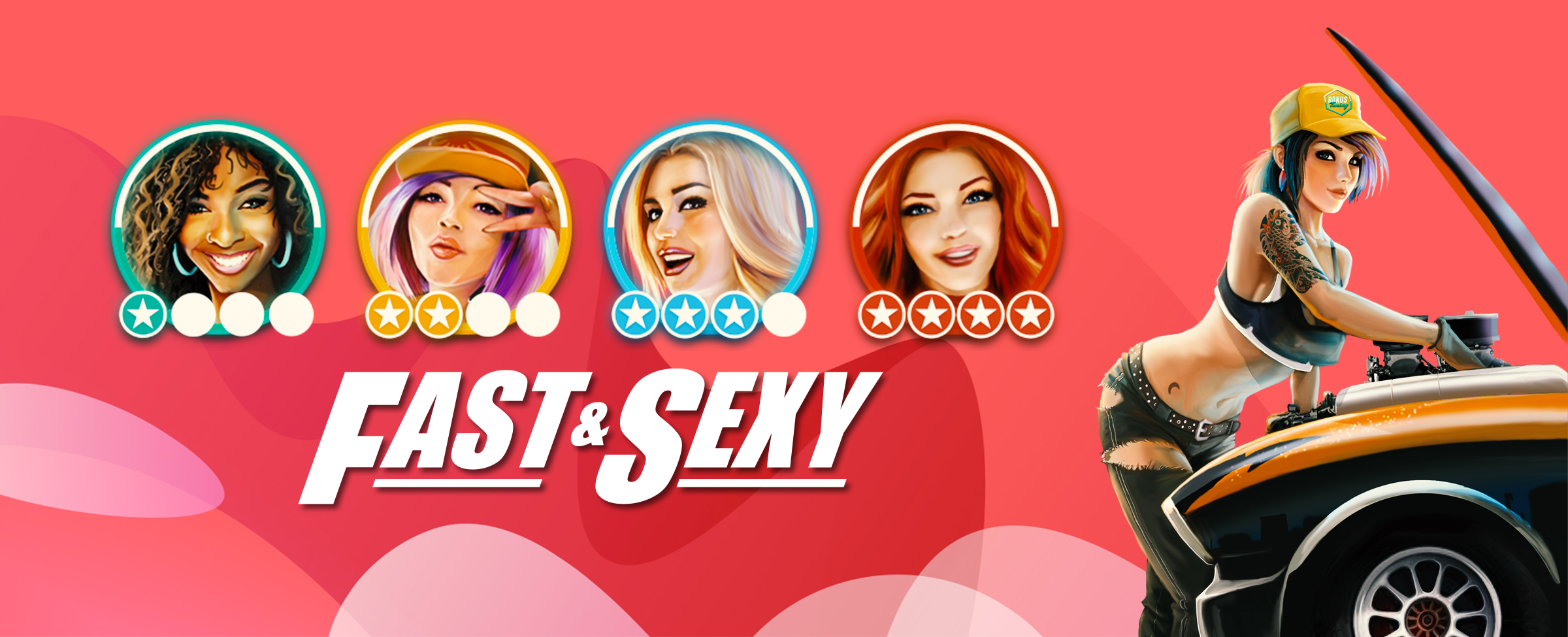 If you think you're settling in for a basic slot to play next, you'd better buckle up and think again! Let's hit the gas and accelerate full speed into the awesome features.
WILD
As you're rushing over the road with the scenery in a blur, the bright purple Wild symbol is hot on your tail. When it catches up to you, you won't want to run it off the road. This Wild rider will replace any other regular symbol in the game and take you one step closer to a win.
EXPANDING WILD
There's another Wild in the race through the city, and this one you'll really want to make some room for. When an expanding Wild symbol appears on reel 3, it expands to take over the entire reel. Swerve slightly to your right and pin it beneath your tires – because this Wild will stick in place and trigger 4 more re-spins on the other reels.
FREE SPINS
There's another bodacious babe in this online slot with a short blue bob strutting her stuff around the race course, and she's got a glossy tube of nitrous ready to super charge you forward. To meet her and get the boost, you'll need to land 3 free spins symbols which trigger 10 free spins. Land them again, and this babe is back with the nitro.
BONUS GAME WITH UP TO 300X MULTIPLIERS
Remember the tomboy with the purple hair? She heard you needed a hand with your car, and she's waiting for you on the side of the road with a big, expensive surprise. When you land 3 Bonus symbols, she'll bring you three sets of supercars and you can pick which ones you like best. Each car has a multiplier inside, which are tallied up for you, and can reach up to 300x your bet! This SlotsLV popular slot can go from 0 to 60!
---
If you have a need for speed, you'll want to play slots with a crypto deposit! It's the fastest way to get your funds in and out of your account.
---
IF YOU LOVE FAST & SEXY, YOU'LL ALSO LOVE A NIGHT WITH CLEO!
If it's the sex appeal that has you running for the reels of Fast & Sexy online slot, then there's another woman who is just as excited to invite you to her world.
In A Night With Cleo, you get to experience exactly why the Pharaoh Cleopatra has the sexiest reputation throughout Egypt and beyond. You'll quickly discover what she's hiding for her lovers inside her private room with free spins and multipliers. If you're really lucky, you'll join Cleo for a guessing game by her private pond. You can double your winnings, but only the luckiest players get to see the true prize that Cleo is dying to share…
And if you want to level-up the thrills, you could also try A Night With Cleo Hot Drop Jackpots. It's the same regular gameplay featuring this beautiful queen, but in this version, Cleo tops it off with heart-stopping hourly jackpots, every day!
PLAY FAST & SEXY SLOT GAME AT SLOTSLV CASINO NOW
If it's action you're after and a bit of eye candy doesn't go astray, then you really can't go wrong with the Fast & Sexy slot. If you're out and about and you find yourself in need of an injection of speed, don't be afraid to fire up SlotsLV Casino on your phone, too.
Grab the nitro and get your spinning finger ready on the gas. This race is about to begin, and you're in the driver's seat. Fire that starting gun and put that pedal to the metal!