GOLD RUSH GUS AND THE CITY OF RICHES SLOT GAME REVIEW
You know him as the happy friend with a long white mustache from the original Gold Rush Gus slot. Now he's back for a brand new adventure, bringing with him some insider tips on where to find the greatest treasures within the Earth!
Come along with Gus to the jungle! You'll be swinging that old familiar pickaxe over the soft earth, clanking on old golden relics of progressive jackpots, special keys, and interactive features. And you know how great Gus is – anything you dig up in this online slot is all yours!
Don't hesitate for one minute to accept his invitation! Hit spin on this SlotsLV Gold Rush Gus and The City of Riches slot game and join him on this new wild ride!
SHOULD YOU SPIN IT?
As long as you don't mind getting a little dirty, we think you'll love to dig through the jungle with your old pal, Gus. Here's why:
✓ Brand new interactive features
✓ A huge SlotsLV progressive jackpot
✓ Instant win potential
✓ Coin gamble game
✓ Generous free spins with multiplier
✓ Random re-spins
✓ Wilds
✓ RTP: 96.41%
✓ Lively animations
✓ Familiar character
✓ Wide betting range: 0.2-100
Some players prefer to take their adventures to other lands, and these are the reasons you might find that a day in the jungle with Gus isn't your cup of tea:
X Fewer fixed paylines
X Elaborate online slots features
GAME OVERVIEW: LET'S DIG IN!
Both you and Gus have a determined look on your face as you slip into your overalls and polish the trusty pickaxe. Gus whispers a little secret in your ear. He knows of a legend that no other traveler has heard. There are gold and ancient relics hidden within the reels of this jungle, and he knows just where to dig to find them.
And so you head out to explore the thick jungle foliage in Gold Rush Gus and the City of Riches slot at SlotsLV. Search for those legendary riches on the 5 reels, 3 rows and 10 fixed win lines. You just might unearth wilds, re-spins, free spins, a progressive jackpot, coin gamble game, and instant wins. There's so much to be discovered with Gus by your side!
GOLD RUSH GUS AND THE CITY OF RICHES FEATURES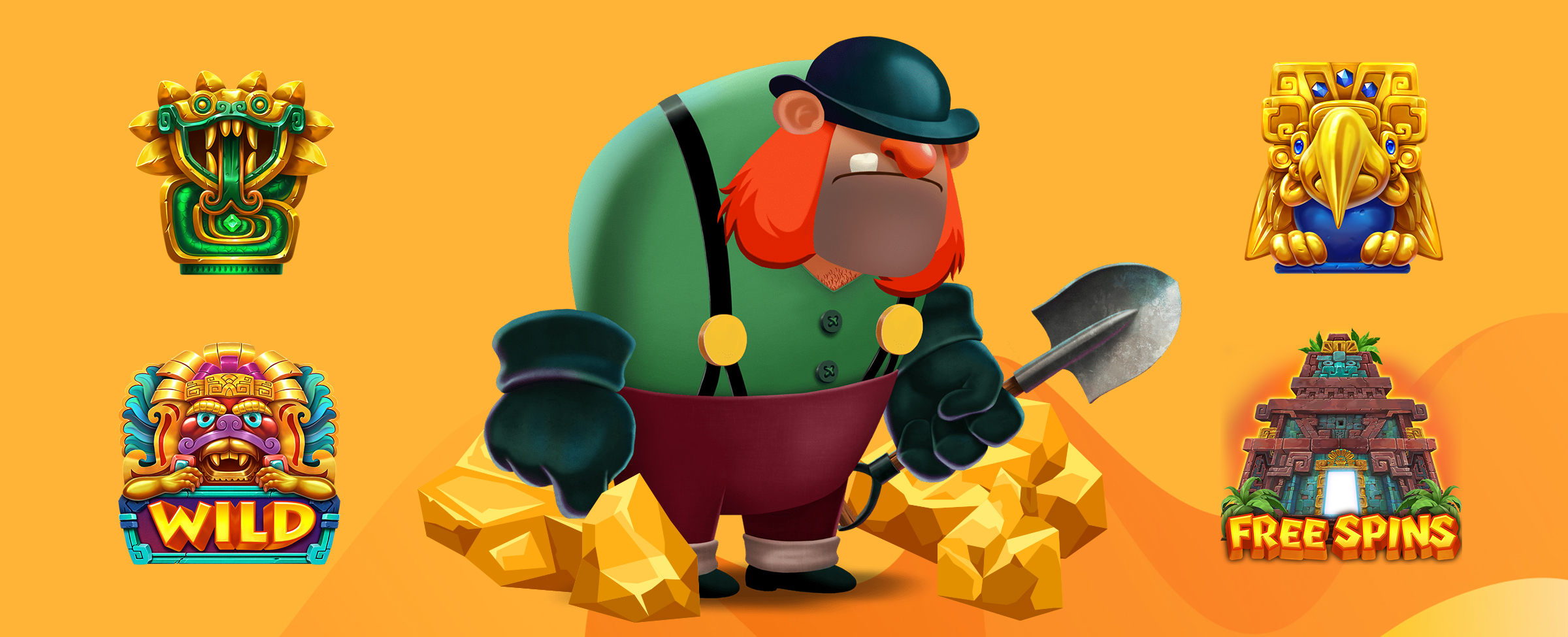 With just a few droplets of sweat and spins on the reels, you may already start collecting treasures, but you never in a million years expect them to be this rich! Read on to see what's up for grabs (or rather, down below) in this Gold Rush Gus and the City of Riches online slot review.
WILD SYMBOL
The first symbol your pickaxe touches is the Wild ancient statue. You've never seen anything quite as stunning as the shining golden mane and sharp golden fangs. This powerful symbol can replace any other symbol in this SlotsLV online slot, except for the key and free spins symbols.
FREE SPINS
The Free Spins symbol is a towering structure no doubt built by the ancient tribe that used to roam these lands. You'll want to catch this marvelous structure on reels one, three, and five. When it does, you'll randomly be blessed by the ancient powers with 5, 10, or 15 slots free spins and 2x, 3x, or 4x multipliers.
RE-SPINS
If you have a non-winning spin, 2 to 5 reels will randomly re-spin for more chances to unearth some wins.
KEY SYMBOL
These ancient peoples hid some very special keys within the earth. If you find two of the key symbols on reels one and three, you will see the very treasure chest of legends with your own eyes. This is the biggest moment of your adventure, and you get to open up the chest for one of three rewards: the Coin Gamble Game, Instant Win, or the Progressive Jackpot.
COIN GAMBLE GAME
If you reach this game via the treasure chest, you and Gus will be faced with some of the greatest choices of your adventure, making this one of the slots with the most exciting bonus rounds to date.
You are whisked off to a hidden room with special stone coins on a wheel. You can select the stones at random to increase your multiplier… but wait! There are two evil stones in the mix. If you turn over one of the skull stones, you lose your built up multiplier and get paid out at just 10x. You could always hit "Collect" to take your winnings as is, and return to the jungle to rejoice with Gus over your newfound wealth.
INSTANT WIN
If the Instant Win feature triggers from within the treasure chest, you are presented with a bag of coins, and it will instantly award you with a win at random, up to 50x your stake.
UNLOCK THE GOLDEN PROGRESSIVE JACKPOT
The progressive jackpot can only be won at random within the treasure chest that appears after you land two keys in the base game. Although the random slots jackpot can be awarded at any bet size, the old advice still stands. The larger your bet is, the better your chance of winning it, and that's always how to win progressive jackpots for real money, regardless of the game.
IF YOU LOVE GOLD RUSH GUS AND THE CITY OF RICHES, YOU'LL ALSO LOVE GOLD RUSH GUS!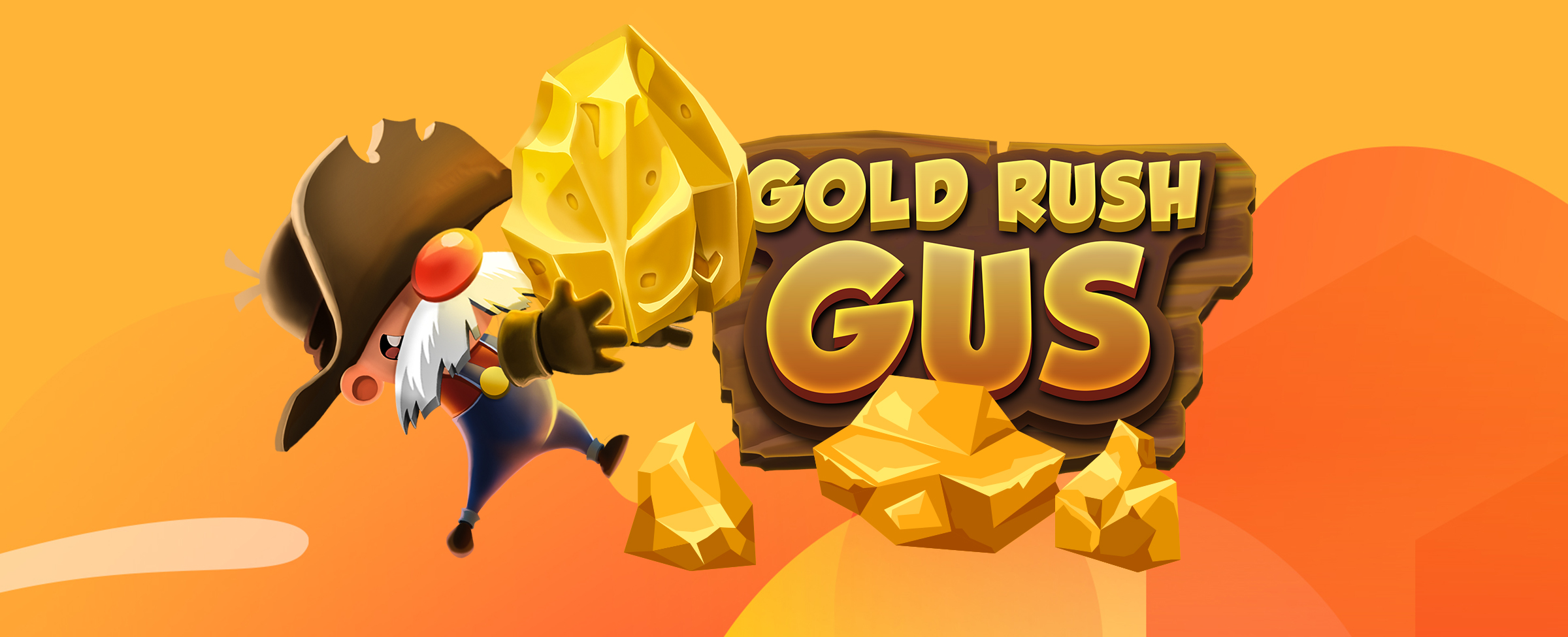 We can't finish a Gold Rush Gus and The City of Riches slot review without paying homage to the original Gus adventure, called simply Gold Rush Gus!
The original adventure takes place near a diamond mine, and Gus shows you just where to dig to find some gems. The special keys are still there, as well as the treasure chest, but this game has three progressive jackpots instead of just one. There's never a dull moment with Gus in this game, and he'll have you careening through the canyons on a go-cart as well as cracking open new symbols for re-spins.
We'll tell you all about the first adventure with Gus in the Gold Rush Gus slot review, and you can dive back into Gus' world and collect some gems!
PLAY GOLD RUSH GUS AND THE CITY OF RICHES SLOT GAME AT SLOTSLV CASINO NOW
Gus is calling from the jungle jeep, and he's got a spot in the front seat reserved just for you. Make sure you dress appropriately and bring an extra big rucksack for the trip. You'll have a lot of treasures to stuff inside there, and no one other than Gus is the best person to help you find them in this slots game at SlotsLV Casino!