SHOPPING SPREE SLOT GAME REVIEW
Everyone deserves to let loose every now and then after a hard day's work. What better way to reward yourself than with a day out with friends for a shopping spree? Unlike regular shopping trips where you've got to closely watch your budget and sometimes leave behind the items you truly desire, this time, you can snatch up all those fine goods and buy them with all the money you could ever want!
SlotsLV Shopping Spree slot is the best game to play to unwind, serving up a massive shopping budget along with some classic retail therapy. And with a jaw-dropping progressive jackpot that regularly hovers in the millions, it'll make you feel like you're living the high life with limitless spending and bottomless fun!
Let's see what prizes and goods are glimmering on the shelves for a dressed-up shopper to try on and take home.
SHOULD YOU SPIN IT?
Swing open the shop's doors and see why this is the most extravagant SlotsLV real money online slot:
PROS:
✓ Massive progressive jackpot that is regularly in the millions
✓ Simple requirements to win the jackpot
✓ Two fun bonus games
✓ Adjustable lines
✓ Small max bet
✓ Luxurious theme!
✓ RTP: 95%
CONS:
Outdated graphics
Fewer paylines
---

Q: How do you win the Shopping Spree progressive jackpot worth millions?
A: You need to land five diamond rings on any max bet line!
---
GAME OVERVIEW: A LAVISH DAY OUT ON MADISON AVE
You're lounging at home after a grueling week at work, then the phone rings. It's your bestie, and she says it's time to shake off those meetings and have some fun! The next thing you know, you're swooped up in a limousine with your gal pals already popping champagne. The chauffeur knows just where to go, and the limo halts outside the most major department store on Madison Ave in New York City.
Just inside the heavy swinging doors of the luxury store, you'll find 5 reels and 3 rows with 9 paylines. As you scan the shelves with your wallet bursting with cash that's begging to be spent, your eyes sparkle with the reflection of the finest merchandise of NYC rushing over the online slot reels in a flashy brilliance (in order from highest paying to lowest):
Diamond ring
Diamond necklace
Black handbag
Red stilettos
Blue perfume bottle
Vase of pink roses
Ruby red lipstick
SHOPPING SPREE FEATURES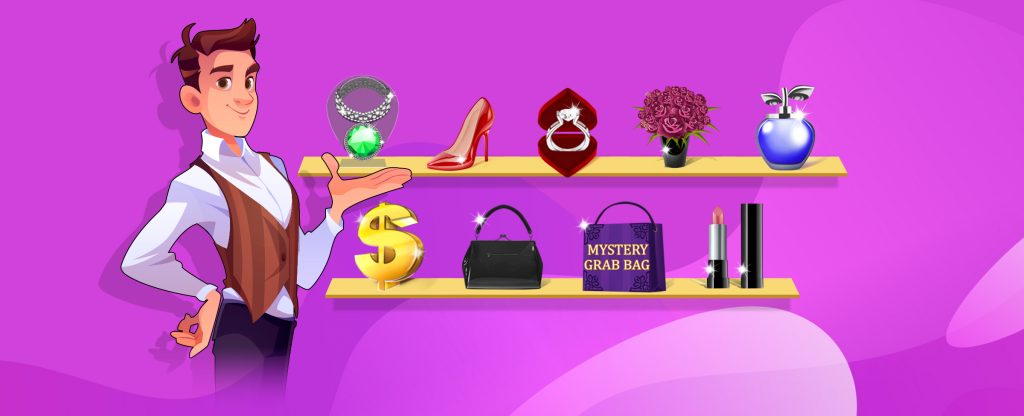 It's not all about scanning shelves and buying the best jewelry and shoes. Your girls have arranged even more rewarding fun in the white-lit shop of the reels.
BIG MONEY SCATTER BONUS
When you're trying on tops and searching for that perfect pair of jeans, you may find some yellow dollar signs hiding between the racks. These are your scatter symbols which contribute to a prize when landing anywhere on the reels. Snatch those up as they come, because when you collect 3 after one spin, you trigger the Big Money Scatter bonus where you can become a SlotsLV big winner by earning up to 4,000 coins when playing on the max bet.
MYSTERY GRAB BAG BONUS ROUND
Why not add a bit of intrigue as you pop inside each shop with your shopping balance overflowing from your purse? As you make any value bet on any number of lines, you could collect three purple mystery grab bags anywhere on the screen.
When you have three grab bags, a kind assistant opens the door to a back room reserved only for the shop's most well-to-do patrons. He presents you with three mystery bags, and you can click on any question mark to reveal what's inside to win an award based on your bet.
THE DIAMOND RING PROGRESSIVE JACKPOT
We're all about the lavish lifestyle and the old adage that suits us so well: shop 'til you drop. In the case of Shopping Spree slot at SlotsLV, you may end up shopping 'til you swoon in delight and drop into the open arms of your friends.
That's because, between swooping up necklaces after lipsticks after just one more pair of strappy high heels, you may discover some lavishly shiny diamond rings between trips to the dressing room and thanking the cashier for wrapping up your gown so nicely.
These rings just may be the shock of your life, since all five on the reels award you with a truly gargantuan progressive jackpot that regularly reaches the MILLIONS, paying for your entire shopping spree and more. Just keep in mind that you must be playing on max bet to be eligible for the Shopping Spree jackpot at SlotsLV Casino.
No wonder you're about to drop; who could stay upright after such a prize!
IF YOU LOVE THIS GAME, YOU'LL ALSO LOVE MISTER MONEY!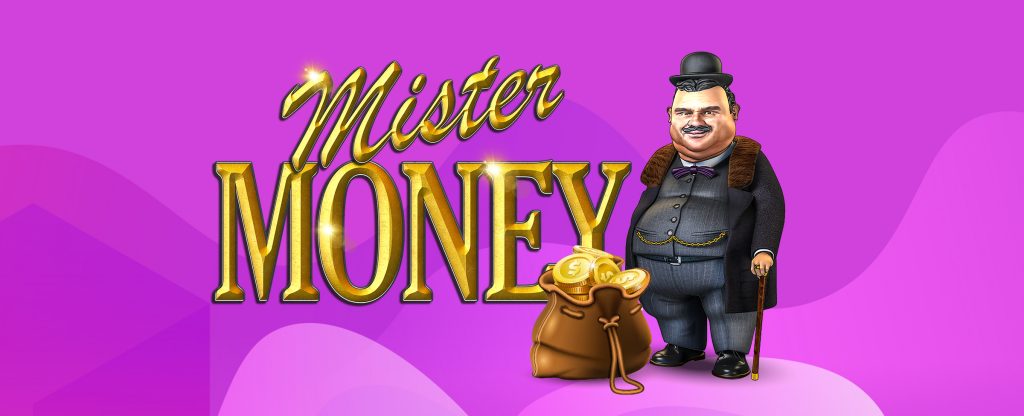 We're not ready to leave behind the extravagant life of the rich just yet. A handsome piece of arm candy is waiting just outside in his spicy red Corvette as you exit your final shop with bags draped across your arms. You two are off for a holiday – all expenses paid, of course – in Mister Money's private jet.
He's got his own set of diamonds in this game that trigger free games, plus a growing SlotsLV progressive jackpot to lavish his right hand lady after just the right spin.
PLAY SHOPPING SPREE SLOT GAME AT SLOTSLV CASINO NOW
If you're looking for an excuse to kick off those heels, or even those loafers (men love a good shopping spree just as much as the ladies!) and relax in style, then pour yourself a cosmo straight up and icy cold. You can have the shopping spree of your life from your desktop, tablet, or mobile. If you'd like to get your feet wet before you dive all the way in, open up the online slot in Practice Mode to play for free.
The doors of the shop are always open, and the delectable progressive jackpot is sitting upon the shelves, waiting for the right shopper to swoop it up and drop with delight.