GRIDIRON GLORY SLOT GAME REVIEW
Is your helmet on? Are your cleats tied up tightly? Coach is calling for a huddle, and the big game is just about to begin… Time to hit the field and score some wins in the SlotsLV Gridiron Glory slot!
It won't just be tackles, whistles, and cheers for this thrilling sports slot. You'll also get your share of Wilds, free spins, progressive multipliers, and even some extra encouragement from the cheerleaders. This is the perfect game for anyone who wants to add some extra action to their day (whether it's NFL Sunday, the Super Bowl, or the off-season!).
With each new prize that lands a pass within the reels, you get one step closer to claiming victory and taking home the real money slots trophy. Do you have what it takes to become MVP in Gridiron Glory? Let's gear up for the big game with the Gridiron Glory slot review!
---
GRIDIRON GLORY IS YOUR FOOTBALL SLOT!
WHILE WATCHING NFL SUNDAY, HIT SPIN ON THIS GAME AT SLOTSLV!
---
SHOULD YOU SPIN IT?
If you're on the fence and still deciding if this 5×3 football slot is going to float your boat, check out the plus sides of showing up for the game:
✓ A ton of paylines (243)
✓ Free Spins with Progressive Multiplier
✓ Expanding Wilds
✓ Stacked Wilds
✓ Scatter wins
✓ Cascading Pompom Reels
✓ Max win per spin: 5000x your bet
✓ RTP: 96.48%
✓ Min/Max bet: .5 – 100
✓ Realistic graphics and theme
✓ A best Bitcoin slot
The risk of getting tackled and going down against your rivals isn't for everyone, particularly with the whole world watching. These Gridiron Glory online slot specs might lead you to forfeit the game:
X No progressive jackpot
X No background music – you play to realistic-sounding crowd noises until you hit spin when music briefly floods the game
If you still think you've got what it takes, then let's send our starting lineup onto the field!
GAME OVERVIEW: THE ACTION'S ABOUT TO KICK OFF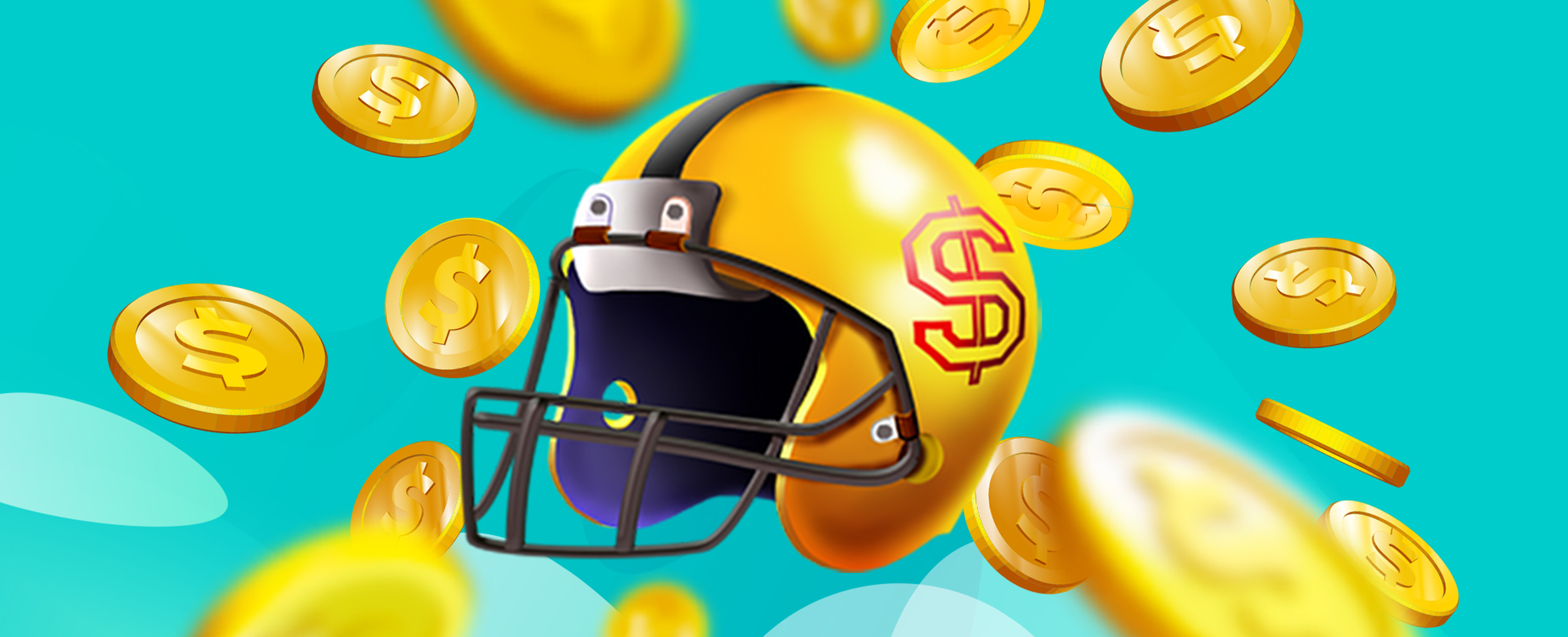 You can hear the crowd roaring in the stands of this online sports slot. It's all come down to this game – every Sunday matters after, all – and everything hinges on your performance.
Your team is on the field, poised for action, and you're crouched down on the line of scrimmage. You glance to your right, and the young rookie who's playing beside you looks fiercely determined. You want to set the standard for him by playing your best; and besides, you know he's a fast runner that could help you win the slot football game.
The cheerleaders on the sidelines are ruffling their pompoms in preparation for the very first spin which will send that ball sailing. You're not about to disappoint this crowd.
GRIDIRON GLORY FEATURES
As soon as the quarterback – which is also one of your highest-paying symbols – throws the ball into the air, you jump into action in Gridiron Glory slot at SlotsLV.
You're not alone out there, and the roaring crowd won't let you forget it! Your team has also got your back: they're all ready to help, and that includes the cheerleaders.
RUFFLING POMPOM REELS
Every time the reels spin and a win lands in place, the crowd goes ballistic – but then the cheerleaders step in to make your win even greater. Their pompoms ruffle over the winning symbols, and replace them with other regular symbols (like cascading reels) that could help you win again!
FREE SPINS
More wins in the NFL slot base game is just the beginning. After the first period, or maybe even as soon as the first hot minute of the game, you may see the football scatter soaring towards your team. Make sure you dive out to grab it, because catching just three of them will trigger 15 free spins with a progressive multiplier that can reach up to 10x. Four footballs gives you 20, and 5 football scatters gives you 25 free spins.
STACKED WILDS
The coach has called for an important play where the receivers stack behind the line of scrimmage and prepare to run. You'll see their golden helmet Wilds stacking on reels 3, 4, and 5, which will turn into other symbols and help you complete the play, and really impress the coach.
EXPANDING WILD
In the heat of the Gridiron Glory game, don't forget to keep your attention on reels 2, 3, and 4. A rival team member can storm those reels at random at any time in the game, turning them into one gigantic expanded Wild, even two at one time.
SCATTER WINS
It's not just the Wild plays and cheerleaders who are here to help you win. Whenever you land three passes from your teammate by catching the flying football scatters, those wins are multiplied but your total bet staked, up to 250x for five. The scatters pay in any position, and they're added to any regular line wins you earn as well.
All these features could add up to an impressive 5,000x max win per spin! But we're not quite done yet with our Gridiron Glory online slot review – let's go from the grass to the ice!
IF YOU LOVE GRIDIRON GLORY, YOU'LL ALSO LOVE HOCKEY ENFORCERS!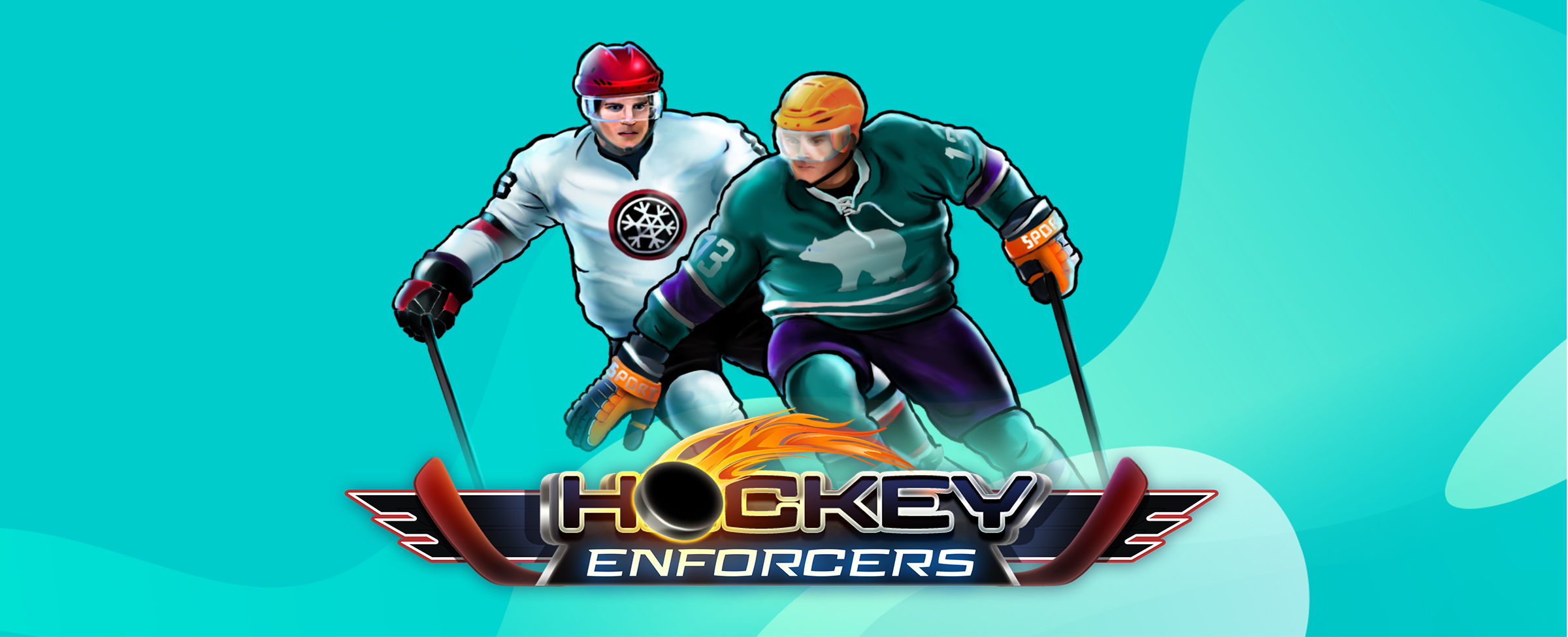 If you loved the rush of Gridiron Glory, and you're not quite done showcasing your world class sports skills, then set down your football gear for a minute and follow us to the SlotsLV Casino rink.
Hockey Enforcers also has oodles of sporting prowess for eager players of Gridiron Glory. The soundtrack keeps your attention on the ice with the real sounds of the puck skidding and your teammates shouting commands. Instead of cheerleaders replacing regular symbols, they freeze into ice and shatter away as new ones. You've also got random Wild reels and stacked Wilds, just like you mastered on the football field.
Plus, when you share these games and SlotsLV with your team of pals, coworkers, and more, you could get a referral bonus!
PLAY GRIDIRON GLORY SLOT GAME AT SLOTSLV CASINO NOW
Feel the rush of excitement of scoring a touchdown and hearing the crowd call your name when you play this SlotsLV online slot.
Get your gear ready, and get amped up with the rest of your team. The big game is just a spin away, and you're the one who's set to hoist that Super-Bowl-sized payday.
---
Love the rush of playing Gridiron Glory? Then you'll want to try SlotsLV Hot Drop Jackpots! Spin for over $1K in jackpots each hour!