MYTHIC WOLF SLOT GAME REVIEW
For almost as long as humans have recorded history, the wolf has been revered as a symbol of mystery and intrigue. So it comes as no surprise then, that our SlotsLV Mythic Wolf slot is a prized casino game among our players.
The moment you hear the wolf's howl, you know it's time to dart out onto the transparent reels, set in front of the moonlit forest. Perhaps you'll get your paws on his two exciting bonus rounds or his elusive random win jackpot. And if you can catch up with the running wolf himself, there's some multipliers to reward you for your pursuits.
If you're not sure just how to track the wolf down – fear not! This Mythic Wolf online slot review has the secret instructions to get you up to speed, both in your ability to play, and in your determination to propel forward into the dark and mythical night.
SHOULD YOU SPIN IT?
Mythic Wolf Slot at SlotsLV always has a crowd howling at the moon-like glow of their laptop or mobile device. Whether you're also in touch with your animal instincts right now, or they need some coaxing to unleash, this online slot is worth a spin. It includes:
✓ Eerie, immersive theme
✓ Stunning 3D visuals
✓ Adjustable paylines
✓ Two separate bonus rounds (Super Round Free Spins and Lunar Phase Mini Game)
✓ 5x and 10x Wild Multipliers
✓ A random win jackpot
✓ Good RTP: 94.90%
✓ A Bitcoin slot (Available to play with a crypto deposit!)
The dark night and shimmering moon aren't for everyone. Here's a reason why this SlotsLV online slots game might not be for you:
X No progressive jackpot
GAME OVERVIEW: PRIZES TO POUNCE ON
When the night falls and the stars begin to sharpen in the blackened sky, a milky white moon emerges from the clouds, lighting up the earth under its luminous spell. From your window, you can hear the sound of a wolf crying to the full moon, and you know deep in your core that it's time.
As you spin, 5 reels and 3 rows cascade over a moon-drenched landscape. The sound of an orchestra builds up the pace as feathers, wolves and playing card symbols fly by. A crystal diamond, the mythic wolf, a howling wolf, a moon, and an eternity-design silver coin make up the top paying symbols in this slot online.
MYTHIC WOLF FEATURES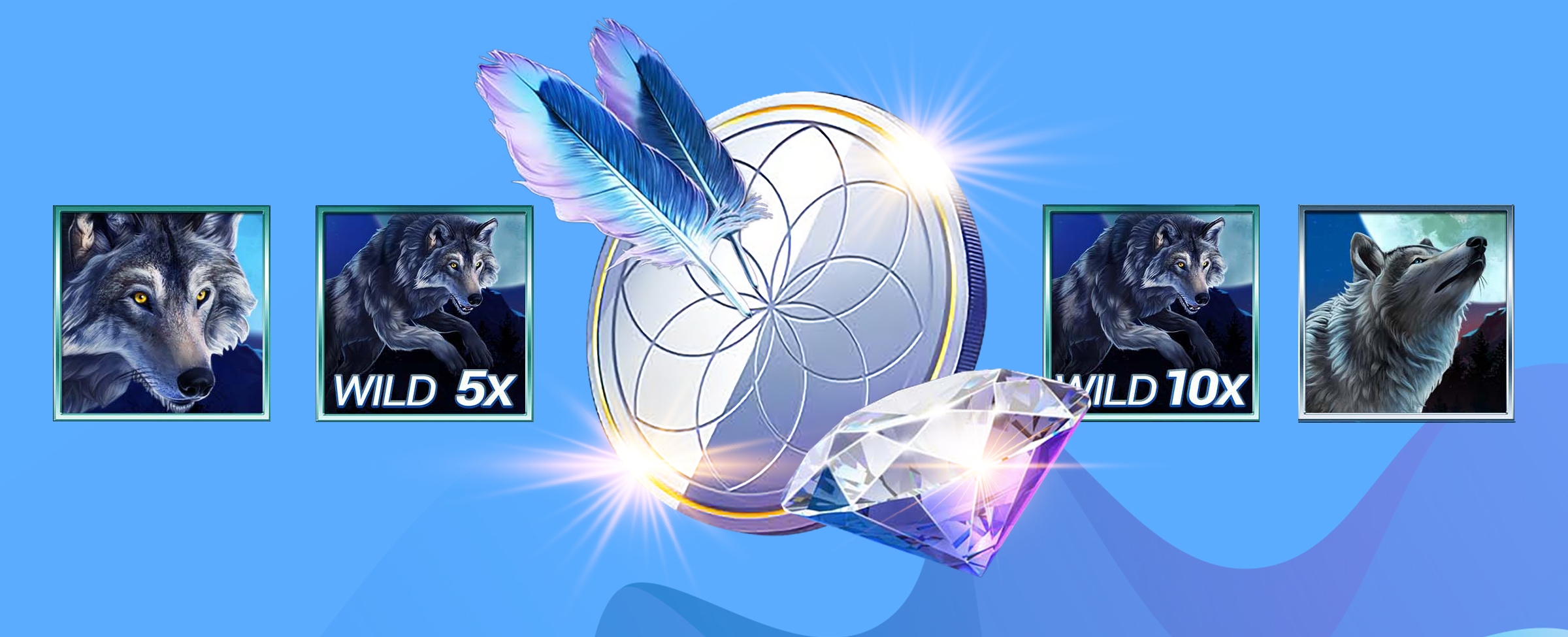 You'll want your instincts to be sharp as a wolf's when you step inside the Mythic Wolf online slot, because the prizes and bonuses are leaps and bounds beyond any typical game.
RUNNING WOLF WILD: 5X
The running wolf serves as your Wild in the base game. Whenever he leaps onto the reels and helps you form a win, he also multiplies that win by five, proving that the legends were on to something.
RUNNING WOLF WILD: 10X
Perhaps even the early tribes that revered the wolf and domesticated him, weren't aware of just how much treasure this mysterious creature symbolized. When you enter the Super Round via the scatters, the same running wolf Wild symbol will multiply your bet by 10x if it's involved in a win.
SUPER ROUND
The Super Round in this online slot is where most of the best prizes take place. To get in, you need to catch at the glowing feathers slowly gliding their way to the ground.
If you can catch them, they'll award you up to 50 free spins depending on how many you could grasp.
3 feathers = 7 free spins
4 feathers = 15 free spins
5 feathers = 50 free spins
During the Super Round, don't forget about the mythic wolf roaming the land. If he appears as the running wolf Wild and helps form a win, he multiplies your bet by 10x, and his Wolf Win jackpot is more likely to strike as well.
LUNAR PHASE BONUS ROUND
There's a pair of mystical dice floating through the air, and they can only be found inside the Super Round. If three of the dice tumbles onto the reels, the game transforms into the Lunar Phase Bonus Round, where you can match lunar phase symbols with dice to win a real money prize.
WOLF WIN
Throughout the entire slot game, the real treasure of the wolf lies in hiding – waiting for the perfect moment to be discovered. It's the random Wolf Win fixed jackpot.
When you're in the Super Round, the Wolf Win jackpot is poised to strike more often and pay a higher jackpot, so stay on high alert!
WOLF WIN JACKPOT IN THE SUPER ROUND
As a seasoned player at SlotsLV, you'll likely know that there is a difference between regular and progressive jackpot slots. Progressives grow with each wager in the game, and fixed jackpots are pre-set.
While the Mythic Wolf slot has a randomly awarded win jackpot which is usually associated with a progressive, it is actually a fixed jackpot. This fixed jackpot can trigger at any time in the base game – or in the Super Round. That said, the jackpot is at its peak if it strikes during the Super Round.
---
Do you enjoy slots with jackpots? Then try Hot Drop Jackpots with hourly and daily prizes at SlotsLV!
---
IF YOU LOVE MYTHIC WOLF, YOU'LL ALSO LOVE MYSTIC ELEMENTS!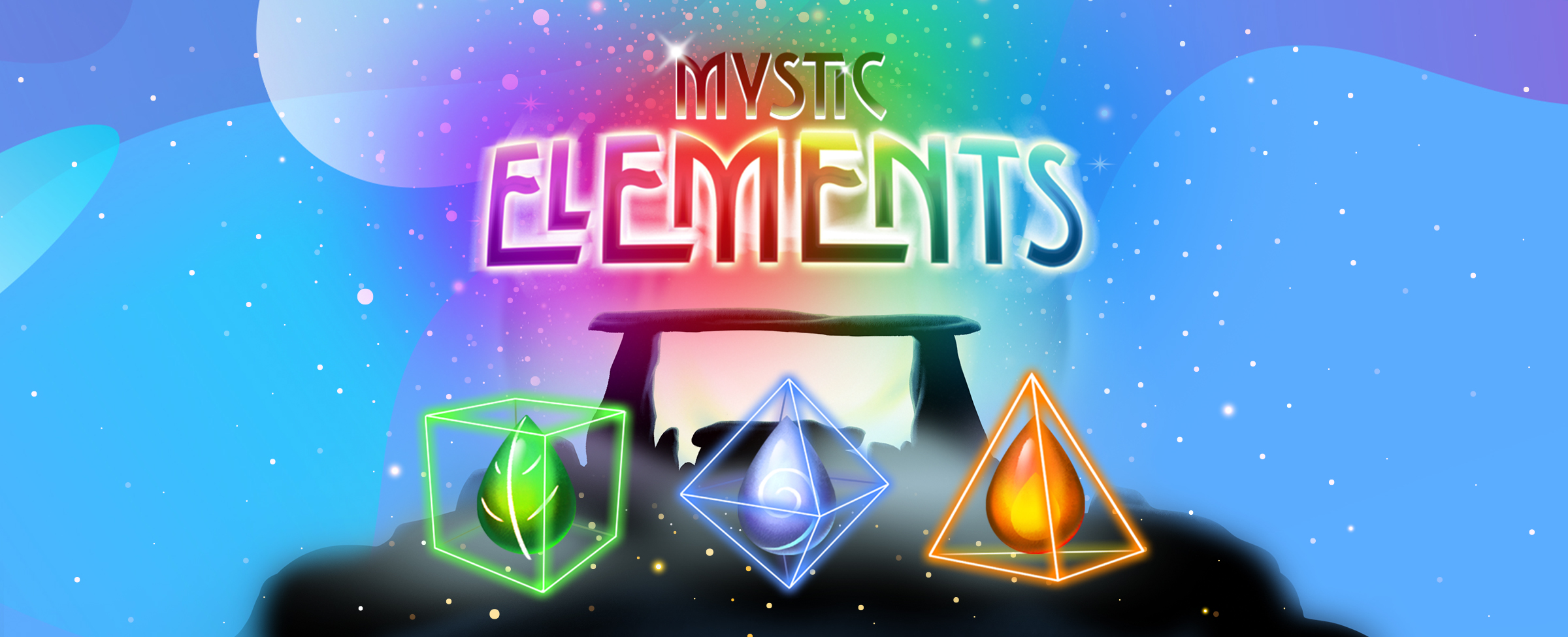 If you love the mystical, eerie feeling of the Mythic Wolf Slot at SlotsLV, and you don't want the magic-filled night to end, then it doesn't have to!
That's one of the many advantages of playing slots online – you have options!
A game like Mystic Elements may not feature the wolf of ancient legends, but it has something possibly even grander, and that is the ancient elements of the entire universe combined.
As you spin through 5 reels over a space-like sky with hypnotic chimes, earth, water, wind, and fire converge to draw out the power of the universe and deposit it right into your account balance. If you enter the free spins round, you have the chance to land five light symbols to see the true light of the progressive jackpot.
PLAY MYTHIC WOLF SLOT GAME AT SLOTSLV CASINO NOW
The night is near, the moon is rising, and the Mythic Wolf slot review is coming to an end. This is not, however, the end of your gaming session. SlotsLV has summoned the wolf just for you, and now all that's left is for you to sign into your account and look up into the night sky!
---
Tell a friend about Mythic Wolf and all the other amazing online slots available at SlotsLV Casino. Refer friends to SlotsLV and we'll give you a bonus!