THUNDERCRASH ARCADE GAME REVIEW
If you've been playing at SlotsLV for a while – or even just for a minute or two – you already know that we love to take you on grand adventures through the ages, in places near and far. So if you're looking for your next exciting mission, this is a game you won't want to miss!
With the SlotsLV Thundercrash arcade game, you have an incredible opportunity to extend your adventures into the vast expanses of outer space. Step onboard this flight, where you're the Captain of a cash collecting ship, and your entire crew is relying on you to collect more wealth and guide your spacecraft to safety. You'll blast off into an arcade-like gaming session mixed with the exciting multipliers that come with online slots.
Get ready to crash into the cockpit and settle into your pilot's chair. Your $100K space mission awaits!
SHOULD YOU PLAY IT?
Thundercrash is a brand spanking new adventure at SlotsLV that comes with so much appeal that you'll be queuing up to ride like it's Space Mountain:
✓ High-end graphics
✓ Rapidly-growing multipliers
✓ Manual control over the game
✓ Auto-cash out protection
✓ Huge $100,000 grand prize
✓ Online slots players like it
✓ Nostalgic arcade feel
You'll notice you have to first pick your avatar before you can take off – it's all part of that nostalgic arcade-feel! You play alongside other players (their avatars are at the top of the game), so you can root for their bets, as well. You could even tell your friends to play alongside you, too (and collect a referral bonus while you're at it)!
The pressure of the pilot seat isn't for everyone, though, and this is why some players may not like being behind the controls in this SlotsLV specialty game:
X Max cash out required
X Timer countdown for placing bets
X Flying phobias!
PHASE 1 TRAINING: FLIGHT THUNDERCRASH OVERVIEW
Welcome aboard, captain!
Before we begin, you'll need to undergo some training to prepare for your mission and to master the ship's controls.
Thundercrash arcade game at SlotsLV sets the scene in the outer reaches of space. To send your ship off, you need to place a bet with the green "Place Bet" button. As the ship hurtles through the empty expanse, multipliers rapidly increase at lightning speed. The farther your ship gets from its starting point, the more multipliers it accumulates.
But there's a catch.
The ship you're on is rigged. There's a bomb on a randomized timer that could send your ship bursting into flames at any second. You, the Captain, have got to decide when to hit the "Cash Out" button and take the multipliers before the ship explodes and promptly ends the game for you and everyone on board. It could go off with a bang at any minute, so the captain's call is life or death in Thundercrash.
If you have what it takes to save the crew and collect the most multipliers, then you're ready for the rest of the training.
Right this way, Captain.
PHASE 2 TRAINING: PILOT CONTROLS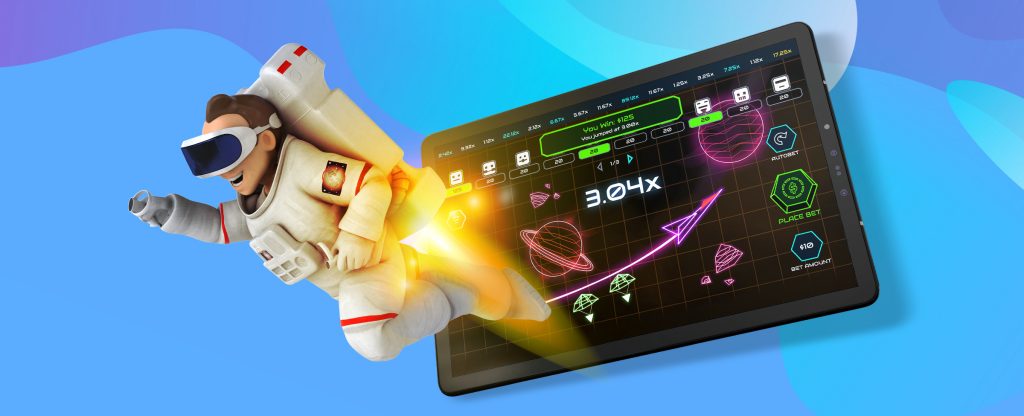 Here's how you operate this SlotsLV ship's controls:
Bet: Click/tap on the "bet" button. Once the game starts, this button turns into the "Cash Out" button
Auto Cash Out: You have to set a maximum multiplier in which the ship will automatically stop in order to play
Cash Out: This is the button you press to stop the ship and run away with your current winnings
Bet Amount: This is how you determine your bet size. The minimum bet is $0.50.
Autobet: This button lets you keep going with the same bet amount. It works for the bet amount, the number of bets you want to make, as well as the auto cash out limit
Menu: This is where you find the settings for the game which include turning the sound on or off, as well as controlling the graphics quality which you may want to do depending on how much bandwidth you're working with
PHASE 3 TRAINING: THE $100,000 MAX PAYOUT
The most important part of the game, and of your responsibilities as Captain, is to shoot for the stars and land on the maximum $100,000 payout. To become the ultimate captain and SlotsLV big winner by guiding your ship through the multiplier heavens is no easy task, but offers explosive rewards. And who knows – you might just be the very best this crew has ever seen!
FINAL TRAINING PHASE: THUNDERCRASH FAQ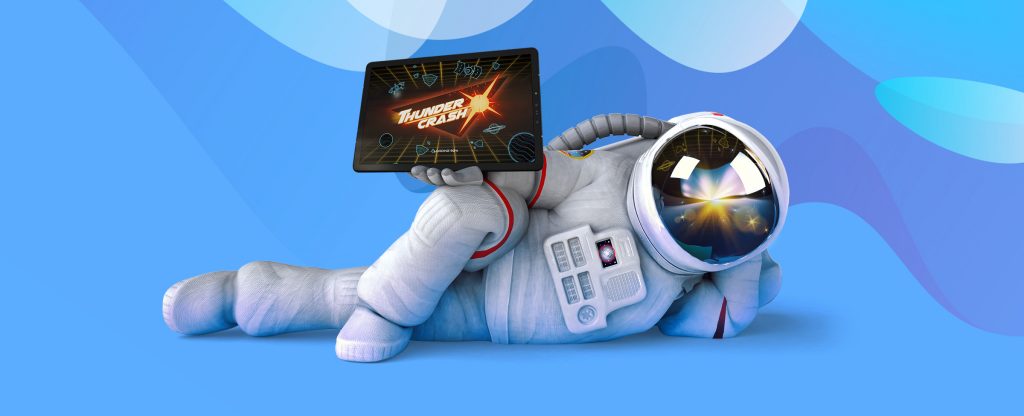 Your training is just about over, so now we'll review some common questions that an enthusiastic new pilot might have for this popular casino game.
How much time do I have to place a bet?
Each round will begin with a six-second timer that counts down the time to place a bet.
Can I cancel a bet once the ship starts?
No, once the ship is in motion, you can only "Cash Out", but you can't cancel.
Does the game have bonus rounds?
No, the game only consists of gathering multipliers. Not crashing is a bonus!
What's the earliest I can cash out?
You can cash out as soon as the multiplier reaches 1.01x.
What's the earliest the ship can crash?
It can crash as early as 1.00x.
Can you play with a crypto deposit?
Yes! Deposit with one of our crypto gaming methods to get started.
PLAY THUNDERCRASH ARCADE GAME AT SLOTSLV CASINO NOW
Your training is officially complete, and you're skilled-up and ready to proudly display the uniform and sit behind the controls. If you feel the need to brush up on your game credentials before you place a bet on the real deal, fly on over to Practice Mode and use your SlotsLV login for a warm up or two. You won't be able to place a bet, but you can see how the plane moves and get a feel for how long it might take to explode. Whenever you are game to fly for real money casino payouts, just switch over to real play and put your training to the test.
---
If you enjoy the thrills of Thundercrash, you'll also like Hot Drop Jackpots! These hourly and daily jackpots are heating up now at SlotsLV!