Golden Savanna Hot Drop Jackpots Slot Game Review
A bumpy jeep ride over the vast grasslands of the Savanna ends in a clearing. One lonely baobab tree beckons you to rest under its broad fan of green leaves. You shrug your pack off, slump on the soft ground, and take in the scene around you.
For as far as the eye can see, 4,096 paylines extend outwards into the deepening orange horizon and up into the dusky sky. The ground beneath your feet rumbles; it's a free spins stampede, with multipliers reaching up to 3,125x coming along for the ride.
The SlotsLV Golden Savanna Hot Drop Jackpots slot is a safari through an exotic landscape of wild animals, paylines, free spins and multipliers, with all paths ultimately leading to the most untamed part of the African savanna, where only the most determined travelers have witnessed the three Hot Drop Jackpots.
You've been waiting your entire life for an opportunity to witness such majesty firsthand. In this Golden Savanna slot review, your journey of jackpot discovery begins!
---
CARLOS M. FROM CA WON $81K PLAYING GOLDEN SAVANNA HOT DROP JACKPOTS AT SLOTS.LV IN SEPTEMBER 2023!
---
Should you spin it?
This is why you'll want to be in the jeep's front seat while you play Golden Savanna slot at SlotsLV:
✓ 6 reels and 4 rows
✓ 4,096 ways to win
✓ Free spins
✓ 3,125x wild multipliers
✓ Hourly, Daily, and Epic Hot Drop Jackpots
✓ Max win: $500,000
✓ RTP: 96%
✓ Full of winning potential but not overly complicated
✓ Minimum bet: $0.40
✓ Maximum bet: $200.00
✓ Engaging theme
✓ Ideal for Bitcoin gambling
Did you know you can deposit faster with crypto? You still see your playing balance in USD, but when it comes to withdrawing, your crypto payday will be much, much faster. The majority of SlotsLV players use crypto, and Golden Savanna, with its HUGE payouts, is an excellent game to get started with the most secure, efficient, and rewarding way to play.
But – not everyone has the sense of adventure needed to travel through the thousands of square miles of grasslands. Here's why you may want to take a pass:
X You prefer a simpler, more familiar slots theme
X You like classic features
Game Overview: A Golden Adventure
When you choose an adventure like Golden Savanna, you're instantly transported into a new space. You hear the sound of snapping branches and a loud rustling somewhere behind you. You glance over your shoulder, and scramble back in startled surprise. A gentle giant is grazing; he looks up, flaps his ears, and continues foraging for his dinner. You can never prepare for the sheer size of an elephant until you're facing one!
Farther back in the distance, a pack of gazelles gracefully leap in your general direction. Then, a cheetah appears out of nowhere, sprinting towards the gazelles at incredible speed. Just up ahead you catch a meerkat sniffing around for food, and you melt a little at its adorable face and playful antics in the brush. These wild creatures are your high-paying symbols in this 6×4 online slot.
Golden Savanna Hot Drop Jackpots Features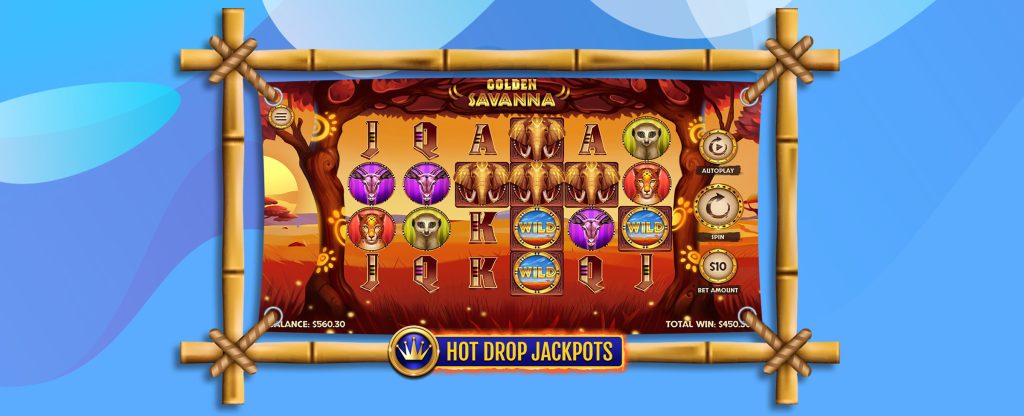 Once you get a taste for the adventure before you, you quickly realize that even playing on a long weekend wouldn't be enough to cover half of it. Still, you gaze intently at the unmistakable landscape of the African savanna, and you're able to pick up on the slots features that will truly make this the journey of a lifetime.
Wild
When the sun rises to its highest position in the sky, the horizon transforms into a shade of cyan blue. That very scene is your Wild symbol. The Wild can stack on reels 2, 3, 4, 5, and 6, and it substitutes for all other symbols but the scatter.
Scatter
You're bound to find a slots scatter somewhere along your travels, and you'll know it once you catch the word "SAVANNA" emblazoned in gold across its center.
Savanna Spins
If you unearth 3, 4, 5, or 6 scatters in this slot online, the grasslands tremble with life as they give rise to 8, 15, 25, or 100 free spins respectively.
Wild Multiplier
While you're frolicking through the golden plains amid your slots free spins, Wilds may appear as well, but this time with a corresponding multiplier of either 2x, 3x, or 5x. When multiple Wilds are involved in a win, their values are multiplied together, and they can reach a maximum of 3,125x your bet – as plentiful as the blades of grass.
Three Types of Hot Drop Jackpots
The sun has just about set in the golden savanna, but one last monumental experience remains: those highly-sought after Hot Drop Jackpots.
The three SlotsLV Hot Drop Jackpots can be found, if you know where to look, co-existing peacefully among the myriad wildlife, but they can roar louder than any lion with little warning. That's because they must trigger once per 60 minutes, once per 24 hours, and once by the time the Epic Jackpot is hit, which can be at any point!
To win this most prized souvenir, you'll have to land three special jackpot symbols. Then a jackpot wheel descends from the bright blue sky, and you spin it to see which jackpot prize is yours.
Before you go all-in, however, make sure you've taken full advantage of our casino referral bonus. Refer a friend to play at SlotsLV, and when they make a successful deposit, we'll give you a bonus to use in the game!
If you love Golden Savanna Hot Drop Jackpots, you'll also love Savanna King XL!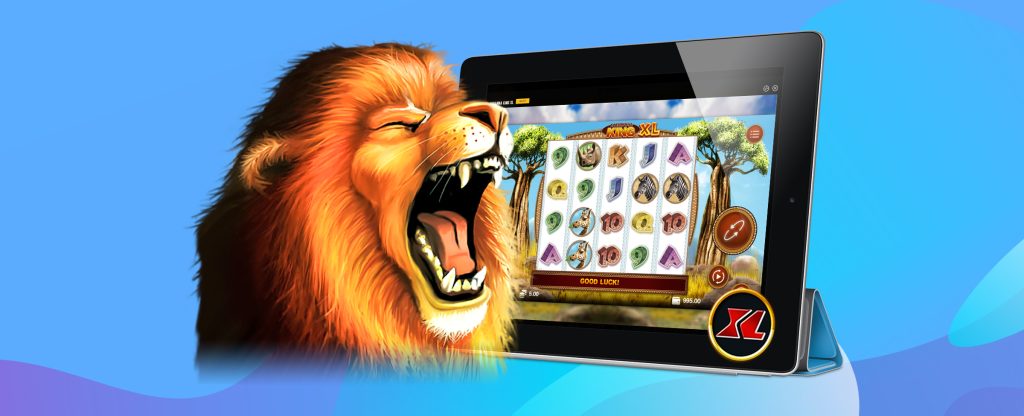 Of our many SlotsLV online slots, there are more adventures in the wild savanna yet.
With a terrifying roar and a magnificent mane of billowing orange fur, visitors to the African savanna crumble to their knees and bow down. The Savanna King XL has arrived, and he is here to claim his rule over the incredible, wild features that are found among the reels.
All creatures that roam the 1,024 paylines can sense the King's presence when he's near. In fact, it's once again a herd of gazelles that kick things into high gear and stampede across the online slot, tossing up to 25 free spins in their dust. All because the Savanna King landed as a scatter either 3, 4, or 5 times over.
Play Golden Savanna Hot Drop Jackpots Slot Game at SlotsLV Casino Now
After a satisfying trek in this Golden Savanna online slot review, it's time to explore the savanna itself. Head on over to SlotsLV Casino, and hit spin on Golden Savanna Hot Drop Jackpots. The adventure of a lifetime is always ready and waiting; those grassy plains are just at your fingertips, and the creatures and their paylines are always just a wager and a jeep ride away.