POPULAR CASINO LUCKY CHARMS (SEE IF YOURS MADE THE LIST!)
If you've done a bit of light reading here at SlotsLV Casino, you'll know that you can always find plenty of tips and strategies to use in your slot game sessions. But all the study in the world won't determine whether or not you win the big one in a slot game, because it truly comes down to luck. That means that online slots strategies can only drive you to the party: it can't make you dance.
Most of us have an object or a number or a ritual of some kind that we consider to be lucky. Maybe you rub a rabbit's foot before hitting "spin". Hopefully you have something a little more lively than that on hand, so perhaps your lucky penny keeps the sun shining down on you. Or it could be that little phrase you mutter – Geronimo! Or, Elvis lives! – that serves your fortune.
If you're fresh out of casino lucky charms, or you're on the lookout to pick up a few more, then we've got all kinds of good luck charms and gambling symbols for you to warm up to, as well as the perfect games to test them out with.
FOUR-LEAF CLOVER
Many a child has found themselves, on a warm, sunny day, rifling through blades of grass in pursuit of the elusive four-leaf clover. With so much luck and fortune historically packed within those four tiny petals, it's no wonder the young and the young-at-heart yearn to find their own in the wild!
In case you were wondering, in that field where you merrily pluck away among the clovers, you have a one in 10,000 chance of locating the lucky one. At SlotsLV, we've planted a few of our own, and made the four-leaf clover a lot easier to track down.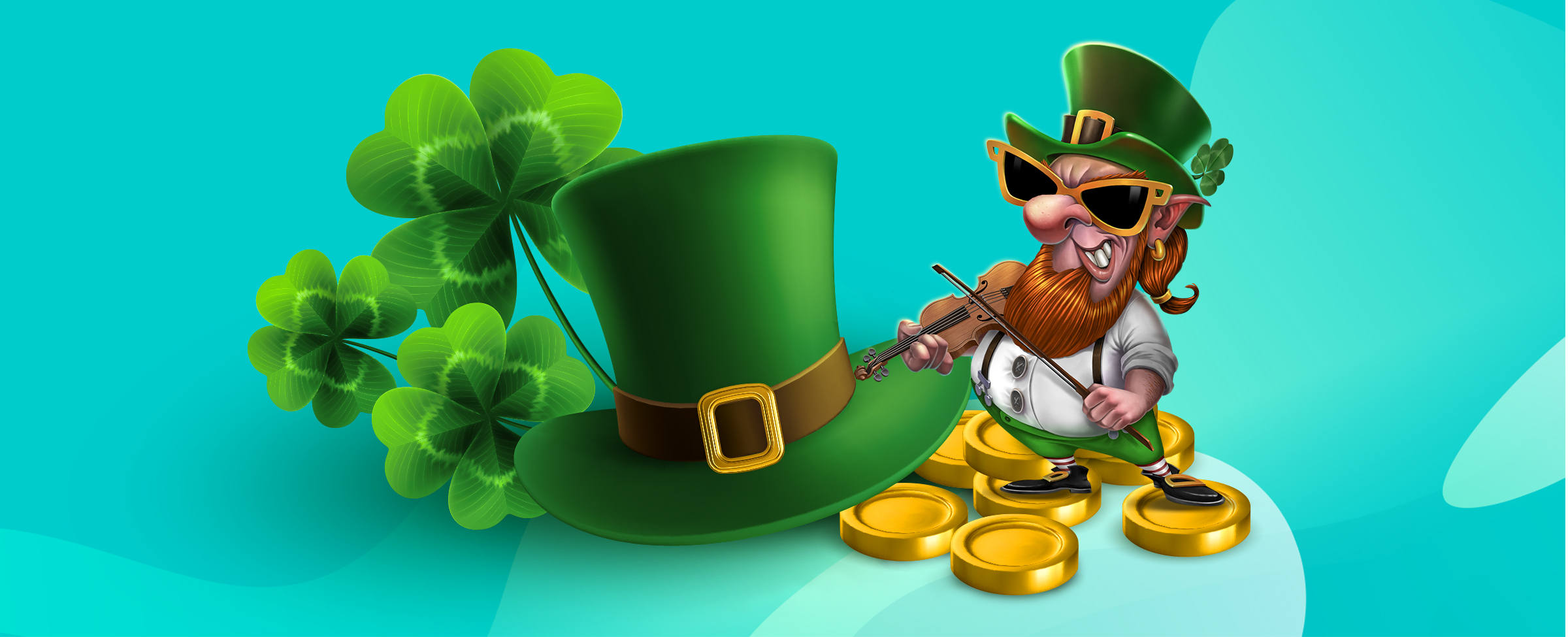 In Larry's Lucky Tavern, you'll find no shortage of four-leaf clovers as you sip on brewskies with Larry, and get lucky with free spins and bonus rounds. In Leprechaun Legends, the fields are rife with four-leaf clovers, as well as the rest of the folklore like pots of gold and rainbows!
SEVENS
As far as good luck charms in gambling symbols go, hardly anything comes close to lucky sevens.
Multiple cultures revere the number seven as a symbol of luck, perfection, and knowledge. It's not entirely clear why, but the mathematical properties of the number coil have something to do with it.
The number 7 is the sum of two perfect forms by their angles, which are four (representing a square) and 3 (representing a triangle). The Greeks may have been the first to claim the lucky number seven, and they called it the perfect number.
Perhaps Leonides or Archimedes would appreciate some of our lucky seven games at SlotsLV! 777 Deluxe is a wonderfully lucky seven-full game, celebrating sevens of all colors and varieties – and there are plenty of other slots with huge explosive jackpots that revolve around the lucky number seven, too.
HORSESHOES
A horseshoe is another lucky charm for gambling used by many players and many slots online alike. The shoe of a horse seems like a very unlikely candidate to bring good luck, but the history behind it is so wonderfully whimsical, you just might be inspired to pick one up yourself!
Just like the four-leaf clover, we also have the Celtics to thank for the luck of the horseshoe. The protective and fortune-bearing qualities of the good luck charm dates back to 400 BC when evil goblins wreaked havoc on the forests of Celtic-conquered lands. To protect from the goblins, settlers hung horseshoes in their doorways, as it resembled the Celtic moon god's crescent, and it would scare away the evil goblins.
You might not encounter too many goblins in the land of SlotsLV online slots (unless you're playing Goblin's Gold!), but just in case there might be some evil little ones skittering about, you could always open up Lady's Magic Charms Hot Drop Jackpots to grab a horseshoe (or some other lucky charm!) and ward them off.
PENNY
It always brightens up your day a little when you catch the glimmer of a shiny penny on the sidewalk, and as the old adage goes, you "Find a penny, pick it up, and all day long you'll have good luck". Aside from the premonition that finding a lucky penny inspires more luck to come your way, this little coin has a more interesting reason for being such a charm.
In ancient times, commonfolk believed that metals were gifts from the gods, which could be a persistent idea that stuck around all the way into modern times. So, finding a penny on the ground is our modern version of a nice little divine gift!
For even more opportunities to get in touch with the gods for some good luck, try visiting Zeus in Fury of Zeus or getting a taste of CaiShen's Fortune XL. These gods are sure to have more than just a penny lying around, and they're known to rain down a lot more than just good luck.
CAT'S EYE
You can recognize a cat's eye gem, called a chrysoberyl in fancy-language, by the ellipses of light that slices through the very center of the brown and orange-hued stone. As striking as they look on a décolletage as a necklace, the cat's eye has a reputation for emanating power, making it more than just a statement in fashion.
For the superstitious, the power of the cat's eye is relative to the planets, and good luck and fortune are revealed directly from the way the light shines through. They'll even transform your negative thoughts into more positive ones if you're inclined to believe the spooky of mind, which sounds like an awfully handy tool for those moments that make you cross!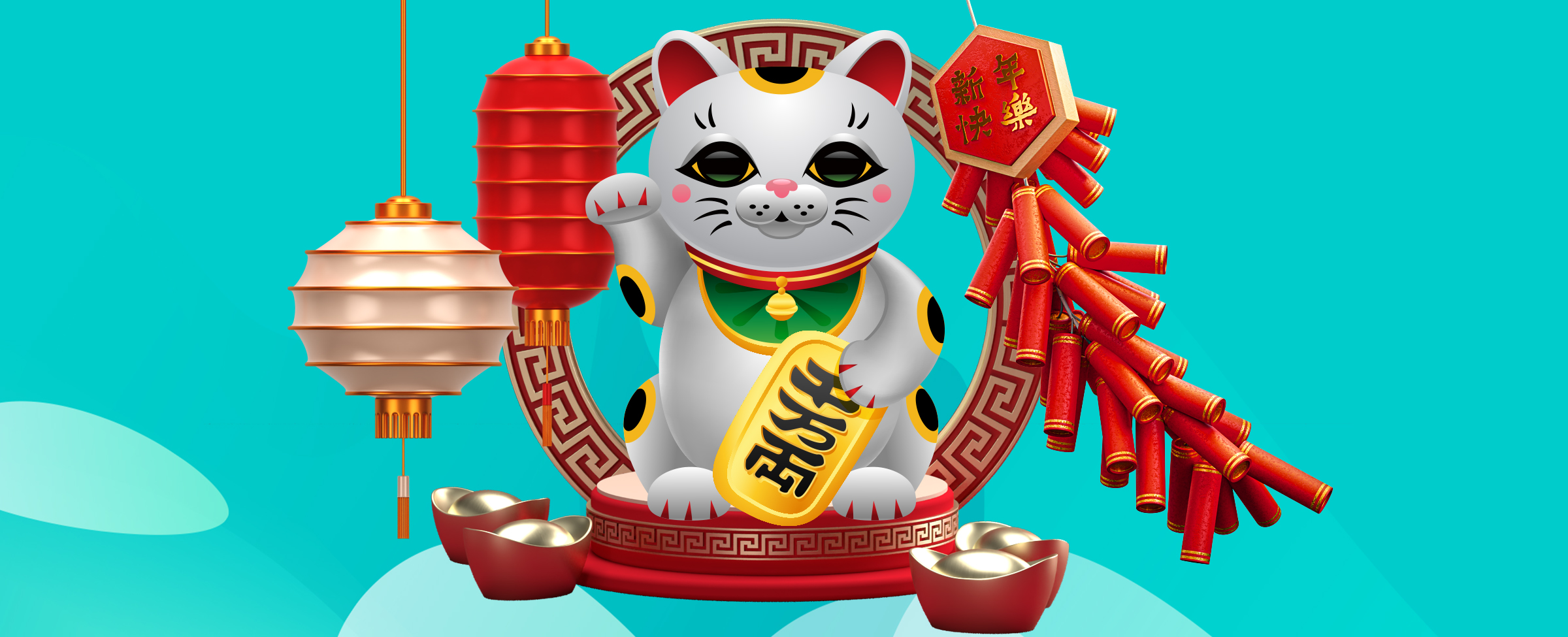 If you want to see what power your cat's eye has when it comes to lucky charms for money, you can channel the powers of the planets controlling the cat's eye, and of the entire universe in Mystic Elements, and shine some of that good luck light onto your bank balance!
RABBIT'S FOOT
Celtic tribes sure had some fun ideas, as we've already learned with the four-leaf clover and the horseshoe. The rabbit's foot is yet another good luck charm we learned from these ancient people of ancient Europe. The Celts believed that rabbits could communicate with gods and spirits from their hiding places deep underground.
According to the belief, some of that magic communication would rub off on you if you had a rabbit's foot – but not just any of its poor limbs: you had better results from the left rear foot, and the best results from the left rear foot of a rabbit killed in a cemetery at midnight. That's oddly specific, but we assure you there's no need to harm any animals to get the good luck of the rabbit around here!
To discover how to have good luck at the casino, you could trek through the party-forest of Jungle Jam, or even the canyons of Golden Buffalo to find a lucky slots animal or two – with all of their legs intact!
Referring friends to SlotsLV can be lucky too! If they make a successful deposit with your referral link, you'll earn a casino referral bonus!
COLORS RED & GREEN
So far a lot of our lucky casino charms for involve physical objects that we hang up or hold in our hands. The Chinese had a different idea, and they helped us catch on to the good fortune behind some common colors in themselves.
The color red is considered to be lucky and auspicious, and its bright, fiery hue inspires vitality and success. Aside from that, the mythical beast nián shòu is known to have an aversion to the color red, and we sure don't want that guy coming around!
The color green represents wealth, fertility, and regeneration in Chinese culture, and is the color of jade, a stone symbolizing good luck and serenity. In the case of casino lucky charms, that could mean regeneration of your bank balance!
These colors can be found everywhere around SlotsLV, but Fa Fa Fa is a game that encompasses these lucky colors unlike any other, and each spin has you absorbed into their lucky powers.
FENG SHUI-ING YOUR SET UP
The idea of Feng Shui is to optimize your wellbeing and invite prosperity and vitality by the way you arrange your environment. Move a couch, win a car. Brilliant, right?
Sitting in a "commanding position" where you can see the door is a great way to harness the powers of feng shui, according to its masters – so be sure to place your desk or chair where you can see the exit. Since Feng Shui has its roots in Asia, where good luck comes in red and green, these colours play a big role in bringing luck to your setup, too. Painting your door green or using a red chair are ways to create some color in your life, if not some fortune-building Feng Shui into your online slot setup. You could even try Riches in the Rough. It features ruby red rocks that pay top prize, and a green-lit Wild symbol that can trigger slots free spins.
GET LUCKY AT SLOTSLV CASINO
We have slot games for every player, regardless of their preferred lucky charm. As you're rubbing your rabbit's foot and rearranging your furniture, remember that the real good luck at SlotsLV Casino comes down to how you manage your money in your online slots. Something as simple as funding your account with Bitcoin and grabbing a gigantic bonus can make a big fortunate difference in your game. We've got plenty of that kind of luck just a few clicks away – so pick your bonus and your charm, and good luck!