Slots Features Explained: A Deep Dive into How They Work
You can't have a birthday cake without the candles. A song without a chorus. Or a Greek wedding without a few smashed plates. And in exactly the same way, you can't have slot games without features.
Sure, it's possible – but where's the fun in that?! Just as candles are the icing on the cake, so to speak, slots features bring layers of extra interest to any game. They give it originality and individuality, and make the experience far more entertaining. They also bring plenty of extra opportunity to take home a game's coveted prize.
Even if you're a fresh face at SlotsLV Casino, you might still be familiar with some of the lingo; Wilds, scatters, and free spins, for example, which are typical slot machine features. But what does it all mean, how do they really work, and how do you make them work for you?
Getting Started
You'll find the features of your chosen game listed within the slot's paytable. Then, using this comprehensive slots guide as your reference, you'll be able to match the name of that feature with an explainer below. Before long, you'll know all there is to know about every feature you encounter in the SlotsLV online slots universe!
Free Spins
Any huge SlotsLV fan will tell you that, oftentimes, the best part of our games is the slots free spins! And many slot games include this feature.
"Free spins" are exactly what you'd expect them to be: You keep playing the game by spinning your reels, and your balance doesn't deplete. Any prizes that you win during free spins are yours to keep, of course. That's what makes them free!
The most common way to trigger a free spins round is to land three or more scatter symbols, although each slot game is unique, so brushing up on the rules before you start spinning will tell you what to expect. Free slot spins can sometimes be retriggered too.
Scatters
Typically in a slots game, the standard symbols need to land on a payline in order to award a prize. The scatter symbol is different. The scatter can actually land anywhere on the reels to award its prize. They're almost always the highest-paying symbol in the base game. Scatter symbols most often serve as an automatic entry into a free spins or bonus round if you land at least three.
Re-Spins
A slot respin is slightly different from slots free spins.
A respin is a special feature in which some symbols – or maybe even an entire reel – will stay fixed in place, while the remaining symbols or reels will spin again. This can be triggered by a non-winning spin, winning spin, or select symbols (it depends on the game!). Ultimately, this gives you another chance to form a win with your existing symbols rather than starting afresh.
Gold Rush Gus is as famous for its re-spins as it is for its loveable main character!
---
If you're looking to maximize your rewards, a sure-bet way to put more in your pocket is to refer a friend. With each referral, you'll receive a bonus on us!
---
Wilds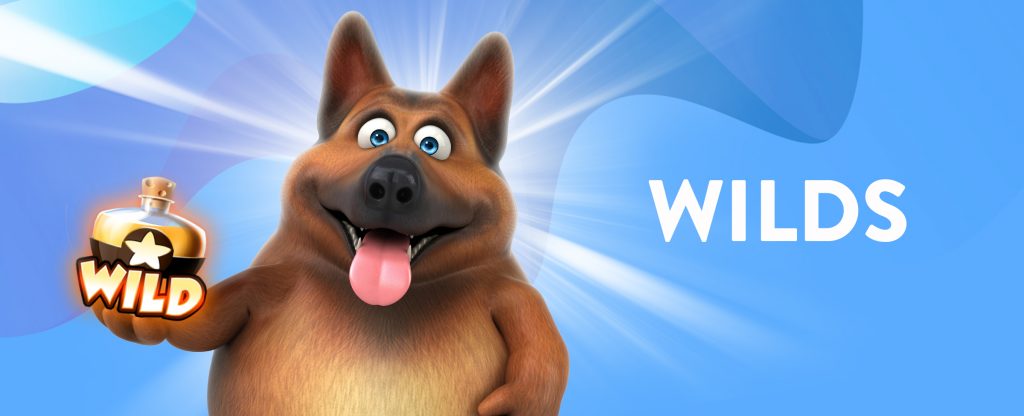 A Wild symbol transforms into another regular symbol in the game, except for the scatter. If luck is on your side, the symbol it becomes will form part of a winning payline.
Many games allow a Wild symbol to appear anywhere, and some games restrict it only to certain reels.
You'll also see slots with sticky Wilds. This means the Wild symbol will appear somewhere on your reels and stay in the same place until a series of spins has been completed.
Stacked Wilds line up vertically to fill out a reel. Expanding Wilds are Wilds that grow to cover the entire reel that they land on. These Wilds can award multiple wins with paylines that are connected to that reel.
Wild multipliers are where the big rewards are at, and you can find them in games like Mythic Wolf. A Wild multiplier will not only transform into another symbol to help you win, but it will then multiply that win by a designated number.
Multipliers
Multipliers are an excellent slot machine feature because they often lead to bigger wins.
A multiplier works like this: the dollar amount of your win is multiplied by the value of that multiplier. It would appear as something like 2x, 5x, or 10x. It could multiply either your entire win from that spin, or just the win on the line that had the multiplier.
In some instances, they can combine to form bigger multipliers, like Golden Buffalo which reaches up to 3,125x. In other cases, games can have increasing multipliers that get bigger with every win, so it's important to check the online slots paytable.
Paylines, and Ways to Win
In order to be awarded a prize in slots, you need to land matching symbols in a certain pattern. Those patterns are the paylines.
Some paylines are fixed, which means you must pay for each payline during each spin. They cannot be adjusted. Others, however, will allow you to select the number of paylines you'd like to play with.
"Ways to Win" is a more modern take on slot machine paylines. A common theme is to form wins with "adjacent symbols". This means that three matching symbols must appear adjacent to each other across three consecutive reels going from left to right. That's why you see games with 243 ways to win, 1,024 ways to win, and many more winning combinations being offered.
Hot Drop Jackpots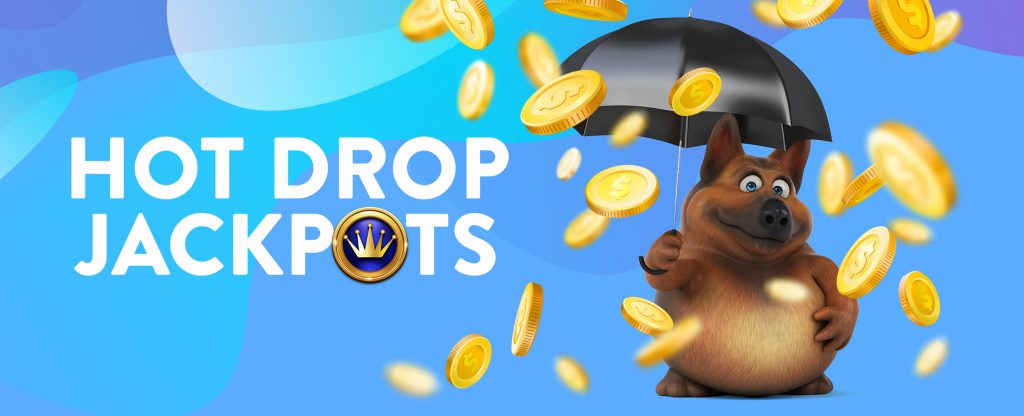 Now we're really getting into the fun stuff. And by fun, we mean some of the hottest prizes you'll find on the reels.
SlotsLV Hot Drop Jackpots are jackpots that are configured to trigger at key times. The hourly jackpot triggers once per 60 minutes. The daily jackpot triggers once per 24 hours. And the Epic jackpot can trigger at any time! Unlike other jackpot games where you never know the best time to play slots, games with must drop jackpots have an hourly and daily timer that counts down for those prizes.
If you happen to land three special crown symbols on any spin, you'll get a chance to spin a jackpot wheel that awards one of the special Hot Drop Jackpots.
Cascading Reels
For some players, finding the best slot means finding one with cascading reels, and that's for a good reason, too.
Cascading reels are also called tumbling reels. It means that whenever a win is awarded in the game, the symbols involved in that win disappear, and new symbols take their place.
Whenever this happens, there's a chance that these new symbols will immediately form another win! In most games with cascading reels, like Zombie FC, the feature will continue giving you fresh symbols until there are no more wins on the reels.
Expanding Reels
If an online slot has expanding reels, it means that the number of reels in play can increase. Usually, it will increase by one at a time. The slots feature can be triggered from a simple winning spin or a combination of certain symbols, depending on the game. Expanding reels are a particularly popular feature because, as the number of reels increase, so do the paylines.
Autoplay
Most slot games you'll play will instruct you to begin a round by pressing the 'spin' button, which you'll do throughout your game. Another option you might have is to let the reels spin on their own by using autoplay.
If you do choose to let autoplay take over your spins, you'll select a limit on the number of slots spins and bet amount. Most games have an "infinity" option, which will keep those spins going until you manually stop them.
Stacked Symbols
Typically, individual symbols will each occupy a single place on the reels when you play slots. When more than one symbol appears on the reels in a single space, they are referred to as stacked symbols. Stacked symbols immediately enhance the likelihood of scoring a win because they create additional configurations with each spin.
Mystery symbols can sometimes turn into stacked symbols, including stacked wilds.
Mystery Symbols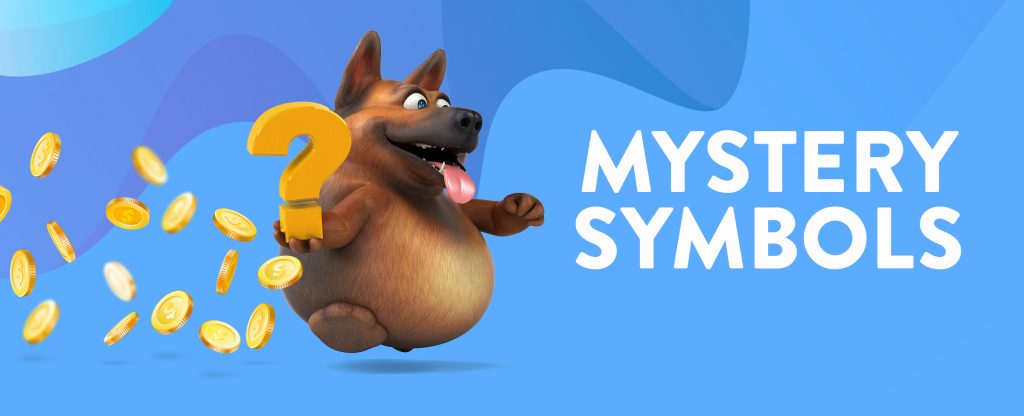 The outcome of every spin in a slot game is a mystery until it's right there in front of you. (It's part of the thrill!) In some online slots, a special kind of symbol will add an extra dose of intrigue to make the mystery even more enticing.
Mystery symbols commonly appear as a question mark symbol, like they do in 777 Deluxe, or in another form that matches the theme. When it lands, it will transform into almost any other symbol in the game (but usually not the scatter) and it may help complete a winning combination.
---
When you fund your SlotsLV account with a crypto casino deposit, you'll enjoy loads of crypto benefits.
---
Progressive Jackpots
Progressive jackpot slots are some of the most popular games at an online casino, as they can award some of the most jaw-dropping, totally life-changing wins.
A progressive jackpot is a jackpot that grows with each wager that's placed in the game. A certain percentage of every person's bet goes into the pot. The way to win progressive jackpots is different for every game, though.
In some SlotsLV progressive jackpots, you can win at random at the completion of any spin – like in Cyberpunk City. Other games award it from within the bonus round, or free spins round, by landing the right set of symbols. Others still will have you spin a wheel, and the methods keep going.
For most progressive jackpots, you have to be playing on the maximum bet to be eligible to win, but that's not the case for all slots online. To find out which games do or don't have that requirement, refer to its game paytable.
Bonus Games
A slots bonus game is a side game that is typically played on a different screen to the base game of your slot. You'll participate in the game in some way in pursuit of a prize. Many bonus games present unique challenges and elaborate interactions, and the prizes are usually enhanced. It's also common to unlock new features only available through a bonus round.
Like most slot machine features, the way to access them will be particular to that game, but bonus games are most often triggered by landing three of a specified symbol.
Pick Me Bonus
Slots bonus games come in all shapes and sizes. One in particular is known as a "Pick Me" game.
A "Pick Me" game is an interactive card game. It's similar to the Memory pair-matching game that you might have played in childhood. In the case of Instant Inferno, for example, you're presented with 20 tiles. From here, you must unveil three matching tiles to get the prize.
This is not to be confused with a "Player's Pick" feature, which allows you to select from a series of wins you'd like to play for, like a combination of free spins and multipliers, before entering a bonus round.
Gamble Feature
If you like to live on the edge, then you'll love the gamble feature. If your chosen game includes this feature, it can usually be entered after any winning spin.
When you opt to play, you'll engage in a game of double or nothing for your latest win. Sometimes, that means flipping over a card. In the case of A Night With Cleo, it means guessing which of her hands – left or right – holds a lotus flower. The gamble feature in that game makes it one of our most popular. Read our A Night With Cleo review to see why.
With so many SlotsLV online slots to choose from, you're bound to come across a feature that looks unfamiliar. Whenever you're in doubt, just refer back to this very page (bookmark this page, if that helps!) to refresh your memory on slot machine features. The more you know about how your game works, the more you'll enjoy it – and the more you'll find the best way towards a win!