777 Deluxe Slot Game Review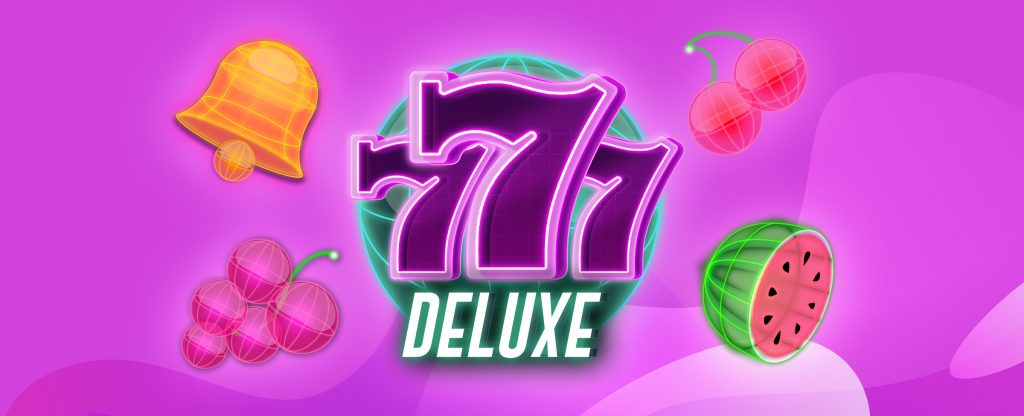 If you close your eyes and listen extra closely, you might be able to hear the tell-tale spin, clank, and cha-ching! of the traditional 70s-era slot machines.
SlotsLV 777 Deluxe slots game aims to keep the good times rolling from the past, right through to today! Those classic symbols we know and love partnered with modern graphics and payouts introduce a whole new category to the world of gaming which we affectionately call "retro-future". 
You'll get a good nostalgic pang when you sit before this throwback slot, which will conjure up images of a time when Vegas was in its booming years. Happily, you'll soon discover the ultra-generous potential it brings, with a progressive jackpot that a 1970s slots player would faint over. 
Are you ready to embrace a retro-future at Slots? Well then, let's go!
---

JOSHUA S. FROM WA WON $433K PLAYING 777 DELUXE AT SLOTS.LV IN APRIL 2022!

---
Should you spin it?
It's hard to imagine a world in which a game this clean, this swanky, this classic, and yet this lucrative, doesn't have a place in our gaming hearts. So could this be the perfect game, if such a thing exists? Let's weigh it up.
With 777 Deluxe at SlotsLV, you get plenty of pros:
✓ Paylines left to right, right to left, and in the middle 3 reels
✓ A limitless wild symbol
✓ A huge progressive jackpot
✓ Seven other jackpots
✓ One easy-to-access, easy-to-win bonus round
✓ RTP is a solid 96%

As possible cons for a different style of player, 777 Deluxe won't give you elaborate storylines or complicated features.
If you're not entirely sure that retro-future is your thing, keep reading this slots game review! Chances are that you'll soon forget all about the modern, feature-filled theme slots and jump right on board with the retro-folk. Come for the fun, and stay for the paydays! 
Game Overview: A Deluxe Night Out
When you think of the classic symbols like bars, bells, cherries, lemons, and 7s, chances are you don't imagine them bursting forth in 3D neon like a Vegas sign. 
In 777 Deluxe, these old-timers have a new coat of paint with their neon flares which bring it forward into the digital age. A futuristic grid has replaced those old mechanical configurations, giving realistic dimension to the plump fruits and their accompanying symbols. 
Here are the Deluxe-ious details:
5 reels

3 rows

10 fixed paylines

Paylines pay from left to right, right to left, and within the middle 3 reels

Betting range is $0.2 – $100

Max win per spin is 5,000 coins
A distinctively swanky tune carries the game, bringing to mind high-rollers dressed in suits and heels. The reels are alive and kicking, but as they remain invisible on the board, they provide an extra fun wow factor to the visual fireworks.
777 Deluxe Features
The features are really where the retro vibes shake their tail feather. Don't expect any elaborate displays of bursting confetti or hammed-up showtunes. Although, if you'd like to mark the occasion with your own little soiree, then all the better! But back at HQ, the 777 Deluxe game the features are wonderfully simple, leaving the path wide open for you to travel through to the best parts. Which, to be honest, are all of them! 
The Wild Question
We all know slots have a tendency to get wild, fast and furious, and with this game, there's no question about it. Or… is there? In fact, it's the question mark itself that serves as your wild, or mystery symbol. It has the power to replace any other symbol in the game for a win. These babies are the ones to hold onto!
Back-to-Basics Bonus Symbol
Nothing competitively fancy here – just a humble little bonus symbol, starring itself among the A-listers, ready to sweep you off to the famous bonus round as soon as you've collect three of them. Good things come in modest packages, too.
The Best Jackpot… out of 8!
What'll really drop your jaw in bedazzlement are the jackpots! The big progressive jackpot takes the lead role, leaving the audience roaring with approval at every twist and turn. It's easy to get your shot at the big one, but if you don't quite make it to the top this time, don't be too disappointed: seven other jackpots are lined up behind it to cushion this fall.
In order to get face-to-face with all of those delicious dollar signs, all you'll need is to land three question mark symbols in the base game, at which point they'll transform into your humble bonus symbols. The game screen will whisk you away onto another stage, stripping back all those extra reels and rows, leaving you with one totally bare, totally raw, 3-reel payline. This is your moment to shine. 
Those warmly familiar 7s have left the other symbols behind for the bonus round, and now provide eight ways for you to collect a payday for the ages:
Golden 7s

(that's the big one!) – the

entire

progressive jackpot

Red 7s:

250x your bet

White 7s:

50x

Blue 7s:

25x

Green 7s:

10x

Purple 7s:

5x

Pink 7s:

2x

Mixed 7s:

1x
---

TASHA H. FROM CA WON $289K PLAYING 777 DELUXE AT SLOTS.LV IN MARCH 2022!

---
If you love 777 Deluxe, you'll also love 5 Times Vegas!
If it's the retro Vegas vibes you're in love with, you're not alone, and nor is our featured game. Once you've conquered 7s heaven, take a retro night out on the Vegas Strip. 5 Times Vegas slot is your next port of call. This slot keeps it simple just like 777 Deluxe, but this time it's riddled with wilds and multipliers. 2x, 3x and 5x wilds are the primary symbols with their own paytable, and they can combine together to award you up to 25x your stake. Some of the symbols can send other reels spinning, increasing your both chances of winning and your fun factor!
Play 777 Deluxe slot game at SlotsLV Casino now
No other game out there is this extraordinary at keeping it simple as it cranks up the wins. 777 Deluxe is guaranteed to have you doing the funky chicken with your high-roller paydays. Your deluxe night out starts now at SlotsLV!