Plinko Specialty Game Review
It's daytime on CBS, and Bob Barker, in his signature suit and tie with mic in hand, is welcoming one lucky contestant to try the fan-favorite segment of The Price is Right: Plinko!
The chosen contestant clutches his or her chest in surprise while rushing to the stage. Wait… hold on a second. Isn't that you? Yes, it is! You are the chosen contestant to play America's favorite game-show game!
This SlotsLV Plinko specialty game is unlike any other one you've tried at an online casino. It embodies one of your most nostalgic faves, but it does it one better.
SlotsLV's Plinko game allows you to adjust the number of lines, your bet, and your level of risk. The result is an applause-worthy blend of luck and strategy that could result in winning prizes up to 1,000x your bet.
The crowd is on the edge of their seats, waiting to see where your ball plinks. So get ready to bask in your moment in the spotlight by first reading this Plinko specialty game review to see how it's done!
Should You Play It?
Just the fact that there are multipliers reaching up to 1,000x is enough for most bettors to come on down and play Plinko game at SlotsLV, but there are rows upon off-set rows of other reasons, too:
✓   Adjustable lines, bets, and levels of risk
✓   Exceptional RTP!
✓   Quick rounds
✓   Incredibly easy to learn
✓   Big max payout
✓   Bets and payouts are easily tracked on the side bar
✓   Can be played by funding your account with gaming crypto
Once you choose the crypto that's best for you, simply use it for your deposit. As you play, your game and player account balance is displayed in regular USD for extra convenience. When it's time to cashout, use crypto again for a much smoother and faster transaction!
The allure of the Plinko board isn't for everyone. This is why you may want to plink your coins into another game, instead:
X   No storyline or characters
X   No progressive jackpot
Game Overview: You're The Next Contestant
The Plinko game board is shaped like a pyramid. It's populated with pegs which form a series of off-set rows. You can have anywhere from 8 to 16 rows, and it's up to you to adjust them juuuust right!
After you configure your bets, lines, and risk to your exact liking (and we'll explain that more in game features!), hit "PLAY". The room goes completely still as the pink ball emerges through the hole at the top of the pyramid, and slowly starts to plink and plank over the pegs and down, down, down to the base of multiplier prizes at the bottom.
Here's what the Plinko experience looks like, straight from your mobile or PC:
Rows: from 8 to 16
Risk levels: low, normal, high
Minimum bet: $0.10
Maximum bet: $20.00
RTP: 98.91% – 99.16%, depending on your adjustments.
To add a little extra to your bankroll before you play, don't forget to refer a friend, or an entire crowd! When you do, SlotsLV will give you a referral bonus for each and every plus-one who makes a successful deposit.
Plinko Game Features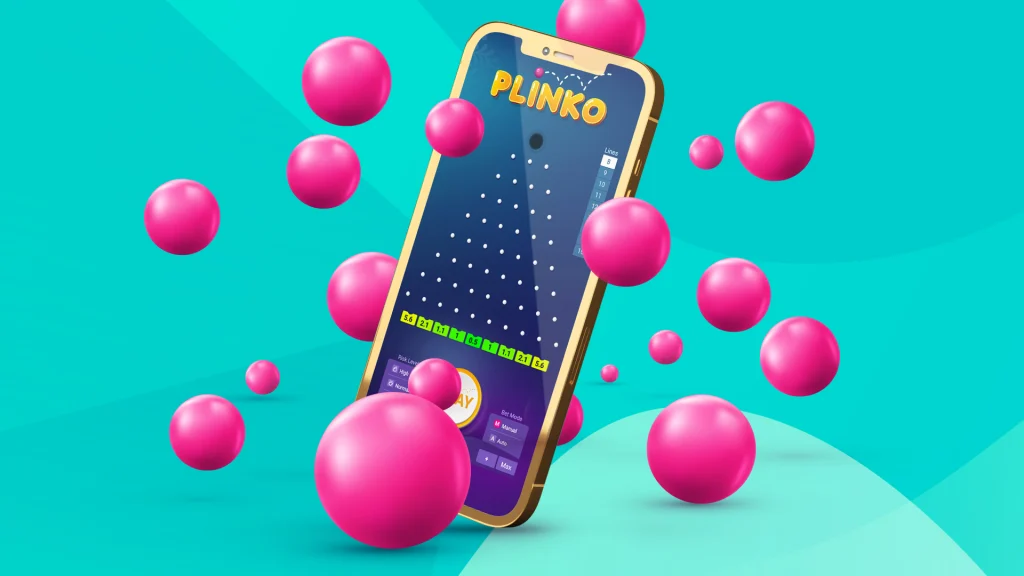 You won't find bonus side games or the bells and whistles of online slots, but you will find features that you control… and those could result in some big-time paydays.
Betting
The minimum bet in Plinko is $0.10, and the max bet is $20. You can keep it simple: hit "Min" for $0.10 or "Max" for $20, or you can adjust the bets yourself using the arrows until it sits exactly where you like it.
Once your bet is in, you can either play manually, i.e. hit the "PLAY" button each time yourself, or you can change the setting to "AUTO" and choose your number of bets. With the auto setting, your chosen number of balls come out in rapid succession, keeping the excitement buzzing and the multipliers piling up!
Lines
Your options for lines are 8 through 16. The more lines you play with, the more potential game prizes become available at the bottom of the pyramid.
For example, if you choose eight lines, you get nine available multiplier pockets for the ball to land in. If you play on 16 lines, there are 17 pockets.
Risk
A great way to get the edge in casino games is to adjust the level of risk you take. In Plinko, you can choose to play on low risk, normal, or high.
The lower the risk you set, the lower the variance of the multipliers will be.
At the lowest risk setting with 16 lines, your multipliers range from 0.5x to 16x over 17 pockets. That means you're more likely to either break even or make consistently smaller wins.
Normal risk creates a range of 0.3x to 110x, and high risk goes from 0.2x to 1,000x.
STRATEGY TIP: To win the highest possible payout, you have to be playing on the highest risk, highest number of rows, and the max bet. It's play big = win big.
If you love Plinko, you'll also love Minesweeper XY!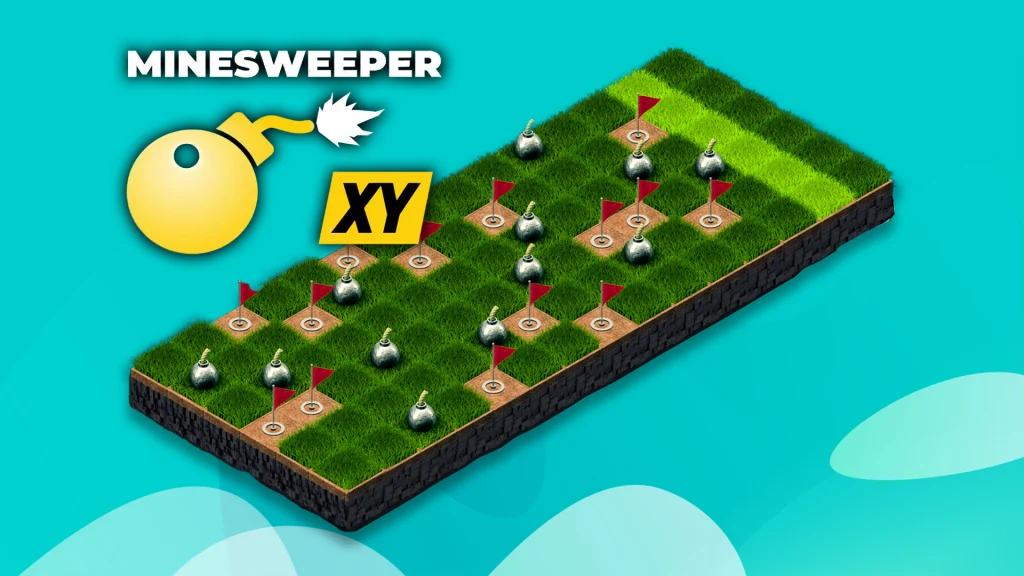 Specialty casino games are a surprisingly fun way to mix things up between slots online and table games, and we have even more of them than you may have realized! Let's take a look at another one of the best SlotsLV specialty games.
Minesweeper XY is a modern take on the old mouse-click game from your very first PC. You stand at the front of a field, which at first, appears to be a lovely spread of green grass. Great for a picnic? No-siree. Not if you like those pants…
This green field is riddled with landmines which will have you hopping ever-so-carefully around the squares of field to make it out in one piece. For each row you make it through, you win a higher prize. You can keep taking the risk until you reach the end, or you can hit "Collect" to take your current winnings and run away to the safety of those dollar signs!
Of course, Hot Drop Jackpots are always available for a spin between games, too. Since these jackpots have their own explosions at least every hour, with some blasting up to a fiery 6-figure amount, you know there's going to be fireworks just around the corner!
Play Plinko Specialty Game at SlotsLV Casino Now
As you've seen from this Plinko game review, this is a rapid-paced, high-energy experience at SlotsLV Casino – just like the one that had us at the edges of our seats while watching TV. So, come on down! The spotlight is on you and your gameshow strategy, and everyone is holding their breath to see where your Plinko ball will land. 2x…9x…26x… or to send the audience into howls of rapture, a ratings-busting 1,000x!