Specialty Games Overview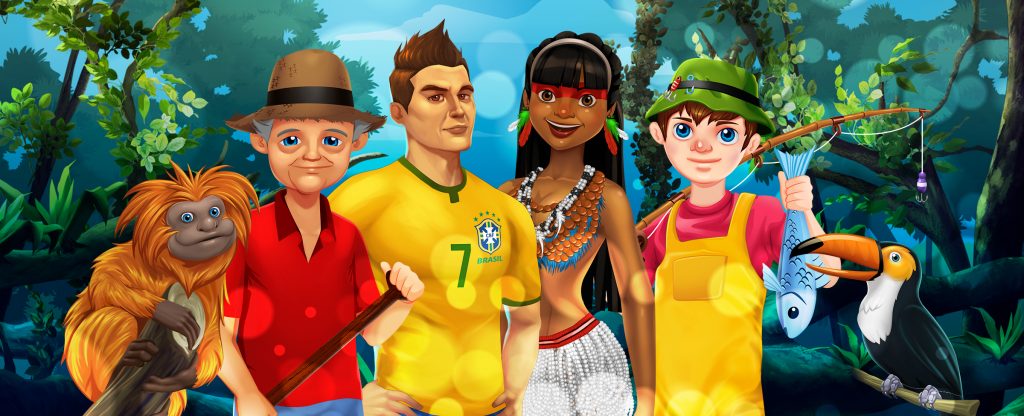 If you've been happily spinning away at Slots.lv with your favorite slot themes and plots (slot-plots?), there's a chance you may have missed what other games are out there. Tucked away inside the "Specialty Games" tab are Slots.lv specialty games that are just as enchanting, memorable, and unique as your favorite slot games.
Two in particular stand out as big winners for Slots.lv casino games: Bingo and Keno. That's right, they're still here and they're still popular! Slots.lv online Bingo is a modern twist on the famous local hall classic, and Slots.lv online Keno is a fresh take on an historical tradition.
You can use Slots.lv casino promotions to play both of these games, and they happen to contribute the most to your rollover. So let's take a look at these two Slots.lv specialty games and their unique styles. You'll see in no time the hidden treasures inside these games are well worth a refreshing round or two!
Bingo Games
One thing to know before we talk about Slots.lv online Bingo is that this is not your typical community Bingo game. You might think of Slots.lv online Bingo as the wild younger cousin of "regular" Bingo. He rolls up on a diamond-studded Harley with more numbers, more cards, and far grander prizes. In fact, many types of Slots.lv online Bingo come with a growing progressive jackpot, just like slots! Check out the different games, and see which ones fit your style.
This unique Bingo game takes place inside the mysterious Amazon rainforest. Among the lush green foliage and bustling wildlife lies 4 possible Bingo cards and an exotic progressive jackpot.
After 20 balls roll out, the right pattern of winning numbers are rewarded prizes, including a bonus pattern. If you happen to win a Bingo within the first 30 balls, you'll be swinging through the trees with a progressive jackpot held tightly in your hands.
For this game you're still within the green canopies of the jungle, but now you're paired with a young explorer and his toucan, who serve as your guides. Played with four cards, you want to match the right patterns to win prizes, including the bonus round with a wheel of fortune and a lucky waterfall. If you're just one number short, you can purchase more balls to push a win over the edge. Frustration, begone!
Who says Bingo can't be a sporty kind of event? With Bingo Goal, you can have the drama of a soccer game with the heart-pumping thrills of playing for the progressive jackpot! As you're going through cards and dribbling through Bingo balls, you could land the Penalty Kick Bonus where you can shoot the goal for a chance to win a trophy's worth of prizes. He shoots, he scores!
If you're in the mood for a lazy river float with some kindly South American natives, then grab your sunhat and come onboard. There are 11 winning patterns in this Slots.lv online Bingo game, and one winning pattern gives you a chance to experience true village life and pick up fish for prizes. Land a Bingo within the first 30 balls, and the progressive jackpot is all yours. (It's not a fish.)
Ready to take a dip? This version of Bingo places you in the sea, where colorful fish surround you and 12 winning Bingo patterns are waiting to be matched. If you make it to the bonus round, you can use your rod to catch some fish and get soaked in hefty prizes (which are also not fish).
The smiling tribal ladies are dancing away in grass skirts as they invite you to join them for an unforgettable game of Bingo. These ladies want to see you win, which is why they offer an exchange if you don't like your Bingo card. They've got 12 extra balls somewhere inside those grass huts, and you can purchase them if you're just a number short. Make it to the bonus round, and you'll have to practice your shooting skills to win enough prizes to share with your new, helpful friends.
We're putting off the ritz. Time to ditch the themes and go straight for the paydays! Go Go Bingo is the best choice to play on the go, as it's optimized the most for mobile. In the game, you get 4 cards, 12 winning patterns, and up to 9 extra balls to secure a win. Sounds like you should Go Go go for it!
Keno Game
Once your Bingo cards are all used up, you can head on over to the Slots.lv online Keno table. Keno Draw is a number-based game with fast rounds and big winning potential. You can choose up to 15 numbers out of a pool of 1-80. Once you place your bet and hit "GO!", 20 numbers are rolled out. The more matches you get, the more money you win.
This might sound familiar to you as it's very similar to the lottery. The main difference with Slots.lv online Keno and the lotto, however, is that Slots.lv online Keno is done lightning fast!
Keno vs Bingo: Similarities and Differences
As you can see, both of these Slots.lv specialty games are based on numbers, involve cards and randomly numbered balls, and they're both new takes on old classics. They can also be played with bonus money from Slots.lv casino promotions. That's about where the similarities stop, though.
In reality, these two games are very different. In Slots.lv online Bingo, the numbers are chosen for you, whereas in Keno, you have total freedom to pick the numbers yourself.
With Bingo, you have the option to play multiple bonus rounds, plus the option for a progressive. In Slots.lv online Keno, there's only one base game, and no progressives.
Slots.lv online Bingo is done with a lot of characters and themes, whereas Keno is a bare-bones game that focuses strictly on the numbers.
If you give these two Slots.lv specialty games a shot, you'll be open to grand, exciting cash adventures you might have missed before. Grab some Slots.lv casino promotions, head on over to the "Specialty Games" tab, and have a wonderful time exploring new, special paydays.