BINGO BONANZA: ENJOY OUR 7 BINGO VARIATIONS
Your local Bingo hall plays a classic 5×5 Bingo game. There's a hearty announcer proclaiming the numbers, one by one, and the air buzzes with competitive spirit. When the lucky winner stands up and shouts that magical word – Bingo! – everyone swoons with envy and delight.
It's a game we know and love, but you can actually have just as much fun when you play Bingo online, too! In fact, there are 7 different Bingo variations you can play, and you can win the sorts of jackpots at online Bingo that you would never dream of winning at your local hall.
Read on for just a few minutes, and you'll learn how to play online Bingo like you've never done before. You might even hit one of those holler-worthy jackpots at our SlotsLV table games.
AMAZONIA BINGO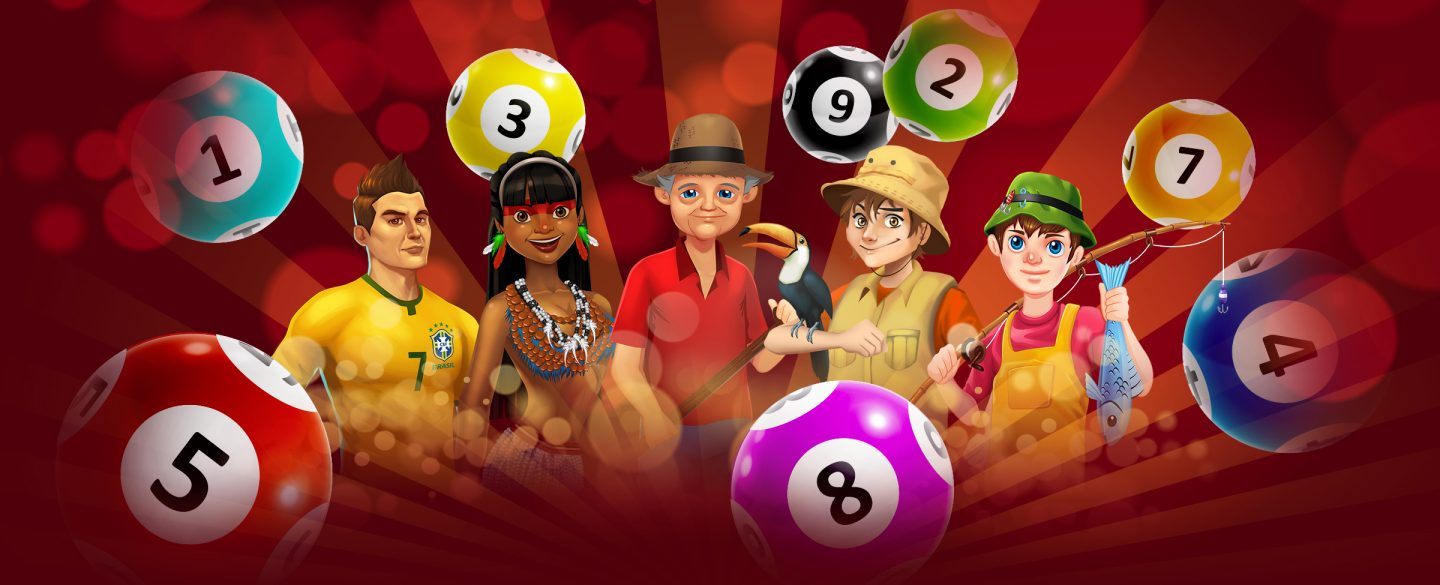 If a swelling progressive jackpot means anything to you, then this game is the path to playing Bingo online for the biggest chances.
You've been whisked away to the center of the Amazon jungle, surrounded by exotic wildlife and four 5×3 Bingo cards. Choose the cards you want to play, place a bet for each one, and feel your heart race as 33 balls roll out. If you get really, really close to shouting Bingo – but fall just one ball short – you're in luck! You can buy up to 10 extra balls to replace that number. Phew! Try playing those rules in your traditional venue.
So how about that progressive jackpot? To score that baby, you've got to win a Bingo with the first 30 balls while playing on all 4 cards. That's it! Just one move to win jackpots at online Bingo. Our SlotsLV Casino Games are easy as pie.
BINGO CATARATAS
We're moving on to the next way to play Bingo online, but we're not out of the jungle just yet. Cataratas takes place in a serene jungle clearing with a calming waterfall and swaying green vegetation.
This game is a great way to play Bingo now because of its unique Bonus Wheel. To get to the wheel, you've got to land the bonus Bingo pattern on one of your cards. A colorful wheel will zoom into your peaceful forest hangout, letting you spin it for a prize.
You get to buy extra balls in this game, too, and there are 10 different Bingo patterns to win with.
BINGO GOAL
Get ready to win more jackpots at online Bingo. This soccer-themed game will have you shouting out in victory for more than just landing the penalty kick.
You can choose any number of cards from 1 through 4. Place a bet on each card, and 30 balls roll onto the field. Watch out, though, these aren't the balls you want to kick around. The numbers on the balls will tell you if you've won. If you get a Bingo within the first 30 balls, you get the progressive!
If you manage to score the Bonus combination, all eyes will be fixed on you as you attempt to outwit the goalie and land a penalty kick. If you do it, even more cash prizes are yours to manoeuvre out with.
BINGO RIBEIRINHOS
Let's head on down to South America, where the light-hearted game of Bingo takes place on the riverside with the native Ribeirinhos people.
The locals love to play Bingo online, and they want to help you get up to 11 winning combinations on your cards. In this game, you get 13 extra balls if you fall one short of a Bingo. That's how it is with river life… nice and easy.
One of those lucky Bingo combos floats you off to a Bonus round where you can pick up baskets of fish for coins. Best of all, this game is another way to win Jackpots at online Bingo. Land a Bingo in the first 30 balls, and the jackpot is yours!
GO-GO BINGO
Snap your fingers and sing it with me: Wake me up! Before you go-go… Despite the next line here, this game won't have you hanging on like a yo-yo. In fact, when you play Bingo online the Go-Go style, you've got 12 winning patterns and 30 numbers rolling out to keep you moving right along at a happy pace.
If you're interested in learning how to play online Bingo in a more traditional format, this game is perfect for you. Go-Go Bingo is refreshingly simple and clean, and it looks fantastic on mobile.
Your four cards are laid out over a colorful board, with the numbers glowing white. You've still got the extra balls, winning patterns, and prizes, but much less distraction. This one's all about the paydays!
PESCA BINGO
Ready for a dip? Choose your cards, place your bet, and hold your breath as 30 balls bubble to the surface. Pesca Bingo is your ticket to play Bingo online and under water (maybe without your mobile, on second thought).
What lies beneath the water are ways to win at Bingo jackpots like none other. In this game, you have 12 winning combinations that are possible. If you stake the maximum $10 for all 4 cards, you could win a $15,000 jackpot for matching the right pattern. Just don't forget to resurface for some air every once in a while.
TRIBO BINGO
It's time to play Bingo online among the palm trees, grass skirts, and beach huts.
In this tribal paradise, you start off with 4 cards of 15 numbers. Sounds pretty normal, right? Right… but with this game, you can use the Change Cards feature if you don't like what you've got! With a new set of numbers comes a whole new possibility.
After 31 balls roll out, see if you've got a winning pattern. If you're just one short, purchase up to 12 balls to drive that pattern home. If you land the Bonus pattern, get ready to sharpen up your shooting skills. You're about to shoot arrows at targets that are hiding cash prizes.
And that's how to play online Bingo, good folk. Local hall, watch out! We're here to play a tough game, and we're not afraid to win those online Bingo jackpots. Get your cards out, your numbers jotted in, and watch the prizes pile up at SlotsLV.