lucky Farm Bonanza slot game review
It's somewhere around 5:00 AM when nature sounds the alarm that signals the beginning of a new day. The rooster's eager cock-a-doodle-do, trusty as ever, rattles you from sleep.
You've got a long day of harvesting jackpots ahead, so you'd better leap out of bed, slip on your overalls, pour a fresh cup of coffee, and follow the sound of the rooster to the barn in the SlotsLV Lucky Farm Bonanza slot.
When you swing open the big red barn doors, free spins cluck from the pens, 100x multipliers moo from the stables, and a buy bonus feature jostles around to get your attention. There's a long list of to-dos on the farm today, but a seasoned farmer like yourself can get through it with ease… especially if you have a little luck on-side.
Farming may be hard work, and we won't tell you any differently in this Lucky Farm Bonanza online slot review, but the grind for prizes will leave you more than satisfied and hopefully tasting fresh success milked straight from the reels!
Should you spin it?
It takes a dedicated spinner to cultivate the multipliers and to shepherd the herds of jackpots on the Lucky Farm Bonanza slot at SlotsLV, but this is why it's a job worth spinning:
✓ Cheery and upbeat theme
✓ One of our slots with the best animation
✓ No paylines!
✓ Refilling symbols help you win more on a single spin
✓ Crazy-high multipliers up to 100x
✓ Buy Bonus feature allows you to jump ahead and harvest free spins
Then again, not every farmer feels happily exhausted after a hard day's work. This is why you may choose to ignore the rooster's call and instead snooze-on for a different game:
X Lower RTP
X No Hot Drop Jackpots. Although this slot doesn't have our famous jackpots with a must-drop trigger deadline, we have a full farm stand of games that do. You can win a jackpot every hour, so swing by and milk 'em for all their worth!
Game Review: Plow, Plant, Spin, And Reap What You Sow
As the first rays of sun kiss the rolling fields of your farm, you whistle a cheerful tune that floats through the crisp morning air.
With a grin as wide as the big blue sky, you release the cow's milk in rhythmic pings in the bucket, and she moos with delight! All the while, the hens from the chicken coop cluck over their freshly laid eggs, the pigs oink and wallow in the mud nearby, and rabbits romp through the fields without a care in the world; all chipper as the sun to be your top symbols in the game.
Hurry, now: today's the day of the harvest! Rows, crops, and stalks of golden corn, shiny orange bell peppers, ripe red tomatoes, polished green granny smith apples, and lush blueberries are begging to be plucked off their vines and branches on the grid.
These are the livestock and prize-stock you can expect to find grazing on the reels:
6 reels
5 rows
No paylines!
Minimum bet: $0.20
Maximum bet: $65.00
RTP: 94.04% overall, 94.03% through Buy Bonus, and 93.86% through Chance x2
Multipliers
Free spins
Buy Bonus
Chance x2
Every farmer needs a good farmhand to assist in the labor. For us, that would be crypto! SlotsLV is a crypto casino which means depositing with crypto makes your life easier with faster deposits and withdrawals. But we know you have a routine downpat, and depositing with crypto won't change a single thing inside your game, as your balance will still be displayed in USD!
Lucky Farm Bonanza Features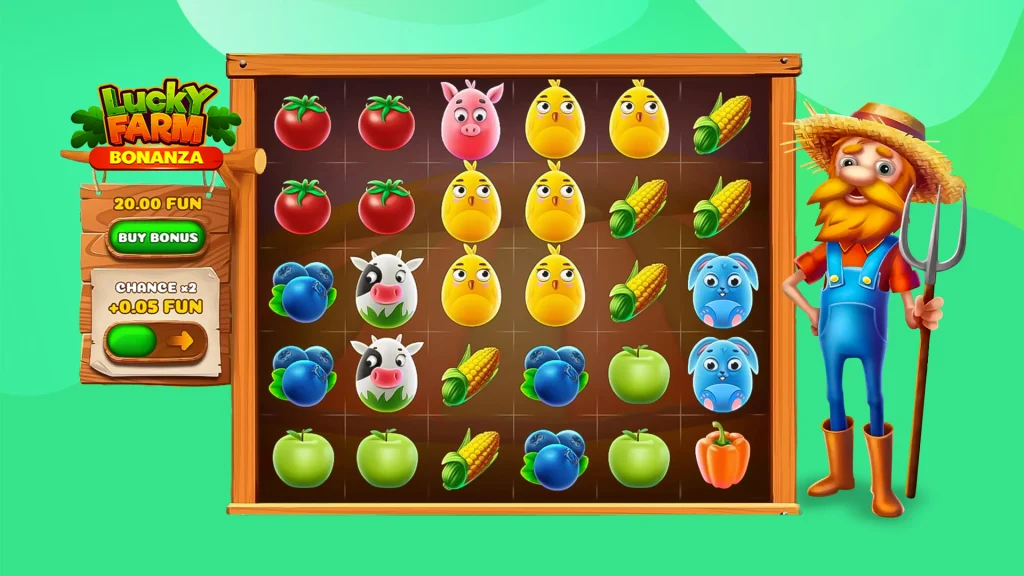 You wipe the sweat from your brow with the sleeve of your red flannel shirt and let out a satisfied sigh. Fertile features are sprouting up on all sides, and after today's harvest, the fruits of your labor will be plenty.
No Paylines
The pigs snort with dismay as the grid with no paylines hogs the limelight. On this farm, the hands that feed your balance are a minimum of eight matching symbols appearing anywhere on the grid.
Scatter
Memories flood your heart when you catch a glimpse of your big red barn scatter. You've seen everything inside these red wooden walls, and they should be as dull as your old plow blade. Yet, it still manages to sparkle like a ray of sunshine, particularly when at least four of them land and a round of free spins hatch from the barnyard floor.
Multiplier
After the animals are fed, milked, and sheared, it's time to tend to your multiplier symbol, the basket of vegetables. The bell peppers, tomatoes, eggplant, and pears are plump and firm and practically falling off their vines when they see you trudging through the rows with your empty basket.
Some of the harvests are minimal this year with multiplies of 2x, others are abundant with grand, juicy multipliers of 100x, and the rest are somewhere multiplying in between.
Free Spins
Next in the crop rotation, after you've weeded out the non-winning spins, is a hearty field of free spins. Hop on your tractor and follow the red barns in the distance – you'll need at least 4 to lead the way to 10 free spins, 5 to get 20, and 6 red barns to bump over the dirt road to 30 free spins.
Once you track them down, don't count your chickens before they hatch. Instead, get to work fertilizing the free spins with the multiplier symbol to randomly assign a multiplier value from 2x to 100x.
Buy Bonus
Some days on the farm (especially when the weather is gloomy), it feels like you're searching for a needle in a haystack to churn out your wins. The soil is always rich with opportunity when you play Lucky Farm Bonanza slot, so you won't have to search for long! When your hoe clanks against the Buy Bonus feature, you'll drive away on your tractor straight to the round of free spins.
Chance x2
If it happens to be a dry season, all is not lost! To irrigate your reels and allow for a more prosperous harvest, activate the Chance x2 feature to boost your chances of triggering the round of free spins.
If you love this game, you'll also love Bonanza Billion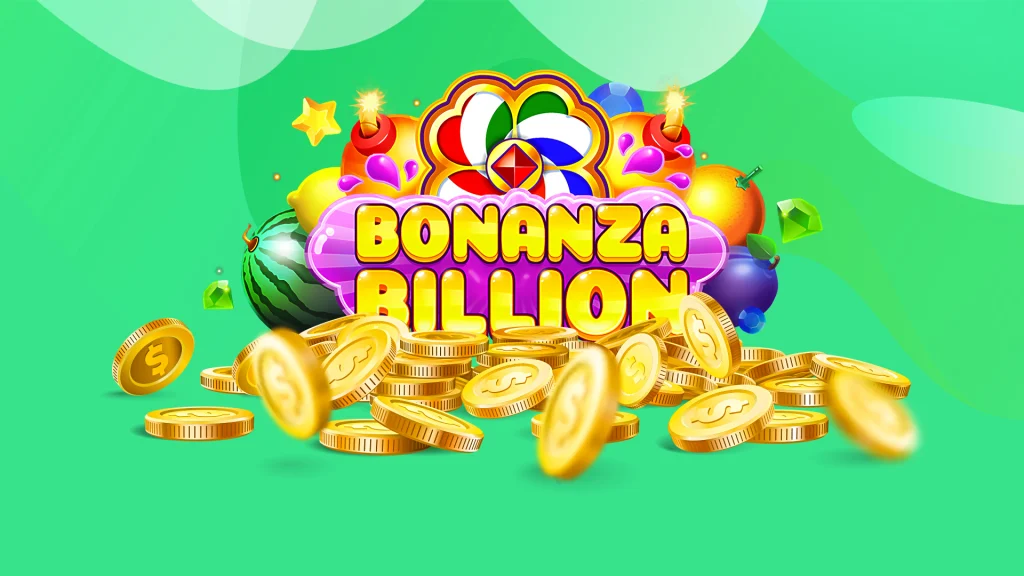 Your day of grit and toil on the soil is over for now, and you deserve an easy-going reward that's just as prosperous as the features in this Lucky Farm Bonanza slot review.
On this farm, there's a Bonanza Billion of nothing but oversized, ripe, and oh-so-juicy fruits, tumbling in succession over a lime-green meadow without any paylines restricting where they roll.
You simply can't help but leap inside the inviting pile of fruits, tasting each one as a pinwheel passes by and carries you to the round of free spins.
Then, a surprising burst of flavor takes over your mouth, and you realize an extra-plump fruit bomb exploded over your tongue, with multipliers up to 100x leaving a sweet taste behind.
The bonanza goes from the farm to the meadow all the way to your own group of friends! When you refer a friend to SlotsLV, we gift your account with a generous bonus, for yet another bonanza of cash!
Play Lucky Farm Bonanza Slot Game at SlotsLV Casino Now
It's a stellar day to hit the ground winning, wouldn't you say? The morning sun has burst through the evening's rain clouds, and an entire field, ripe with features, is ready to be harvested into your own balance. Make hay while the sun shines: You've nourished the reels as you played, grown the prizes high into the sky, and you've sown the finest wins of the season!