Spin and Spell Slot Game Review
It's just after sundown on a crisp autumn night when the air turns to a murky purple hue, a thick cloud rolls over a graveyard, and acts of sorcery stir just below the fingertip poised over the spin button.
From the moment you hit "go", magic alights; spells of free spins, expanding wilds, and a gamble round are cast onto the reels of the SlotsLV Spin and Spell slot.
Spooky creatures of the night lurk behind the reels, whipping up a mysterious brew. Spoiler: you'll soon discover that the witchy potions are far from dangerous. In fact, they're known to spark life into your game as the twinkling remnants of their magical spells settle into the symbols that you spin.
The whisperings of witches right here, in this Spin and Spell online slot review, have already begun. Take one tentative step forward… and follow them into the night.
Should you spin it?
The Spin and Spell slot is one of our favorite Halloween slots at any time of year, and this is why:
✓ Spooky cartoon theme (but not too scary!)
✓ An array of unique and interesting features
✓ Interactive bonus round
✓ Grade-A graphics and animations
✓ Humongous max bet
Some, however, would rather keep their screams for another game, for these reasons:
X Average RTP (95.8%)
X Only 20 paylines
Game Review: A Spell Cast over the Reels
Huddled together in the shadowy graveyard of symbols, a trio of witches utter mysterious incantations. From your crouched position a few plots away, your ear catches wind of bats, black cats, purple witch hats, and evil pumpkins: all top symbols in the game.
Four potions with icky contents materialize out of thin air, and you wonder nervously where those eyeballs, skulls, bones – and mushrooms! – came from. Alas, you brave it and hit 'spin', possibly the first step towards becoming out next SlotsLV big winner!
This is what else you'll find in the graveyard when you play Spin and Spell slot at SlotsLV:
5 reels
3 rows
20 paylines
Minimum bet: $0.20
Maximum bet: $1,000
Retriggerable free spins
Expanding Wild
Gamble feature
To start playing this and other online slots, you'll want to consider depositing crypto. SlotsLV is the best Bitcoin casino online, offering easier deposits, bigger bonuses, and we'll even display your game balance in USD, just so your experience is seamless.
Spin and Spell Features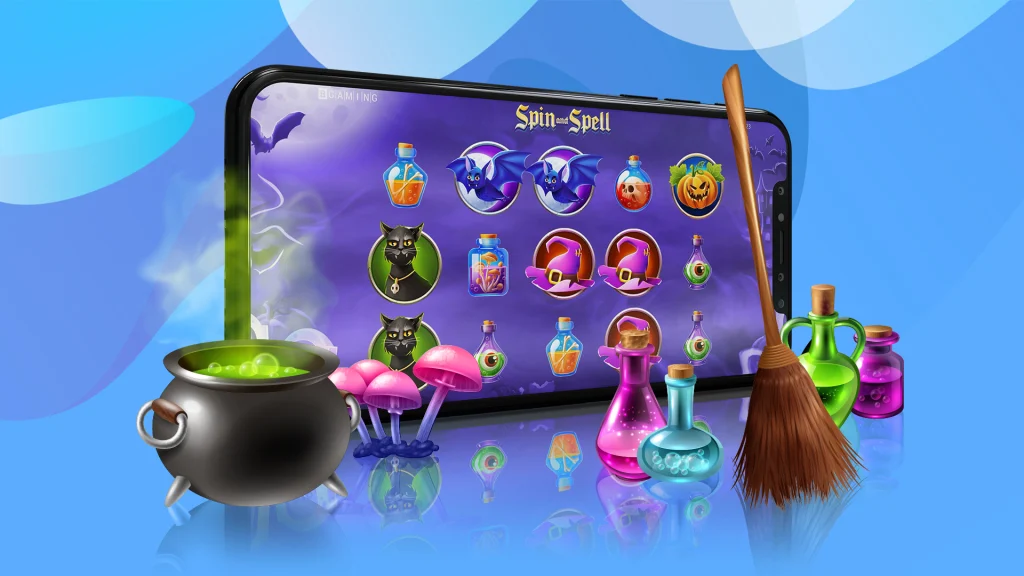 With the right spins in this most scary of SlotsLV online slots – a little hocus and a lot of pocus – these spellbinding features will allow your paydays to emerge dramatically from the smoke.
Wild
An ageless vampire is equal parts charming and captivating. With a swoosh of his cape, he can transform any regular symbol into a Wild.
Scatter
As the witches fly through the reels making potions and casting spells, their creepy castle quarters loom threateningly in the background.
If you can gather 3, 4, or 5 castle scatters, then abracadabra! A round of slots free spins lights up from the glowing windows and invites you to follow them inside.
Free Spins
When the spell of free spins takes over your game, 10 freebies flutter and fly through the reels awash with the glow of possibility, always leaving room for more free spins to be re-triggered.
Expanding Wild
The vampire returns within the round of free spins, but now he expands to give you an eyeful of his entire pale, nighttime glory. That's no smoke and mirrors – he really is expanding three-rows high to boost your chances to win.
Bonus Game
After any winning spin, you are given the opportunity to explore the midnight graveyard with its Gamble Feature. To enter the secret room where potions brew, select the option with the two cards!
A large cauldron brimming with hot, bubbling, lime-green dominates the room, with eerily familiar round, slimy objects bobbing on the top. Are those… eyeballs?!!
And now you must take a chance! Choose one of the colored eyeballs. The remaining eyes in the cauldron will burst open and simmer into the green liquid. If your chosen eye remains intact, you'll double your prize.
---
If you were searching the features for jackpots, consider checking out our Hot Drop Jackpots. A jackpot must drop every hour of every day!
---
If you love Spin and Spell, you'll also love Potion Spells!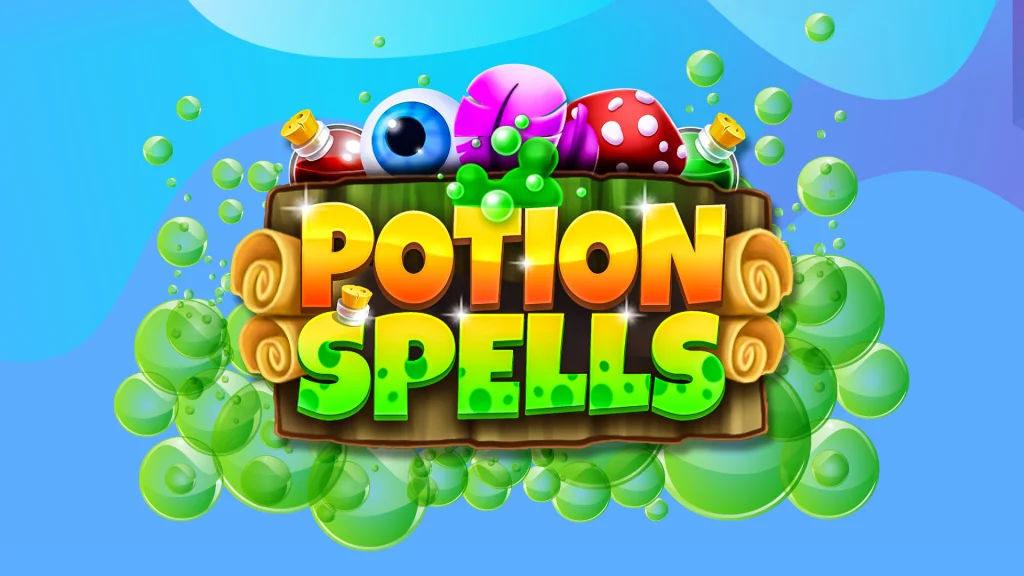 When the magic of this Spin and Spell slot review surrounds you, you may not be ready to let the prize-spells go. Now that you've got a knack for it, there's another witch residing in a 7×7 cabin deep within the forest, and she needs your help whipping up another cauldron of Potion Spells.
With frogs, feathers, mushrooms, eyeballs, and big symbols on hand, you must gather up the creepiest ingredients for the most effective potion. As the right combinations come together, vials fill up over a cauldron, and they dump into a gooey green concoction. Then, the head witch casts a spell on your game with one of four unique game features.
If you know someone who enjoys slots online at Halloween – or any time of the year! – have them come along to SlotsLV, and we'll whip up a bonus potion for you as a referral bonus.
Play Spin and Spell Slot Game at SlotsLV Casino Now
Through every spin inside Spin and Spell at SlotsLV Casino, the screams, cackles, and whispers of those creatures echo out… but when you listen more carefully on that dark autumn night, you'll make out the murmured incantations of free spins, expanding Wilds, and gamble features for double your wins. And the magical words, spoken with each spin could spell big bucks for players…