5 UNIQUE TABLE GAMES TO PLAY AT SLOTSLV CASINO
We all know (and love, of course!) the standard SlotsLV table games like Blackjack, Roulette, and Craps. But sometimes when you're on a roll with the good old fashioned classics, you forget to look beyond the table and into the wider SlotsLV games realm.
The big, open expanse of the "Table Games" tab at SlotsLV offers some truly distinct games that you may not have tried before. With fun themes, unique prizes, and extraordinary payouts, it's just about certain that you'll discover a fresh SlotsLV game to love like a newborn pup.
Prepare to soar beyond the Roulette wheel and the Blackjack table. We're going deep into the territory of the unique SlotsLV table games. Are you wearing your winning shoes?
Based on an old Indian card game, SlotsLV Andar Bahar is a game of two sides. What you're doing is guessing the correct side a certain card will land on. If you guess right, you win. That's the short version, but you'd probably like some more detail, right? Sure! Settle in.
To start off, you drag your chips to the side you believe will show the correct card. One card gets dealt to the middle, the cards on both sides are alternately dealt in succession. As soon as a card that matches the middle appears, the game is finished. You want that card to be on the side you bet on.
The real reason players in-the-know love playing SlotsLV Andar Bahar is for the side bets. On top of winning if your side is correct, you can also bet on things like the suit of the middle card, the color, value, above/below, or the number of cards being dealt until a winner emerges.
Basically, SlotsLV Andar Bahar is pacey, simple, and has some of the most varied payouts you'll find. Go for gold.
These two games also hail from India. Fancy that! They're based on a similar idea to each other, but one of them is slightly more involved.
Teen Patti Rapid is probably the easiest SlotsLV table game you could ever play. If you're into a relaxed card game experience where you don't have to do any strategizing at all, you're going to thrive here. All you have to do is place a bet and get 3 cards face up. If you get any of the winning hands (a pair or better), you win a prize up to 50x your bet! (That's for a straight flush).
Teen Patti Pro may not technically be as easy, but be assured that it's still not difficult. In fact, it works similarly to Baccarat in that you have to bet on either the player or dealer to win, or a split to occur.
Three face-up cards are dealt to both you and the dealer. Whichever hand has the highest ranking wins the game… but you win as long as that's the person you bet on.
For side bets, you can predict the exact poker hand either person will get. It goes without saying that a straight flush side bet is the best, and it pays out 440:1!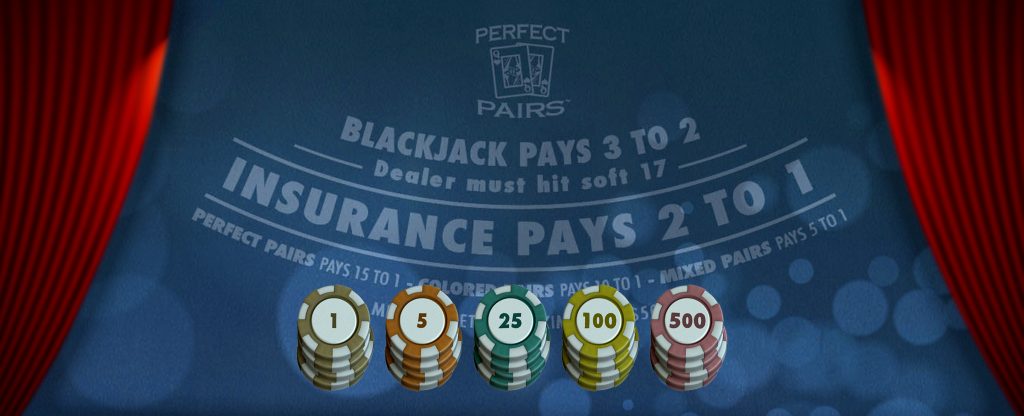 If you love Blackjack and you think you're ready for an exciting SlotsLV table games twist, then Perfect Pairs is here to gear you up and strap you in!
The game is played just like Blackjack where you try to get as close to 21 as possible without going over, but now you get the option of an extra side bet, called the Perfect Pairs bonus. To take advantage of the bet, you have to opt into the circle at the beginning before getting your first cards dealt.
If you happen to get any pair at all within your first two cards (like 8-8, 6-6, the suit can be whatever), then you win the side bet. If the pair of cards are the same color or suit, you get an even bigger payout. All of that is regardless of whether or not you beat the dealer, as it's a totally separate party.
Don't untwist yourself just yet. Blackjack has some more tricks up its sleeve. When you play Zappit Blackjack at SlotsLV, you get the chance to control your cards and an optimal outcome even more.
If you're familiar with Blackjack, then you know the totals of 15, 16, and 17 are the toughest on which to decide your best move, as they could swing you either too far under or way over. With Zappit Blackjack, you can zap those cards on out of there and replace them with new ones. No more stressing over difficult cards!
As for the payouts, you still get 3:2 if you get a natural Blackjack. If, however, that natural occurs after you'd zapped some cards before it, you get the regular payout of 1:1. Either way, this electrifying game will keep you on high alert.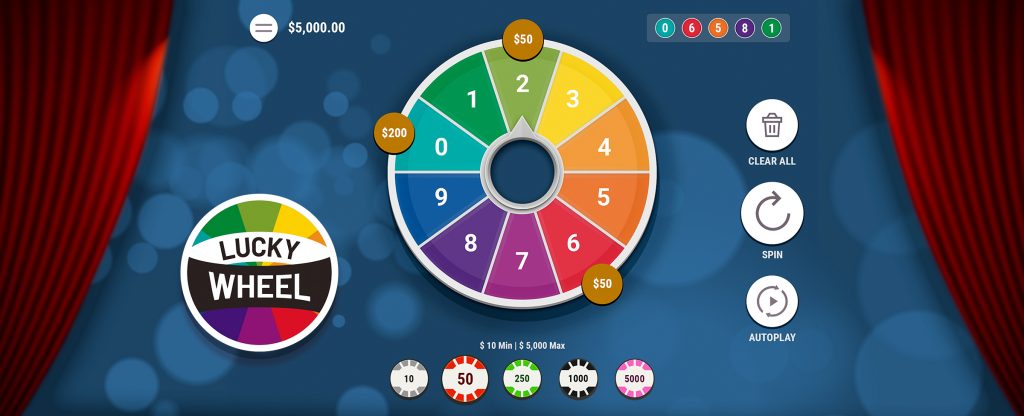 Keep your sunglasses handy, because the vivacious spinning colors of this SlotLV table game are bound to mesmerize you if you're not prepared. Blinded by the light!
Just kidding about the blinding thing, of course. Unless, of course, we're talking about blinding payouts. Then it's something real.
Lucky Wheel is a game that's loosely based on Roulette. Where Roulette has a bewildering number of betting options to keep track of, Lucky Wheel has only 10 (numbers 0-9)… but the game doesn't stop there.
The real fun is the pointer in the middle. This has a multiplier that flies along with the spinning wheel (1x-4x), and your wins are multiplied by whichever number it lands on. If it lands on your winning number and a 4x multiplier, you get paid 36:1, which is even higher than Roulette's best payout of 35:1 Lucky you!
There are so many more SlotsLV table games out there to take advantage of. Simple games like Teen Patti Rapid, new twists on old classics, and games with ample side bets to lift up those payouts. Have we given you five excellent reasons to start playing something new?