Elvis Frog in Vegas Slot Game Review
It's nighttime in a lit-up Las Vegas, and you stroll past a venue with a line snaking out the door. Not unusual in this town, but a familiar guitar riff floats to your ears with a knee-weakening swoon, and you think… No! Can it be? You take a step closer and confirm your suspicions with one lyric that seals the deal: lay off of my blue suede shoes.
The cat is out of the bag: Elvis is back in the building, and once more he's taking over Las Vegas!
Put your dancing shoes on and follow us to the SlotsLV Elvis Frog in Vegas slot. You'll witness the comeback of Elvis in a breathtaking performance. You might even catch a ribbit or two, since this Elvis impersonator is… gasp – a frog!
Prepare to give a standing ovation. Elvis Frog will be singing, dancing, and delivering coin re-spins, free spins, giant symbols, tutti-frutti jackpots, and a gamble round, all before your night out in Vegas is done. Discover all the details in our SlotsLV Elvis Frog in Vegas online slot review below.
Should you spin it?
Feel the beat, and turn up the heat. This is why you'll want a little less conversation, a little more action, please to play Elvis Frog in Vegas slot at SlotsLV:
✓   High max win
✓   Decent RTP
✓   Tons of features
✓   Fixed Jackpots
✓   Imaginative theme and storyline
✓   Fantastic graphics
✓   Excellent soundtrack
✓   Available with a bonus if you refer a friend. Pro slots tip! If you get a friend to join SlotsLV, we can sweeten your play balance with a bonus. That means free spins!
Some Elvis purists would say an impersonator isn't worth the trip. This is why they may want to flip the radio to another station:
X  A preference for a classic, no-frills game
X  No progressive jackpot
Game Overview: Viva Las Elvis
This is the way the best hot slots should be: alive with parties, music, friends, and a list of features that will leave you just as shocked and charmed as Elvis himself as he seemingly comes back to life. Though, a little shorter, perhaps.
In the front row of the show (it's standing room only, folks), Elvis' lovely froggy lady is flashing her eyelashes at him. When Elvis is done strumming his blue guitar and crooning "Viva Las Vegas, with your neon flashing and your one-armed bandits crashin'" into his purple ribbon mic, he and his gal will hop into their pink convertible and ride off into the night.
And you get to witness it all, since these are each the highest-paying symbols in the online slot!
Here's what's up in lights above the venue doors:
5 reels
3 rows
25 paylines
RTP: 96%
Minimum bet: $0.25
Maximum bet: $200
Coin re-spins
Free spins
Giant symbol
3 fixed jackpots
Max win: 2,500x your bet
Elvis Frog in Vegas Features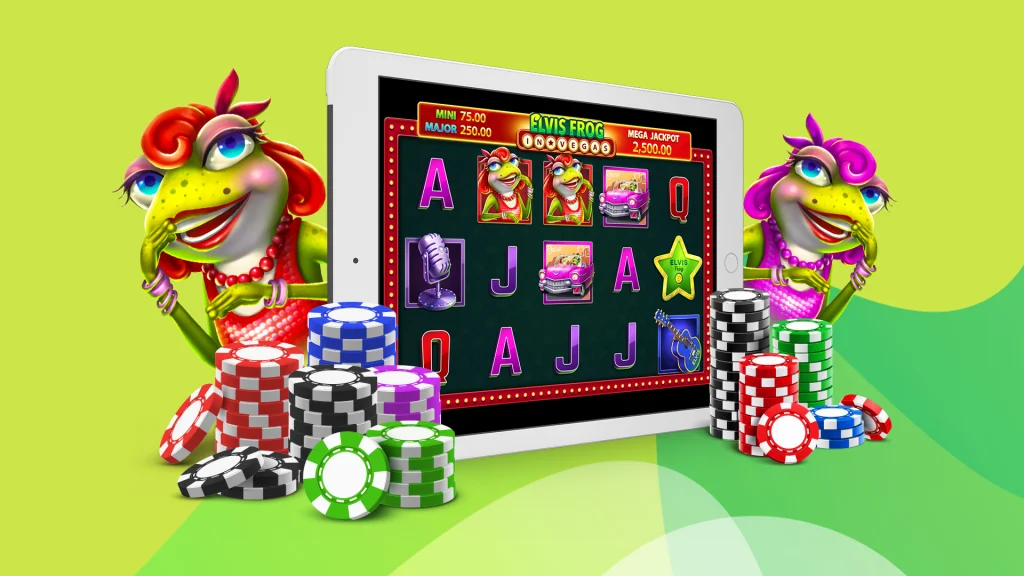 If there's one thing we know from this Elvis Frog in Vegas slot review, it's that these show-stopping features can keep his fans enraptured all night long.
Wild
You'll know him by the green skin, pompadour, shades, and popped collar shirt: that's Elvis Frog, and he's dancing on the reel stage as your Wild in this cartoon slot.
Coin Re-spin + Tutti-Frutti Jackpot
Elvis' fans are known for being passionate. They'll throw all sorts of gifts on the stage to get his attention. If you spot someone throwing out a few gold coins, see if you can catch them yourself! You'll need six to trigger the coin re-spin feature. Here you collect as many coins as you can and tally up their values at the end for your ultimate slots multiplier prize.
You might land the designated coins and spin on your heels all the way to the Mini or Major Tutti-Frutti Jackpots, or better yet, fill all 15 spaces on the grid for the Mega Jackpot.
Free Spins
After the Elvis show, the city elects to hang a special star plaque in Elvis Frog's honor on the wall, and that is your scatter symbol. If you get three scatters on reels 1, 3, and 5, five free spins launch along with giant symbols via Blazing Reels. The coin re-spin feature can still be triggered, and a giant star symbol can re-trigger 3 more slots free spins.
Blazing Reels
As with all things Elvis – and not just his style and talent – everything is done extra big and extra fabulous. That's why, in the free spins round, the middle 3 reels transform into one massive reel spinning with giant symbols. Use that to reap the rewards and go, cat, go!
Gamble Round
With the help of Elvis' dulcet croon massaging your ears, you may want to see what else the laughter-tinged Vegas night has to offer. Opt into the gamble feature using the button after any win in the main game, and find yourself transported on the Mystery Train to somewhere fresh. You'll have to guess the color or the suit of a face-down playing card for either double or quadruple the amount of your latest win.
Elvis Frog in Vegas at SlotsLV Casino is ablaze with slots features fit for a king – The King – and has the Vegas-sized wins to match. The best way to take advantage of them is through Bitcoin gambling. Doing your transactions with crypto means they're faster, more convenient, and far more private and secure. Plus, nothing changes while you're actually inside the game!
If you love Elvis Frog in Vegas, you'll also love Aloha King Elvis!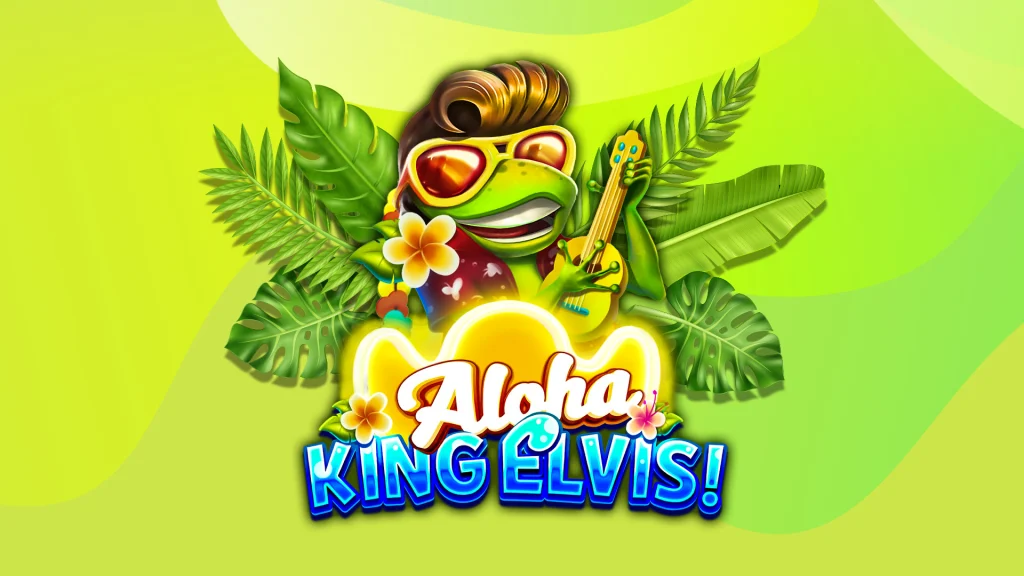 There's never enough of Frog Elvis! He's back in Aloha King Elvis and will have you dancing to the tune of coin re-spins, free spins, giant symbols, a bonus buy, and a chance 2.5x feature. That is, all between sips of your cold drink in a tiki cup and sly glances over your big, yellow, '70s shades. They do suit you awfully well.
If you've still got some groove left over, do the "Elvis Leg" with a bend, a shake, and a rhythmic swivel of your hips all the way to a game with Hot Drop Jackpots. Once you're there, you'll be spinning for three jackpots that are hot to drop hourly, daily, and before reaching a set amount.
Play Elvis Frog in Vegas Slot Game at SlotsLV Casino Now
Love me tender, love me sweet, never let me go… is exactly what you'll be singing to this one of our SlotsLV online slots when the spins are done and the jackpots are won. Take a night off to dance your heart out, both for the music of an icon, but also for the chance to win three fixed jackpots and multiple features that are sure to set your soul on fire!