10 Things Vegas Is Famous For
August 8, 2023.
What happens in Vegas, of course, stays in Vegas. However, that doesn't mean a little extra neon light can't be shined on the famous attractions that make this desert city a destination like no other in the world!
If you've asked yourself, "what is Las Vegas most famous for?", or "what can I do in Las Vegas"', then look no farther. There's so much more than just the casinos and resorts. When you finally plan that wild week away, make sure it's going to give you everything it's got!
While there are as many draw cards as there are days in the year, these are the top famed things to see and things to do in Las Vegas guaranteed to take your experience to the next level. And of course, each of the ten offers something entirely fresh to keep visitors enthralled around the clock!
1. Fremont Street
Once a lonely desert, Fremont Street was built as the very first paved road in Sin City in 1925. Nowadays, the expanse of pavement bathed in flashing neon lights has become a huge spectacle – one visible even from space!
On Fremont, visitors can wander through time under a technicolor canopy, seeing firsthand a mixture of retro Vegas charm, mixed with a futuristic glow that's so common on The Strip.
You may even stop into one of the many luxurious casinos lining the street and find yourself consorting among a table-full of million-dollar winners!
2. World-Class Shows
There isn't a single night where you can't experience the over-the-top production of a top-tier show that Vegas is famous for. If you're in town, you'll want to put one of these super entertaining performances on your Las Vegas to-do list, stat!
When the curtains rise, visitors can push the boundaries of reality with a mind-bending magic show, laugh all night long with the best comedians around, get lost in an awe-inspiring Cirque du Soleil performance, or free their souls in a concert that's larger than life. Weekends with Adele has been one of the most popular Vegas residencies of 2023!
3. The Sphere
This behemoth $2.3 billion performance arena situated near The Venetian Resort will seat 18,600 people to view the world's highest-resolution (16K) LED screen, covering an area larger than three football fields!
Starting in September of 2023, you'll be able to watch music, films, and sporting events in The Sphere – with U2 set to be the first performers. Even if you don't go inside, it's worth it to walk by the outside and take in the site of the largest sphere in the world, which fully lights up in mystical displays of patterned light every night. It's a show all on its own!
4. Outdoor Adventures
Just a stone's throw from the city, you can experience Vegas-like thrills in a different way within the great outdoors.
Bump up your heart rate with hiking, climbing, kayaking, fishing, ziplining, ATVs and horseback riding. Drive (or take a tour) a little farther out and you can find yourself staring in awe at one of the industrial wonders of the world – the Hoover Dam. Tour the Power Plant, view the Colorado River from the inspection tunnels, and get an incredible backdrop for an unforgettable vacay snap!
5. Getting Hitched!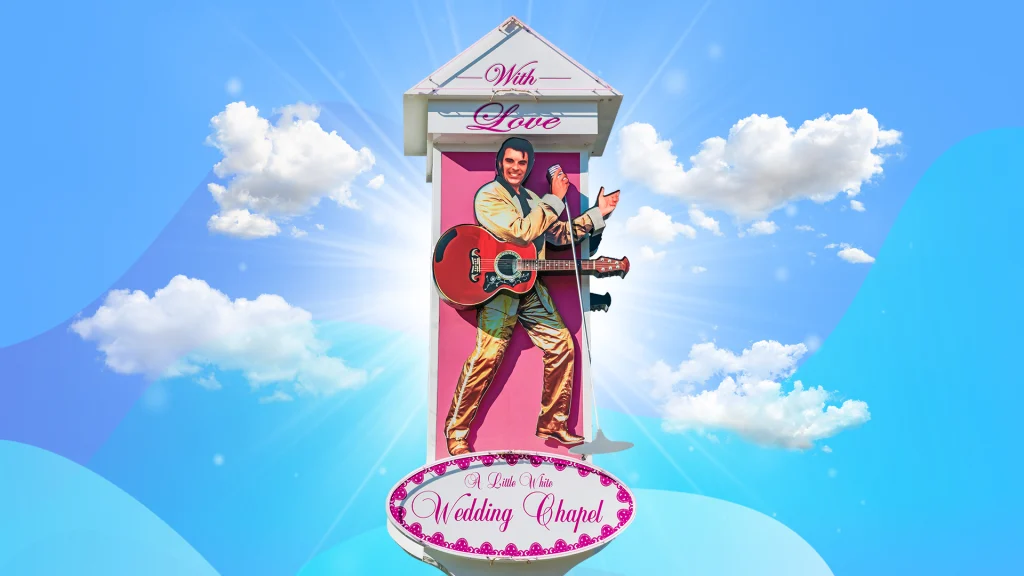 Of course, no Vegas adventure is complete without a little romance to spice things up.
In a burst of spontaneity, you just might find yourself in a wedding chapel saying "I do" with an Elvis impersonator sealing the deal. But it's not only about Elvis. You can have any kind of theme your heart desires, from the Chapel of Love to the High Roller observation wheel! If you've already got a ring on it, or now's not the time for vows, take your romance to the skies with a helicopter night flight and get a whole new perspective of the neon city.
6. Las Vegas Motor Speedway
If you want to experience time slowing down and your heart speeding up, then grab a prime seat at the Las Vegas Motor Speedway for some premier motorsports and racing competitions.
There are multiple tracks to rev up your interest, including a 1.5 mile tri-oval track on which NASCAR Cup series races have smoked the asphalt. Regular drag races also tear down the stretches of dirt track for off-road racing, leaving spectators more than enough fuel for their adrenaline.
7. Celebrity Chef Restaurants
How about a helping of angry insults with that Beef Wellington, sir or madam? While you may not get the full Gordon Ramsay experience, you certainly can taste his expertly prepared cuisine at the Hell's Kitchen restaurant, inspired by the famous show! This is just one of several Ramsay restaurants in Vegas.
You can also indulge in many other celebrity chef restaurants in Las Vegas, like Food Network star Giada De Laurentiis' self-named Giada, MasterChef guest Alan Ducasse's Rivea, and Guy Fieri's Vegas Kitchen by the colorful and eccentric TV host.
8. Roller Coasters
What is Las Vegas most known for? Being a playground for adults, of course!
That's why no trip to Vegas is complete without being strapped into the seat of a rollercoaster and zipped all around and upside-down in a pretzel-like configuration of scream-inducing drops!
You can feel your heart in your throat at El Loco or brace yourself in the double-loop of the Canyon Blaster at the Circus Circus Adventuredome indoor theme park, and that's just a small taste of the coaster thrills that Vegas has to offer.
9. Neon Museum
If there's one visual you get when you imagine the Las Vegas cityscape, it's surely the sprawl of flashy, colorful lights. But few noticed their evolution in real time: now, most of them are no longer neon, but rather LED. The more you know!
The neon lights of Vegas have long been a quintessential part of the experience. But we needn't mourn for the glory of yesteryear just yet! Visitors with a sparkle in their eye can still appreciate those classic signs that built the city's reputation… inside the Neon Museum. Old signs date as far back as 1940 – before the Strip even existed!
10. The Strip
We can't talk about the iconic landmarks of Vegas without mentioning the Strip! The famous boulevard stretches approximately 4.2 miles through the heart of Las Vegas. It's lined with many of the most extravagant resorts and world-class casinos and entertainment venues.
The Strip is main street and the heart of the city, primarily because it embodies the essence of Las Vegas: opulence and excess, and of course, more light displays than a clear, starry night in the Nevada desert.
Have Fun at SlotsLV
As exciting as Las Vegas is, you don't have to get away to have some fun! Simply visit SlotsLV Casino to discover hundreds of online slots boasting thrilling, imaginative and innovative themes – and a whole lot with Hot Drop Jackpots! The Vegas-sized prizes are stacking up and you can have the full experience at your fingertips from wherever you are, without the constant hum of a 24-hour city. The clock ticks for you now!