THE ORIGINS OF TEEN PATTI AND HOW TO PLAY IT
For those who like a good, light-hearted, punchy, and super fun game that can cash out deadly serious dollars, Hold tight – and let's have a blast at SlotsLV with Teen Patti!
This casual Indian card game is beloved all throughout south Asia, but in its real home, you can often find groups of rambunctious Indians playing Teen Patti during festive holidays, like the fireworks-fueled Diwali. Behind closed curtains, it's a staple of the family kitchen table, with two or three generations competing for a few rupees with sparkly eyes and easy laughter.
The game most likely became an intercontinental cultural pastime when Europeans began to colonize India, taking with them some long-standing gambling habits that needed regular tending to. The earlier, European version of the game was known as Three Card Brag, but once the occupied Indian populations embraced it on their own with the name Teen Patti, meaning "Three Cards", there was no doubting who really held the cards.
Nowadays, while the rest of the world has caught on to its simple, short-burst thrills that often result in boosts to your bankroll Teen Patti hangs on tightly to its social roots. You might think of SlotsLV Teen Patti as a simplified version of three-card poker, since the 3-card hands are ranked the same and the winner is determined by the best 3-card hand.
When it comes to SlotsLV table games, we think you'll agree that Teen Patti holds its own hand for uniqueness, convenience, and prize potential. Now, it's high time we take a leisurely stroll into the game's real homeland and India's favorite 3-card pastime. Let's find out how to use your SlotsLV promotions to make every day a festive day, with SlotsLV Teen Patti.
HOW TO PLAY TEEN PATTI
The main objective of the SlotsLV vs Teen Patti is to get a better 3-card hand than your opponent. In a real-world setting you would play in a group of 3-7 fellow betting pals, but as a SlotsLV table game online, you only need to worry about one: the computer processor,or CPU. And that is one Star Wars character that we insist must stick around!
Moving along to more practicalities, here are two versions of SlotsLV Teen Patti: rapid and pro. They each follow the same hand rankings, which you'll recognize from Tri Card Poker. Here they are in order from best to not-so-best:
Straight Flush: 3 consecutive cards that all have the same suit (ex: A-2-3)
3 of a Kind: 3 cards of the same rank, and the suit doesn't matter (ex: 4-4-4, Q-Q-Q)
Straight: 3 consecutive cards that don't have the same suit (ex: 8d-9s-10h)
Flush: 3 cards that all have the same suit (ex: 4h-10h-Qh)
Pair: 2 out of 3 cards with the same rank.
It's worth mentioning right now that you can use most SlotsLV bonuses to enhance your bankroll and play either version of SlotsLV Teen Patti. As you're about to see, winning in Teen Patti isn't too hard at all, so those bonuses are an absolute steal!
Let's see how to play each version.
TEEN PATTI PRO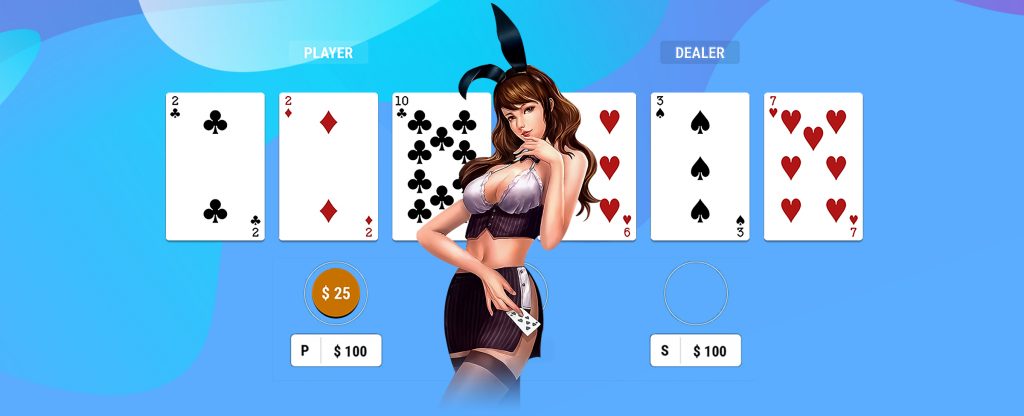 We'll start with this one because of the two Teen Patti versions, it's the most "involved", although don't expect a complex game by any means. The idea behind Teen Patti Pro is to bet on who will get the best 3-card hand: the Player, the Dealer, or a Split (tie). After placing your betting chips on the option of your choice, hit "Deal".
Three cards are dealt to each person at the same time, face up. Whoever has the best three card poker hand (as described above) wins the round. If you had bet on that person, you would also win the round.
That means if you as the "Player" won the round, but you didn't bet on the Player, you wouldn't win the bet. On the other hand, if you as the "Player" lost the round but you had bet on the Dealer to win, you would win your bet! If that sounds familiar, it's because the betting is done just like Baccarat – and recognizing it proves that you're sharp as a tack, and more than ready to triumph with Teen Patti!
That's the base game of Teen Patti Pro, but there's something else that makes it even better. On top of winning the round for betting on the right person, you can also win bigger payouts if you make a side bet on the exact hand.
So let's say you bet on the Dealer to win, and you predict they'll get a straight. If the Dealer gets a straight, regardless of whether or not the Dealer actually won the round, you would still get paid 30:1. Better still is if the Dealer got a Straight and they won the round, in which case you'd get 1.9:1 for the regular win, plus 30:1 for the side Straight bet.
TEEN PATTI RAPID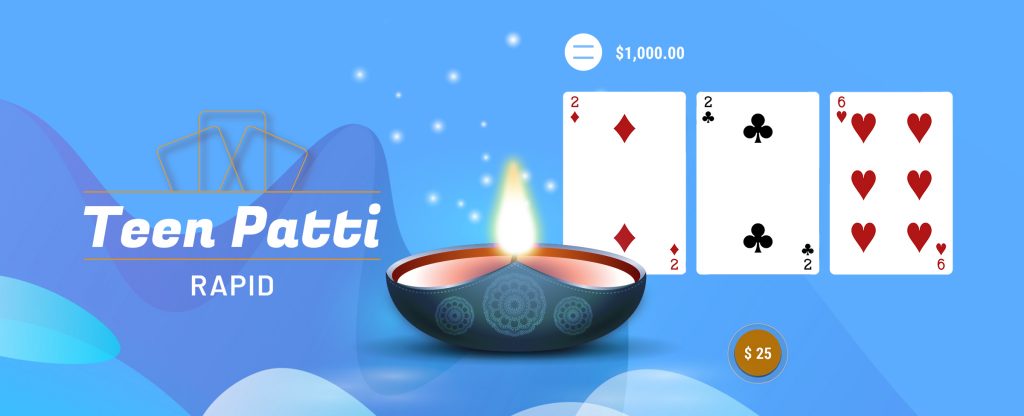 This version hails as one of the absolute easiest and care-free games in all of the SlotsLV table games repertoire. In fact, explaining will only take a second, and hardly any space at all!
With Teen Patti Rapid, say so long to the Dealer, because you won't be needing him. This game is all about you and three cards. Place your betting chips in the center and hit "Deal". If you get anything from a pair to a straight flush, you win the round, so nicely done!
As you could imagine, winning with a pair offers the lowest payout at a humble 2:1; up the rung, winning with a Straight Flush is the highest at 50:1; but the greatest joy of all is the big goofy grin you'll get when you pay for your lunch out after one quick round of cards while waiting for your order. They really weren't kidding when they named it rapid!
So how do you know if Teen Patti SlotsLV is for you? If you love to play table games but you don't have a ton of risk or a ton of strategy, Teen Patti is right up your alley. The games are incredibly simple, and the payouts can be glorious with just the right bet. Don't forget to collect your SlotsLV bonuses and promotions, then open up Teen Patti and try your luck at India's favorite festive card game!