FOUR REASONS TO PLAY CARIBBEAN STUD POKER
If you've ever evaded traditional five-card poker because a group of strangers are already looking very settled and confident in their play, you're certainly not alone. The game can be intimidating with the serious competition, raising, calling, and bluffing. That's especially true if you're just getting started. Learning on the job means learning from your mistakes.
Caribbean Stud poker online, come on down! You were born for this moment. Caribbean Stud is an excellent way to get your foot in the poker door without the added pressure of opponents, or even multiple big decisions. In fact, casinos invented it back in the 1980s to entice more poker players to join the table to give it a shot.
The Stud even offers one of the best SlotsLV jackpots of all the SlotsLV table games we have for your gaming pleasure.
In fact, we'll give you 4 solid reasons to give Caribbean Stud poker online a shot. You just may find the compelling reason that speaks to you and inspires you to pull up your own chair at the table.
1. CASINO GAME THAT'S EASY TO LEARN & PLAY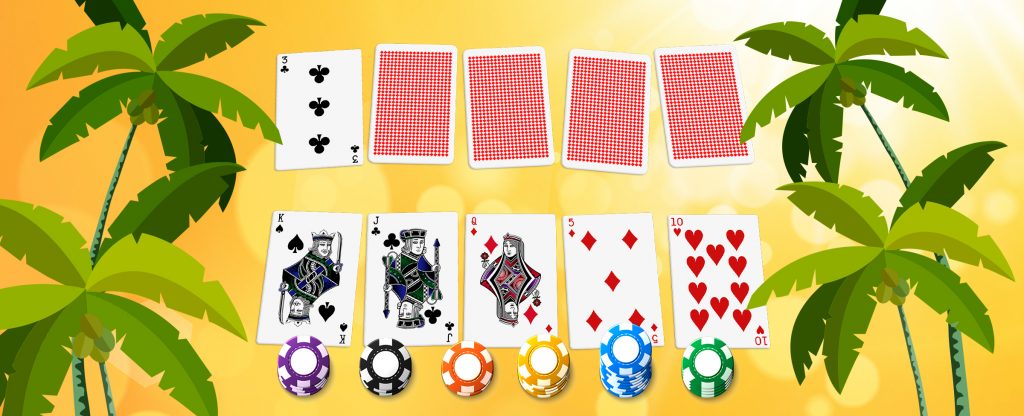 Caribbean Stud poker online is incredibly easy to learn, and most importantly, easy to play. The basic idea is to get a better five-card poker hand than the dealer, and you only have one decision to make in order to get there.
To kick things off, you need to make an ante bet by selecting your chips. You'll get five cards face up, and the dealer will get five cards but only one is face up. Based on your own five cards and the dealer's one face-up card, you can choose to both raise (double your ante) and face the dealer, or fold your hand and forfeit your bet.
If you did decide to raise, the dealer has to qualify with an ace/king or better. If they do qualify and your hand was better, you get paid on your ante (1:1) and your raise. The amount you're paid depends on the quality of your hand.
A Royal Flush is the highest and pays out a whopping 200:1, but all the other standard hands payout, too, including simpler ones like a High Card or One Pair hand which pay out at 1:1.
So what happens if the dealer didn't qualify? Well, that's pretty good news for you. That means you still get paid 1:1 on your ante, and your raise is returned as a push. Not the best outcome, but not a loss, either.
2. A GAME THAT OFFERS A NICE JACKPOT!
So that's how to play the game itself. But what you really want to know is what makes Caribbean Stud poker online one of the best jackpot table games.
It's all about the progressive! A progressive jackpot means the ultimate prize grows with every wager in the game, made by the thousands of players participating in their own locations. In most poker-based games, you have to score a Royal Flush to win the whole thing. A Straight Flush pays 10% of the jackpot, Four of a Kind pays $500, a Full House pays $100, and a Flush pays $75.
When you play Caribbean Stud poker at SlotsLV for the progressive, you don't even need to beat the dealer to get it. That's right – you can win the progressive (or a portion of it) simply by having the correct poker hand within your own cards. Dealer be damned, that jackpot is yours!
Just make sure you do one very important thing. At the beginning of the game, click on the circle before you hit "deal". This will opt you in for the progressive for just a $1. If you don't click the circle before hitting "deal," you won't be eligible for the win. You heard it here!
3. CASINO GAME WITH GREAT PAYOUTS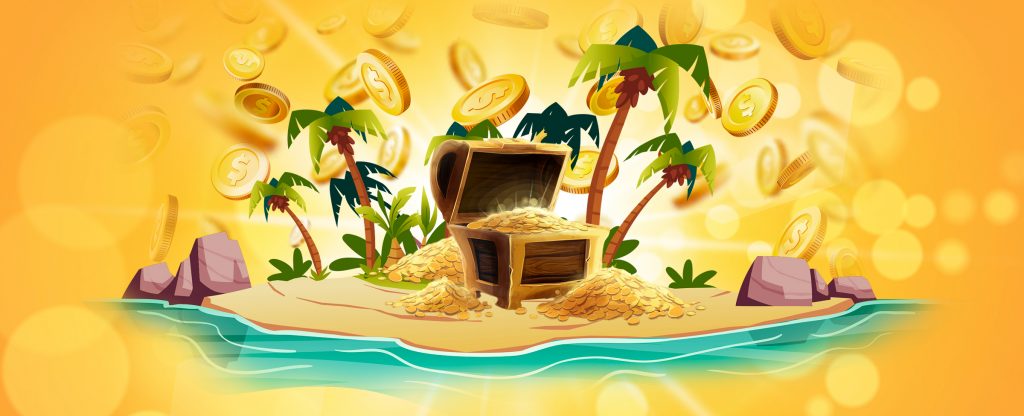 Of course we all appreciate a game which favors the player for excellent payouts. Why else would we be here? Well, the entertainment, of course. But this is precisely why we love Caribbean Stud poker online.
Not only can you win the progressive jackpot by your own five cards alone, you can also win up to 200:1 for beating the dealer with a Royal Flush. Now, it's no secret that isn't the most likely scenario. What will probably happen is you'll get plenty of other great hands like a Straight Flush (50:1), Four of a Kind (40:1), Full House (7:1), Flush (5:1), Straight (4:1), or even one of the more achievable hands like 3 of a Kind (3:1), Two Pair (2:1), One Pair (1:1), or High Card (1:1).
That's just in the base game, but don't forget you get even more if you opted in for the progressive jackpot at the beginning of the game. It's like Caribbean Stud poker online is the home of the SlotsLV jackpots, wouldn't you say?
4. IT'S A FUN VERSION OF POKER
Finally, after you strip away the rules and the jackpots, what's left is a truly remarkable, fun game that people simply love to play.
It's got all the greatest parts of poker like the big paydays and thrill of strategy, but without the added pressure of opponents, bluffing, and hoard of high-stakes decisions that could either make you or break you. Caribbean Stud poker online is just you and the dealer, and one decision will sail you all the way to shore.
You can practice as much as you like on our nifty practice mode, and once you decide to use your Slots.lv login to play for real money, you can confidently put your money on the table and give this fine Caribbean Stud a fighting chance.
READY TO START PLAYING?
Before we sign off, let's make sure you know how to get going with Caribbean Stud online with real money. As with all SlotsLV jackpot table games, you've got to sign up at Slots.lv and use your new Slots.lv login to make a deposit.
Don't forget to grab any bonuses you're eligible for, and give them a squeeze for4 some free money to get started with. Then, head to the "Table Games" section, click on Caribbean Stud Poker, and "Play for Real". Make your bet, get your cards, and watch the SlotsLV jackpots pile up!