10 MOST POPULAR SLOTS THEMES TO PLAY (HAVE YOU TRIED THEM ALL?)
Just as it is in all areas of life, in the online slots world, variety adds plenty of spice.
Like how your local froyo place wouldn't be the same without the mint chips, the Fruit Loops, and the Oreo crumbs – your gaming sessions at SlotsLV Casino wouldn't pack the same punch without its own sprinkling of game flavors.
There's something for everyone around here, and we've bundled together the top SlotsLV Casino slots themes to help you narrow it down and find your next binge-worthy game. Choose your own slots online adventure and march to the beat of your own drum.
Now let's try out those mint chips.
1. FANTASY SLOTS
We could all use a little escape every now and then. If you close your eyes extra tight and stay very still, the sound of a howling wolf in Mythic Wolf can be heard crying into the night as one of our top slots to play in 2022. If you step into the moonlight and travel just a few steps further towards the forest, you may find yourself surrounded by fairies flapping their wings with multipliers inside Fairy Wins.
Whether it's mystical, mysterious, sorcerous, or magical, there's a fantasy-themed slot at SlotsLV for you to follow along and get lost in their world. In fact, you can hear a princess calling your name from inside a castle right now! For whichever brave soul can storm the castle doors and save her, the royal damsel will be holding free spins with progressive multipliers as their prize. There's just one problem, however… and that's a massive fire-breathing dragon that's guarding the door, which means you'll have to don your armor and prepare to execute the Dragon's Siege. Do you have what it takes?
2. SPORTS SLOTS
When your tennis shoes start calling loudly from their corner in the closet, you know it's time to get your behind in gear and play some sports! Sports slots are a great way to get some action, both in the game as well as in your bank account. You can shoot some hoops in Streetball Star, skid on the ice in Hockey Enforcers, or huddle with your team to conjure up the best reel play in Gridiron Glory.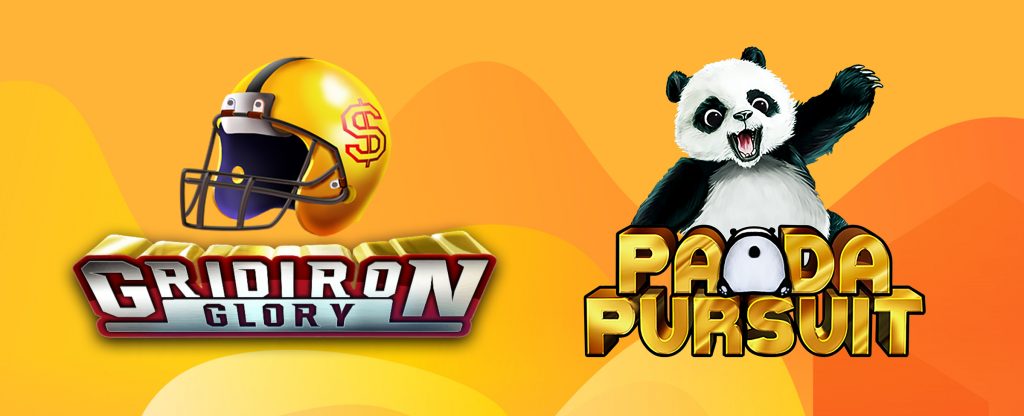 The stadium is packed for the biggest game of the year. You're the quarterback up for MVP this time around, and the fans won't let you forget it as they rumble and roar through the stands. In this NFL slot, Gridiron Glory has 5 reels and 3 rows that show off your best game plays. A referee keeps tabs, flirty cheerleaders ruffle their pom poms over winning symbols, and a max prize of 5,000x your bet is set to trigger after you sweep up the field and pummel the other team with a final touchdown.
3. ANIMAL SLOTS
Attention all animal lovers! We know first-hand the joy that furry creatures – and not so furry ones – can bring us in the home as well as the habitat. Creatures of all kinds are making their way over our reels. An underwater mobster in GoodFishes or a roaring lion in Savanna King invite you to their wild domains, as well as a whole crew of animal cuties in a pursuit of Wild multipliers.
In Panda Pursuit, this big, huggable bear has got lots of cutie patooty animal buddies to welcome you to the reels! Turtle is there, Fish has swum in for the occasion, and even Baboon has made an appearance. Your wild friends are happy to help you pursue the game's biggest multipliers of 64x within the Panda Pursuit Free Spins. Just don't forget to rub that Panda's tummy – he's awfully full from all that bamboo!
Share these cute animals and all the other popular slots themes with friends and you could earn a Refer a Friend bonus. Find out how!
4. PIRATE SLOTS
Whenever you're in the mood for pirate play time on the high seas, you could always slip on the eye patch and the peg-leg you keep in your cosplay drawer and head out to the nearest sea-shanty… or, you could abandon that rickety old ship and enjoy a cruise to the treasure trove of pirate-themed slots at SlotsLV. And as any wayward adventurer worth their scurvy will tell you, the loot within slots like Goldbeard is overflowing… but only if you can navigate your vessel!
Don't let your confidence grow too big for your boot, now, unless you want to join the rowdy crew of Arrogant Pirates who have quite the distasteful attitude about them. It would be quite intolerable, as well, if they didn't use their treasure map to guide you to those massive Wild multipliers and free spins with tripled wins.
5. WILD WEST SLOTS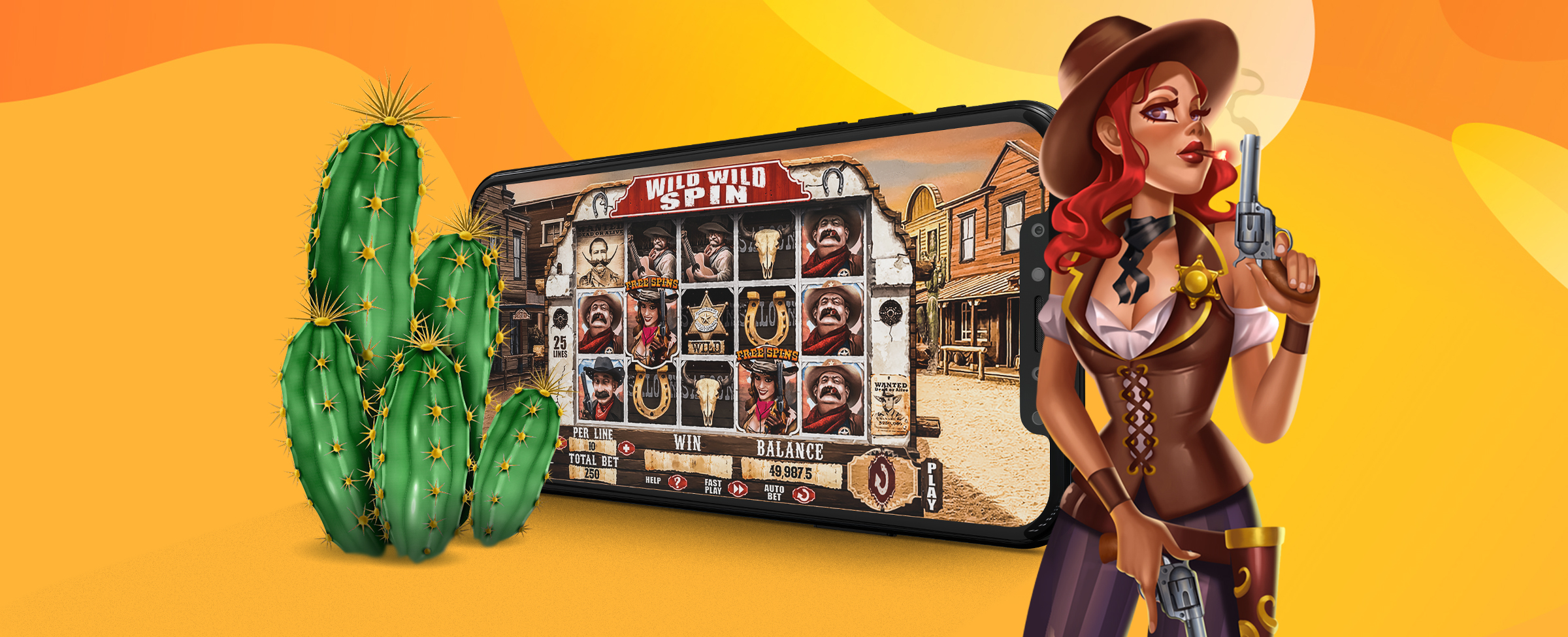 The old adventures of the Wild, Wild West are always just a click away. That is… only if you're tough enough. With these old western slots at SlotsLV, you'll have to know how to handle a lasso and scavenge the town to find your gold, but the good news is you won't be going it alone. Take your partner in Wild Wild Spin, treading in her cowgirl boots over the dirt; she needs your help in a duel with five mean-looking cowboys for different prizes. Or how about one of the toughest girl gangs around…
As you ransack the watering hole and run from the sheriff, keep an eye out for a gang of tough-as-nails women. These are the Lawless Ladies in one of our best progressive slots, and they don't follow any rules, which means their SlotsLV progressive jackpot can trigger randomly at the conclusion of any spin.
6. IRISH-THEMED SLOTS
You may be in need of an age-old tradition from Ireland to boost up your luck, and we've got just the charms to get you there! Welcome in the luck o' the Irish with these SlotsLV online slots, like Leprechaun Legends – a whimsical adventure through four unique prize features set in front of rolling green hills with folklore music. Or, you can try to catch a leprechaun, because if you do, as the legend goes, he'll bargain with you for his freedom and grant you wishes.
In Larry's Lucky Tavern, Larry has a fair idea of what you may be wishing for after a hard day spent working for the almighty dollar. This lucky slot has barrels of beer pouring through its reels, plus plenty of free spins and a bonus round to raise a cheers to, and chug down some more good fortune.
7. ACTION SLOTS
Let's face it: sometimes everyday life can be a bit drab with the same-old, same-old. Isn't it a breath of fresh air to cut through the daily grind with a little bit of action? SlotsLV is action-packed to the max, with something for every type of adventurer. You can join a crew of cyborgs on a mission in Cyberpunk City; or save another type of city with a team of valiant heroes in Super Wilds XL.
It's a calm and peaceful day… until the Big Green villain takes over the streets, and the citizens of your city cry to be saved from his sticky, evil hands! The Spins Twins, Expando Man and Multiplier Man, are there to follow your lead with free spins, an expanding Wild, and double and triple multipliers. Maybe not all heroes wear capes, but in Super Wilds XL, these ones sure do!
Before you test your courage in these action slots, be sure to fund your account with crypto! Crypto, like Bitcoin, is the super hero of transaction methods as it's the fastest, easiest, and safest way to deposit and play! In just 4 easy steps, you'll be on your way to making your first crypto deposit.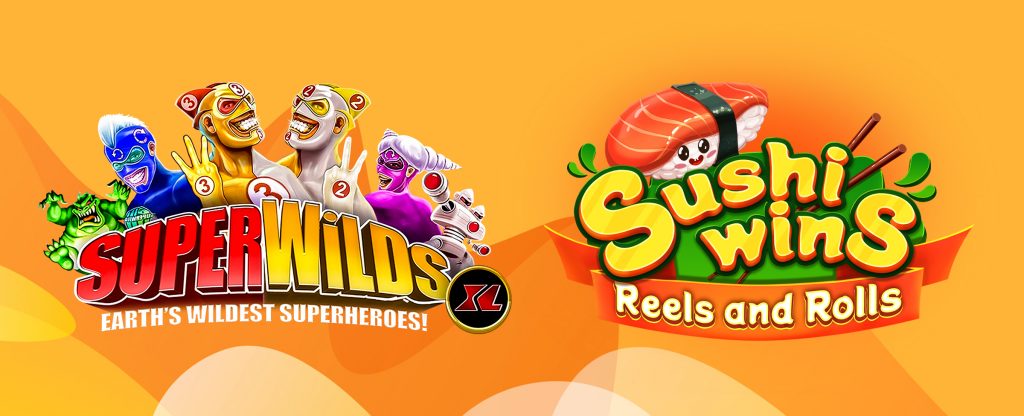 8. FOODIE SLOTS
If you appreciate great food as much as you love a great big spike in your bank balance, and don't mind the buzz from a happy-hour glass of wine, then these scrumptious slots are just what you need to satisfy your appetite. We've got sweet n' sour candies in Delicious Candies and vodka and vermouth served up in Dirty Martini. Better yet, why not gather your squad to hit up the new sushi joint that just opened down the street in Sushi Wins?
When you all take your seats at the Sushi Wins bar, the chef has ensured you get maximum variety on your plate. You've got sashimi, salmon rolls, eel rolls, and even an avocado roll for the veggie lovers. Let's not forget the Japanese sake to loosen you up with free spins! Watch out for the wasabi, as this spicy accoutrement is bound to blow up your mouth with hot, hot heat, as well as the reels as an expanding Wild. When Sushi Wins, you do too.
9. ADULT-THEMED SLOTS
We've also got some slots online to appeal to another, racier kind of appetite, tucked away in the back row. You can fulfill your fantasy of driving a racecar at full speed with sassy women doting on your wheels in Fast & Sexy, cast an eye over the provocative women of good and evil as they put on a steamy show of love in Forbidden Slot, or, better yet, head straight to Egypt to meet the first lady of sensuality and power herself in A Night with Cleo.
The Pharaoh Cleopatra invites you to her palace grounds for a sultry meeting. The doors to her private chambers swing wide open in the gamble feature. Inside, Cleo gives you a chance to multiply your winnings by 32x, and watch as she shares her own excitement by unburdening her body of those unnecessary clothes.
If that wasn't hot enough for you, in A Night With Cleo Hot Drop Jackpots, you can also play for three types of jackpots, including hourly jackpots with over $1K to be won every 60 minutes!
10. CLASSIC SLOTS
After all is said and done, sometimes you just need a visit back to the classics. Nostalgia always has a place at SlotsLV, and we've got plenty of classic slots games to transport you to the good 'ol days when gas was cheap and we knew our friends' phone numbers by heart. You can waltz into a real life casino and toss a few coins in Reels & Wheels XL, or take a trip to Vegas in 10 Times Vegas to let the good times roll.
Strip back the extra reels and get down to the nitty gritty! 10 Times Vegas slot has only 3 reels and 3 winning lines. You've got your cherries, horseshoes, bars, and 7s, and the rules are as simple as a sweet tea on a sunny afternoon. Each symbol has its own paytable, with the Wild 2x, 5x and 10x acting as a wild multipliers and paying the highest when you land three of them. Isn't this refreshing?
No matter what you're in the mood for, there's a theme to suit your spirit. Grab some grub, practice your 3-pointer, turn up the heat with Cleo, or relax in a simpler time in Vegas. No matter which slots theme at SlotsLV Casino calls your name, the prizes are yours just the same!