Scare Up Big Wins with Halloween Slots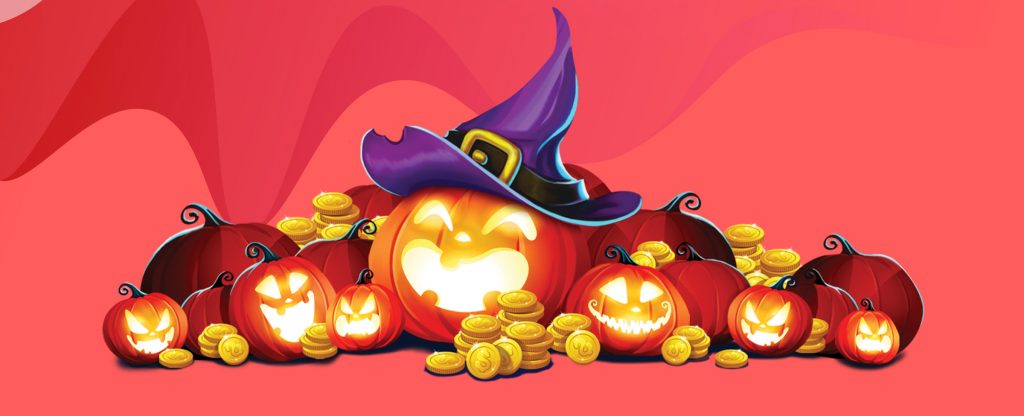 The tombstones shiver as the undead prepare for their big day out. October 31st is just around the corner, and players will have access to the best Slots.lv Halloween slots games this side of the graveyard. 
The games listed below are your perfect trick-or-treating companions that haunt the reels with features, bonuses, and jackpots fit for any time of year… but when Halloween rolls around, they have a golden moment to emerge from the fog of night.
Get those candy pails ready. The winnings in these spooky slots are better than any sweet treat you'd get down the street. These games are ditching the tricks in favor of filling up your goody bag with as much winnings as you can sling over your shoulder.
---

LOOKING FOR SOME SPOOKY MUSIC WHILE YOU PLAY? TRY OUR HALLOWEEN SPOTIFY PLAYLIST!
---
Monster Manor
Approach this haunted mansion… if you dare. Behind the heavy stone door of Monster Manor, mummies, ghosts, witches, werewolves, and even Frankenstein's monster are ready to leap from the walls, dropping up to 2500x your stake on one spin! One stake for the reels, and one for the vampires, just in case.
Try not to jump too high as you're startled to high heavens, because there's a lean, black cat darting about, and one wrong step could scare her away. When one of these cunning kitties land on reel 3 during free spins, it morphs into a wild witch, taking over the entire reel!
It's not just the floor you need to watch out for. Keep one eye on the ceiling as spooky bats dart around. When three of them land on your reels, they'll trigger 10 free spins with 3x multipliers, and up to 50x your bet. And if that's not treat enough, there's also the interactive Ghost Bonus Round where you can stir up big winnings by selecting 3 portions of the same type. Are you game to try?
Delicious Candies
Let's sink our teeth into the other side of Halloween – candy! Trick or treating wouldn't be complete without oodles and oodles of sweet, heavenly candy! One for you, one for the dentist.
You'll need a big candy bag for this one, since sweets of all types are pouring in… think candy canes, lollipops, cakes and donuts. The full Halloween diet.
In Delicious Candies slot, the decadent pink cupcake is your scatter, and when three of them plonk down on the reels, you'll have seven free spins to make your day even sweeter. What you'll soon discover, however, is that the cupcakes are just the icing on the slot cake. The really sweet benefit here is the winning multipliers which grow bigger with each losing spin. Then, when you get a winning spin, you collect on the multiplier you grew! 
Zombie FC
Soccer fans, unite! Both the dead and the undead are welcome on this pitch, and the stands are roaring with bloodthirsty delight! Get ready to sink your teeth into the flesh of Zombie FC.
There are 243 ways to win in this hilariously gory soccer match. Uniformed zombies, undead referees and cheerleaders terrorize the reels. Whenever winning symbols take over a payline, they'll promptly swell up and burst over the reels in a bloody splatter. Just as quickly, new symbols will tumble into their place for another stab at a winning bloodbath. 
Keep an eye out for reels 2, 3, and 4, as they can randomly turn into wilds. Landing anywhere from 3-5 trophy scatters can award you up to 25 free spins, all coming with increasing multipliers. In the midst of the gore, you're left bloody and beaming. Try to leave with your bounty unscathed!!
And the crowd goes… dead. 
Mystic Wolf
The wolf of a thousand legends howls under the full moon and sends a chill down your spine, casting an eerie mist across your eyes. 
Mystic Wolf is one of the most hauntingly gorgeous slots in the entire Slots.lv underworld, and it's set by a moon-drenched lake, under a blue-black sky with a billion points of starlight. The wolf stands perched and alert to one side, eyes glistening from the lake's reflection. If you manage to land the Wild Running Wolf symbol, you'll watch as he ambles to life in a 3D sprint through the reels, carrying a 5x multiplier on his silvery back. 
Just like the wolf's luscious coat, this game has a soft side, and makes for a nice antidote to the frights and bites. When you land three or more feather symbols, you can trigger the super round with up to 50 free spins, plus the chance to enter the lunar phase bonus round for even more mystical ways to win at slots win.
Big Money Bigfoot
As Halloween rolls around on the event calendar, Bigfoot sightings grow more each day. What most people don't realize is that Bigfoot isn't some big scary beast in the woods. No! He's a suave and swanky chap who's frighteningly rich, and he's got to stay hidden to protect his wealth from greedy humans! 
If you're the Bigfoot hunter lucky enough to catch a glimpse, or even to snap a clear picture, this gentle giant will make your Halloween one to remember. If you land three or more Big Money Bigfoot scatters anywhere on the reels, you're awarded with five free spins. During free spins, your luck might get even greater when any symbol can randomly transform into a wild.
Instant Inferno
Why not have a rock n' roll Halloween… in hell. We all know that's where the best music is! Instant Inferno has erupted in flames, ensuring your Halloween across these 5 reels is sure to be a scorcher. 
The sound of a sizzling fire and electric guitar can be heard jamming behind the reels. It could well be the devil himself waiting just behind the screen, headbanging to classic rock as you spin for hellishly hot bonuses. The scatter symbols, and there are two, are the Instant Inferno flames and Premium Inferno flames. Each have their own paytable, multiplying those wins the more scatters you land. Talk about devilishly good winnings!
Goblin's Gold
Finally, we've saved perhaps the best for last. You're not the only one hitting the streets tonight in a ghoulish gown. The goblins have also marked Halloween on their gobliny calendars (featuring Goblin-mate of the Year), and they're gathering in the forest for a goblin get-together, all greedy for gold! 
Goblin's Gold video slot is a truly remarkable experience with never-before seen features. After each spin on the reels, the wandering Trickster Goblin hops along the outside of the reels, and new goblins come out to play during free spins. If a wild happens to land where they stand, it transforms into a more special wild with a unique Goblin Gold prize:
Keep Out Wild

is sticky

TNT Wild

turns one or more regular symbols

Wild Multiplier

multiplies wins by 2x, 3x, 5x or 10x
Are you feeling spooky yet, or just spooked? Whether you're exploring a haunted mansion, playing bloody zombie soccer, or rocking out with the devil himself, the scary Halloween slots at Slots.lv make your entire October a fun, freaky and rather delicious treat.