Add Action to Your NFL Sundays with Slots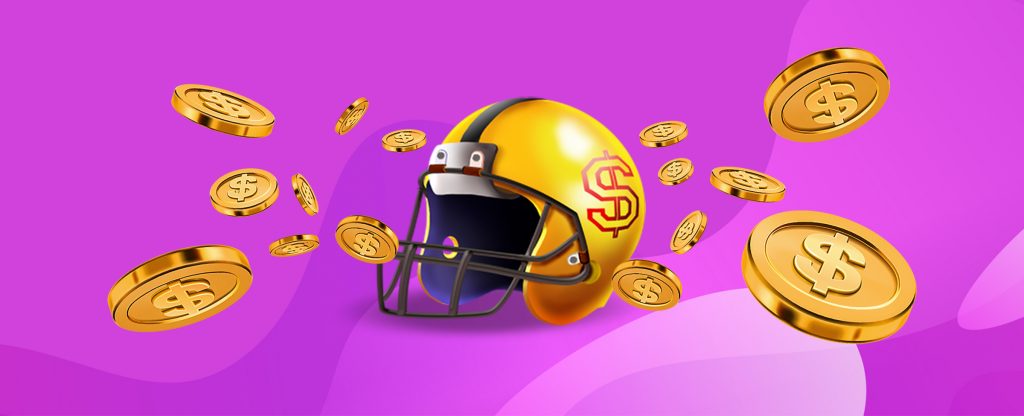 If any day of the week was invented to crank up some healthy excitement for young and old, it's got to be Sunday. Sunday forever has a place in our hearts as a relaxing, fun day including perhaps a home-cooked meal with the family and some time in front of the TV. If you're a nine-to-fiver, you don't have to work, you can slow down, and take it easy. 
But if you want to take Sundays up a notch, there's no better time to do it than NFL season. Make Sunday your day to add a few thrills by catching the big game with the kids, your cousin Eddy, or an assortment of good friends. 
We've pulled together our top Slots.lv NFL slots games to complement the lively Sunday vibes. Our sports slots are sure to add a boost to halftime, between plays, and your Sunday Football Funday in general.
Gridiron Glory
We're in the thick of the NFL season, and, in this football slot, you've got your own battle on the gridiron, and a roaring stadium of cheering fans.
As the stands rumble with support, you'll be spinning cheerleaders, referees, team members and star players over 5 reels, 3 rows and 243 ways to win! The cheerleaders are always on your side (haven't they always been?) and they're ready to sweeten you up for the big game. Each time you land a winning combination, the cheerleaders' pom poms smother the lucky symbols even as they rustle up fresh ones for your next big win. 
While reels 3, 4, and 5 are home to stacked wilds, multiple wilds can land across the reels all at once to expand and merge into one gloriously gigantic wild beast. 
The victors' trophy is close enough to read your name etched into the precious metal, and with the help of frequent free spin games, you'll soon be close enough to graze it with your fingertips. You'll want to land 3, 4, or 5 scatters; doing so will unlock a free game that grants you up to 25 free spins.   
Super Wild XL
Have you ever seen a quarterback rush through the field in a heroic sprint for a touchdown? That's the kind of moment the NFL lives for, and turbo-charged heroes are exactly what you'll get in Super Wild XL. 
These superheroes are determined to save the city, and they need your help to rush through the streets and land a victory. There are wilds soaring all throughout the 5 reels and 3 rows. You can land three anywhere on the reels to summon the right NFL superhero for a minimum of 15 free spins, plus one of the following prizes:
Multiplier Man (the Tripler): 3x multiplier

Multiplier Man (the Doubler): 2x multiplier

Expando-Man (the Expanding): expands to cover the entire reel

The Spin Twins (Extra free spins): 5 extra free spins
Can you think of a wilder way to win on Sunday? 
Savanna King
There's some down time in every football match, so you may be looking for something to keep the action turned up to eleven. Savanna King is just the safari ticket to liven up commercial breaks and those gaps in between games. You can play from your mobile device straight from the couch (no Slots.lv casino app needed); just access it from your browser.
What could be more action-packed than a stampede of wild buck prey "rushing the yards" over a 5×3 reel on the African plains, while you score up to 20 mighty free spins? Not much, really; except perhaps for that moment you're watching a wild stumble and fall onto reels 2, 3, and 4, because then you have earned yourself multipliers up to 4x! 
Since this is the wilds of Africa, and since it's an action-packed Sunday, it doesn't stop there. These wilds don't just multiply the winning line, but also any win while they're on the board – plus, they can be multiplied together all the way up to 64x. Who's the Lion King now?
Larry's Lucky Tavern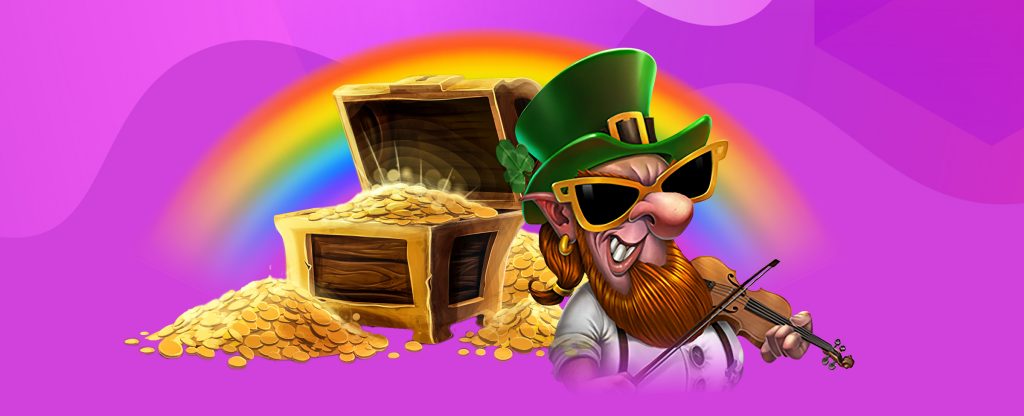 In the midst of all that action, you're bound to find yourself craving something cold and satisfying to help pad out the day. Why not come to Larry's Lucky Tavern and grab yourself a pint or two?
Larry is a lucky leprechaun and he's hip, rich as chocolate fudge cake, and always down to party. In this ale-themed game of 5 reels, 3 rows, and 50 ways to win, the wilds are your multipliers. Landing three of them can increase your bet by 3x, and landing 4 can increase it by 5x. 
To get nice and loopy with Larry, with 10 free spins and a 3x multiplier on hand, all you'll need are three free spin symbols in the base game. Reel 3 will get you extra tipsy as it expands any wild over the entire reel during the free spins feature. 
If three bonus symbols stumble over the reels, you get to play the bonus game where you'll turn over barrels to collect three of the same beverage with three different prize values. 
Bottoms up!
Reel Fighters
You'll never find a football game taking place inside the ring per se, but it's that mutual fighting spirit that makes Reel Fighters inseparable from the field. There's no better way to keep that spirit up than to battle it out with fantasy characters on a 5×3 slot. 
As the characters wield their magic over the reels in a battle to award your payday, wild symbols will sneak their way in. These wilds also serve as multipliers and you can get 2x, 5x or 10x your stake. When the three fiercest fighters join together as one brute force, that right there is your scatter. Landing three scatters will award you 10 free spins with 3x multipliers. 
The faint of heart should be forewarned in this combat-style game, because like many hard-won fights in history, this one ends in bloodshed. Expect to see it spattered over the reels as a declaration of defeat. As you know from the gridiron – a fight is a fight, and it ain't always pretty!
Pick up the Pace with Table Games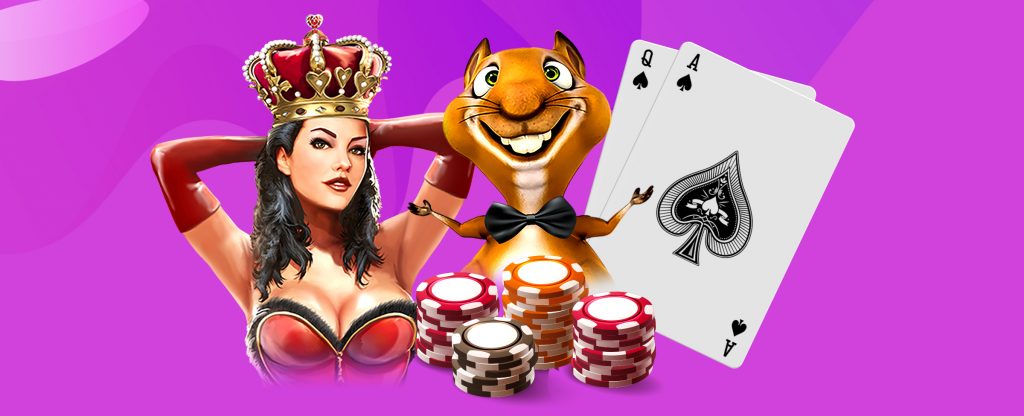 We love our slots here at Slots.lv, but some table games stand out as perfectly worthy contenders to pump up the jam and pick up the pace at Sunday game-time. 
Blackjack
As the most quintessential classic game in the casino, Blackjack is a simple game to learn, despite the play keeping a fairly rapid pace. The game comes down to a mano-e-mano between you and the dealer. You are both trying to reach a sum of 21 without going over, while still holding a higher value than the other. 
The round begins when you're dealt two cards, both face up, and the dealer places one card facing up and the second facing down. You make the moves here: you can hit (take another card), stand (leave it as is), or take a different move in more particular circumstances. If you manage to beat the dealer, you get paid 1:1.
If you get a Blackjack right away (a sum of 21), you get 3:2. The whole round is over in less than a minute, and you still have time to glance up and catch the defense making an interception just before the goal line.
Video Poker
Finally, to round out the day of Sunday beers, brawls, and buddies, a good ol' fashioned game of poker is on the cards. If you've ever played live poker before, you may be concerned this game would take up too much time. Fear not! Video Poker at Slots.lv is played just as fast as Blackjack or slots, and you could make the types of paydays only a true MVP could muster. 
NFL Sunday is here, and it's time to get in the mood. Whether you want to get on the field, have a pint, keep up the action, or pick up the pace, there's a football slot at Slots.lv for you to go wild playing. Grab the chips and salsa and get ready for some gameplay. You're about to experience NFL Sunday in a whole new, richly-rewarding way.