Aloha King Elvis Slot Game Review
Far in the distance, over the sounds of laughing tourists and crashing waves, a crooning voice and a tinkling ukulele can be heard waxing and waning over the sea and into your ears.
You're in Hawaii to live it up with the SlotsLV Aloha King Elvis slot, and an impressive Elvis impersonator is serenading you from afar with their melodic tunes. Exactly who this impersonator is remains a mystery… but in this Aloha King Elvis online slot review, we will remove the mask to reveal his true identity!
As the music ticks in time to the lively beat of your heart, you find yourself doing a two-step towards the irresistible, strangely familiar sound. You pick up the pace as you pass a coin re-spin feature dancing between plucks of the ukulele, and two types of special prize-filled party invitations, each awaiting your RSVP.
Place that lei around your neck, hoist up your extra-large tiki-cup beverage symbol, and say "Aloha" in this toadally rockin' tribute. It's Viva Las Elvis, and he's brought along a band of multiple fixed jackpots.
Should you spin it?
Here's why you should follow the melody of Elvis' voice and play Aloha King Elvis slot at SlotsLV:
✓ Gorgeous and detailed graphics
✓ Fabulous music!
✓ Fun storyline
✓ Very high slots RTP*
✓ Accessible minimum bet
✓ More control with Buy Bonus and Chance to Win
Then again, the beach isn't for everyone. This is why you may want to pass on the sand and the tunes:
X No progressive jackpot (but there are 3 fixed jackpots!)
Not sure what slots RTP is? RTP – or return to player – tells you what percentage of your wagers you may get back over time. An overall RTP of 94.98% is good, and this game goes as high as 98.69% in some features!
Game Overview: The King is Back!
How's that lounge chair treating you? Is the warm breeze suitably refreshing? This resort in Hawaii has everything an island vacationer could need, including the musical stylings of the King of Rock and Roll. In fact, look – here he comes!
He's all done up with the gelled-up pompadour and a red jacket with a popped collar open all the way to his navel. Except there's something about this version of Elvis that doesn't quite add up… and when he lets out a ribbit in the middle of the chorus, everyone is all shook up. This Elvis impersonator is a frog!
You ain't nothin' but a hound frog, winnin' all the time. And here's what you'll find as you swoon to the tune at SlotsLV Casino:
5 reels
3 rows
25 fixed paylines
Buy bonus
Chance x2.5 to win
You choose free spins round
Re-spin round
Three fixed jackpots
Minimum bet: $0.10
Maximum bet: $250.00
RTP: 94.98% – 98.69%
The Hawaiian Elvis-frog puts on quite the show when he has an audience to perform for. You might want to refer a friend or two to join you. As soon as they make a successful deposit, we'll drop a bonus in your account to use in any slots game.
Aloha King Elvis Features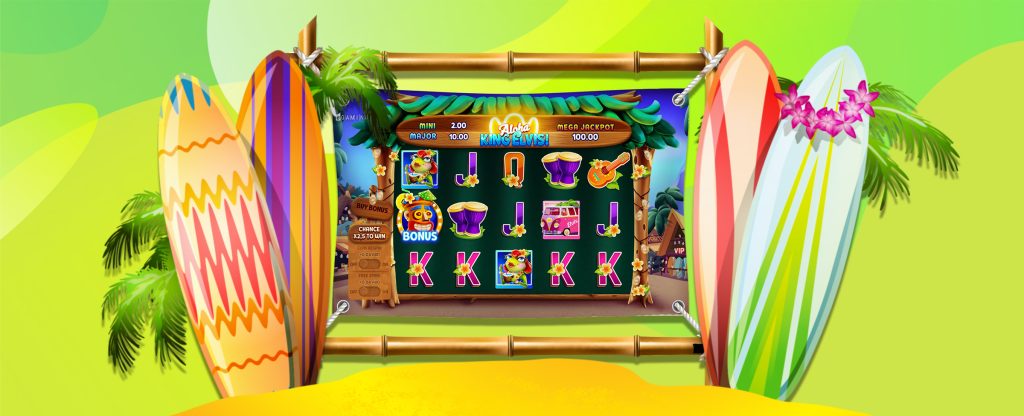 The frogged-up Elvis and his features are strumming their way directly into your slot online, singing: everybody on your feet, let's rock!
Coin Re-Spin
The sun is beating down hard on your Hawaiian oasis. Landing six of the sun-shaped coin symbol triggers a respin feature in which all sun coins add up their values ranging from 1x to 20x. You also get three fixed jackpots to play for. More on that below!
Bonus Symbol
The ice-cold drinks in those big ol' tiki cups go down nice and easy as your bonus symbols. Three of them on reels 1, 3, and 5 triggers a party of slots free spins, the type of which will depend on what you choose.
Special Guest Party
If you opt to attend the Special Guest Party, you get five free spins. Reels 2, 3, and 4 convert into a special reel where a giant symbol can appear that awards three additional free spins.
VIP Party
Then again, a vacationer like yourself might not want to settle for being just a special guest. If you're invited to the VIP party, then you get 8 free spins where only the middle and high coin symbols drop on the reels.
Surfing Jackpot
Anyone on the island who catches wind of the Coin Respins opportunity leaps up from their beach chair and huddles in to get a shot. That's because there are three fixed jackpots at play:
Mini jackpot: 20x your bet
Major jackpot: 100x your bet
Mega jackpot: 1000x your bet
Each jackpot is won by lining up one, two, or all horizontal lines with coins.
For another, thrilling rendezvous with jackpots, you could try Hot Drop Jackpots next! These online slots have hourly and daily jackpots, and an extra-special Super jackpot; this one washes up on your shores carrying up to 6-figures.
Buy Bonus
You can heat up your relaxing beach vacation at any time. Simply, purchase either the free spins or the coin respins yourself, morning, noon or night! The cost is displayed under each option.
Chance x2.5
Frog-era Elvis is a busy guy, and you might not get a chance to request his autograph without an extra dose of luck. Unless you opted into the Chance x2.5 feature! This automatically increases your bet size as well as your chance of free spins or coin respins!
If you love Aloha King Elvis, you'll also love Animal Wilds!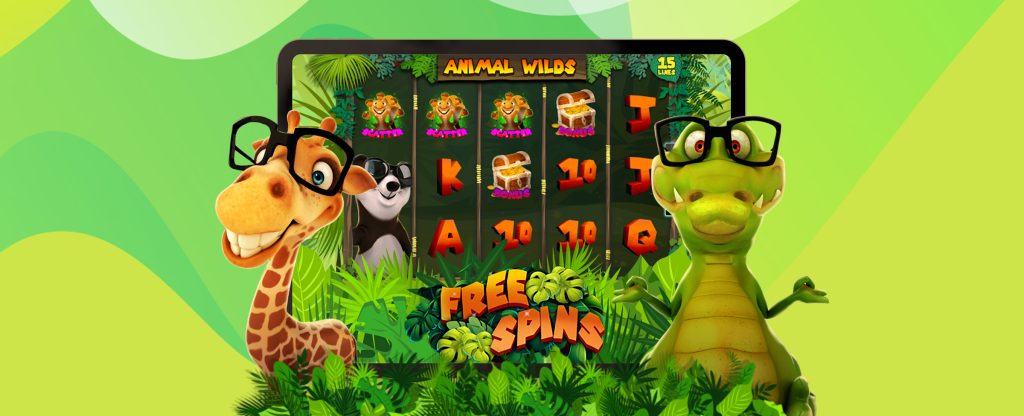 As you saw in this Aloha King Elvis slot review, there's a lot to love about a frog who thinks he's the King. It's a welcome twist on the old Frog Prince story, that's for sure!
Animal slots are some of our most popular slot themes to play. And if you dig the sound of animals playing instruments, then Animal Wilds has a shindig going down just for you!
The stars of this slot – the polar bear, panda, elephant, crocodile, and the grinning giraffe – have ditched the disguise, save their nerdtacular, stylish black shades. These four-legged fellas are simply looking for a good time, fruity beverages to sip on and multiplying Wilds… as well as 10 free spins with tripled wins to celebrate with. All they're missing is the guest of honor: you!
Play Aloha King Elvis Slot Game at SlotsLV Casino Now
Surf's up! The King has spoken, and he's summoned you to Blue Hawaii to watch his froggy alter ego perform and win the prizes of a lifetime on the beach! This SlotsLV online slots game has more features than Elvis had No.1 hits, and that means more opportunities to – well, in the words of The King himself: Alright, Okay, You Win.
For the best experience on and off the stage, be sure to try this game after you've set up your Bitcoins gambling. All that means is you deposit in crypto to get all the benefits (like bigger bonuses), and you'll always view your player balance in regular USD.