TOP 50 SLOTS TO PLAY IN 2022 (MEGA LIST: 11-20)
Welcome back to the next edition of the one and only Slots Mega List!
We're chugging along nicely into the New Year and continuing to gain momentum, with gaming enthusiasts boarding the Slots train to tick off all fifty stops along the Mega List line. The journey is about to speed up now that we're in new territory, so hold on tight and enjoy the ride into the top 20 SlotsLV best online slots!
Need to catch up first? Check out Mega List: 41-50, Mega List: 31-40 and Mega List: 21-30!
You'll be admiring the scenery as new adventures beckon, and perhaps you'll even find yourself on familiar ground as you pass through an entry from your own personal list of fave slots destinations. Be sure to let us know on social if any of the online slots on our list are already on yours – we love to hear from you!
All aboard, passengers – this train is about to present to you the next batch of must-spin 2022 best online slots ranked 11 through 20. Let's go!
#20: ROBYN
There's a lovely lady with flowing blond hair who finds herself wandering through the forest, and a dashing young prince on horseback with a million-dollar smile, ready to woo her and whisk her away. This lady is Robyn, and what the prince doesn't know is that Robyn is not one to be wooed! This expert archer is perfectly poised with her bow and arrow drawn back, focused on those target symbols she intends to strike with her arrowheads, which will be replaced by brand new ones.
You'll help Robyn in this SlotsLV new slot to shoot down symbols and turn them Wild; but beware! There's a witch of the wicked variety who also creeps among the gnarliest of the trees, and she's always on the hunt for newcomers who have followed their curiosity away from the path. Better stick to the trails and grab as many free spins as you can!
#19: REINDEER WILD WINS XL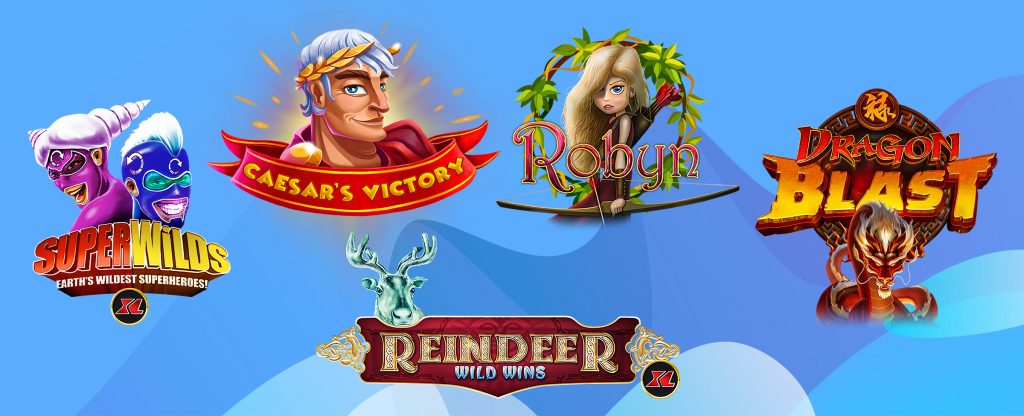 Whether or not you got snow this year in your home town won't make one dot of difference. In this magical land of Reindeer Wild Wins XL, there's plenty of snow to go around, and plenty of treasure buried beneath it. Your guides for this adventure are three huntresses, each bathed in a glowing light. They lead you on a hunt over 1,024 ways to win in search for the reindeer scatter and the Mystic Reindeer Free Spins, which can award up to 64x your stake and make it feel like Christmas all over again! Let it snow, let it snow, let it snow… cash!
#18: CAESAR'S VICTORY
It's time to grab your armor and jump back in time in Caesar's Victory. We're going back to 45 BC, a time when Caesar ruled the Roman Empire and you had the honor of being appointed his right-hand partner.
The colosseum is packed with an expectant crowd, and you and your ruler sit poised above them all in a throne made of gold. Caesar's lover Cleopatra is on the reels, and she sends a sultry wink your way in every spin. Caesar and his horse can trigger 10 free spins, and each time the emperor appears again, you can get up to five more free spins. Perhaps they'll spin you all the way from fame to fortune with the random progressive jackpot!
All hail Caesar!
#17: DRAGON BLAST
In the fiery smash hit Dragon Blast, a sinister dragon with huge, gleaming eyes and a blazing mane of fire, guards his lair. Whenever a white pearl scatter lands on any of the five reels and three rows, the dragon zaps it with a white-hot flame. Land three or more pearl scatters, and you enter the Dragon Blast Free Spins where the middle reels merge together to form one gigantic symbol that helps increase your wins. This online slot certainly ain't draggin'… but you will have a blast!
#16: SUPER WILDS XL
There's a big city under attack! An evil villain is wreaking havoc on their streets, and the people are crying for a hero to save them. This calls for a special sort of superhero. Wait – there's more than one?
And just on cue, in come Super Wilds XL – your team of superheroes who are here to save the city, and the day!
You've got Multiplier Man the Tripler, Multiplier Man the Doubler, Expando Man and the Spin Twins to double and triple your prizes, expand your Wilds, and award free spins. Together, you and your superhero team can whoosh into the city and destroy the gigantic green goblin and two-headed robot. You might even save a damsel from a burning building. Although her thanks will be all the prize you need, your rewards will fill more than just your heart.
#15: FAIRY WINS
Just beyond the backyard of your very own house is an enchanted forest, and a spell that's floating through the air.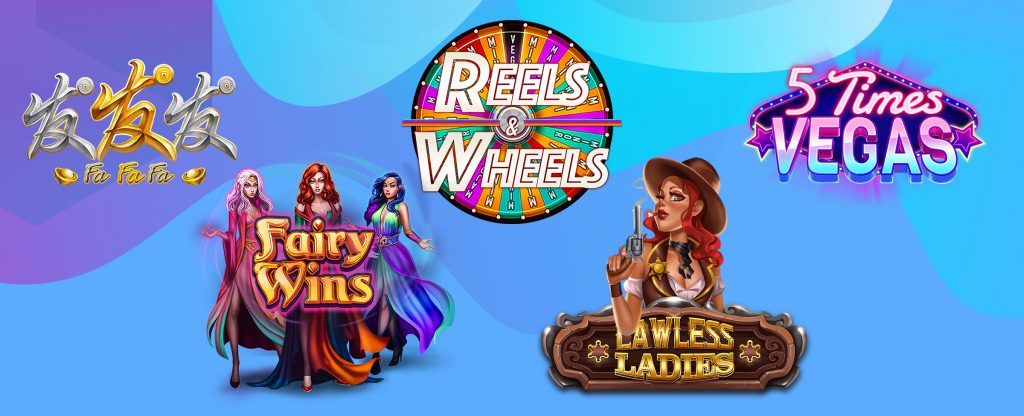 You'll know when the spell hits your house, because you'll find yourself riding on fairy dust to the forest just beyond. If you're quick and agile like the fairies who reside within the trees, you might even trigger the Fairy Wins free spins feature when you catch a fairy symbol on reel one and a wins symbol on reel five. But never let your guard down. The progressive jackpot is waiting just behind any tree, and it's ready to reveal itself at random after any winning spin.
#14: LAWLESS LADIES
The streets of this old western town are desolate and dusty, and a tumbleweed blows in the wind, stopping at the feet of three very fine Lawless Ladies. You catch a glimpse of them from under the brim of your cowboy hat, and raise one eyebrow. You know the look of an outlaw, and you also like the sound of getting some of that loot.
With a slingshot, a pistol, a knife and a broken bottle, you've got five reels and three rows to join these outlaws in a search for free spins and multipliers. During your hunt, you'll want to keep your trigger finger poised over the pistol, because this SlotsLV progressive jackpot could trigger randomly at any minute.
#13: 5 TIMES VEGAS
The only thing better than having all the fun in Vegas is having five times the fun. That means five times the shows, five times the lights, five times the drinks and, of course, five times the multipliers!
In this Vegas slot, the neon lights of the Strip line the three reels. A swanky tune surrounds your senses, and fluorescent symbols light up the night. Over 3 paylines, you'll want to land three matching symbols. Multiplier symbols serve as Wilds – which also multiply your wins! Land three of the same Wild multiplier on a payline, and you've got yourself the best Vegas experience to remember for years. Then when you're done, why not take it up a notch and try your luck with double that in 10 Times Vegas!
#12: FA FA FA
Fa Fa Fa is as sweet and simple as can be, just like a hot cup of green tea – served the traditional way. This classic slot game will transport you to the tranquility of China as it aims to acquaint you with the simple pleasures in life… as well as to reward you for slowing things down and living in the moment.
There is only one symbol in this game, which is the Chinese character for "Fa". Fa comes in red, green, or blue. You can win a prize by landing three matching colors from three reels on the one single payline, or even by landing a mix of colored Fa's. You don't have to go far to have fun
That's all there is to it!
#11: REELS AND WHEELS
Firing up the Reels and Wheels slot is like firing up a time machine.
There may be a difference between online slots and slot machines, but this game knows how to combine the two. You know the retro type – a one-armed bandit with the clunky metal and silver lever, spinning through those delightfully familiar cherries, BARs, diamonds and 7s.
In this online version of a well-loved classic, there's a bonus symbol in the base game that triggers a Bonus Wheel, and from there you can trigger the Jackpot Wheel to get your hands on one of five progressive jackpots! Even without the big jackpots, you can still collect plenty of prizes by landing matching symbols across the single payline, plus you'll always enjoy the bold sprawl of classic reds, blues, and yellows.
That concludes the penultimate list of our favorite online slots in 2022, with the grand finale right around the corner! Did you see your favorite listed here? Tell us if you did on Twitter! Then, be sure to check back for the very best with our Mega List Top 10 next week, and play along with SlotsLV Casino all year long!