TOP 50 SLOTS TO PLAY IN 2022 (MEGA LIST: 1-10)
We've finally made it, and the moment you've been waiting for has arrived! This is the final edition of the slots mega list. We've had a thrilling journey so far with the SlotsLV best online slots, and now it's time to wrap it up and deliver the top 10 must-play online slots in 2022.
But first: have you seen the other 40 games on the list? Check out which ones made the charts for the best to play this year, as we discuss their memorable stories, incredible prizes, and unbeatable entertainment value:
And now for the final 10! Follow along to find your new fave!
#10: THUNDERCRASH
The Thundercrash universe is an arcade-style game, and it's home to a crew of highly skilled space explorers. Their previous captain has just been lost in a space war, and they've invited you to come in and take her place.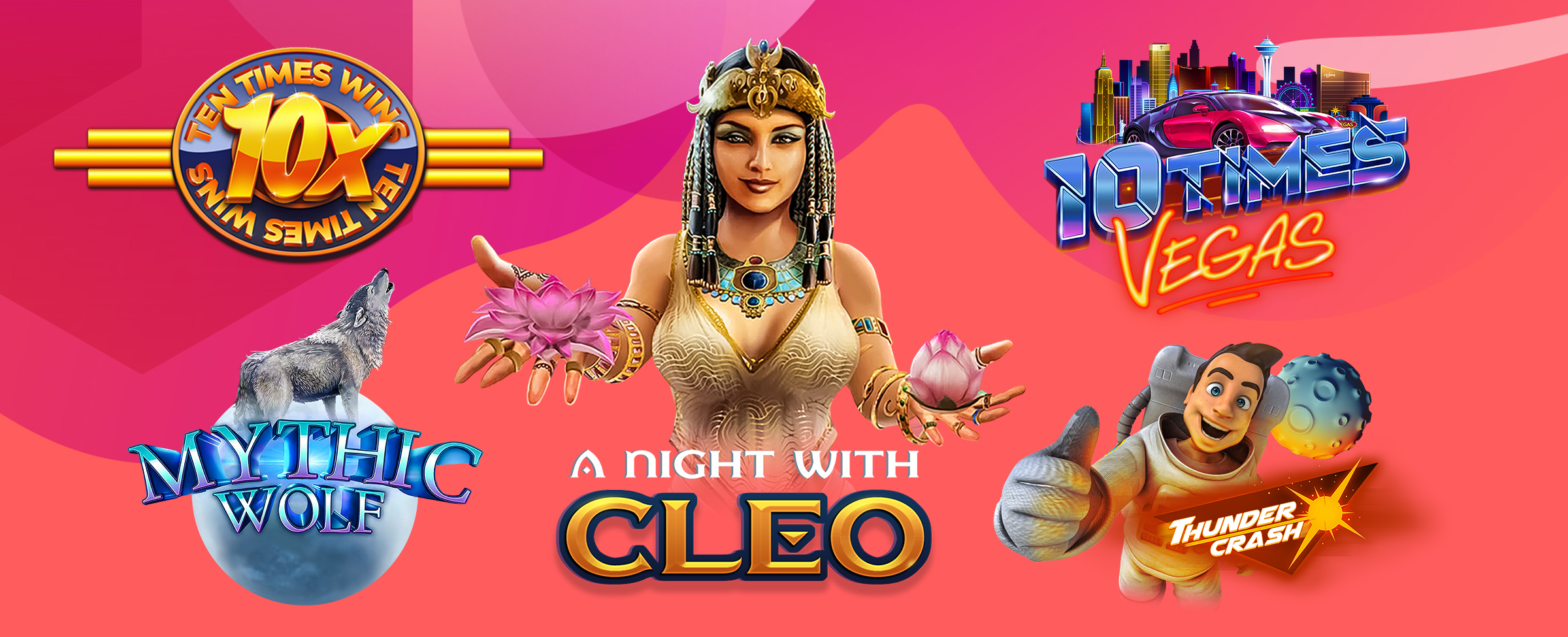 Your job as captain is to drive the ship through the multiplier-rich space and collect as many multipliers as you can – but beware. There are secrets hidden within the pitch black universe that could see your ship explode at any second, losing all your multipliers and destroying your crew. Your new role as Captain is to decide when to Cash Out before the vastness of space unleashes its emptiness and destroys your round. Read about the $100,000 prize pot and more in our Thundercrash game review!
#9: MYTHIC WOLF
It's a still night bathed in black and royal blue. Far off in the distance, you can just make out the distinct sound of a howl… and it sends shivers crawling down your spine.
This is the Mythic Wolf of legends; the very creature that has guarded these lands and its riches for generations, and yet, no soul has been able to track him down.
The mythical beast is closer than ever now, and this is your chance to follow his howls and encounter his slots treasures. Move lightly – you'll need to stay quiet so you don't scare him away. When the wolf senses you near, try to capture him as he leaps in the air, and collect on the 5x multipliers. If you see a feather in the corner of your eye, grab as many as you can. Three or more feathers trigger a super round where you can get up to 50 free spins.
#8: 10 TIMES VEGAS
The fluorescent lights are calling, and a killer return to player (RTP) of 96.47% is asking you to pack a bag and enjoy the show… in Las Vegas!
Discover a side of Vegas that no other patrons know exists! When you step off the flight, you'll hardly recognize the world around you as the buildings, roads, and people drop out of existence and a three-dimensional landscape of dancing neon lights takes its place.
You see the 3×3 board, and you know what to do. Spin those 10 Times Vegas slot reels in search of the Wilds that can multiply a winning line up to 100x. Then, if you land a Wild symbol on reel 3, you retrigger reel 2. If you score a winning retrigger, then you know it's really time to celebrate. Because now you're on your way to the Jackpot Spin and your chance at the huge progressive jackpot shown at the top of the screen!
#7: A NIGHT WITH CLEO
This NSFW adventure in Egypt is sure to turn up the heat for a very, very adult rendezvous at SlotsLV Casino.
A Night With Cleo features Egypt's most revered Pharaoh. She's as stunning as she is wealthy, and she's been bursting at the seams to share both of those things with you.
The famous pyramids lie just behind the 5×3 game, but you'll hardly notice them. Cleo herself is the one to who steals your gaze and fires up your passions. Land three scatters in the base game, and Cleo lies seductively on her bed as you spin through 15 free spins with 3x multipliers.
Use the gamble feature after any winning spin, and join Cleo in her chambers for a guessing game that results in a very different kind of prize … exposing your naked ambitions.
#6: TEN TIMES WINS
Sometimes you need a good, thorough explanation on slots features and how they're won. With Ten Times Wins, you can throw all of those complications out the window! This is a totally classic game that's all about the good times and good wins.
The usual slots suspects are here: 7s, cherries, and BARs. Each symbol has its own paytable. When you land three matching symbols from three reels across any of the three paylines, you get a nice reward.
If you want 10x the rewards (obviously!), you've got to land the 10x symbol within a winning combination. This is your Wild, which multiplies your winnings by 10x. If you manage to land three of them, you get the biggest prize in the game.
Sometimes the best things in life are the simple ones!
#5: INSTANT INFERNO
Can you feel the heat? As soon as you open up the ultra-hot Instant Inferno slot, you'll be screeching from the sizzle as well as the delight as flames billow through the air and heat up your balance!
The devil has invited you to his fiery lair… but don't be afraid. This version of Lucifer is the frontman of a hell-ish rock band, and he's prepared a mega hot show just for his esteemed guest.
He'll dangle the cherry symbols in front of your face and summon you forward with bell symbols. When you see the regular or the premium scatters engulfed in flames, snatch up as many as you can for higher wins. The devil is certainly not without his merits, and he'll even give you the reins in a Pick Me Free Spins Feature when bonus symbols appear.
#4: 777 DELUXE
The 7s have always run the show in the slots world, ever since the first slots started spinning long ago. 777 Deluxe has a special love for lucky 7s, and they're the gem that adds extra pizazz to this classic-meets-modern game.
The base game takes place over 5 reels and 3 rows, with cherries, bells, watermelons, and bars zooming through the reels. There's no way this game will have you confused, but there certainly are some big questions being answered in the Deluxe universe, because they're falling like rain.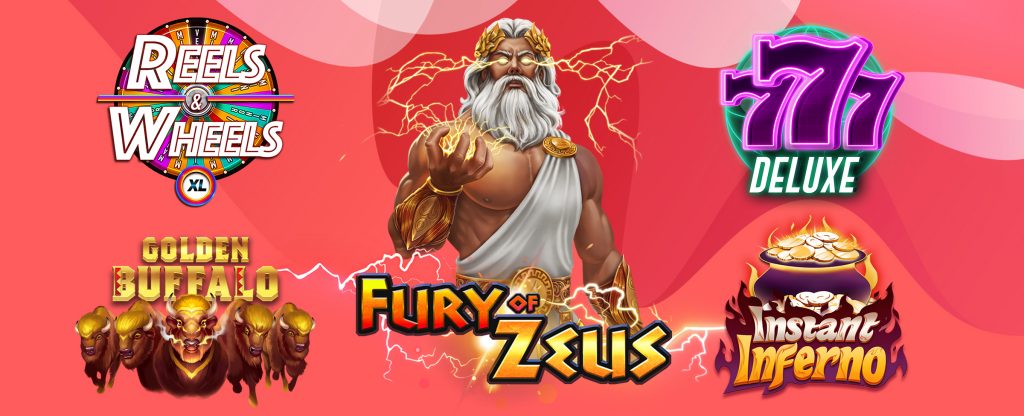 The question mark is your mystery symbol which replaces other symbols to help you win. When you land three of them, you get to play the bonus round with one winning line for a chance to win one of EIGHT jackpots, including the big progressive!
#3: GOLDEN BUFFALO
There's a wild beast roaming through the land, and the creatures surrounding the canyons are always on the lookout for the next adventurer to wrangle him in.
If you want to see the gold, you've got to navigate the never-ending reservoir of 4,096 paylines in this SlotsLV popular slot. With the help of the canyon's ancient creatures like the racoon, the eagle and the wolf, you may get a glimpse of gold shimmering just over the horizon. If you do, follow your eyes and don't waste time!
Just ahead is the chance to enter the free spins round with Wild multipliers via the bonus symbols, where the Golden Buffalo awaits his hunter with multipliers up to 3,125x. Can you soothe the savage beast?
#2: REELS AND WHEELS XL
With 5 reels and 3 rows of retro entertainment, Reels and Wheels XL has plenty of classic fun to go around! Fruits, sevens, and diamonds pop from the screen in shades of red, yellow, blue, and green. As you pick up speed, if you're not already entranced by the free spins with 10x multipliers, then you're guaranteed to grow wide-eyed when you see the Multiplier Wheel.
Give it a spin, and watch as the symbols and colors collide in a whirlwind, with the extra special Jackpot wedge flying through the pack. If you catch the Jackpot wedge, you get to spin the Jackpot Wheel for a chance to win one of FIVE progressive jackpots. Those are some good odds!
#1: FURY OF ZEUS
Zeus is a powerful and often vengeful god. He's seen all the playtime in the other online slots, and he's vowed to storm the casino and command attention! As mere mortals, we are powerless to the Fury of Zeus, and we fall to the ground upon hearing his voice and feeling the white hot fire of his glare!
As you ascend Mount Olympus to meet Zeus, Hera, Poseidon, and Hades, you'll be mesmerized by the misty atmosphere, all supercharged with godly magic. There are Wild symbols floating through the mist, and if they land in your lap on reels 1, 2, 3, or 4, they invoke the power of the gods to form new symbols, helping your chances of a win.
If you prove to be a worthy mortal in the piercing eyes of Zeus (we have tips in our Fury of Zeus game review!), he'll find the perfect moment to descend the randomly awarded progressive jackpot to the Mount in a flash of lightning, bursting your bankroll into flames of delicious cash!
We know you can hardly wait to start spinning that special slot online which lured you in along the Mega List journey. And you no longer have to! It's time to put one foot in front of the other and discover a new fave at SlotsLV.
And since you've devoured the top 10 list, remember that you can always head to our Slots FAQ page – all of your questions about how to play will find answers there. Then, start with #10 and make your way down. The New Year is the best time to find a new favorite, and these are the fabbest of fabulous 2022 online slots to ring it in!