THE MOST UNIQUE CASINO SLOTS TO PLAY ONLINE
It's really convenient to have a list of reliable, favorite games for whenever you venture into SlotsLV Casino. You could probably navigate your way to these games with your eyes closed! So as you rush past an untold number of unknown slots, it's fair to assume that, by keeping your eyes on the road, you've never taken the scenic route.
It's high time to jump in the passenger seat and become a tourist in your own territory as you explore our SlotsLV most unique slots to play. These are not just any old slots, but ones that stand out due to:
Inspired themes
Unforgettable experiences
Unexpected ways to win
Totally unique gameplay
Often they take features like reels, wilds and paylines and infuse them with a brand new style! We guarantee these games will stick in your imagination long after they're over. Maybe you'll even find a new favorite!
Come on a tour with us as we review five unique slots, and perhaps even claim yourself a souvenir!
A NIGHT WITH CLEO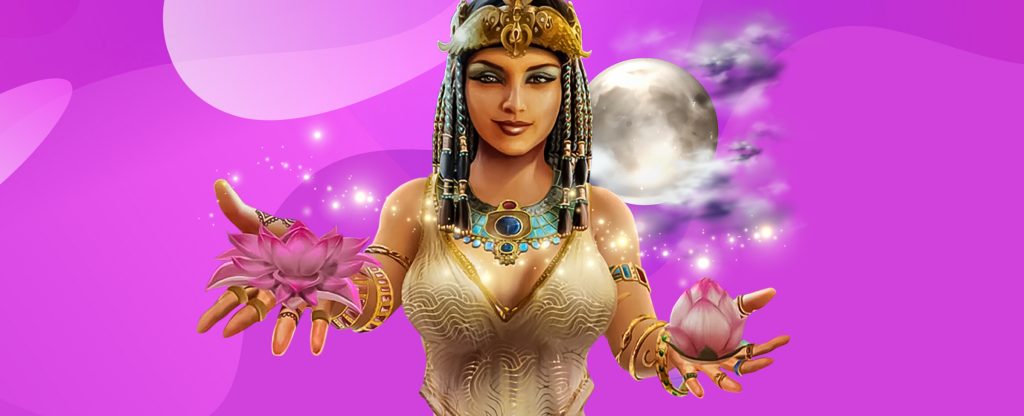 Cleopatra is one of the most intriguing and revered women in history. And for good reason, too. Her reign was both consequential and scandalous, just like this 5-reel, 20-payline slot.
A Night With Cleo might start off with familiar features like the Wilds, scatters, and free spins. But the real reason we put this slot at the top of our most unique slots list is the brilliant, adults-only, Double Up feature.
Talk about the extra in the ordinary! In the gamble feature, the seductive Cleo lures you into her chambers. There she presents you with a challenge with two clenched fists. Each time you correctly guess which hand holds the lotus flower, Cleo doubles your winnings. So far, so standard, right? Sure, but then she also removes an item of clothing, and after five correct guesses, there's nothing left to remove,
So, you tell us: "Double Up" your winnings, or "Double Up" your heart rate? According to Cleo, you can have it both ways. If you want the full A Night With Cleo game review, we have it!
CRYSTAL CRATER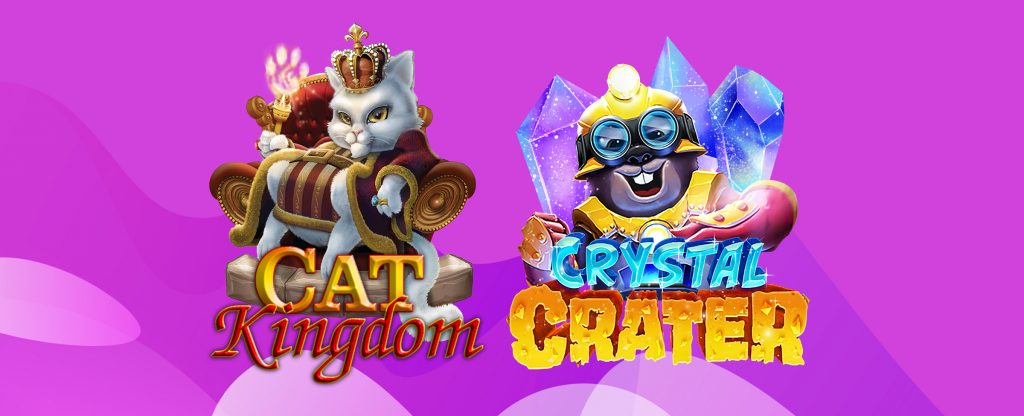 While most slot games come programmed with fixed features, Crystal Crater adds a whole new level of gaming where the player sets the terms.
You may be daunted at first when you plummet down the crater and land smack-dab in a pool of diamonds, gems, and crystals. No need to panic – there's a cheerful chipmunk who knows just what to do and is ready to help you do it.
There are 5 reels and 4 rows in the underground crater. When you land three or more bonus symbols, you enter the free spins bonus. Don't get too settled in, though – you've got some work to do. Before those free spins kicks off, you get to choose the features of the game:
Choice 1: 2-3 random wilds & 20 free spins.
Choice 2: 3-5 random wilds & 10 free spins.
Choice 3: 5-7 random wilds & five free spins.
Choice 4: mystery choice where any number of random wilds can appear.
This slot was made for players who want more interaction than just hitting spin!
CAT KINGDOM
Your power to choose stays in that underground crater… Now, get ready to face another ruler of the reels: the king of the kingdom, the kitty of clout, the pussycat of prestige.
You're in the Cat Kingdom now, and the tables have turned!
While you've been away, your pristine living room has been taken over by a beastly ruler, rotund as he is mighty. In the ordinary universe you used to be the one to scold him for clawing your favorite chair, but in this universe, your pompous feline calls all the shots. But don't worry, because deep down he remembers all those times you scratched him under that sweet spot under the chin.
Landing three or more scatter symbols can award you up to 30 free spins. It's here that King Cat graciously descends from his throne to switch out some key symbols, making it easier for his loyal master to win. Or should that be servant?
SUSHI WINS: REELS AND ROWS
With all these unique online slot adventures working up an appetite, you may find yourself feeling peckish. If you're a fan of international cuisine, you may be just as hungry for Japanese food as you are for jackpots. If so, this one's out of the sushi box… welcome to Sushi Wins.
These tasty sushi symbols are served up on a sushi board for you to make a discerning choice. You've got sashimi, rolls, and Sake on offer. Vegetarians will have their fill, too, with delicious avocado rolls!
Just like a real life sushi joint, the wasabi is the hottest taste on the table. In this game, it's your spicy Wild. When the wasabi Wild appears on reel 3, prepare your palate! The hot wasabi is going to burn up the entire third reel.
You might want to wash down all that heat with some Sake, and enjoy the pleasant buzz – why not? When the free spins Sake symbol lands on reels 1, 3, and 5, you get 10 free spins with doubled prizes.
SOLFIRE
We've saved the most extraordinary adventure for last. Solfire sucks you into an ancient Aztec cave where the gods lurk behind the stone symbol reels, and a wise guide has the right elements to unleash their power to pave your way to payday.
Instead of reels that spin vertically, this ultra-unique slot runs on reels that bust open with a deafening crack over a spinning stone symbol. The nine paylines of Solfire extend from the center, and they unlock when Sol hurls fiery orbs that flash blue into the stone symbol, and erupt in light.
Godly symbols emerge from the stone, and familiar features like Wild multipliers and the Colossal Tablet Wilds are hardly recognizable. If you land Wilds on every open space in the stone tablet grid, your mission with Sol is complete, and you exit the ancient Aztec cave with a godly prize of 9,000x your total bet.
Now is the time to stop and smell the slots roses, and park yourself besides something beyond the ordinary. If you're peckish, have a sushi snack. If you're feline fine, then bow down to your kitty king. If your future is littered with diamonds, then dive into the Crystal Crater. If you feel like hiding away, summon the Aztec gods from a cave… or, if you're game, come face to face with one of the most captivating women in history. These SlotsLV one-of-a-kind slots will be games for the ages, and your you-nique list of favorites is about to grow even more fabulous with their inclusion.