CRYPTO QUEEN KHLOË ON CRYPTOCURRENCY, TRAVEL AND SLOTSLV
There's so many ways to describe the charming, Khloë Terae. Glamour Model. Content creator. World traveller. Dog mom. And of course, Crypto Queen…
And now she can add one more to the list: the Queen of SlotsLV!
Khloë sat down with SlotsLV to talk about why she enjoys playing at our crypto casino, her favorite slot at the moment – with the sweetest link to her beloved panda pomsky, Yuki! – and why playing casino games online is so much better. Plus, she reveals her crypto advice, shares what people don't know about her (listen to the audio from Khloë herself!), and so much more.
FIRST THING'S FIRST: HOW DID YOU GET THE NICKNAME CRYPTO QUEEN?
I had a lot of fans over the years calling me Queen, and when I started to get into crypto, I believe it was on Twitter, a fan said, "Khloë, you're just the Crypto Queen!"
And I was like, "Crypto Queen" – that's actually pretty cute!
"THERE'S PROBABLY BEEN A FEW OTHER CRYPTO QUEENS, BUT NONE OF THEM ARE ME."
Definitely when I got on the DOGE train, promoting more on social media, and getting involved in crypto spaces on Twitter, I definitely became the Crypto Queen.
WHAT'S YOUR BEST CRYPTO ADVICE FOR OTHERS?
First and foremost, I always say never invest more than you're willing to lose. The market is fluctuating daily – just like stocks, you know. So for me, you set aside a certain amount of money to be investing. Just put it in there, watch the market, but try not to become fixated by fluctuations. Think of it as long-term investments.
Obviously with some crypto, you need to get out quick. For that, I tend to follow the trends and check things out on Twitter, and keep an eye on what the amount is at. I check every 1-2 days.
WHAT ARE YOUR FAVORITE CASINO GAMES?
"…THAT WAS THE FIRST GAME THAT I EVER LEANT HOW TO DEAL AT THE PLAYBOY CASINO BACK IN THE DAY."
Funnily enough, I actually used to work in a casino! And I've always loved casinos growing up. My grandparents would take me to the Caribbean and I'd be able to go gambling with them.
When I was younger, I really loved Roulette! As I grew older, I developed a love for Blackjack, which was my grandmother's favorite game, so I loved to play with her.
I learned how to deal Texas Hold'Em – that was the first game that I ever leant how to deal at the Playboy Casino back in the day.
And of course, I love slots games! It's so much fun playing all the different games you can play.
WHAT'S BEEN YOUR GO-TO SLOTSLV GAME LATELY?
My favorite SlotsLV game is, of course, Panda Pursuit, because it reminds me of my little Yuki, who's on my lap [as I answer] right now!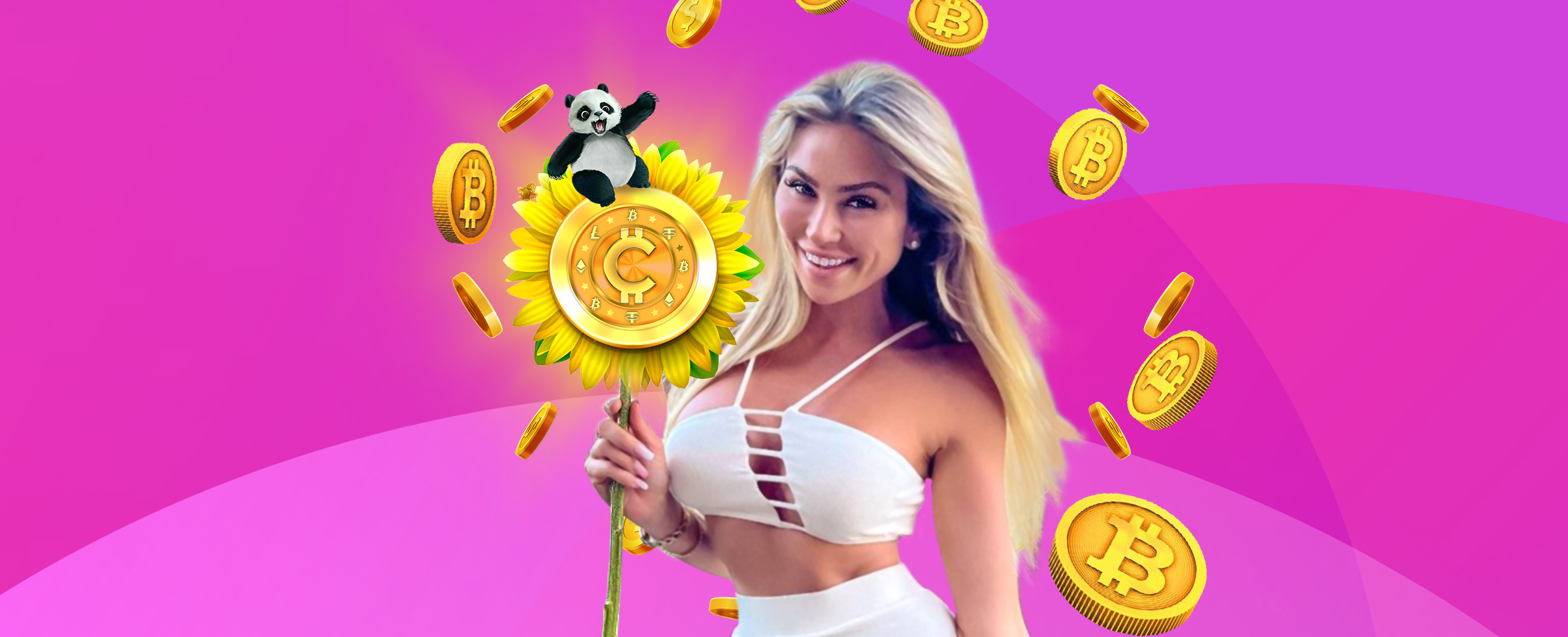 WHAT DO YOU ENJOY ABOUT PLAYING AT SLOTSLV?
Because I can do it from absolutely anywhere! If you follow me, you know I travel constantly and have been to 67 countries! Little Yuki has been to 19 countries! When I'm in an airport, when I have down-time, or when I'm on a long drive to a photoshoot – wherever I may be, I can just pull out my phone and play!
I never have to worry about going to a casino. Going to a casino is fun and all, but it's also kind of dated. Unless you're somewhere like Las Vegas, it's just fun to do it from the comfort of wherever you're at!
WHERE IS YOUR FAVORITE PLACE YOU AND YOUR DOG YUKI HAVE TRAVELLED?
Yuki and I have travelled to many places, but his favorite might be Greece! That's his mommy's favorite!
We love Greece. We love Greek food; he loves chicken souvlaki.
We just love the islands there, and they're very dog-friendly. I actually had a hotel in Greece that literally had a menu of different dog shampoos. They had the dog bed, bowls, and snacks and treats for him, Greece has been so accommodating and we love it!
WHAT'S ONE THING PEOPLE DON'T KNOW ABOUT YOU?
I am pretty much an open book online but…
LISTEN TO KHLOË SHARE THE REST OF HER ANSWER NOW!

FOLLOW KHLOË ON SOCIAL MEDIA TO SEE HER PLAY AT SLOTSLV AND SO MUCH MORE
---
Welcome to the wonderful world of online casino games at SlotsLV Casino! Start your adventure into a magical realm filled with captivating characters, amazing promotions, 5-star customer service, and fast payouts at our crypto-friendly casino. Play and enjoy our best online slots, progressive slots, hot drop jackpots, and more at Slots LV, your happy place!