GRAB YOUR PHONE! THESE 6 NEW SLOTS ARE PERFECT FOR MOBILE
When you get home after a long day, nothing beats kicking off your shoes and sprawling out on the couch for some well-deserved R&R. If you fancy collecting some wins with mobile online slots at the same time, this is just the place to see which real money casino games are dying to complement your evening and make their debut!
As we keep rolling out new games week by week, these SlotsLV mobile slots stand out as the perfect games to hold in the palm of your hand right now. Mobile gaming is at an all-time high, after all, and these new slots are the best ones to open up and play on your phone!
Of course, all casino promotions and special offers at SlotsLV work just the same on mobile, so don't hesitate to open a new browser tab and tap your way into some of those rewards, too.
Without further ado, we present to you the finest new mobile slots known to man, woman, and mobile!
1. LIONS FORTUNE
As you're going about your day buying groceries and putting gas in the tank, you might want to take a break at some point for some mobile online slots for real money. If you do, the majestic lions in Lions Fortune invite you to enter their temple.
Just inside the golden awning, majestic symbols cascade through the reels, and the power of the lions seeps through their eyes in a glowing red.
The cascading symbols not only turn a regular wins into something more grand, they also accumulate rewards for the more cascades you get in a row. Expect to see Wilds emerge from a tortoise, dragon, bird, and tiger.
As is customary in any temple, your own offering to the gods is appreciated. When your own gold coins gather in the coin meter at the top of the screen during the free spins feature, the gods will thank you for your offering and rain multipliers and added spins down from the heavens… all from your tiny mobile phone!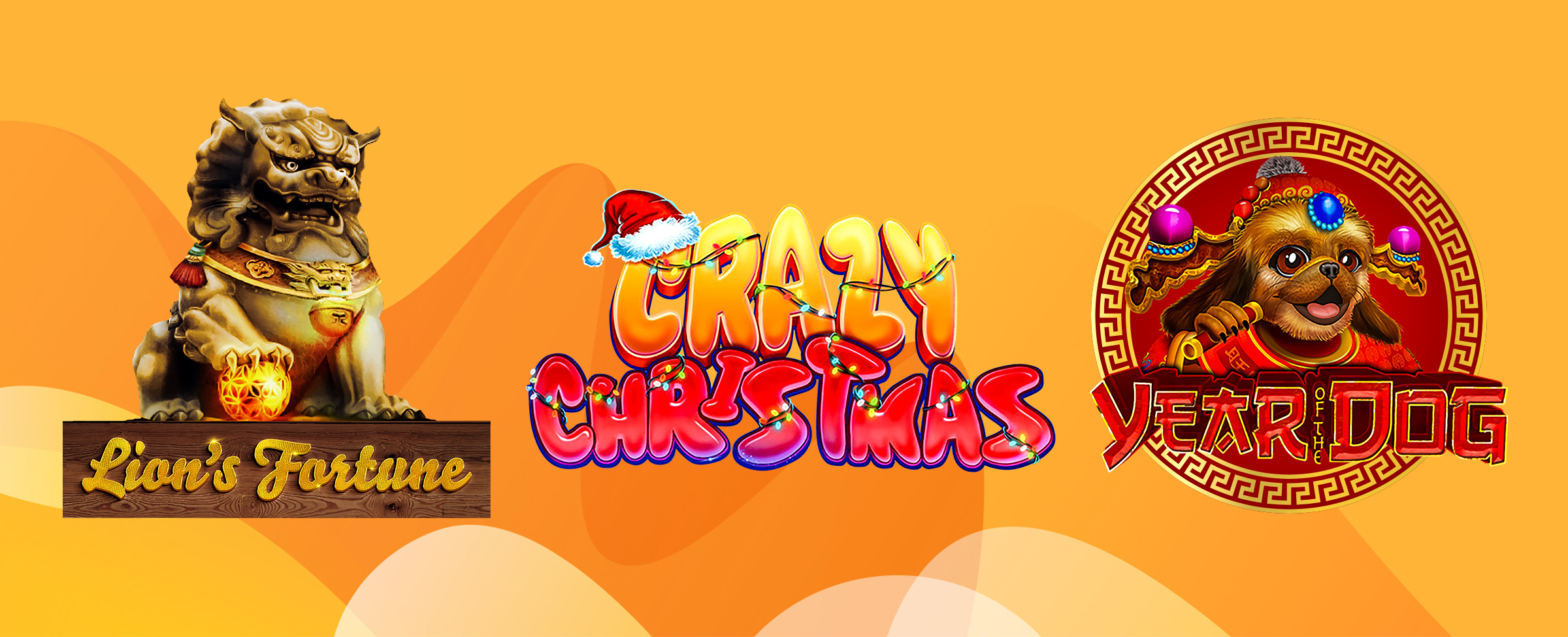 2. YEAR OF THE DOG
Of all the advantages of playing slots online, spinning with cute and wealthy puppers like in the Year of the Dog is surely at the top of the list!
This gracious pup will be eating out of the palm of your hand as you invite him to play through your mobile. Red tassels dangle along the sides of your phone, and red lanterns, golden coins, golden ingots, and succulent fruits make their way across the reels.
Of course, the symbol you'll really love to see is the chipper shih tzu who's stuck in the jumping position ready to smother you with kisses. As cute and fun as this pupper is while you're gallivanting through the town, let's not forget he's come out to play especially for the Chinese New Year. (Check out all our best Chinese New Year slots at SlotsLV now!)
When it's the dog's turn on the zodiac, it brings prosperity and wealth. That couldn't be more true in this game when the Dog scatters trigger a bonus round. You get to take control of your destiny and choose which combination of prizes you win. What a good boy!
3. CRAZY CHRISTMAS
If you've found yourself fondly missing the lights and tinsel decorating the streets during Christmas, then you're in luck!
You can just whip out your phone for one of the best new mobile slots, and have a Crazy Christmas from wherever you are! Don't expect your typical Christmas day with a tree and hot cocoa, though. No, siree! You'll be spending this Christmas with the big white bearded, big kahuna himself in the North Pole.
Your entire mobile screen turns into a winter wonderland with snow softly falling just behind five reels. Santa swings open the doors to his factory, and you're greeted by the eager head elf who may or may not have a couple of screws loose!
A little loony or not, this elf is your buddy in this SlotsLV online slot. Landing an elf with a red button triggers a flurry of free spins, and landing them again translates into increasing win multipliers. If you do a good job building toys, the elves will come together and award you with the best Christmas gift of all – a random progressive jackpot. Ho-ho-hurray!
4. THUNDERCRASH
You might already know how to get started playing slots online, but do you know how to get started driving a spacecraft? If not, don't worry one bit! There's a training camp right there inside your mobile, and the Thundercrash specialty game is looking for a new captain.
You'll dive right into deep space as soon as you hit "Place Bet", and your spaceship will speed through the abyss at lightning speed, picking up growing multipliers the farther it goes. As you pass through your errands outside around the town, you'll be passing through planets, flying space debris, and plummeting comets in Thundercrash on your mobile.
Don't get too comfortable, though – the depths of space hold hidden secrets, and you have to hit "Cash Out" before your ship runs into some invisible debris and explodes – destroying all your prizes!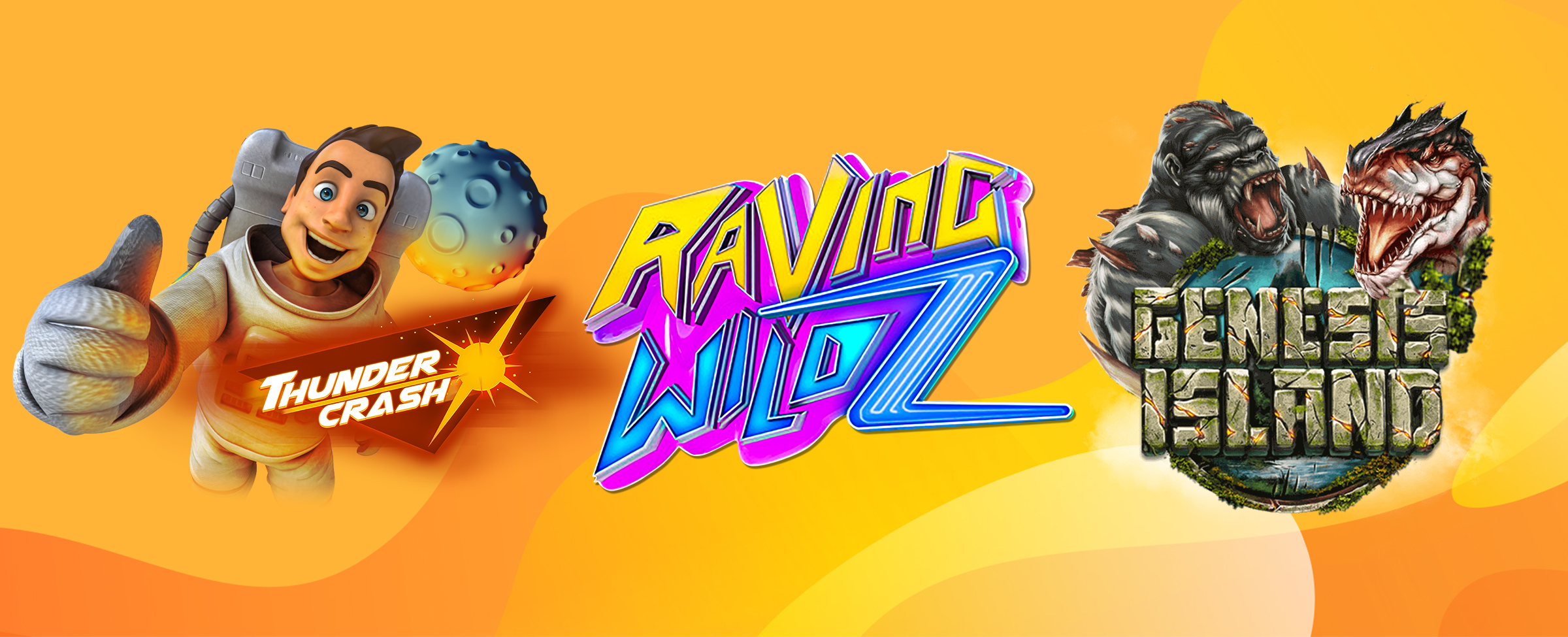 5. RAVING WILDZ
While your phone is in your pocket, you might feel a little bump bump and oonsa oonsa oonsa trying to bust its way out. If you do, don't ignore the beat – there's a rave going on in Raving Wildz, and you've got yourself a free ticket to a wild show!
Don't worry if you didn't dress appropriately for a rave today. This 50-payline new slot has got you covered with furry leg warmers, booty shorts, and a sheer top. The drinks are flowing, and gummy bears are being passed around like candy.
Just try to keep still as you feel the happy-hardcore beat of the techno music. There are plenty of wild features to get down with at this party, and the Wilds in the base game randomly adopt a multiplier when they land, and they can multiply your pay line up to 81x.
When you do the shuffle during the free spins round, multiplying Wilds will stick and stack all over the place, increasing the multipliers as they grow. Rave on!
6. GENESIS ISLAND
While you've still got your phone out, you might as well dive through the screen and enter Genesis Island for yet another adventure in SlotsLV mobile slots. You'll want to make sure you're somewhere safe when you open up this game, and even then – enter this jungle cautiously. There are dangers that lie behind the foliage parting to the side, making way for the grand entrance through your screen.
An eerie mist makes visibility difficult, but when the enormous gorilla or dinosaur is near, there will be no doubt that he is. Try to stand your ground, because if you stick around, you'll be one of the only humans to witness the Mega Reels randomly combining to create a 2 or 3-reel Mega Reel.
Primal Wilds also strike at random where one or two reels become completely Wild. The scatter here is a 3×3 symbol, and if you land 3 of them, you get 10 free spins and a Mega Reel for each one. This game is bound to make you a bit jumpy, so make sure you're sitting down!
These SlotsLV new mobile slots are buzzing around inside your pocket or your bag, and they're waiting for you to notice them. There are endless worlds to escape to, just inside the palm of your hand, so go on and pick them up to play now!