6 New Mobile Slots to Play on Your Phone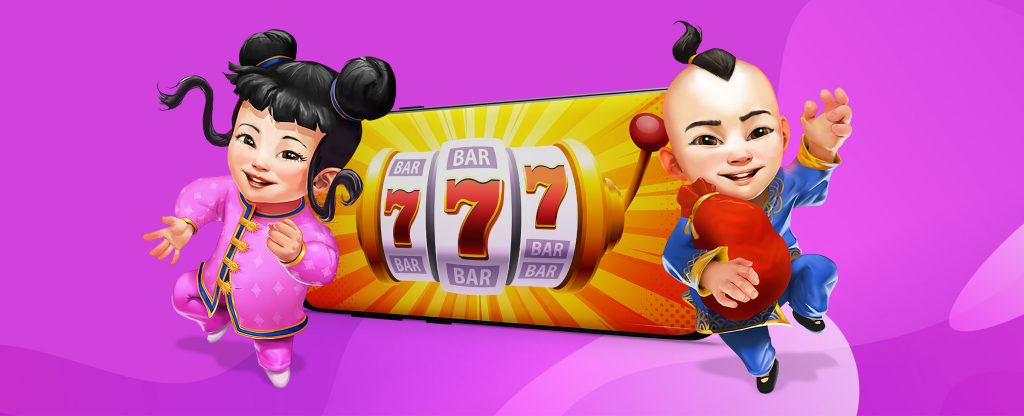 Gather 'round, slots fans. It's time to roll out the red carpet and dazzle you with new adventures in slots. These aren't just any new games: these newcomers flaunting their stuff on the slots floor are designed to shine on your mobile screen. That means you can take these enticing games with you anywhere, and play anytime, right from the palm of your hand.  
Of course, each of the Slots.lv new mobile slots maintains its wow factor on a bigger screen, but these ones in particular scale down beautifully for a mobile match made in heaven. 
There are six brand spanking new games to choose from, so let's find yours now!
Golden Children
Guanyin is the Buddhist goddess of mercy and compassion. Swathed in white robes, she ushers two immortal children, carrying with them a vastness of wealth that nearly outsizes Guanyin's compassion, safely across your reels in this fortune-filled video slot
The two golden children assist Guanyin on 5 reels and 3 rows to guide earthly players toward good fortune and happiness. The children warm your heart with a wholesome good nature as they settle in nicely at the foot of this slot. They provide 100 paylines to help ensure you receive as much good fortune as you deserve.
You'll gladly welcome the fortune in this game with the golden pot Scatters. When three or more Scatters land on any reels, they pay 2x your bet plus trigger up to 25 free spins, which also includes 2 reels that can turn entirely Wild at random.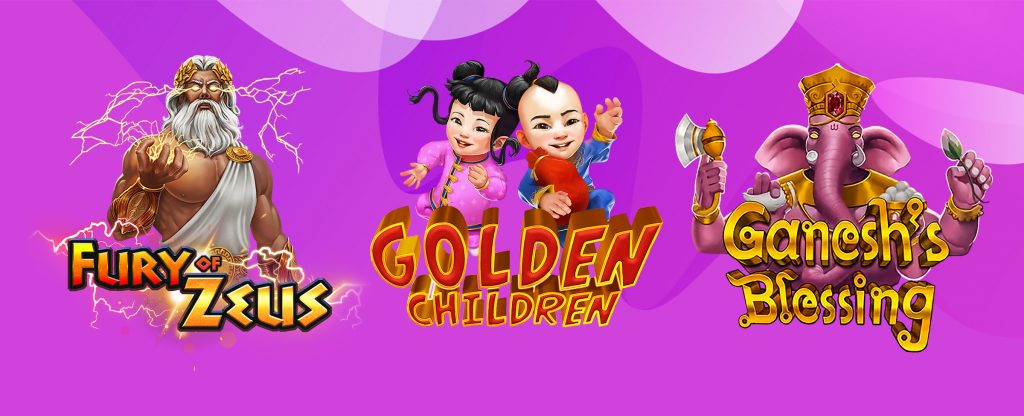 Fury of Zeus 
The distant sun breaks through a shifting fog, wrapping the stone pillars of Mount Olympus in a halo of orange light. You've been summoned by the God of Thunder, and you'd better heed his call.
Zeus is the leader of the symbols over 5 reels and 3 rows. Zeus's wife and Queen of Heaven, Hera, bestows her protection on your good health. Poseidon watches over the sea and makes the reels tremble in an earthquake of coins, and Hades guards the underworld by keeping a close watch over the riches within the 20 fixed paylines in the game. 
In Fury of Zeus, the lightning-lined Wild and Scatter symbols work in harmony, just like Zeus and Hera, and when you land one or more Wilds plus a Scatter on reel 5 land, the gods conspire to trigger 10 free spins where all wins are doubled. 
As the most powerful of the Gods, Zeus can strike your reels with a randomly awarded progressive jackpot after any winning spin. 
Just imagine landing that heavenly prize while waiting for your morning coffee!
Ganesh's Blessing
India is heeding our call for otherworldly blessings. Ganesh is trusted by his followers to remove obstacles in their lives so that they may achieve the highest level of wealth and success. 
In this 4×4 video slot, you've draped the altar in red satin, gathered your ceremonious hibiscus flowers, horns, and sweet offerings, and closed your eyes tight as you chant along with a devotional melody to receive Ganesh's blessings. 
Keep one eye open from the altar for the lucky black mouse Scatter in this Slots.lv mobile slot. When three of them land anywhere on the reels, you get eight free spins where the entire board rotates 90 degrees for four times, giving you a total of four chances to win with each and every spin. 
Dragon Blast
Now it's time to balance the scale with something more dangerous with Dragon Blast. 
It's a black, starry night and, unbeknownst to you, you've stumbled over a branch and plummeted through a hole, landing with a deafening thud at the pit of a dragon's den. As you lift your head and dart your eyes around the ember-lit caverns underground, you see him: the ruler of the abyss – the exalted, magical Dragon himself. 
The Dragon watches over the 5 reels and 3 rows that are engulfed in flames. Symbols are whirling past your head with orbs, golden lamps, pots, and coins as you attempt to stand your ground and claim the coveted Dragon Blast Free Spins. 
Three or more orb Scatter symbols will get you there. During the free spins feature, landing more Scatters in the game will arouse new reel sets to join the grid:
3 scatters inside free spins = 1 more reel plus five free spins

4 scatters = 2 more reels and five free spins

5 scatters = 2 more reels and 10 free spins  
Maybe staying trapped inside the Dragon's den isn't so bad after all… 
Reindeer Wild Wins XL
If you were a fan of the original Reindeer Wilds with 5 reels and its Reindeer Free Spins, then you're going to double your enthusiasm with the newest slot version of the winter hunt. 
Your favorite winter huntress is back, and this time she's brought along backup with two more tenacious huntresses wielding a glowing sword, bow and arrow at the ready. The three of them are on the prowl through the winter wonderland with 1,024 ways to win. Snow floats gracefully past 5 reels and 4 rows, and any spin could be the one that captures the Mystic Reindeer Free Spins. 
You trigger up to 25 free spins by landing three or more Scatters. The hunt gets more intense as Wilds come to life with multipliers, compounding on each other over your entire win (not just a Wild line) for a total up to 64x your bet. 
Fa-Fa-Fa
Not all slots require you to enter battle mode to fight dragons and hunt down reindeer, and Fa Fa Fa slot is a case in point. It's a perfectly satisfying way to round out your mobile gaming experience with getting caught up in tons of action and complicated plots. 
This classic style game transports you to a casino in China, several decades in the past. A crimson red game board holds 3 reels and 1 payline against a glowing golden backdrop. Three distinctly colored "Fa" Chinese character symbols spin through the reels with the nostalgic drone of an arcade synth.
The rules in the good 'ol days are simple: each differently colored Fa character awards a different prize when three land square on the payline:
3 red Fa: 100

3 blue Fa: 50

3 green Fa: 25

3 Fa of any mixed color: 5
Playing this game on your mobile harks back to those early handheld electronic games, with a user experience reminiscent a gameboy – furiously banging out on the controls to collect coins on commercial breaks from The Fresh Prince. Imagine going back to a world without Wi-fi and touch screens! 
If you're ears are ringing with the sound of your pick of the bunch, perhaps you should answer it. Remember, these are no-download slots, meaning no app is needed to play these games; simply open up the browser on your phone, sign in, and start spinning your way to payday!